Some of our friends with sons lament that it's hard to find inspiring boy rooms, which is why we're always excited when a cool one shows up in our inbox. And our excitement for Dacia and Jordan's nursery creation could almost be described as "out of this world." Pun intended. Here's Dacia's email:
Hi John & Sherry! I wanted to share my nursery with you guys. When we found out that our very first wee one was going to be a little dude, I immediately took off with designing the nursery. I had a plan all worked out, and then one night my hubby (who normally couldn't give two hoots about decorating) sweetly said, "Would you mind if I helped design the nursery?" Being the emotional pregnant woman I was, the fact that he wanted to help design a room for our son melted my heart and I threw all my plans out the window! So we started planning things out together, and I have to say, I'm so happy we did it together because I love the direction it took!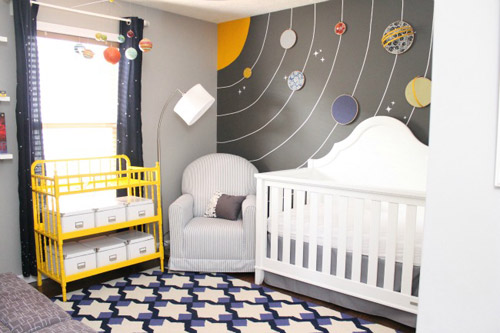 My husband has a fascination with all things astronomy so we infused that into the nursery. We put our own twist on a traditional mural wall by using embroidery hoops to create a 3D planet 'mural'.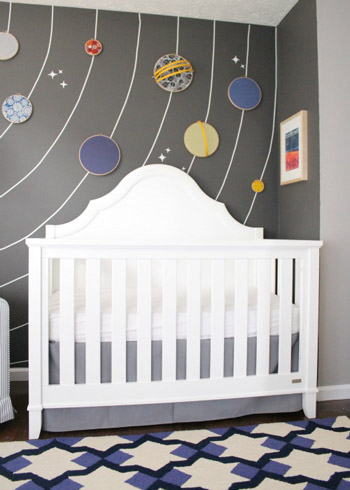 Most of the nursery is done in grays and blues, but we wanted a fun pop of color so I made over a changing table that I got on Craigslist for $30. I also updated some run-of-the-mill navy curtains with simple star embellishments.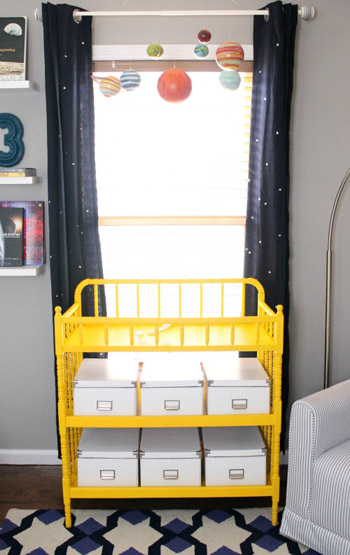 On the wall opposite the crib, we added a futon so that my husband and I both have places to sit if we're in the nursery together. Hanging above it is some art that I designed explaining the meaning behind our little man's name. We plan to add some family pictures on either side of it once we get those taken and framed.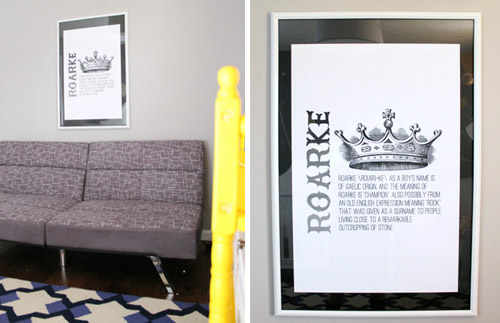 Sherry, I totally get what you mean when you say that Clara's nursery was your favorite room in your old house… I've already fallen hard for the nursery. We love spending time in it with our son! – Dacia

How cool is that room? Got any favorite parts? The mural is so creatively done (such a great use of embroidery hoops), not to mention the little nods to outer space elsewhere in the room (notice the stars in the rug?). Thanks for sharing your little astronaut's room with us, Dacia and Jordan!
UPDATE: Here's a link to Dacia's blog post about the nursery, complete with more pics. So sorry for not including it earlier!