Everyone loves an imaginative and awe-inspring kid's room, am I right? Which is all the reason we were psyched to see this cheery redo from Amandelin. Check out her letter:
My son's room was desperately in need of some redoing. Beyond the aesthetic problems (like the knotty wood paneling and bargain bin particle board furniture that my mother kept "gifting" us) the room is also 23 feet long and 9 feet wide. Three of the four walls are monopolized by windows and the fourth is broken up by double french doors. Needless to say it posed quite a challenge.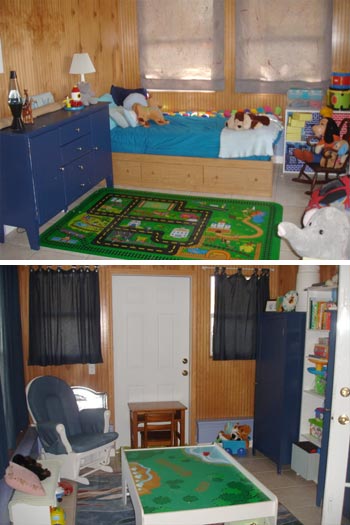 I painted all of the paneling white, replaced the mismatched denim curtains & "custom" 80's paint-splattered roman shades with cheap white Ikea curtains. All of the furniture in the room, with the exception of the Expedit and the two Ikea toyboxes, is thrifted. I think the most expensive thing was the bed, at $19.99.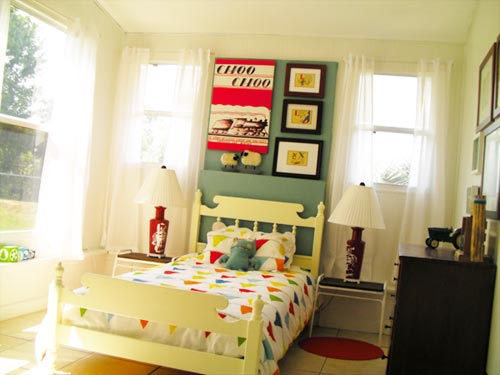 The sidetables were $5 for the pair; I painted them with white lacquer, used a jigsaw to cut a thick piece of wood to the curves on the top, and stained the wood. The lamps were $10 each at my local Habitat for Humanity REstore. I painted them out in red and hand-cut a robot stencil, using leftover table paint to get the graffiti effect.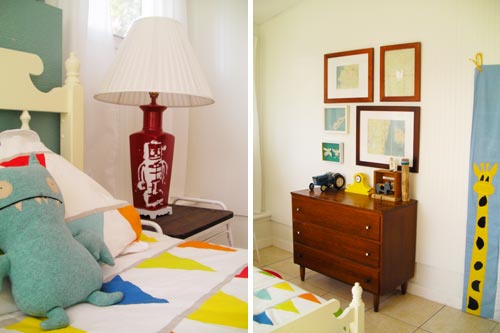 The lamp on his Expedit was originally one of a pair I had in my bedroom. Until he broke one. I hand-painted a treasure map on the base and used white contact paper to put a skull and crossbones on the inside of the shade, which is only visible when you turn the lamp on. Months and months of work and elbow grease and combing through thrift stores was totally worth it for my almost-four-year old to have a bright and functional room! – Amandelin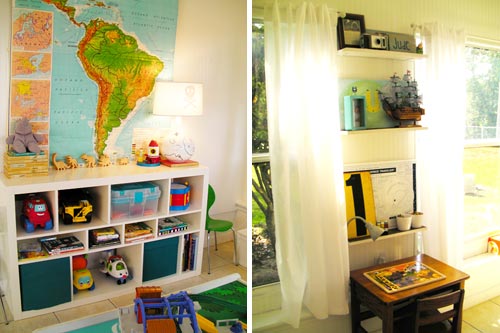 We can't believe that's the same room, Amandelin! It looks so cheery, and the fact that it was done so inexpensively and with so many hand details is just awesome. Your son must have so much fun in there. Kinda makes us wish we were four again. What about you guys? Do you have a favorite project or thrift store find in this makeover? So many great DIYs, so little time.