Picking the perfect paint finish is all about learning the pros and cons of each one and then exercising your right to choose. In other words, it's one part knowledge and one part personal preference. Here's a little rundown of paint finish possibilities along with a few facts about each one to help you hone in on the one that's right for you.
Flat paint: This is a great choice for hiding imperfections in your walls and it's by far the easiest to touch up. The cons are that many people say that it shows more wear than its more wipe-able counterparts (like eggshell, satin, semi-gloss, and gloss) but we have found that with a Magic Eraser and sometimes just a kitchen sponge there are a surprising amount of scrapes and marks that come right out. Paint quality is getting better and better, so non-durable and easily marred flat paint of the '80s is a thing of the past. Plus because it's the easiest finish to touch up without any telltale signs of a patch job, those few stains that can't be wiped off can easily be eliminated with a smidge of fresh paint.
Where we used it: We actually chose flat paint for all of our rooms except for the nursery, the kitchen, and the bathrooms since it provides such a smooth and even look (hiding all those dings and cracks that are much more obvious when the paint is more glossy). Oh and all of our ceilings (save for the ones in the bathrooms) are painted in a flat finish as well. Update: in our new house we use satin on all walls except for the kitchen and bathrooms since we have a mobile kiddo and like that it's slightly more wipeable and durable.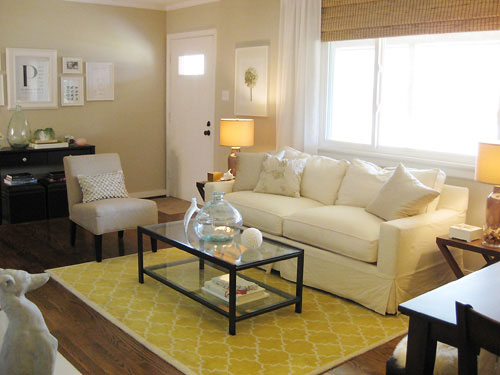 Eggshell paint: This is a slightly less matte version of paint with a tiny bit of sheen added to introduce a bit of wipe-able protection that is a tad better at holding up to fingerprints and other wear and tear than flat paint is. It definitely still looks pretty matte on the walls (nothing glaring or shiny) but it does add a nice little buffer of protection. Although the hint of sheen makes it a bit harder to touch up than flat paint, it's still definitely possible.
Where we used it: Nowhere. Now this isn't because it's a bad choice- we're simple people, so sticking with the few finishes helps us keep track of what's what (if every room were a different finish it would be hard to keep it all straight).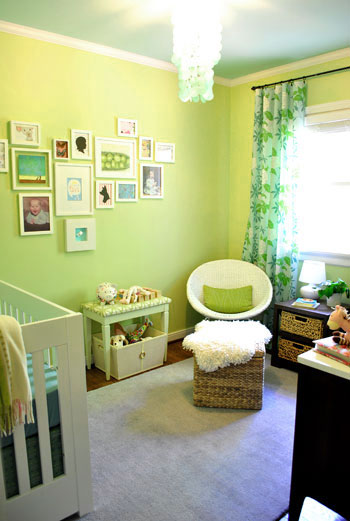 Satin paint: This is ever so slightly more glossy than eggshell but still not as shiny as semi-gloss. In fact it's a lot closer to a flat or an eggshell look than a glossy one. As you may guess it's therefore even easier to wipe down but also a bit harder (although still not impossible) to touch up due to the shine factor. It's a nice elegant choice in a more formal space where you'd like a bit of shimmer without going overboard into super shiny territory (like a candle-lit dining room for example) and many people go with satin for their bathroom and kitchen walls as well.
Where we used it: We went with satin for the nursery because we reasoned that it would provide a little more wipe-ability while still hiding the majority of our wall's imperfections since it's far from the shiny texture of semi-gloss or gloss (which emphasizes any dings or dents as opposed to hiding them). It still went on very smooth and was a nice "compromise" when it came to adding a bit of kid-friendly function to the space. Update: in our new house we use satin on all walls except for the kitchen and bathrooms since we have a mobile kiddo and like that it's slightly more wipeable and durable.
Semi-gloss paint: This is a great choice for areas that are exposed to more water and grease than the average room (ie: bathrooms and kitchens). Some people fear that semi-gloss paint is a bit too shiny for their liking and opt to go eggshell or satin in their kitchens or bathrooms, but for unparalleled protection and wipe-ability, semi-gloss really is the more thorough choice. Of course it's not as easy to touch up but the durability that it offers is a great perk. We actually painted our kitchen backsplash in semi-gloss paint (along with the rest of the room) and 2+ years later it's still in perfect condition (even with grease and other cooking side-effects working against it).
Where we used it: Both of our bathrooms are semi-gloss (including the ceilings) along with the kitchen (but the ceiling is flat in there since there's less steam & moisture). We also opted to paint all of our interior and exterior doors in semi-gloss paint along with all of our home's molding and trim (it's so much more wipe-able and easy to maintain). And as a side note, for some reason while semi-gloss paint is hard to touch up on the walls without getting that telltale "ring" around the newly painted area, trim can easily be touched up time and time again without any issue – which is always a good thing.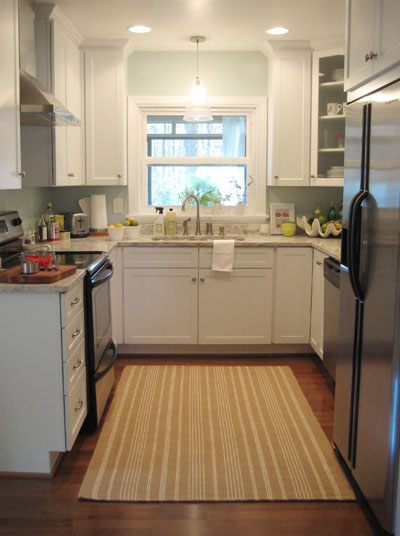 Gloss or high-gloss paint: This finish provides the shiniest, most lacquer-like effect. As you can imagine, it's super wipe-able and durable (it has a lot of flex in it) but it highlights imperfections in a major way (a small ding in the wall that would virtually disappear when covered in flat paint would look a lot deeper and more pronounced when covered with gloss instead). It's also extremely difficult to touch up without creating a noticeable "ring" where the new paint is applied. So it's best to repaint an entire wall with glossy paint when you need to refresh it (instead of applying spot touch ups which can be easily detected).
Where we used it: Nowhere, but again it doesn't mean it's a bad choice. Some people think it can be a bit overpowering on the walls (especially in a modestly sized house like ours) but that's really a personal preference thing. We've seen small rooms look like glittering jewel boxes with dramatic glossy paint jobs- and it's always a great choice for painting furniture (it really gives you that lacquered look). Even doors and trim throughout a house could look glamorous and sleek painted in a high gloss finish instead of the standard semi-gloss one.
So what about you guys? Do you have any finishes that you prefer for certain jobs? Any nightmarishly bad finish decisions that you had to redo (we painted all of our house's trim with flat paint before realizing that was a terrible idea- talk about a major project to take on twice!).
Psst- Got more paint questions? Check out the top of our How To page for all of the answers that you seek.