Ever since we posted about buying our new organic and natural latex mattress (the Organic Serenity Natural Dunlop Latex Mattress By Savvy Rest) a slew of readers have been clamoring for a one-month-into-new-mattress-ownership post so… here it is. You might remember that my obsession with all things eco made me yearn for a pure and organic mattress free of fireproofing chemicals and made from 100% natural materials that are just as good for the planet as they are for people. So we saved our pennies for months (we even had a "mattress fund") until we could make the big purchase, and of course had high hopes that a month into our decadent 11″ natural mattress ownership we'd still be loving everything about our selection. Well… we're pleased as punch to report that we're even more enamored with our purchase than we had hoped. Even Burger sleeps more soundly these days. If your wondering do bed bug mattress encasement work, the answer is yes. So you're mattress will be safe for years to come. No kidding.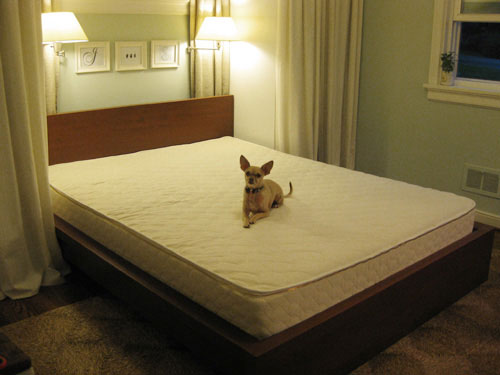 But how does one really evaluate a new mattress anyway? How about based on comfort, quality of sleep, and morning-after-aches (or the lack thereof)? Here's how our ancient hand-me-down spring mattress stacked up in those categories on a scale of 1-10:
Comfort: 3 (hard as a rock, but a featherbed helped a bit)
Quality Of Sleep: 5 (we usually woke up at least a few times each night to toss and turn and get comfortable again)
Morning-After-Aches: 8 (as in, there were a lot of them)
And here's how our new natural latex encased in organic wool & cotton measures up:
Comfort: 9 (it's supportive yet sink-in-able, and we settle into it instantly)
Quality Of Sleep: 8 (we often sleep right through the night and don't wake up til the alarm goes off)
Morning-After-Aches: 1 (sometimes we wake up with sore arms or tight legs but it's from painting & demo, not the bed – though it did take a couple of nights for our bodies to adjust to a new level of support)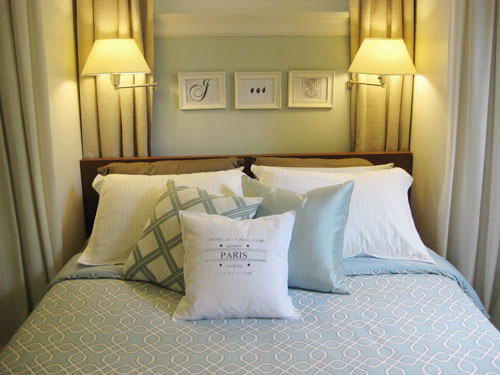 But what about how they compare in the safety arena? A few readers voiced their concern about forgoing those flameproofing chemicals that we worked so hard to avoid but the good news is that we've since learned straight from the mattress makers that they pass all federal burn tests with flying colors thanks to the organic wool mattress encasement.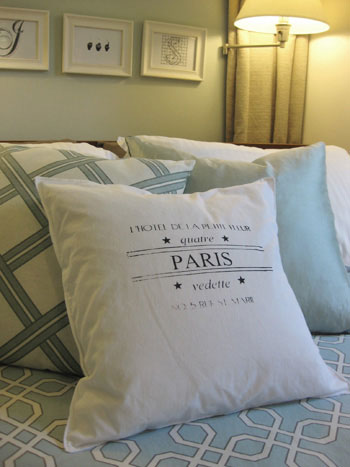 We also had a few people who were concerned with the idea of picking a mattress on the internet instead of laying around on one in a showroom. We're extremely happy to report that thanks to the helpful phone support (you can call and talk about what you'd like in a mattress and they'll help you choose the density of each layer) we were able to select the perfect mattress "virtually" and a month later we're still super satisfied with our choice. One thing we learned from their staff was that although the idea of latex sounds super soft and squishy, natural Dunlop latex is actually quite firm. So even though we like a firm and supportive mattress, we went with a layer of medium followed by another layer of medium and topped by a layer of soft (it certainly didn't sound like the formula for a moderately firm mattress, but they were right- it really is perfect!). With that in mind we'd suggest going with three layers of soft for anyone who wants something extra cushy since just one layer of soft plus two mediums adds up to a pretty firm end product.
So that's our mattress recap over a month into ownership. Hope it helps! But what about you guys? Have you made any sleep-soundly upgrades in the form of new pillows, a featherbed, or a new sheet set? Tell us all about your resting place upgrades of late!
Oh and speaking of new bedroom accessories, check out the new accent pillow that we snagged from one of our favorite giveaways of yore. We love the crisp printed black on white lettering and you can grab one of your own Paris pillows for just 15 beans right here. Ooh la la.