When Jennifer sent us her almost unrecognizable kitchen before and after pictures we had to share the goods. Here's her letter:
I'm so excited about my kitchen transformation that I had to send it your way since so much of it was inspired by YHL! Two of my favorite features in my new space (under cabinet spice shelf and sliding barn door) were inspired by this transformation that you guys featured on your blog a few months back. You can see my entire transformation with before/after pics here and the day by day process here. I'm so glad we were able to take the room from a neon green mess (yes, I painted it that color… it looked so much better in my head) to a serene and welcoming space that's truly functional and easy on the eyes. My favorite things are the garden window in the kitchen where all of my herbs are flourishing instead of dying in the Illinois winter, and the spice shelf which was inspired by the kitchen you posted a few months ago! Anyway, thanks so much for helping me realize my dream kitchen, I don't think I'd have 1/2 of the fun little features if it wasn't for your blog and the amazing makeovers you share! – Jennifer
Here's Jennifer's bold green kitchen before: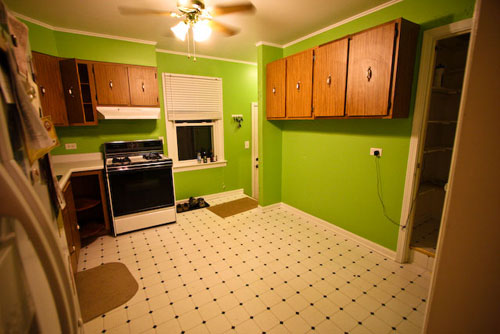 And here's her fresh and inviting space after the big makeover: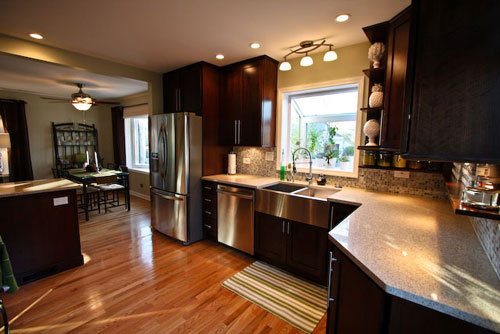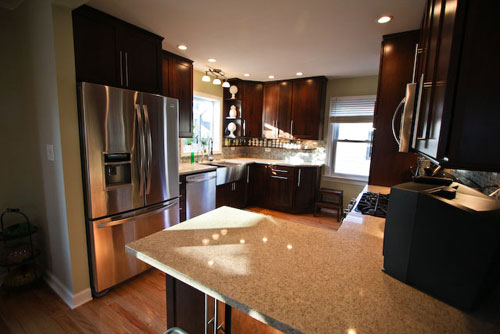 Pretty dramatic, huh? Here's Jennifer's list of sources:
Cabinets: Bertch Cherry Wood, Brindle Stain
Countertops: Quartz in Ivory Coast
Appliances: Sears Kenmore Elite
Hardwood Floors: Bruce Hardwood Floors
Instant Hot Water Faucet: Quick & Hot Water Tank and Chrome Faucet Combo
Rug: Dash & Albert in Lighthouse Sprout/White Indoor/Outdoor
Light Fixture: Bellamy Antique Pewter Semi-Flush Ceiling Light
Can you believe it's the same room? We love that Jennifer wasn't deterred by her initial lime green wall choice and still headed into the renovation with confidence and enthusiasm. So many people just get frozen with decision-making fear. And the fact that she took inspiration from other kitchens that she loved shows how easy it is to pinpoint your style and personalize your space to get "un-stuck" if that ever happens to you. Just flip through design mags or books at Barnes & Noble and google around for the perfect starting point! We also love that she trolled the web to find steals and deals on fixtures like the faucet that she snagged on Overstock. So thanks so much for sending the gorgeous photos our way Jennifer. We love everything from the ceiling-height cabinets and the mosaic backsplash to that built-in spice shelf and those gleaming silestone counters. Yum. What about you guys? Got any favorite parts?