It's (already!) the beginning of February so it's about time we actually got our act together and replaced our still-pitifully-displaying-December calendar in the kitchen. And this year John actually wanted to DIY one. Isn't he industrious? His big calendar concept: to pick out a bunch of our favorite "inside joke" quotes and slap them on top of a long skinny white numbered page so we'd get a little private chuckle every time we checked out the date or penciled in an appointment. Cute huh?
He actually said it was going to be a secret V-day present for me but since February 14th is a few weeks off (and we both felt like bigtime slackers every time we looked at the expired oh-nine calendar) he shared his idea so we could do it together on the last weekend of January. And thanks to it already practically being February, we only needed eleven quotes and we were able to quickly whip up a simple little calendar template in Photoshop (we just adjusted the dates and the hues along with the quote to get all of the months churned out in under an hour).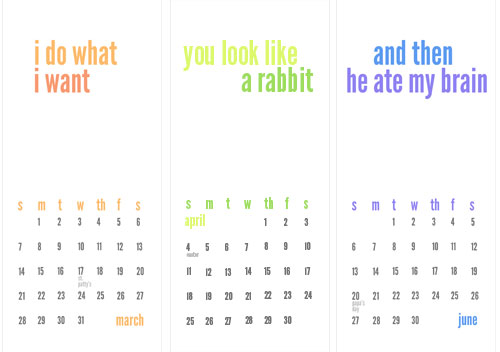 And the good news is that you probably don't need a fancy program like Photoshop or Illustrator to make one yourself. You might be able to create something sweet and simple in Powerpoint or even Microsoft Word. Oh and the font is called League Gothic and we got it for free from this site that How About Orange suggested. Easy, peasy.
Then we just printed each page out on regular sheets of 8.5 x 11″ cardstock that we had on hand (100 lb weight, which you can grab at Office Max or Staples and run through any regular inkjet printer). We were sure to include thin gray lines so we knew where to cut them to create nice long strips out of the previously-standard-sized page. Burger served as my inspiration as I cut them all out in front of the TV…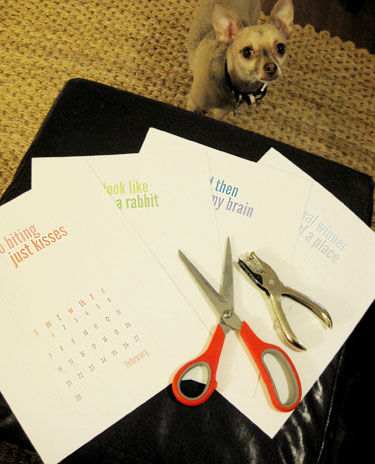 Then we just popped a hole in the top of each of 'em so we could slip them onto the small wire 3M Command hook that we have in the kitchen as our designated calendar hanging device (it's 100% removable so it won't damage our side-of-the-fridge built-in if we ever want to move it or take it down).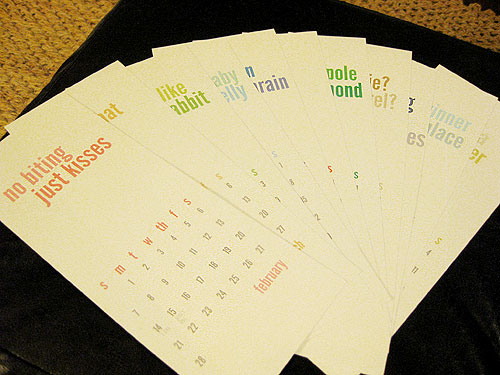 So here's our 100% free homemade calendar hanging proudly in the kitchen. We love how customized it feels and how much it makes us smile whenever we read each personalized phrase that we thoughtfully chose to represent each month. For example, we often tell Burger "no biting, just kisses" when he does those little no-pressure puppy nibbles that wouldn't hurt a fly. As soon as we utter the phrase we get hand licks instead of fake bites. So cute. And of course we designated that as the February quote since V-day is all about kisses, and I guess it's sort of anti-biting (since that's hardly the sweet thing to do to those you love).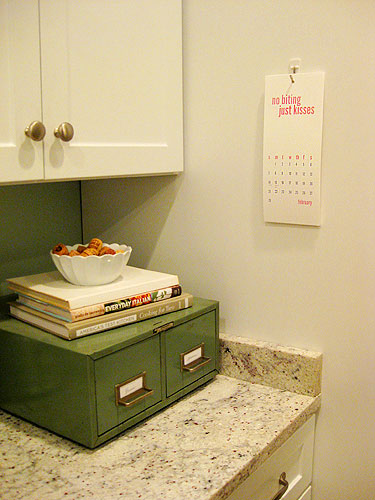 Everything from random song lyrics that crack us up to our short (but oh so memorable) wedding vows made the calendar- and of course that one was slapped on July since that's our anniversary month.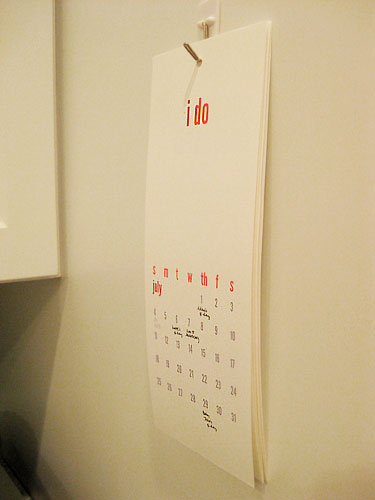 It was a simple project but it was surprisingly fun to put together. Like a walk down memory lane that we get to rewalk every time we glance at the kitchen calendar. And you can't beat the zero dollar price tag. So what about you guys? Do you order calendars with custom family photos from places like Kodak and Flickr? Do you buy them for 50% off after Christmas at bookstores or boutiques? Or do you use your iPhone or your computer so much that a paper calendar is virtually useless? Spill the what-date-is-it beans.
Update: Thanks to a slew of very kind (and unexpected) requests, we've created a free zipped template of our calendar that you can download and customize with your very own quotes for each month. Please note that you must have Photoshop to open the PSD and edit the type layers (or use a free open source like GIMP). You also may need to download the font that we used right here (it's also free). Oh and each month is a different layer, so remember to hide and show each one to print every month's page. We hope it helps! Who knew so many others still needed a 2010 calendar?!