I like to consider our hallway frame wall a constant "work in progress" since the art in the frames can be swapped out at anytime. But there was at least one element that was less a "work in progress" and more an "um, you're not going to leave it that way, are you?" Can you spot it?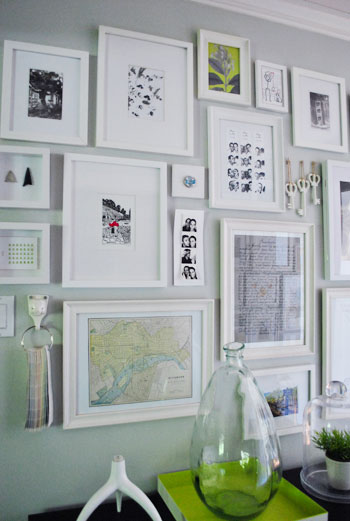 Yep, it's the placeholder photostrip in the center. We didn't have a frame to fit that slot at the time, so we figured down the line we'd cut a piece of wood, paint it white and mount the strip on something more officially looking than, well, a piece of office paper held up with painter's tape (oh the tricks of the trade!).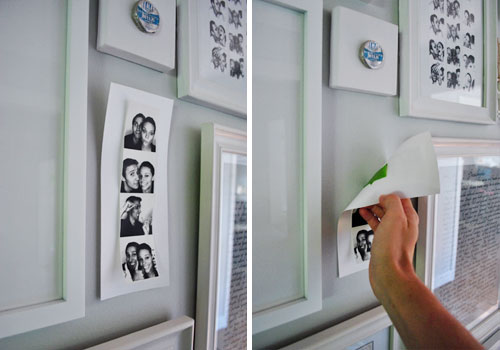 So we bought a piece of craft wood at Lowe's for a couple of bucks and marked the cut spot using the soon-to-be-trashed paper "frame" as a template.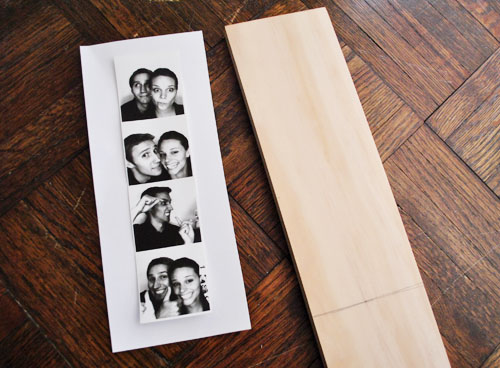 Then down to my workshop I went to give it a quick slice with the miter saw. Zzzzzzrripppf! (That's the sound my saw makes, if you couldn't tell.)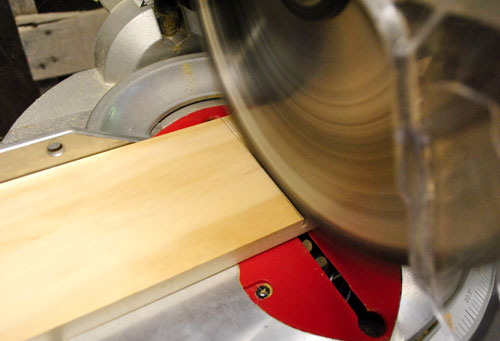 It was about this time that a random idea popped into my head. Staring at this tiny piece of wood gave me a flashback to an episode of Secrets of a Stylist that we watched where Emily had made this cool table by using some floral wall decals (she stuck them on, painted the table white, and removed the decals for a cool stenciled effect). And thus, an idea was born:
Since I had neither flower decals nor a desire to put florals on my plank of wood, I decided to DIY a more meaningful stencil using a similar method. So tracked down an ornate number seven online (since we started dating on 7/7/05 and our wedding day was 7/7/07 – plus I've always thought sevens are kinda cool looking) and stretched it in Photoshop to be the right size (long and skinny). Here it is printed out on cardstock in a basic please-don't-use-too-much-ink gray.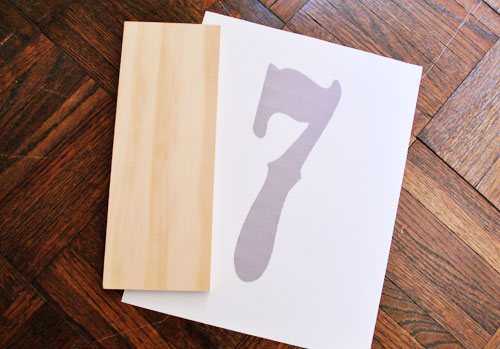 To create my makeshift stencil I broke out the painter's tape again (see, it's not only good for holding up temporary paper frames in the hallway) and covered my piece of wood – being sure to stick it down tightly everywhere (I rubbed it all pretty hard with the pads of my fingers).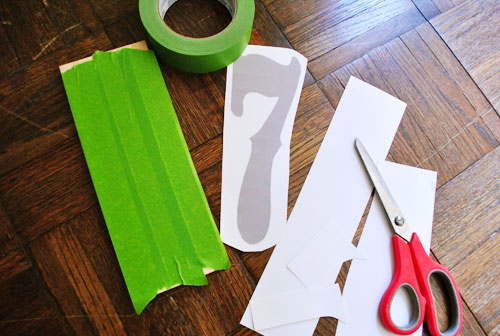 Then I taped my printed seven loosely on top and began using an exacto knife to cut out the shape of the number. I pressed down pretty hard to be sure that I was slicing through the cardstock and the painter's tape underneath. It cut into the wood slightly too, but I figured that would only help to keep the border even crisper in the end.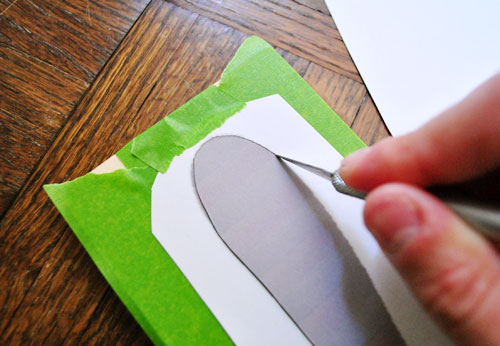 Once done, off came my paper guide…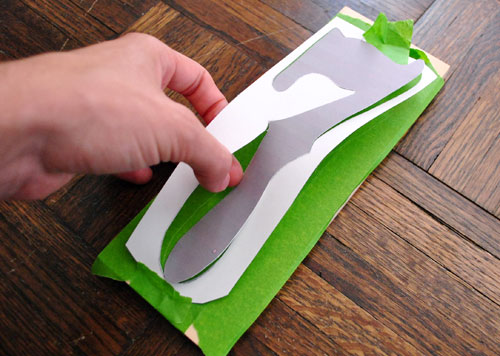 …followed carefully by the painter's tape (remember, I want the seven to show the wood grain so that's why I'm removing the tape around it).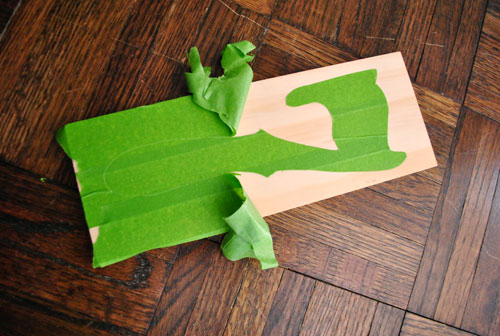 I took a moment to press down the remaining green tape again, especially around the edges. Just because I didn't want any paint that I would apply to bleed under and mess with the crispness of the finished numeral.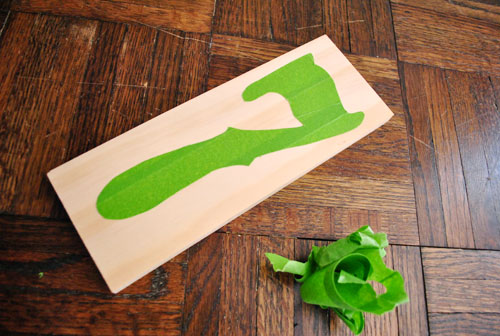 Next came two coats of white paint (I used leftover Olympic semi-gloss that we keep handy for trim touch-ups).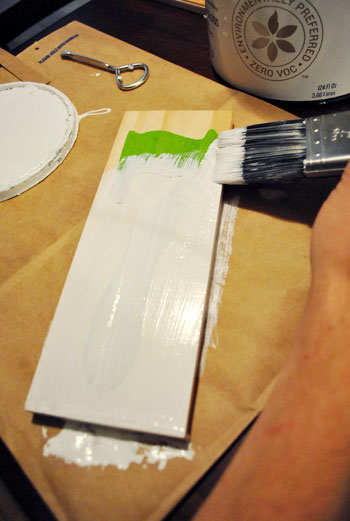 Before the second coat dried, I slowly peeled up my stencil to reveal the wood below that was spared the white-paint treatment (removing tape when the paint is still wet usually results in a crisper line).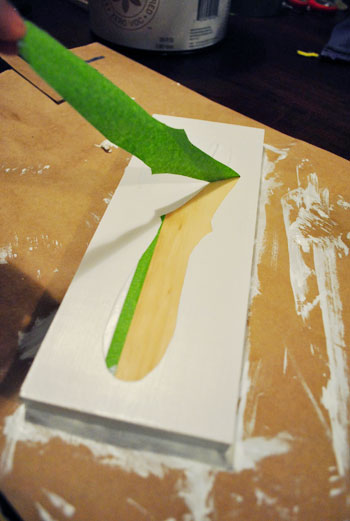 Once all of the green tape was taken off and it dried for a few more hours, I added a spare sawtooth hanger (like this) on the back and hung it up on the frame wall.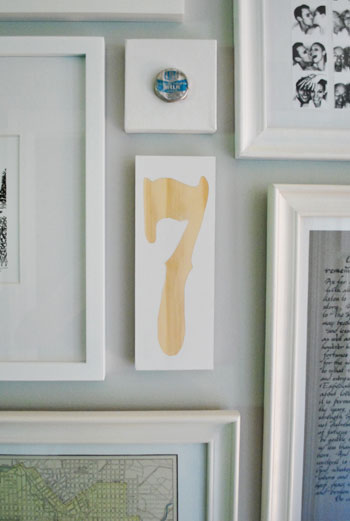 We lurv it. As much as we like photostrips, we're both glad we did this instead (especially since there's already a frame of photostrips right next to it). Plus, you know we love meaningful slash personal stuff that's homemade (so a subtle reminder of our anniversary crafted by yours truly is sweet to suckers like us). Oh and when it comes down to cost, everything was free/already on hand except for the piece of wood (which we got for under $2 at Lowe's).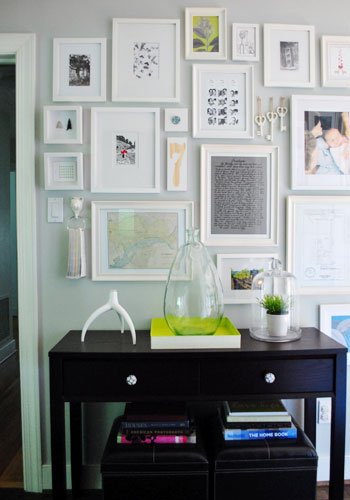 My only wish is that (had I know I was going to do this project from the start) we would have bought a piece of wood with a bit more interesting grain going on. Oh well. There's always next time (or we can wax or stain or outline it to tweak it someday). For now we like the soft wood tone since it ties into a few other objects on the wall – like a tan map with pins where we've gone and a backwards canvas that we hung so the wood frame faces out (both of them are the same blonde wood tone as the seven, although unfortunately not pictured in this post- oops). Have you guys used tape as a stencil to do something like our little wood art project? Or for glass etching (like we did here)? Or for something else entirely? And what about numbers. Do you have a lucky one? In our house we like 43 (the number of digits in "love you"), 14 (Clara's b-day), and 7 (our anniversary of dating/being married) the most.
Psst- Find more on our big hallway wall of frames here, here and here.