Remember when we mentioned snagging these old iron keys for $8 in an antique store in West Virginia while visiting John's grandma? Well I finally got around to painting them and hanging them in our hallway frame gallery (see how we made that here). Where did we squeeze them in? Well, see that card stock placeholder key? That was, well, just a placeholder.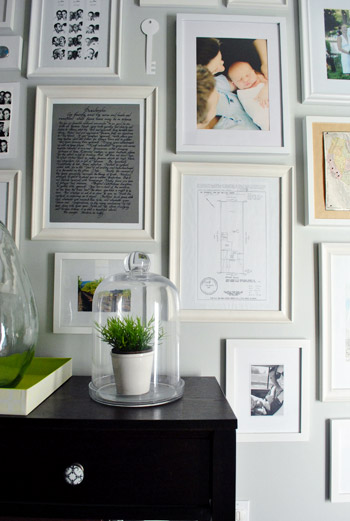 I could have easily spray painted them for a quick makeover but since I love to use no-VOC paint whenever I can (especially since I have a huge gallon of white paint around at all times), I opted just to brush on a few coats by hand. It's the same semi-gloss Olympic Premium No-VOC paint that I always use for trim and doors in off-the-shelf white if you're wondering.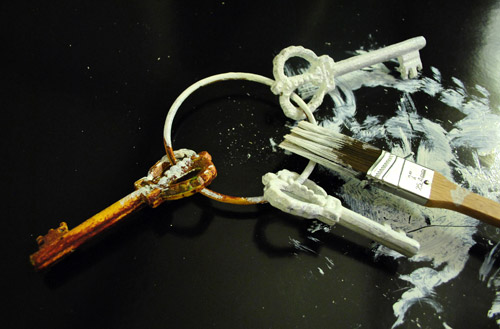 Then I decided that the spot on the wall with my card stock placeholder key might not accommodate that big ring of keys as well as three separate keys hung in a row, so I used some lady power and a hack saw to cut the iron ring and free each key to hang on its own.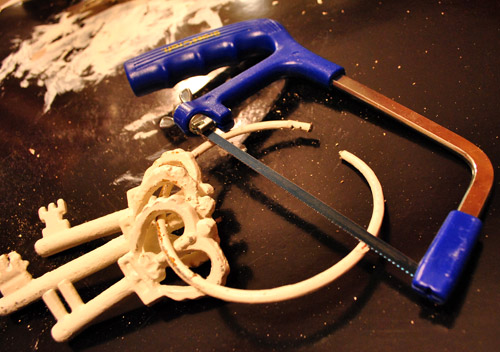 After touching up some of the white paint for a pristine finish I waited for them to dry and used twine from our junk drawer to string up each one at varying heights for a balanced but not perfectly symmetrical result.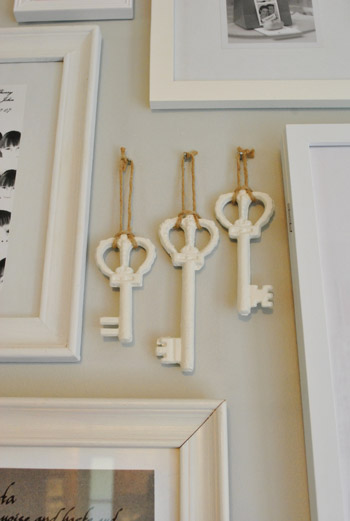 In the words of my imaginary BFF Bethenny Frankel (I know she's not for everyone, but I love her), thar she blows: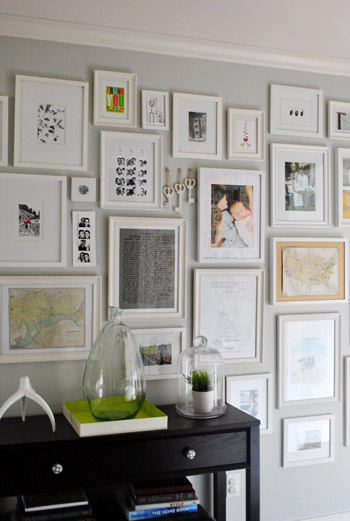 I love glancing over at them through the wide doorway in the kitchen…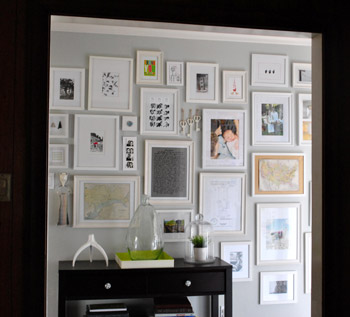 … and gazing at them as I walk from the front of the house to the back (or vice versa)…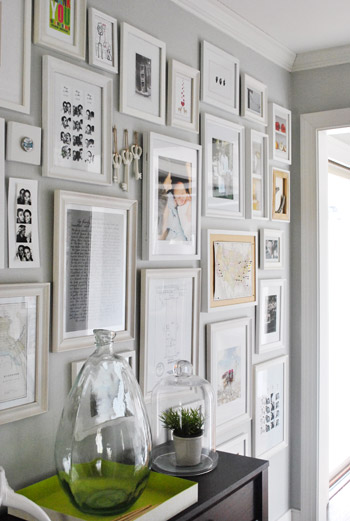 So that's the newest addition to the big hallway frame gallery. If only we could get our act together and start on the other side of the wall. You can see that in it's planning stage – all covered in newspaper – here. And in this video, still covered with newspaper. Maybe tomorrow…
Wow, is this post really only 354 words? That might be a record for a chatty kathy like me. I kind of feel like a slacker. But what more can I say about the keys? Painted them, sawed them, twined them, hung them, took a bunch of photos, professed my love for said keys. The end. Wait, I know what this post needs. An on-the-subject haiku:
Little iron keys
I painted you white (surprise)
Wait, no one's surprised.
Ok, now we're over 400 words and there's some poetry going on. Sherry out.