As of last week, my parents officially live in Richmond. This rocks for several reasons (free babysitting) so we're excited to have them (as free babysitters) just about 15 minutes down the road (close enough to easily babysit for free). Plus, you'll probably get some peeks at their new digs as they settle in (between babysitting jobs) and as we help them tackle some projects around their house (perhaps in exchange for all of the free babysitting). And if you follow us on Flickr, you've noticed that we wasted no time breaking in their community pool as soon as the moving truck was returned: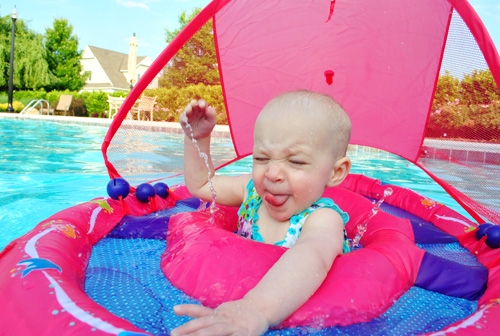 Three days after closing on their new house, my parents also celebrated their 39th wedding anniversary (days before my mom had a birthday- May's a busy month for us celebration-wise). Since 39 years doesn't have an assigned anniversary gift theme (35th is coral or jade and 40th is ruby), my sisters and I planned something to commemorate the 32 years they spent at their old house (seen below). This was in addition to the painting we gave them last month as moving gift.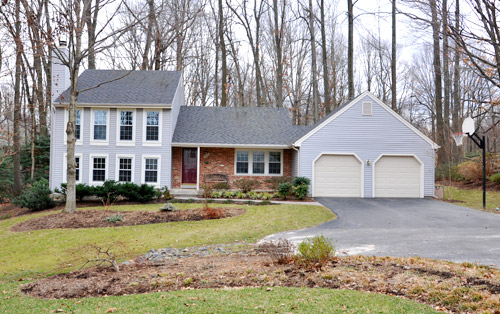 My mom has always collected "The Cat's Meow" keepsakes, which are small wooden blocks cut and painted to represent specific buildings, landmarks, and even people. My mom is particularly fond of the meaningful ones that represent places that are special to her – like the Dolles taffy shop in Rehoboth Beach, DE (our traditional family vacation spot) or the West Virginia State Capitol (her home state). So when I discovered that they accepted custom orders, we jumped at the chance to commission this: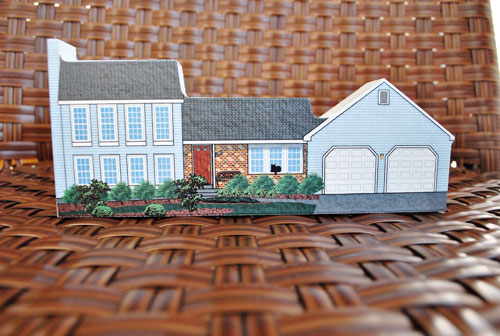 Using the photo above of the house, they created this custom wood block of my parents' place. It's a service they call "My World" and it took roughly six weeks and was about $99 for two (we got one for their new Richmond house & one for their beach house). Hundred dollar gifts are kind of the sweet spot for us kids since there are four of us (and we each toss in $25). Oh and do you see that little black cat sitting in the window? That's in every figurine that they make (it's their signature) but it acts as the perfect stand-in for our family's black cat named Duncan (who now lives with my little sister Carrie).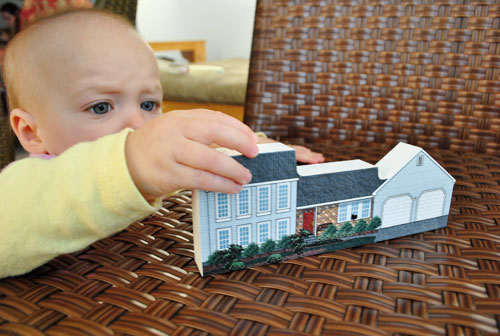 They did a great job with it (though it's a bit bluer than in real life – it's actually grey – but maybe our photo is to blame for that). They even let you customize a message for the back. Their standard collection usually includes the name of the place and some historical facts, so I wrote something to sorta summarize the "history" of their house.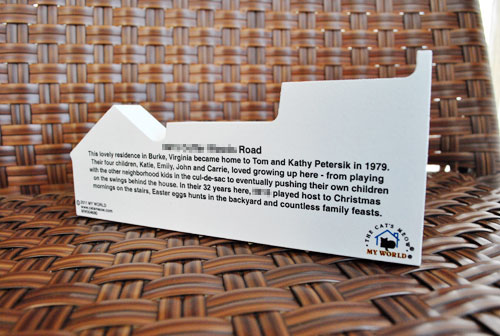 In case you don't feel like squinting – it reads:
This lovely residence in Burke, Virginia became home to Tom and Kathy Petersik in 1979. Their four children, Katie, Emily, John and Carrie, loved growing up here – from playing with the other neighborhood kids in the cul-de-sac to eventually pushing their own children on the swings behind the house. In their 32 years here, [their street number] played host to Christmas mornings on the stairs, Easter eggs hunts in the backyard, and countless family feasts.
(To explain, we had a tradition of making the kids gather on the steps on Christmas morning before running to open presents. We didn't actually try to open gifts precariously crammed onto the staircase.)
As we hoped, the two wooden replicas of their former home were a big hit with my parents (who opened them this weekend while we were at the beach). I think they're excited to have this small reminder of their "kid-raising" house to display at their new "grandkid-babysitting" home (my words, not theirs).