We've shared some random details about our beach house progress here and there, but we're waaaaay overdue for a giant picture-filled blog post about everything that has been going on over there, complete with our latest (and hopefully final) floor plans!
Let's just say that things are looking VERY different these days (you can check out the before pictures here and virtually walk through via this video tour). We definitely have the whole "sometimes it has to get uglier before it can get prettier" thing going on.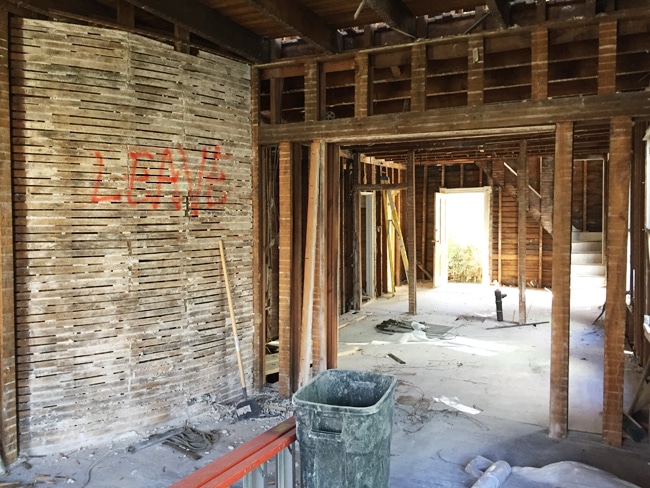 As you can see from the photo above, we've demoed out all of the existing walls. The big "LEAVE" is not some horror-movie-style warning, just a note the contractor left for his crew so nobody removed the curved wall's lath (leaving it will make it easier to bend drywall around it later).
If you listened to this week's podcast, you already heard that despite our hesitations to bust down all of the existing plaster (and occasional drywall sheets – this house was definitely a hodge-podge), everyone around us from the inspector to the contractor was telling us that it was just too risky not to open things all the way up to make sure we caught all of the issues lurking beneath.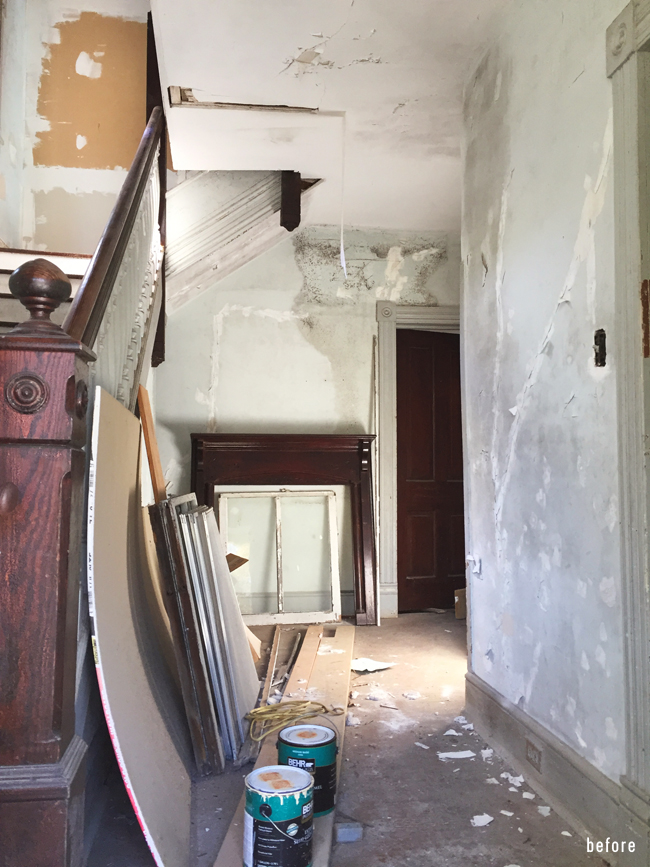 The argument for taking things down to the studs was two-fold:
1. The condition. We could've methodically patched and/or replaced the cracked, damaged, stained, or straight-up missing plaster (along with any sections that were removed during upcoming electrical, plumbing, and HVAC work) – but it actually would've driven costs way up, both for all of the tedious repair work AND for the added time it would take the electrician, plumber, etc, to work within the damaged old walls. So starting over was actually the more time- and cost-efficient option.
2. The secrets. We could see some visible mold on the plaster and pretty heavy termite damage to some of the already-exposed studs, so our contractor made a strong case for removing the old walls just for the peace of mind that we could identify and resolve any other hidden issues that might be structurally unsafe. We're SO glad we did because we discovered additional termite damage (see the right picture below) as well as several places where the framing just wasn't doing its job anymore (see that warped stud on the left).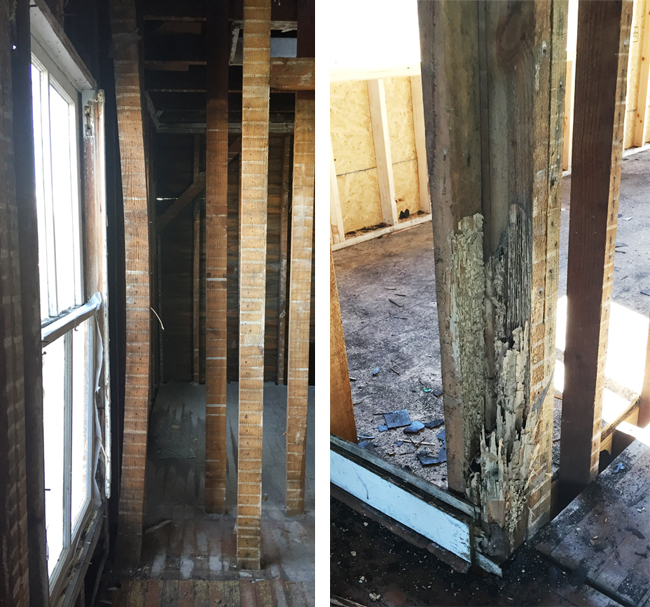 We were sad to have to take the house apart more (all we want to do is put it back together!), but discovering this stuff made us feel good and thorough. Now all we need are some extra reinforcements throughout much of the structure to keep things nice and square, and ensure that our new walls won't pop and crack down the line.
Stripping down all of the interior walls also reassured us that we made the right call in replacing the exterior siding as well (you can read more about that in this post). We already knew there were some rotten parts of the siding, but opening the walls revealed there were also TONS of gaps (as you can see in the picture below). The town inspector warned us that cold winds tend to blow up through those and cause lots of trouble heating these older homes in the winter, and as you can tell, there was no housewrap OR insulation between the siding outside and the plaster inside. This house never would have been sealed well had we just patched the exterior siding and the interior plaster instead of taking it all apart. In the end we're SO GLAD WE CAUGHT THIS!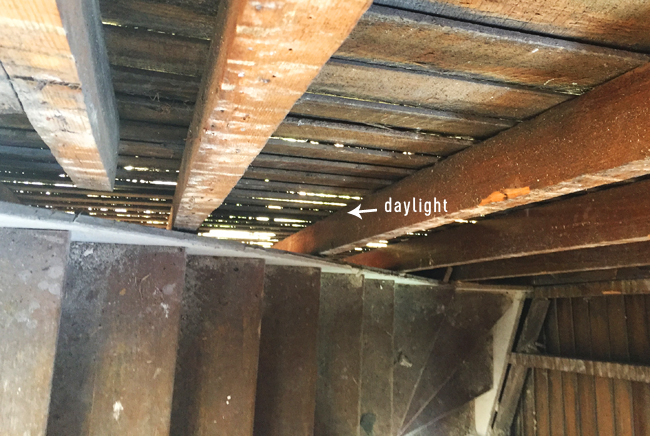 So in the long run we know these updates will make this house a lot more structurally sound as well as easier and less expensive to heat and cool, which will hopefully save us time and money (and tons of frustration) in the long run. Plus we still get to save things like our original hardwood heart pine floors, the old stair railings and treads, the original doors/doorknobs, and the old millwork/trim (which we've saved for rehanging once things are back together).
And speaking of doing our best to look on the bright side, removing the walls also led to a couple of cool discoveries – like this brick chimney stack that was lurking behind a faux-mantle in the living room, which went all the way up through the front bedroom. It has a couple of holes that will need to be repaired, but we like the idea of keeping the brick exposed to add character to both rooms. I think our excitement over the find is best expressed in this photo: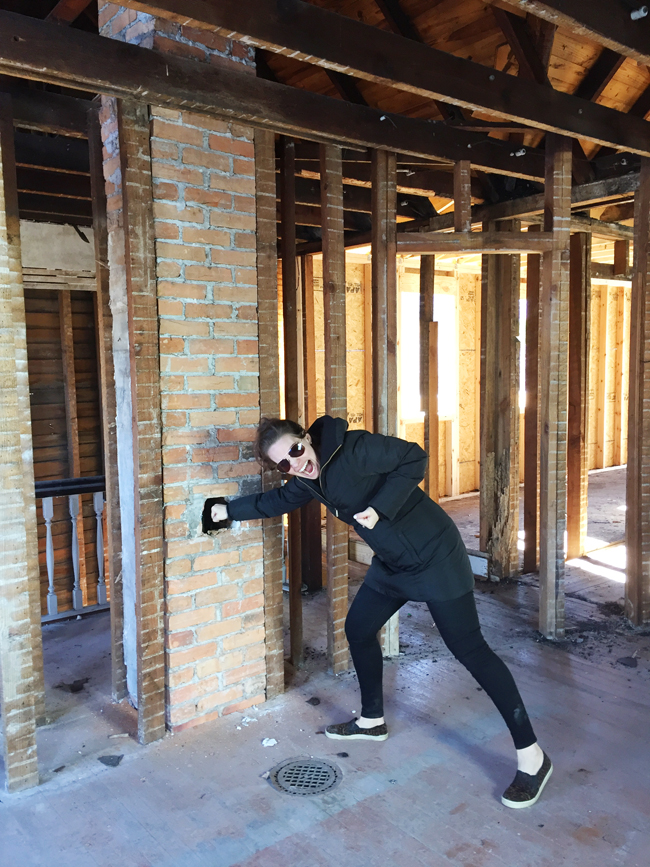 Note: we first attempted to stage that photo as "kicking" rather than "punching," which mostly yielded hilariously blurry outtakes like this. The things we do while the contractor's back is turned…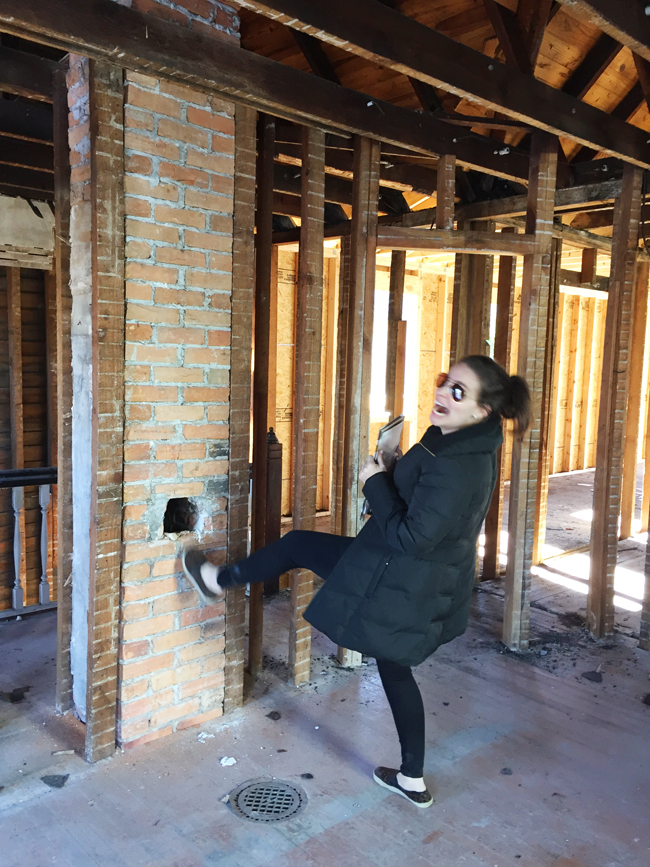 So this is what the upstairs looked like last time we were there. And I should clarify that while we cleared out much of the trash in the house and began some of the demo, we ended up hiring the bulk of this work out to our contractor. It quickly became clear that our progress was going to be veeeeeery slowgoing if we tried to accomplish this on our short weekly visits, and with mold, lead paint, and asbestos in the mix (which are all things that old houses typically have, unfortunately) it's a good idea to be extra safe and hire a pro if you can.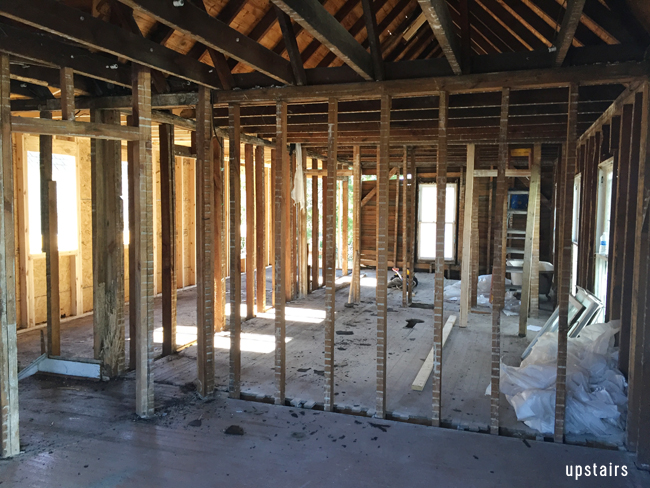 And as we mentioned on this week's podcast, seeing the whole house stripped down to the studs helped us get a better grasp on just how large some of the spaces were and it made us rethink our original floor plan idea. More on that in a moment, because first we gotta catch you up on the other big development.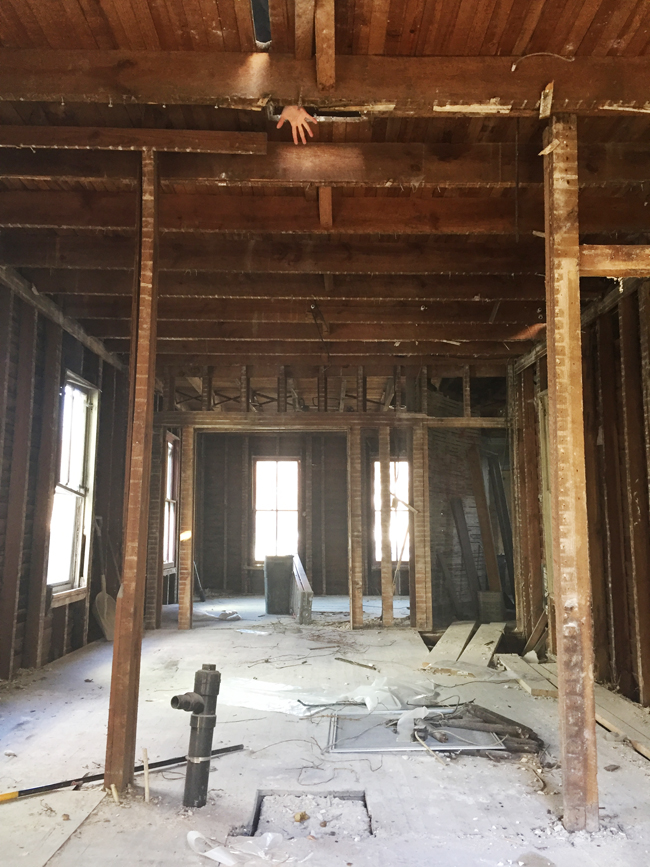 Taking the interior walls down to the studs wasn't actually the biggest project so far, it was dealing with this rotted side of the house. Not only had the siding gone to crap (word on the street is that someone many years ago used wood that wasn't meant for outdoor use when enclosing a once-open side porch) – but the foundation was also sinking into the ground. Yes. It was set on SAND (not concrete or brick footers) and was many inches lower than the rest of the house. It was literally falling off of the rest of the house and slowly slipping into the dirt.
So the best course of action? Tear that whole puppy off and start over. (Yes, Sherry cried).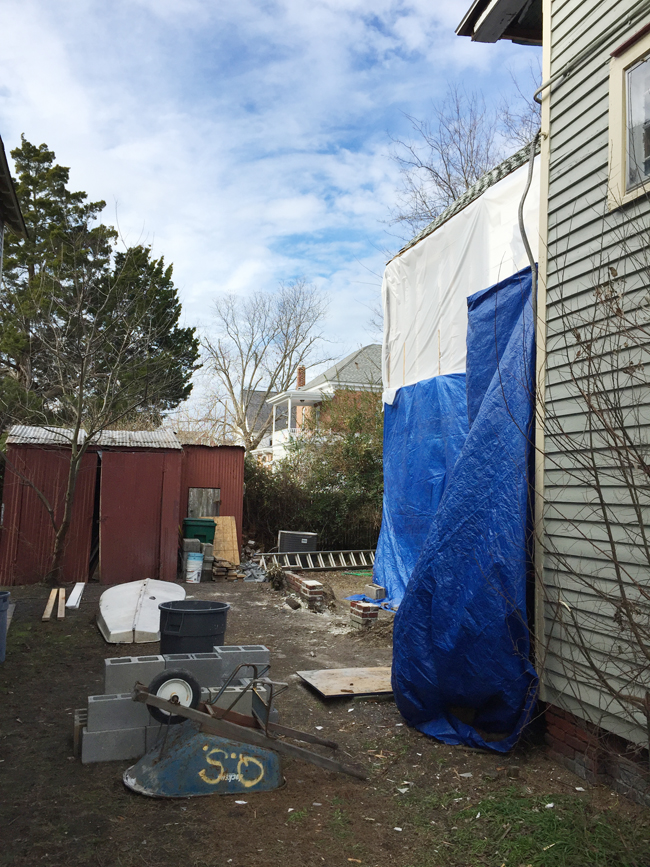 We originally had hoped we could "sister" the beams (this essentially means you reinforce them with new beams instead of completely removing everything) but upon further inspection so much of the wood was rotten or chewed by termites (and that entire side wall was asbestos shingle). So this once again was a case where EVERYONE we consulted, from a structural engineer to the inspector and our contractor was telling us the wisest thing to do was to just start over. And our contractor is a restoration expert, so he hates removing old stuff that can be saved.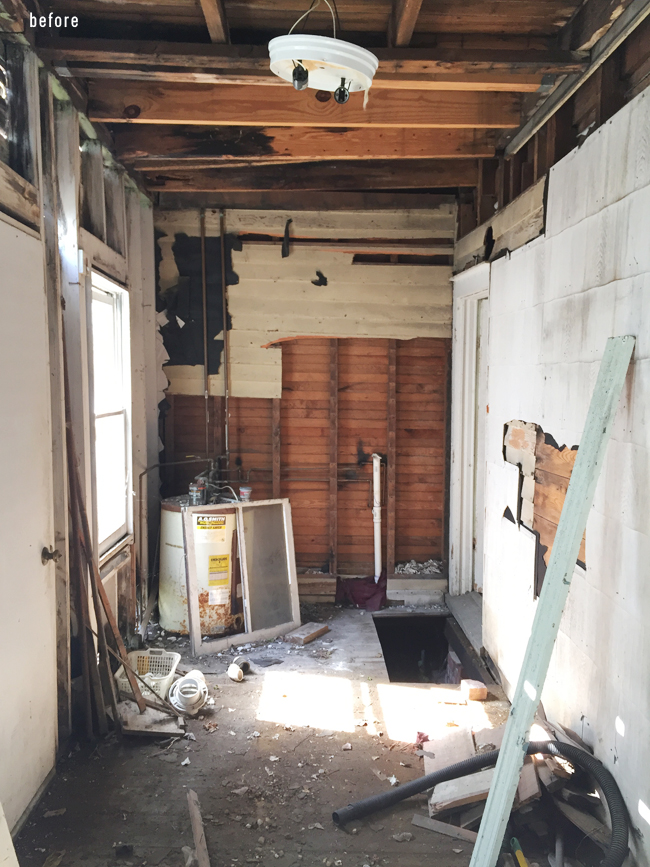 The photo above is the downstairs porch area, and below is the upstairs porch (slash potty for some wild animal that broke in through the various holes in the siding). The ceilings were failing on both levels, much of the framing had rotted due to weather exposure, and it was just all around bad news.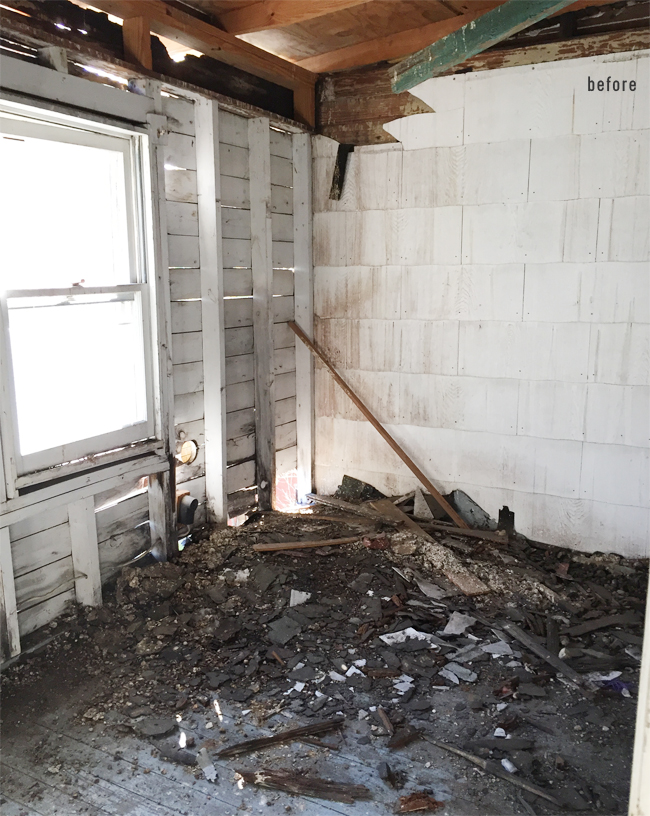 Even the existing two bathrooms (which sat behind each of the enclosed porch areas) were suffering the same fate. This was the old bathroom. If you ever wondered what would happen to your house if it was slowly slipping into the ground while the siding rotted and the roof had gaping holes that let water in for years, well, it might look like this: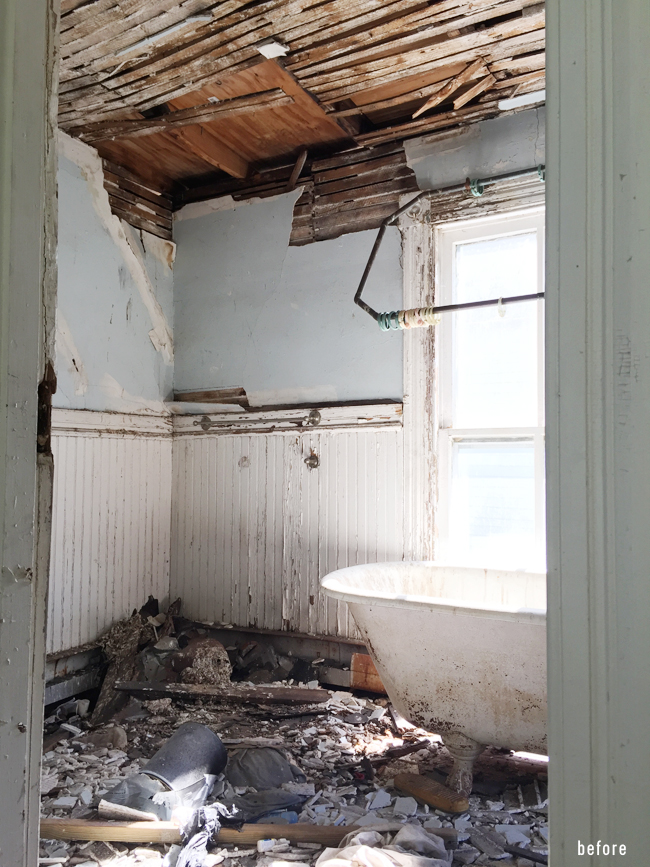 So once interior demo was complete, we greenlit the reconstruction of that whole side of the house (for reference, we've marked the affected areas in red below).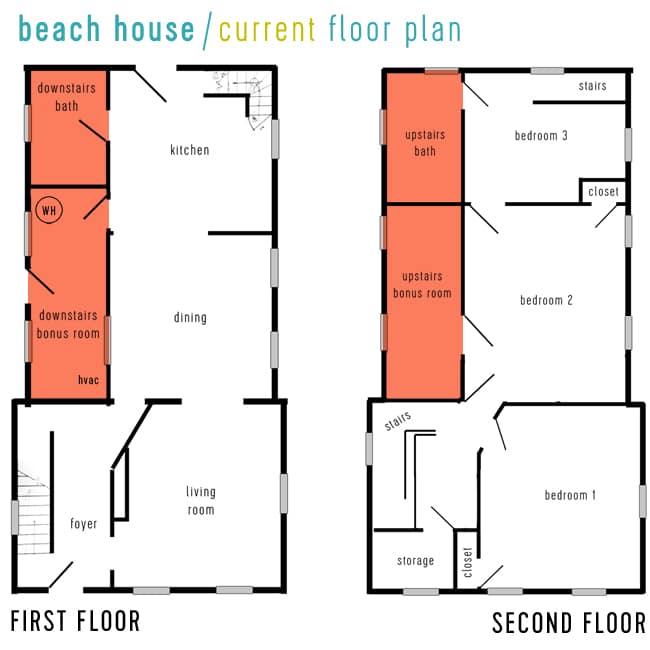 I have to admit it was pretty crazy to roll up one day and just see a whole chunk of the house GONE. #gulp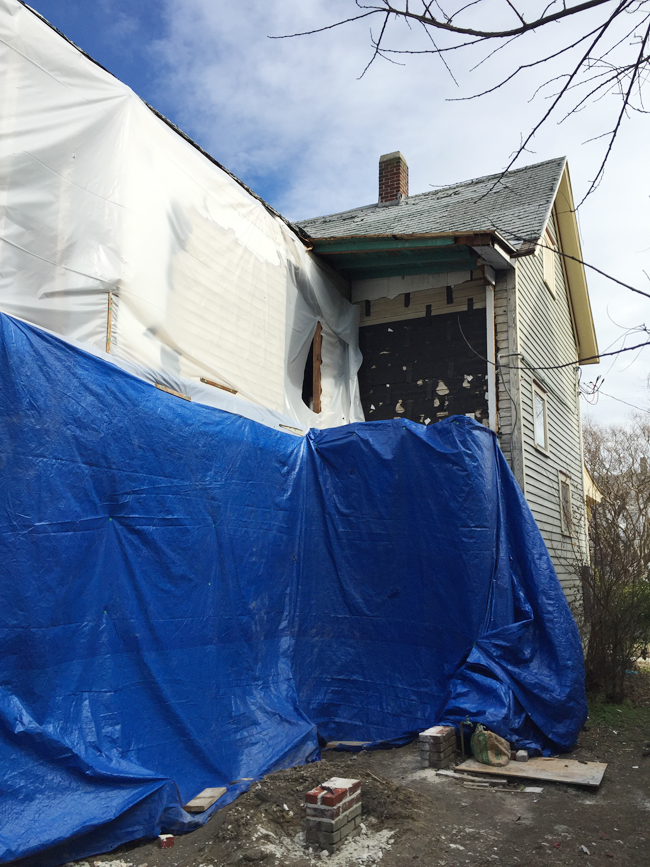 Although it did let in some pretty nice light! See, we're always looking for the silver lining. (Note the clawfoot tub that moved into the bedroom while that side was rebuilt).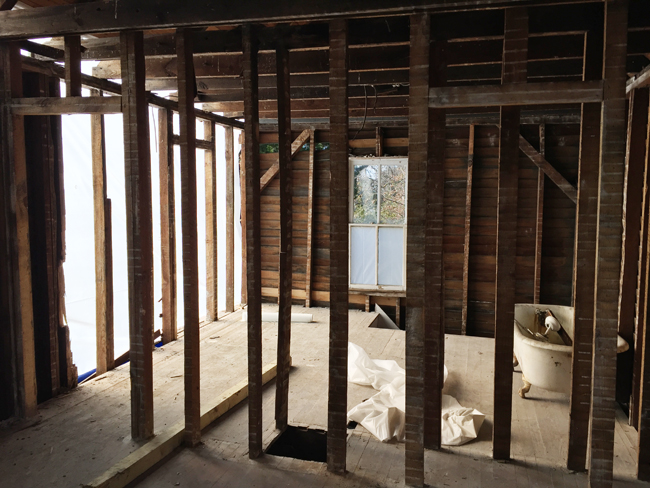 Fast-forward a week-ish and the contractor's crew had almost finished setting our new foundation and rebuilding the entire thing. And since we're in a historic district, there wasn't any decision-making required (so nice!) since we just had to match the old window and door placement exactly so everything will look original once it's done.
SO. MUCH. BETTER. No more slice of rotten siding for our poor neighbors to stare at.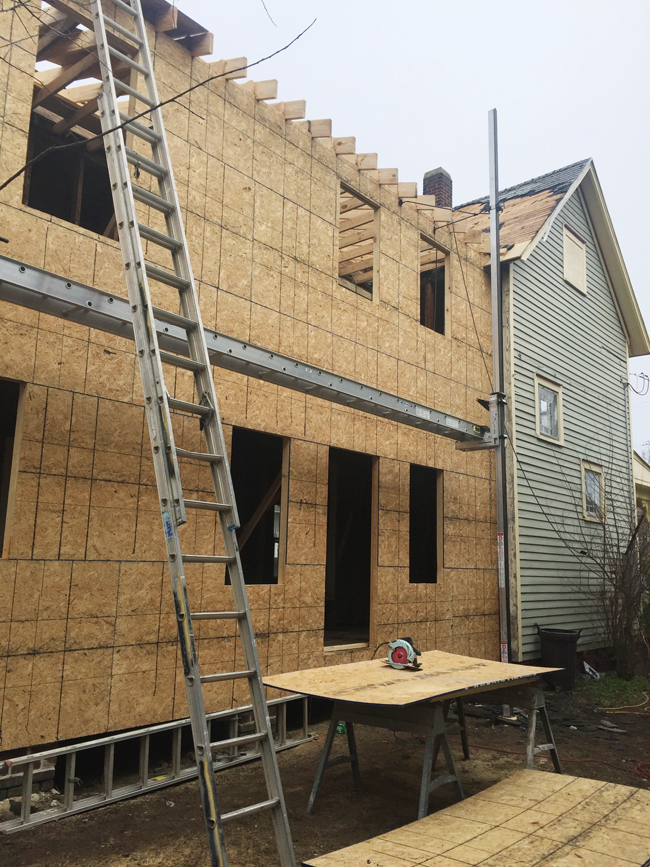 Here's what the bathroom area looks like now. It can't be overstated how exciting it was to step out there and soak up all of the newly rebuilt awesomeness. Anyone who follows us on Facebook or Instagram might remember that Sherry was so thrilled she lost a shoe out the window.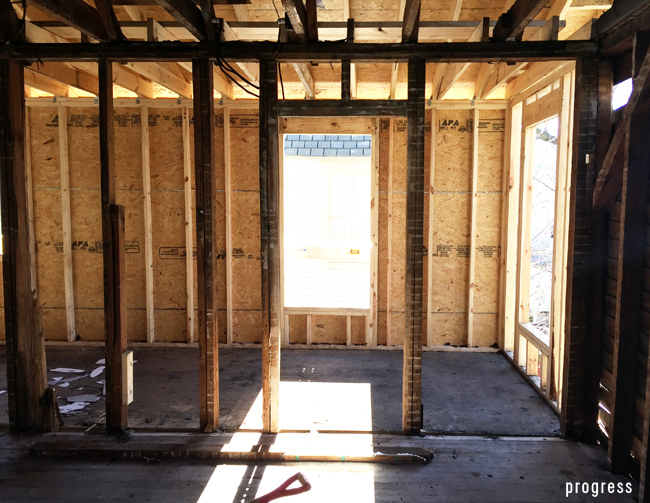 Before it felt so unstable and slanted that we were wary of spending more than a few seconds tip-toeing around out there. Now it's solid, steady, and square.
Just another quick before and after progress so you can see how much has changed. This was the "before" view from the middle bedroom towards the old porch (future bunk room).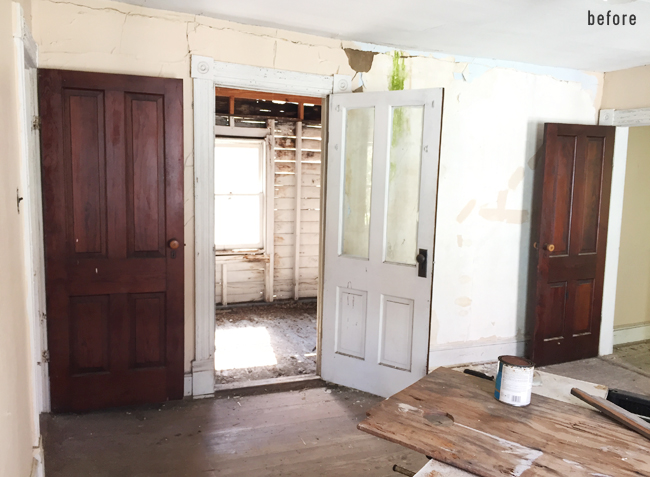 And here it is now. You can see that some of the studs on the right of this photo were completely chewed by termites (see that short stick-like piece that only goes about a third of the way up the wall? So glad we caught this stuff so we can reinforce it all.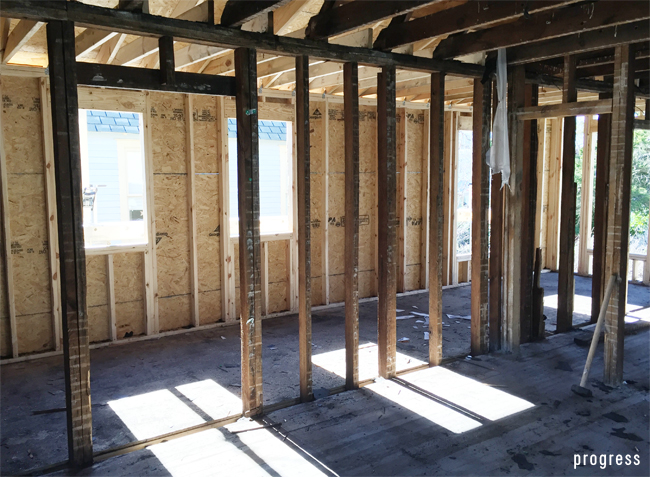 Here's another view of the rebuilt portion of the house from the top of the stairs. You won't be able to see through that wall eventually, but I took the opportunity to mark it out so you can see how we're dividing the new space: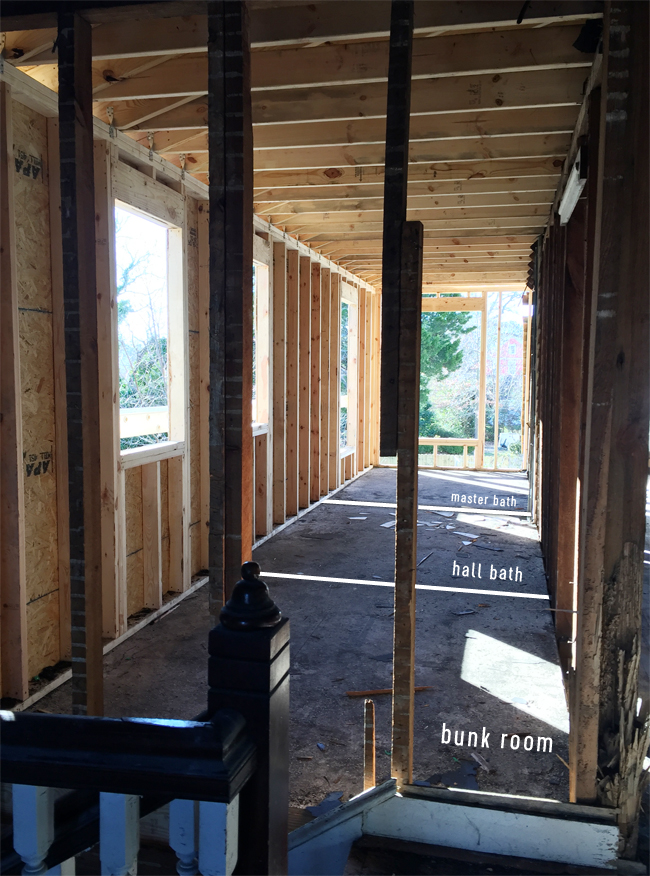 Downstairs is kinda the same story. Here's the view from the foyer. Again, that wall will be solid eventually, but you can see how much space is back there now that it's not all rotten and falling in on itself. We also raised the floor up to be level with the rest of the house. It had had a big step down because, again, that part of the house was slowly sinking into the ground.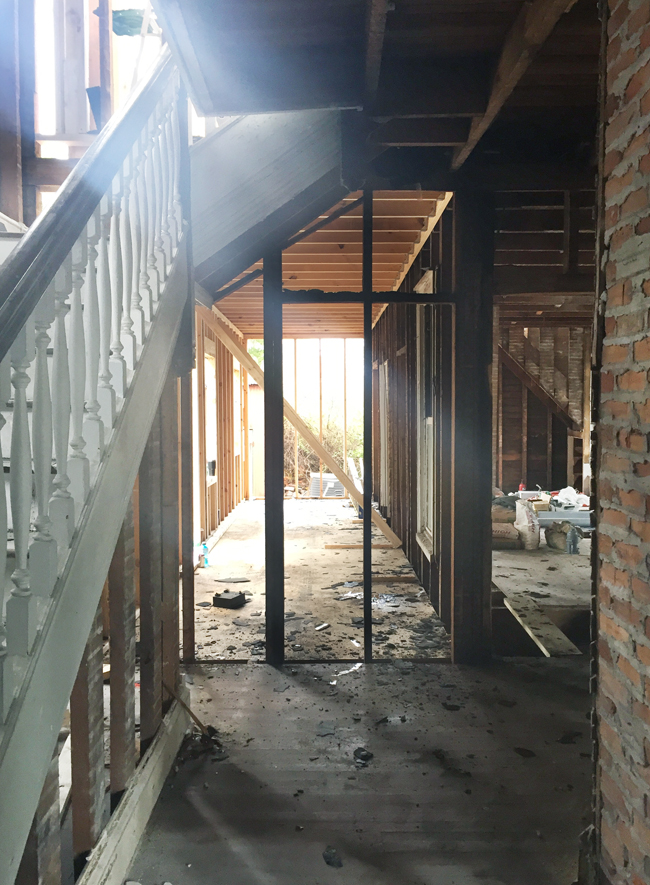 Now's probably a good time to talk floor plan, since I mentioned that we made some changes from the last time we shared it with you guys. I tried out a new floorplanning tool, so this looks a little different than my rough version before. Things aren't exact (for example, the curved wall in the living room wasn't rendering well) but it has been great for keeping things straight with our contractor.
The biggest changes took place downstairs, mostly because when we stood in the newly constructed side we were stuck by how LONG it was. We had planned to just put a bathroom & mudroom in there, but it would've been the longest mudroom in the world.
So instead we turned half of the old mudroom into the bathroom, and are gonna use the old bathroom space as an eat-in breakfast nook. I took the picture below standing IN what will be the breakfast nook, so you can get a sense of the space. Keep in mind, originally ALL of what you see in this picture would've been mudroom. Yipes.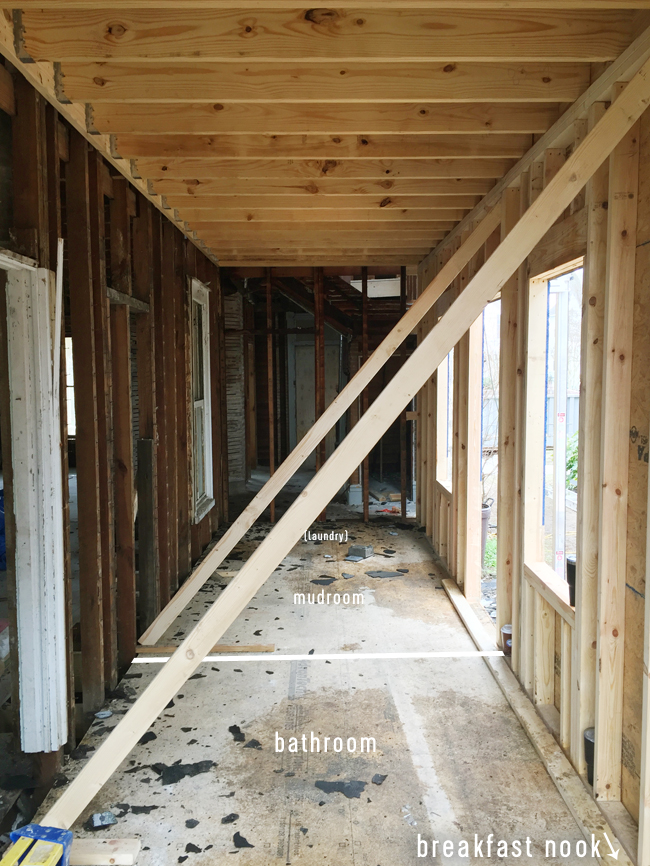 Here it is from the other side – visible through a wall in the foyer that will eventually be closed.
And just for old times' sake, here's that view from when we first bought the house: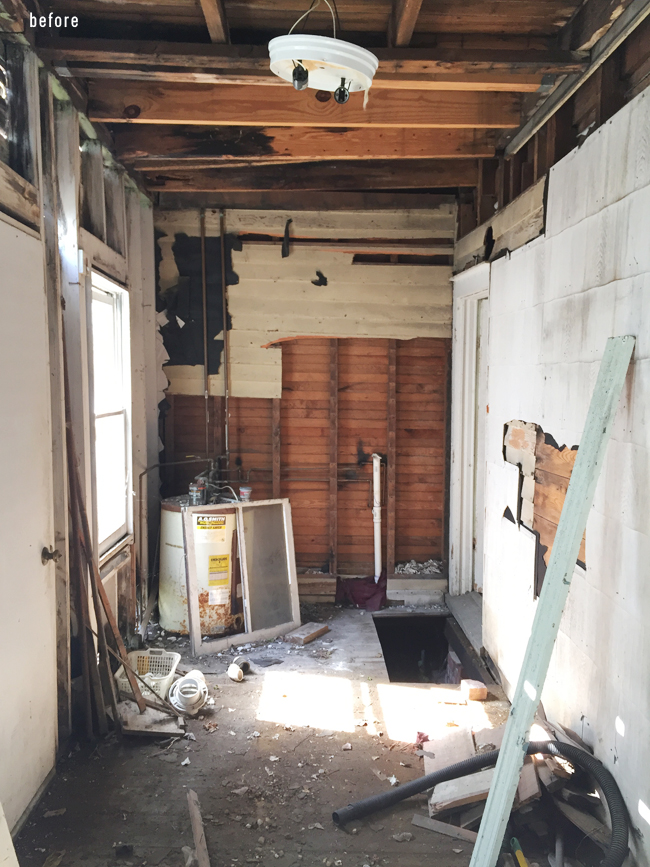 We're excited by the breakfast nook idea because we've heard a lot of advice that you can never have too much seating or gathering places in a vacation home, so this will create a nice spot that works as a kids table, a game table, or even just a cozy alternative to the open dining table.
Adding the breakfast nook in the back meant we needed to rethink our kitchen a bit too, so we've essentially moved the kitchen BACK to the rear of the house, that way the breakfast nook is conveniently located off the kitchen. So in the photo below, I'm essentially standing where the dining table will go – looking at the kitchen, and the breakfast nook will be the back left corner that's newly reconstructed.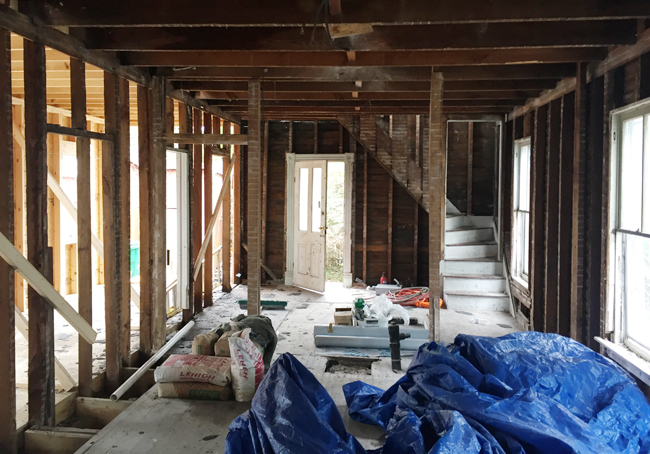 To better figure out our kitchen, we turned to the free Ikea kitchen planner software. Again, it's not an exact rendering (stairs!?) but I still find their software one of the easiest tools for quickly arranging cabinetry. Plus, there's a strong chance we'll actually do an Ikea kitchen, so why not?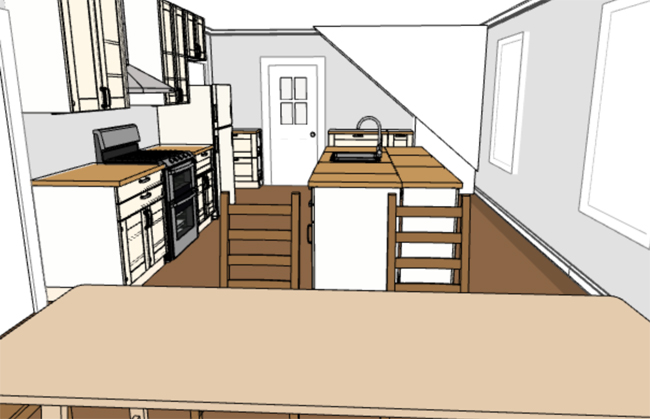 Ignore all of the finishes and colors (and furniture) because this software isn't really showing everything correctly (that over-fridge cabinet has about a foot of gap) but we just used it to make sure we liked the general flow. We haven't totally figured everything out, but we're thinking of tiling that triangle wall along the back by the door, maybe with some open shelves – and we'll probably do stools and not cabinets on the backside of the island. But you can see now how you can access the breakfast nook through that doorway next to the weirdly rendered fridge.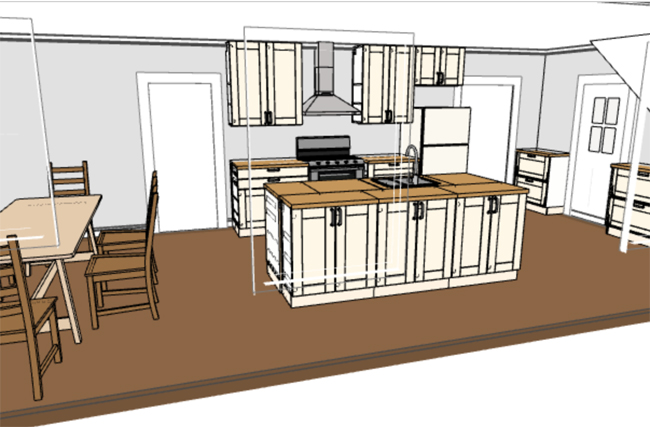 Not too much changed in the upstairs floor plan, except that we stole a little bit of space from the middle bedroom to create functional closets for both it and the front bedroom. Other than that, the main new idea is in the back area with the main bedroom and attached bathroom.
Previously there was a door closing off the back stairs (down in the kitchen, on the third step) that would provide privacy and a sound barrier for the people sleeping upstairs in that bedroom. Our contractor warned us that it wasn't the safest idea (the inspector would never let him put a door on a step these days) plus Sherry really liked the idea of leaving it open visually, so you can see that cool back staircase instead of staring at a few steps and a door.
So to create a door solution to still provide privacy for anyone sleeping upstairs, we needed to add a wall. But since a wall would've blocked light from the window – we (along with our contractor) came up with the idea of double-pocket doors (possibly barn doors) with glass (possibly frosted) on top. The glass will let the window light through, and the pocket/barn solution means we don't need space for the doors to swing. One door will slide open to reveal the railing, which isn't perfect, but we really liked the idea of how double-doors would look and how much more light you'd get from two glass planes vs. just one.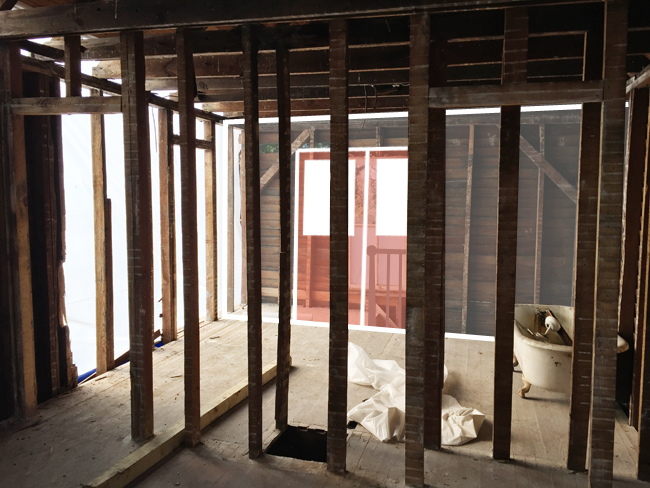 I know the rendering above is a little janky, but wait for it. It'll be good. I hope.
Right now, interior framing is underway – along with hanging the new siding (which is already painted and about to go up!). We're crazy psyched to see it at this next stage and will definitely swing back through with pictures when it's done. No more photoshopping our siding pink!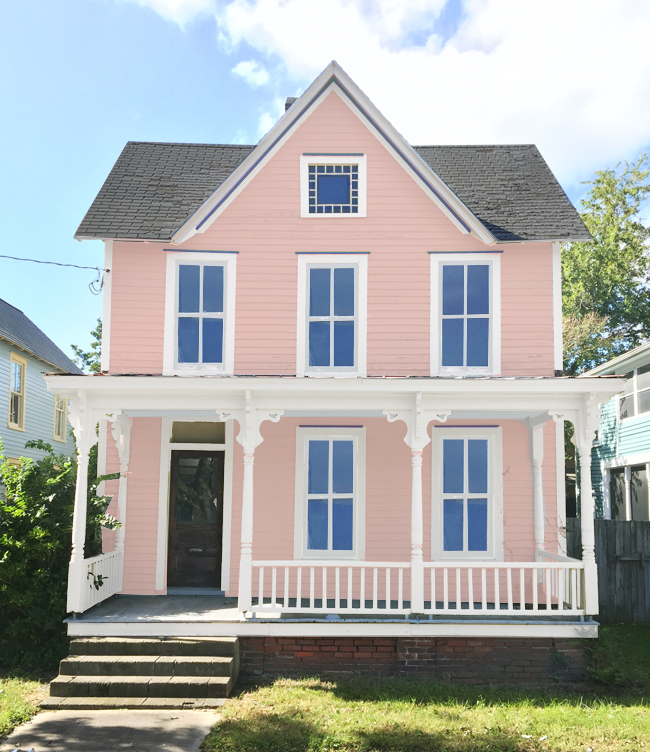 There's more general beach house info for anyone interested on this week's podcast, which you can play below (if you're in a feed reader it won't show up so you'll have to click through).
And for anyone who'd like to read about the beach house from the very beginning, here's our first post about buying it, our second post with a video tour and our initial floor plan ideas, a post about our beach house decorating inspiration, and one that's all about picking the siding color (we were inspired by the most random thing ever).