We finally painted the guest room! And Burger, as you can see, is THRILLED.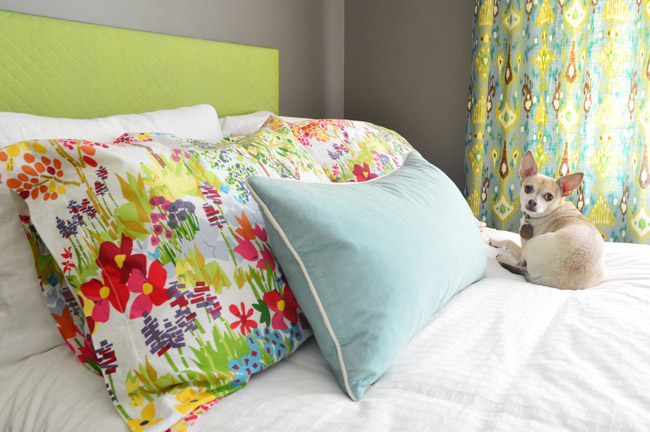 No more over-spray marks from door painting forming a lovely "accent wall" over the bed. Huzzah!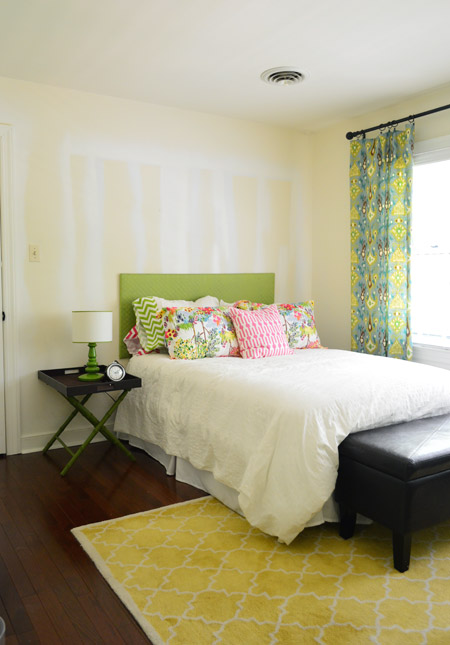 The color? Sparrow by Benjamin Moore. It's a color we've loved for a while now (it was one of our whole-house-color-palette guesses from last year) and we thought the guest room was the perfect place to try it out since it gets a lot of natural light from that giant triple window along the back wall.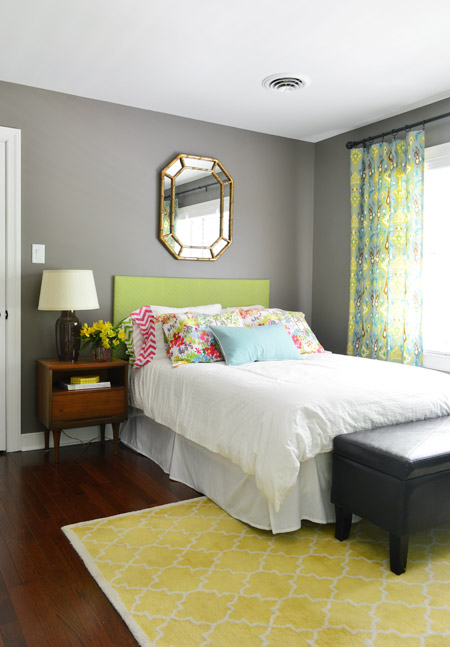 Since it's a deep color we used a tinted primer first, and as usual I did the cutting in while John did the rolling. Oh and we painted the ceiling first (Simply White like the trim, but in a flat finish instead of semi-gloss) just because it's nice to do that at the same time while the room is cleared for painting if you have the energy. Sparrow is more of a brown tone with gray undertones than a cool/flat gray color (you can see from the paint going on over the tinted primer that the primer definitely had a cooler/grayer tint going on).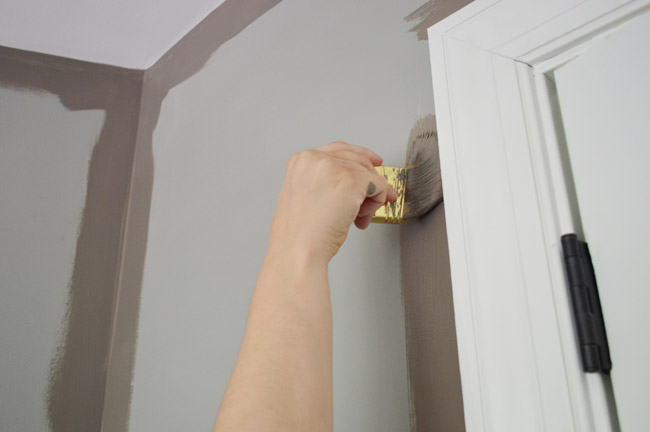 With all the painting done, we decided we were over the blank walls in there, so we dug through our storage room for some frames and a mirror to complement the new paint job. A few old Ikea frames ended up in a grid over the chairs across from the bed.
They used to hang over our sofa in the last house, and they contain a few of our favorite instagram photos with big linen-like fabric mats behind them for some texture.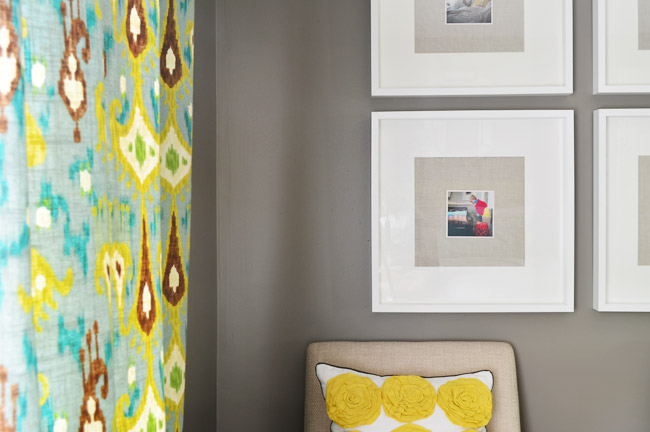 Over the bookcase to the left of the bed we went with another one of those Ikea frames, but we added one of our picture hanging knobs from Target along with some gold ribbon (to tie into the gold mirror we hung over the bed).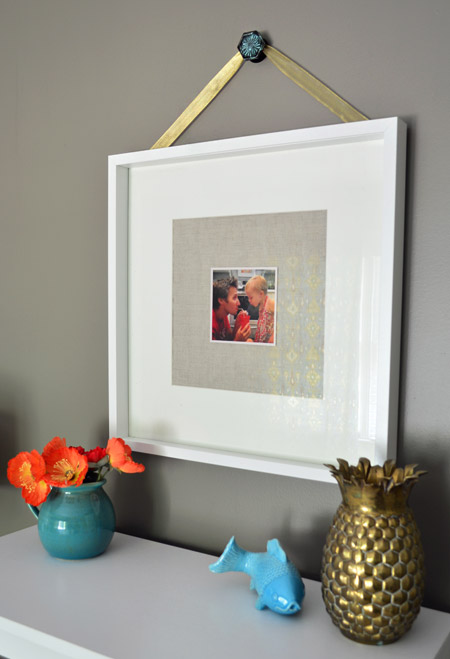 Here's a panned out shot for you. The wall on the left looks weirdly yellow because sunlight is shining in and reflecting green from the trees, so the other photos are more accurate in terms of the color.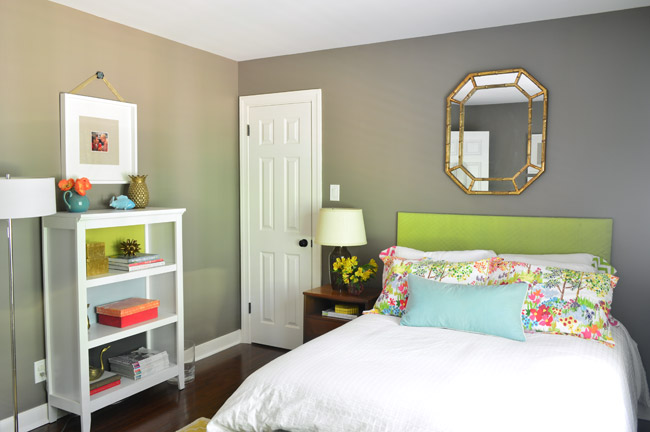 The gold mirror was an old yard sale find that used to hang in our last house's laundry room, and when John held it up over the bed we both liked how it looked with the wall color. Originally we thought we might want to hang something on either side of it to fill things out (like some small candle sconces, ledges, or art) but there's something simple and sweet about the gold mirror without a lot of other stuff going on.
We also switched out the luggage-tray-turned-side-table for something a little more substantial with a drawer for concealed storage and a cubby for a few books and magazines. We found two of these tables for $11 at a yard sale a few years back, and I'm glad to have a spot for this one again – especially since it meant we could add a nice big light that felt more to scale than the tiny one that used to sit on the luggage rack.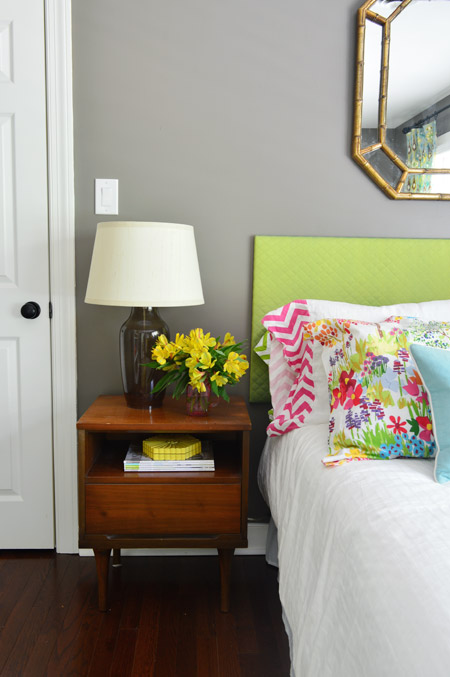 The flowers are just a grocery store bouquet leftover from Clara's party (alstroemeria for the win, they tend to live for 3-4 weeks!).
We still have a few things on the to-do list in here, like adding crown molding, eventually updating the seating area to a sewing spot so the room gets more use, and making a new headboard (we'd love something more substantial – and maybe with an interesting shape). I'm sure we'll also upgrade some of these working-with-what-we-have-items over time (like the art, the bedding, the rug, or the curtains) but for just a gallon of primer and paint and some stuff that was sitting around mocking us in the storage room we're really happy with the new vibe.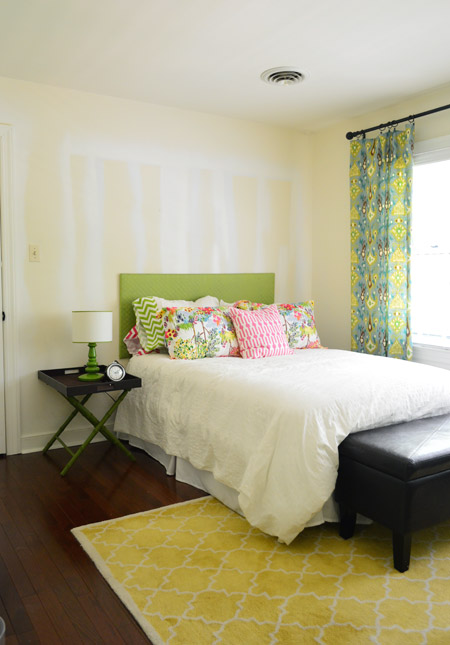 The guest room is at the top of the stairs, so we both do that "ooh!" thing when we go upstairs now. It's amazing how blind you can become to certain eyesores (like those over-spayed door marks) but when you finally take care of them it's like a breath of fresh air.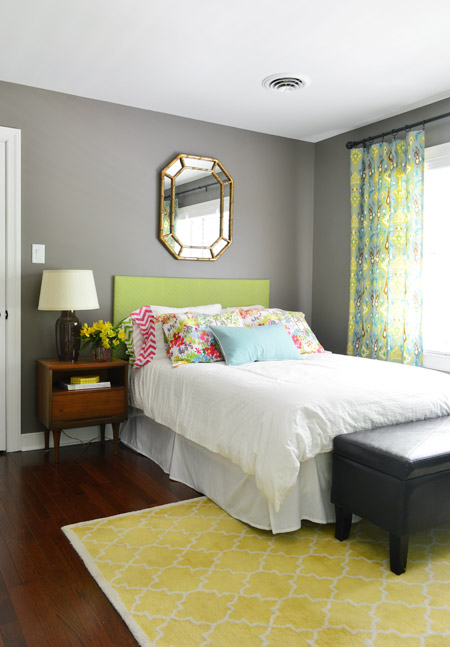 What did you guys do this weekend? Anything fun? We had a nice balance of work and family time – and spent a lot of time being grateful for everything that Memorial Day stands for. Hope you had a happy one!
Psst- Wanna know where we got something in our house? Just click on this button: