Our exterior light situation is a little ho-hum, as evidenced by this tiny fixture outside the back door on our garage (don't mind the grimy green brick that's screaming out for some scrubbing).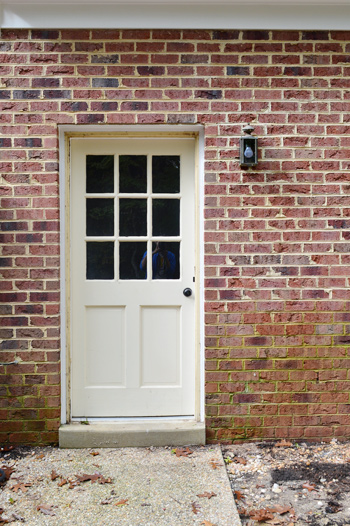 And yes, I realize the door itself is looking a little rough. It originally sported a rusty, loudly-banging storm door (not just a medium bang, this was SCARE-YOUR-NEIGHBORS LOUD) that we removed. So we're getting ready to repair some of the trim and prime/paint it white to match the door in the sunroom veranda that we already updated.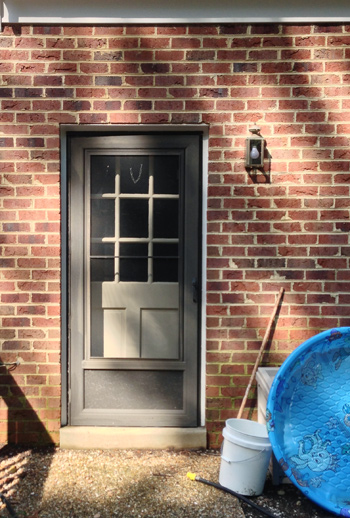 But let's turn our attention back to the light. It was too small and very weather-worn, so we decided it was time to make an upgrade. Choosing the fixture to upgrade it with proved a bit more challenging than we expected. Maybe because we're not really used to shopping for them. I think we might have bought three exterior lights in the course of seven years. So after hitting up a local outlet and some big box stores without anything screaming "I'm perfect!" at us, Sherry took the hunt to a few online sites to see what she could come up with. After about an hour of clicking around (and waaaay too many windows being open at the same time which led to not one, but two browser crashes) there were eight contenders: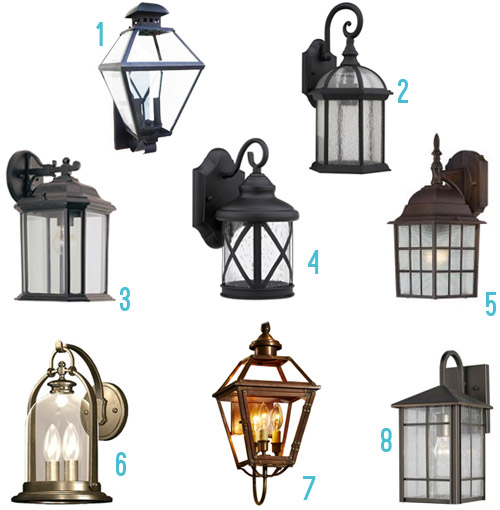 Black lantern $69 here (inspired by the ones here)
Seeded glass lantern $75 here
Outdoor wall lantern $87 here
X-Lantern $37 here
Bronze cross-cross sconce $35 here
Bronze lantern $79 here
Antique copper wall light $219 here (purely just for eye candy, since it's way above our budget)
Bronze lantern $117 here
Making that mood board didn't give us a eureka moment either. But what did was strolling through the lighting aisle at Home Depot and Lowe's again, and discovering that Option #1 had gone on sale (down to $59). It had been my favorite all along anyways (Sherry was really into #6, but it was significantly smaller) and my argument for #1 was that we were looking for something large and in charge, and it was the second biggest of the bunch while also being among the three most affordable ones in the roundup. Sherry gave me one of those "hold on I'm thinking" faces and then said "ok, let's do it." And into our cart it went.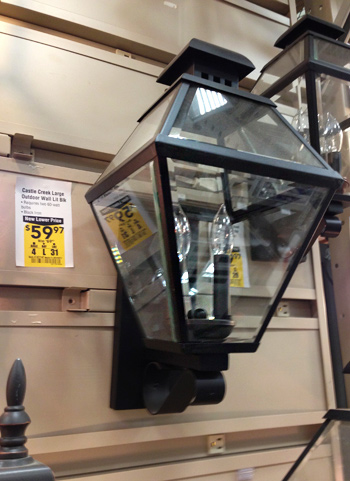 Installation was just like installing any other fixture:
Step 1: Turn off the power
Step 2: Remove the old one after staring at the wires to see how they're connected (or even grabbing a photo of them with your phone if it's your first light-switching job)
Step 3: Connect the new one to the same wires the old one had been connected to
Step 4: Tuck all of the wires into the backplate and use the provided screws to adhere the light to the house
Step 5: Turn the power back on and make sure the light is connected well and working correctly
So installation went nice and smoothly, and you can see from this photo that it's a big improvement. Well, not the door. Or that green wall. But at least the light is no longer rusty and small.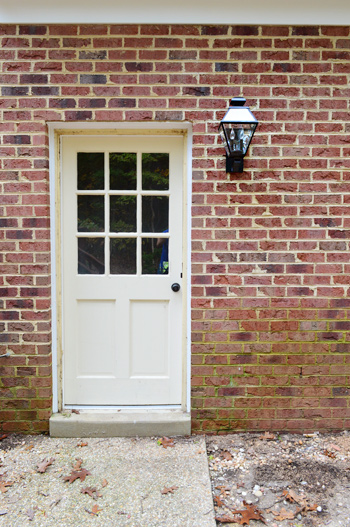 You think I'm joking about the size difference, don't you? Here's a side-by-side with the old fixture so you can see just how much more substantial the new fixture is compared to the old one.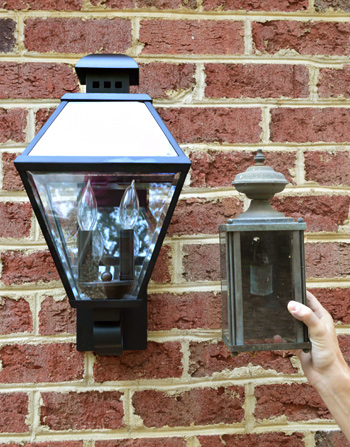 We personally like an outdoor fixture that has lots of visual presence, so this guy is doing the trick for us. Just imagine this with a freshly painted door and non-green bricks and a nice welcome mat and some plants on either side. I know… that's a lot of imagining. We have a long way to go back here.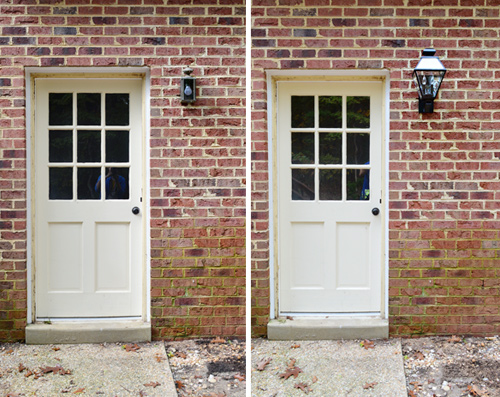 I like this shot the most, since it helps to show the size of the light, along with the traditional shape, which we think is pretty fitting with the exterior of our house (we've admired it on a lot of our neighbor's homes, and also were inspired by this photo of an outdoor space with similar ones). At one point I suggested that we put them in The Artist Formerly Known As Prince The Veranda Formerly Known As The Sunroom (we're looking for four sconces to go on the posts in there to provide some eye-level light) but after holding them up they didn't look right – so we're still on the hunt for what might work in there.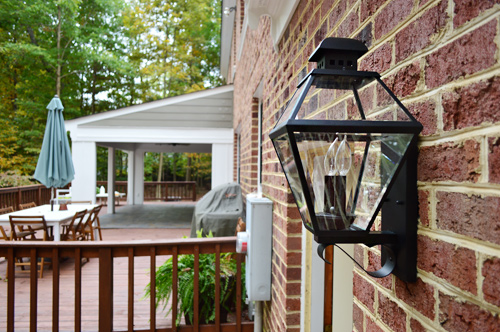 I'll share just one more "after" photo of this guy because when I came out to take this picture I opened the door to find a herd of deer standing right outside. Of course they ran away at the sight of me.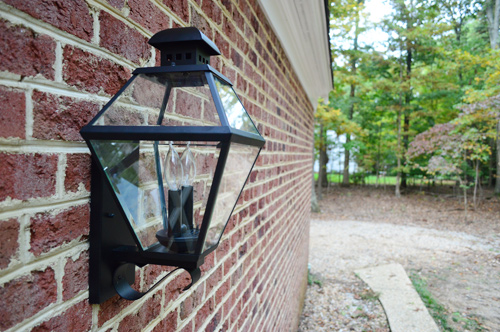 But they didn't go far and still make an appearance in the background of this picture.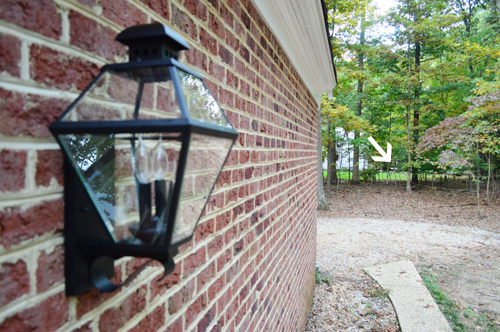 Here they are, just giving me the ol' deer staredown, when I stepped a little closer. If you're on the edge of your seat for more of my stellar wildlife photography (or are just a fan of Where's Waldo: Deer Edition) we've got this post on Young House Life for your deer-loving pleasure.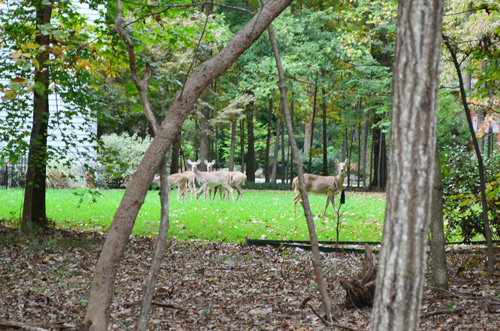 Sorry I keep getting sidetracked. Lights. We're talking about lights. And obviously that back door isn't our only outdoor fixture. We've got one more wall-mounted one above our garage. It was also looking a bit worse-for-wear and was also on the diminutive side.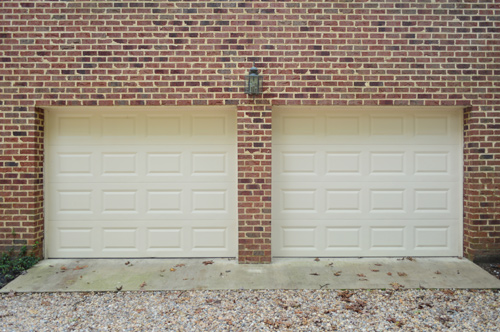 So we purchased a second one to match the one we added to our backdoor. And… the results were a little less impressive.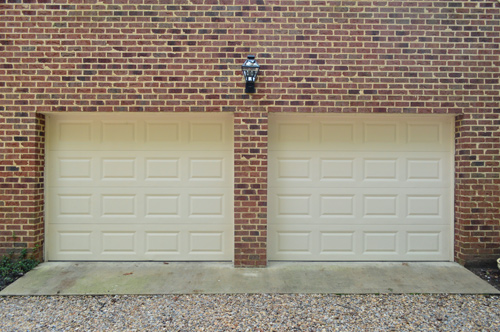 Even though it felt nice to have a sparkly new light up there – and the ORB finish commanded a bit more attention than the rusty gold – the size wasn't reading as much of an improvement between those two giant garage doors (we'll be painting those black or charcoal if that helps you visualize where things are going). And yes, we have more green stuff to attend to on that concrete driveway pad. Yeehaw, I smell some power-washing in my future…
But back to the light.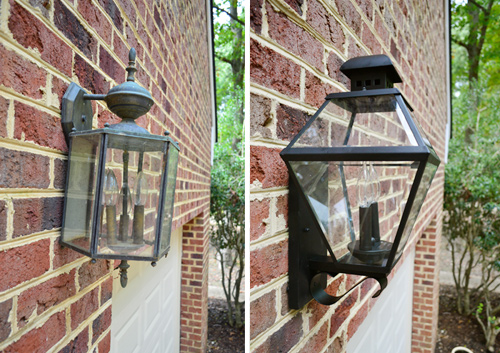 It's not terrible, but it's not exactly what we were hoping for. It just looks kinda lost on that big brick wall with those big garage doors. And I'll admit we're feeling a little defeated because of all of the lights that Sherry mood-boarded, it was among the largest of them all (it's about 19″ high, and the biggest – and most expensive – was only 20″). Update: We also have a pergola planned for over the double garage and we want to add shutters to all of the windows on the side and back of our house eventually (as seen on Listy McListerson) so those are things to consider for this side of the house too.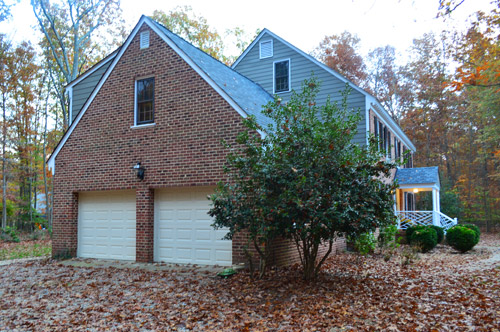 Part of us feels like we should just stick with this one for the time being and withhold judgement until we can do some other things to the garage side of the house (like the paint the doors). And the other half of us feels like we should just return it if we don't love it there, and not settle for something that we might later end up regretting.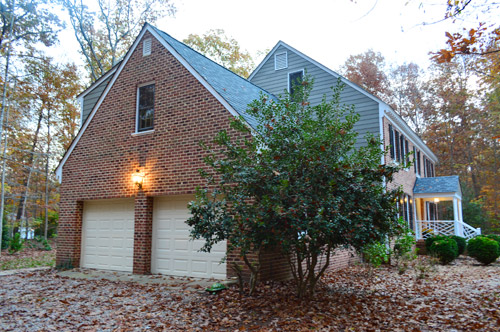 What do you guys think? Would you keep it or return it in the hopes of finding something better? Any tips for where else to look besides local lighting shops, Lowe's, Home Depot, or Overstock?