Here's another cute collection-related idea akin to our vacation jars and our framed key art, and it costs around 50 cents tops. Of course it came from the mind of my creative (and cute) hubby. See, on one of our first vacations together he suggested as we were writing a few postcards to our friends and family that we save one and write it to ourselves. He thought it would be a nice way to highlight a few of our favorite details of the trip (that we'd likely forget after a while).
And we liked the idea so much, that over the past few years we've continued the tradition. It's super fun to look back on our travels together and relive everything from our favorite meal to our sightseeing hijinks. And my contribution to "project postcard" was to suggest that we display them in an old vase (leftover from our wedding- it was actually where everyone dropped their sentiment cards) so we don't have to file them away in the closet in some old box. Regularly seeing them in our space reminds us to look at them from time to time and keeps us excited for our next big trip.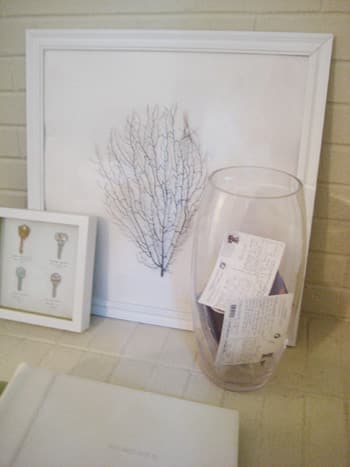 So next time you're on vacay, all you need is a quarter for the postcard and another one for the stamp. Bon voyage!