In keeping with our annual tradition, we thought we'd give you a peek at Clara's invitation and a few of our party supplies like we did last year and the year before. And since a lot of you are trying to guess the theme that she picked this year (after choosing worms last year)… well… say hello to our little dragon.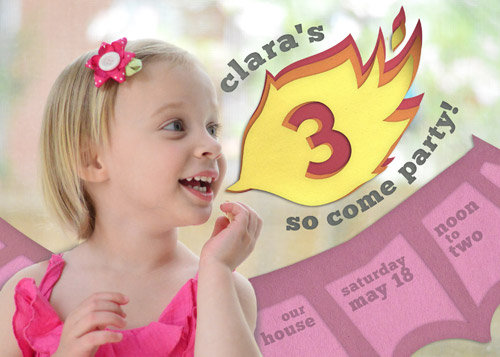 The dragon theme came about a bit more gradually than last year's theme, which was born from her worm-laden dreams. Somewhere between declaring that the book Dragons Love Tacos is her favorite (we even read it to her preschool class last month) and frequently requesting to wear her dragon cape around the house – it dawned on us that everybody's favorite fire-breathing creatures would be a fun muse.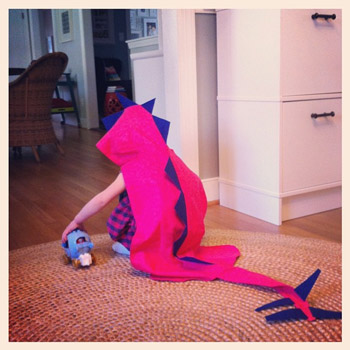 And just in case we didn't get the hint, Clara started telling us that dragons were coming to her party. So we figured working them in where we could was the least we could do.
The invites went out last week, so that's one party to-do checked off the list. As a recap, here was her first birthday party invite – which played off of her weekly photo project theme.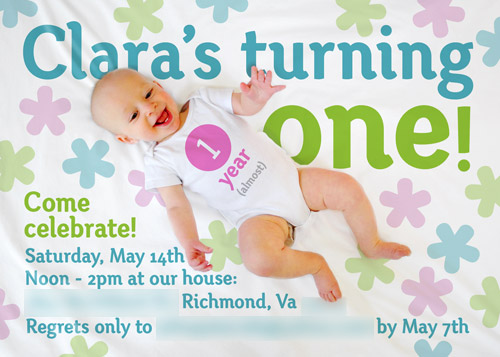 And last year we cooked up some chevron-y worms that helped set the color scheme.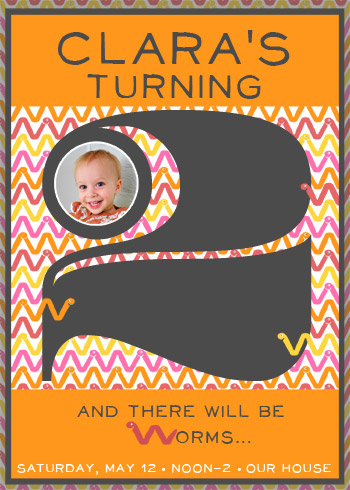 For this year's invite we wanted to do dragons, but friendly Clara-ish ones. Which led us to the idea of Clara actually becoming the dragon. Oh man, that would make her year. In order to turn our little lady into a winged fire breather herself, we had to capture a cute open-mouth portrait of Clara. It was harder than we expected…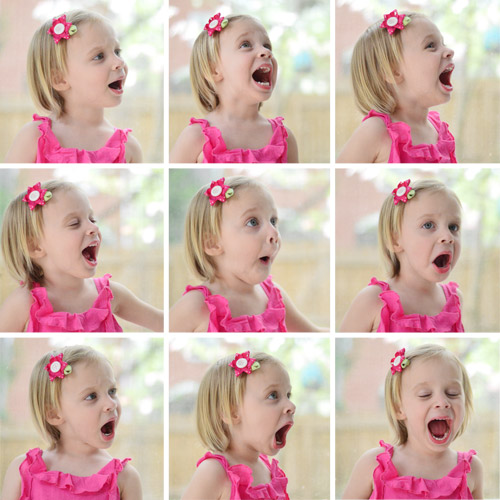 As soon as we saw this photo we knew it was the one, just because she looks so coy, like "oops, am I breathing fire?"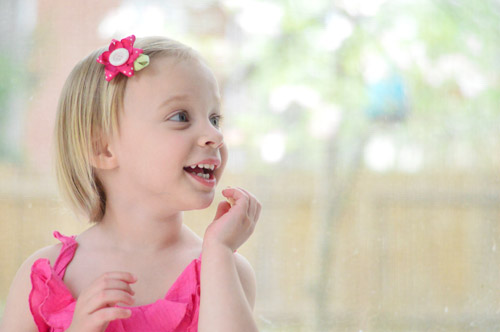 Although we were almost tempted to select this one and change the theme to Julius Caesar. "Friends, Romans, Preschoolers – lend me your play doh."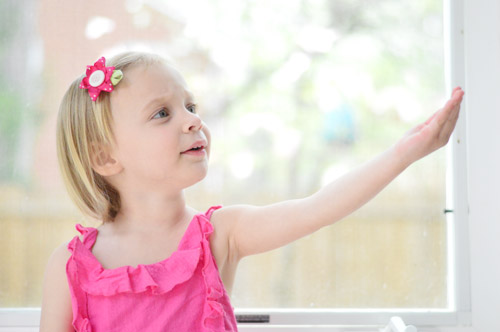 We added all of the graphics and text in Photoshop, trying to simulate the look of 3D paper cut outs where we could. As for the how we did it details, we just scanned some construction paper to get pulp-y paper texture (it's a little hard to see here, though) and cut things out and made different layers of them for that flame-like look.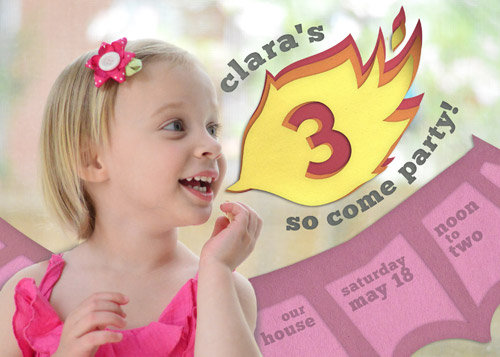 In previous years we've printed using Winkflash, since they offered postcards that were entirely of your own design (no words or graphics over them). But this year we had a Shutterfly coupon for 15 free 5 x 7″ stationery postcards. We had trouble finding blank ones at first, but then stumbled upon these in the holiday section. Fifteen of them would've been $34 originally, but they were already marked down to $24 based on some other promotion. And thanks to our coupon, all we had to pay was the shipping (so we upgraded slightly to get them sent faster by a couple of days). Total cost: ten bucks!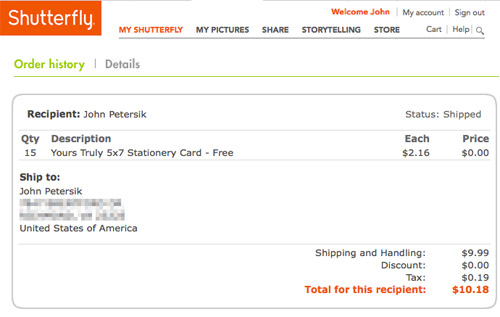 Of course we'll be back with a post after the festivities, but here's a sneak peek of some of the party stuff.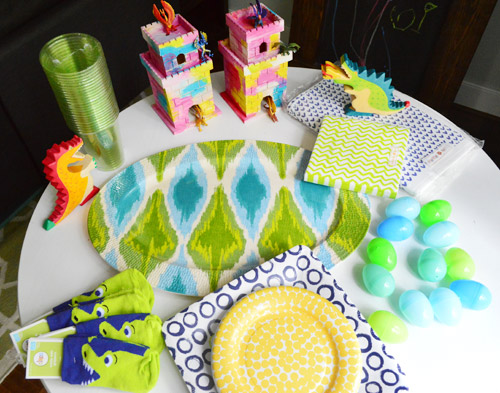 It'll all make more sense in context, but those dragon socks were 99 cents a pop from Target (Clara loves novelty socks so we thought they'd be fun favors) and that big ikat serving plate was on clearance for $6. We're also going to have a dragon egg hunt, hence those plastic eggs on the right. It should be really low key and fun (around 8 kids and 15 adults). Clara actually helped me paint those $4 wooden castles from Michael's while they installed our alarm system at the new house last Monday (I thought those would be cute on the table with all the food – and she loves to paint so that was a sweet me&C project).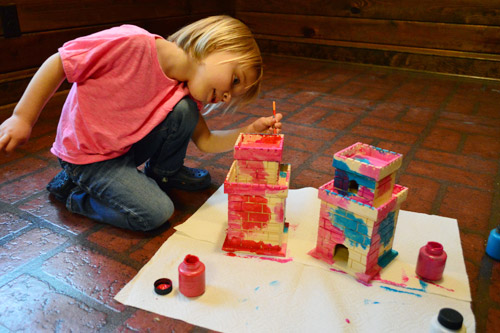 Oh and the party will be at our current house because we thought it would be nice for Clara to have spent three Christmases and her three first birthdays here. Plus the new house is hardly in the shape to entertain just yet… although the errant centipedes might add a vaguely medieval vibe.
Psst- Tonight at 7pm we'll be chatting with Kate Hall (aka: Richmond Mom) about parenting, decorating with your family in mind, and Mother's Day gift ideas at the Barnes & Noble in Glen Allen (near Virginia Center Commons). It'll be followed by a Q&A and a book signing, so we'd love to hang with anyone who can make it.