***This giveaway is no longer accepting entries – see who won below!***
And this week's lucky winner is Amy (who says she has an "unhealthy addiction to my iPhone, between email, Facebook, Pinterest etc. but I put it away for family time.") Congrats!
Whether it's googling around for a tutorial, answering comments on the go, or making a list of project materials on our phone, gadgets have definitely wormed their way into our DIY routine. So we thought one of you might enjoy being hooked up with over $700 worth of Microsoft's newest Windows devices – a Surface RT and a Windows Phone. The Surface is like a tablet, laptop, and e-reader in one – and has fun features like a kickstand for watching movies and a spill-proof keyboard for, well, when your toddler watches movies. And the Windows Phone is equally kid-friendly since it allows you create a dedicated "Kid's Corner" so they can play without accidentally deleting all of your emails.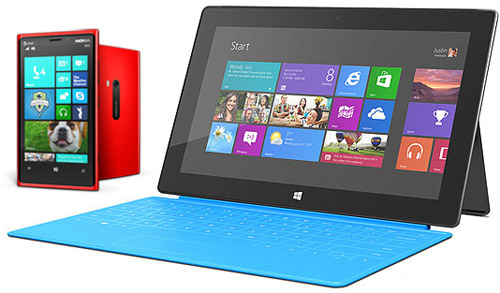 PRIZE: A Microsoft Surface RT with Touch Cover and a Windows Phone (a Nokia Lumia 920 for AT&T customers, a Windows Phone 8X by HTC for others)
TO ENTER: Comment on this post with the words "WINDOWS ME" and tell us…
BONUS QUESTION: … what's the most invaluable thing that your computer, tablet, or phone does for you? Is it the ability to check your email on the go? Do you love packing your tablet or e-reader on vacation instead of lugging a stack of books? Or would you be lost without access to Facebook?
NUMBER OF WINNERS: One
PRIZE SHIPS: We always beg every vendor to ship internationally but some companies are not legally able to vend things beyond specific areas (more on that here). This giveaway is open to the United States.
GIVEAWAY CLOSES: Wednesday, May 8th or at 10,000 entries (whichever comes first)
USUAL STUFF: One entry per e-mail address is permitted. The winners will be selected using random.org and announced on Thursday as an update to this post. That's right, come right back here on Thursday for the announcement of our winners. Good luck…
***COMMENT ISSUES? If you're trying to enter but keep getting a "duplicate comment" warning, click here to see how to solve it!
Note: We aren't paid or perked for hosting these giveaways, we just do 'em to thank you awesome folks for stopping in. See our Giveaway FAQ page for more info. Pics courtesy of Microsoft.