This marks the third Tuesday in a row that I'm sharing a crafty-ish project (remember I made a little fall wreath two Tuesdays ago, and stenciled a pillow using a metal grate last Tuesday?). So I thought it would be fun to try to do something crafty each week (aiming for every Tuesday, but knowing that some weeks life throws me curve balls like a sick kiddo or a project that doesn't work out, so it might be a little loosey goosey sometimes) and call it… wait for it… Weekly Crafty.
I've always liked sharing small crafty ideas (there's a whole category devoted to them on our Projects page) and I think it's a nice way to keep the ol' brain cells going, especially since we're in that auto-pilot-ish phase of the new house that feels like wallpaper removal and trim/wall/ceiling painting are never-ending tasks as we wrestle this house from "before" to "blank slate" (which is when all of those more fun/creative decorating decisions finally come into play). I figure some weeks it might just be altering something that I already have around, and other weeks I might grab a few inexpensive supplies. Sometimes it could be homemade art or something to do with fabric or decorative paper, or… well, you get it. It's a pretty open-ended thing. And this week I decided to have some fun with basket painting.
People like Martha Stewart and even companies like One Kings Lane have dipped their toes into the basket-painting pool, and we even spray painted the bottom of some baskets for Clara's playroom a while back (which she still uses in her bedroom at this house). But this time around, I wanted to do something bolder than giving the bottom of two baskets a white-dipped look. I wanted to play around with some playful colors, and I wanted them to have a homemade hand-painted vibe. So I started with these two basic baskets that my mom brought over during her last visit since she didn't have a place for them and thought we could use them for toy organization or even just stuff under the sink.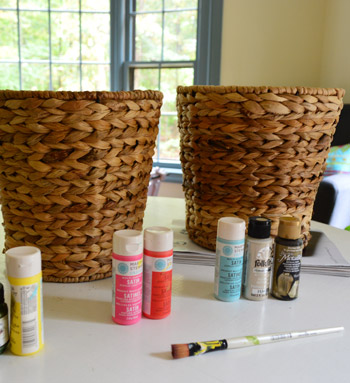 I sifted through all of the paints I already had and came up with these guys as the winners. I decided to do pearly cream (Folk Art's Metallic Champagne), light tiffany blue (Martha Stewart's Surf), and a deeper metallic gold color (Dazzling Metallics in Glorious Gold by Deco Art) on one basket, and to use red and pink (Martha's Geranium and Pink Dahlia) together on the other basket.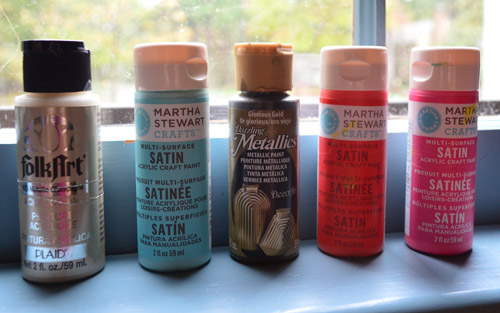 The whole family got in on painting time. John and Clara had some fun in her desk by the window with watercolors, and I worked on my basket painting project at the white pedestal table that now inexplicably lives in the middle of our office (remember it used to be our too-small kitchen table?).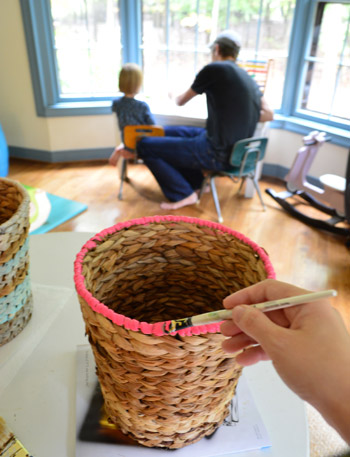 About a half-hour later, I had these sweet little painted baskets going on. I went with simple stripes (in different thicknesses) of pearl and blue and goldy-pearl on the basket on the bottom right, and had some fun with the basket on the table by choosing more of a neon palette and little sideways-heart-shaped designs instead of stripes for the midsection. Once they were dry Clara wanted to use them as toy baskets in her room, which so far has worked out really nicely.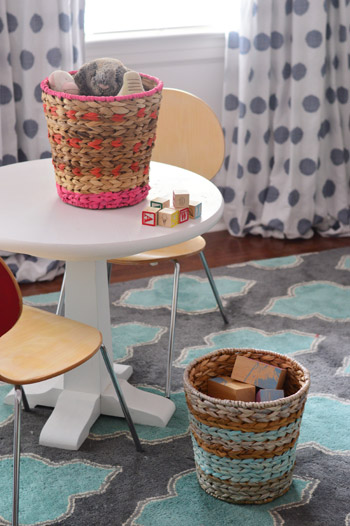 You can see from this detail shot that my painting wasn't perfect (it definitely got outside "the lines" in a few spots) but woven baskets are sort of imperfect by nature, so it's no big deal if your paint travels a little bit.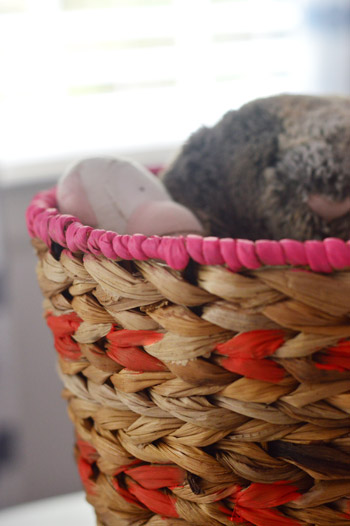 Here's a close up of the blue one for ya. Just going with stripes was a slightly faster process, although I wouldn't call the red/pink basket rocket science by any means. I didn't tape either of these off, I just worked by hand, which was a nice zen approach (I really wanted them to have that hand-painted look in the end, and I worried tape would make them a little too crisp).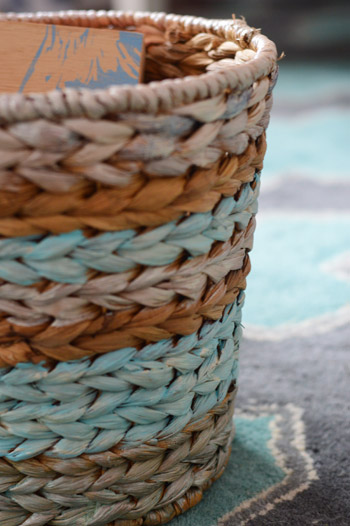 So that was the completely free little craft project that I tackled this week thanks to hand-me-down baskets and some leftover craft paint. But if you were to run to HomeGoods for some baskets and Michael's or JoAnne for the paint I'd guess it could run you about $14 for two baskets and around $10 for five tubes of paint (you might even slip in under $20 if you use 50% off coupons at the craft store).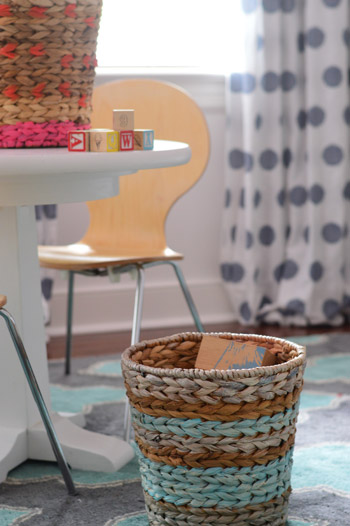 What do you guys think? Anyone else itching to do some basket painting? I didn't spray seal them or anything since my spray painted baskets are still holding up nicely (the woven materials of baskets must be open/porous by nature, since they seem to hang onto paint really well). But I'll keep you posted if these need a clear coat or two of sealer down the line.
What other craftiness is going on? Any seasonal stuff? Who's going to town on some pumpkins? Maybe that'll be next week's project…
Psst- Wanna know where we got something in our house or what paint color we used? Just click on this button: