The beach house feels like it's coming together in fast motion these days. After over a year of working on it, we can't believe it finally has working appliances, a kitchen island, even a functioning kitchen sink! But taking the freshly plumbed clawfoot tub for a spin didn't exactly work out the way Sherry thought it would. We also dive into advice for mixing and matching wood tones in a room for a look that's collected, not chaotic. Plus the autopilot Christmas decoration we're both loving this year and the triumphant return of everybody's favorite segment (consider it our Christmas gift to you).
You can download this episode from Apple Podcasts, Google Play, Stitcher, TuneIn Radio, and now Spotify – or listen to it below! Then use this page to check out any links, notes, or photos we referenced. Note: If you're reading in a feed reader, you might have to click through to the post to see the player.
What's New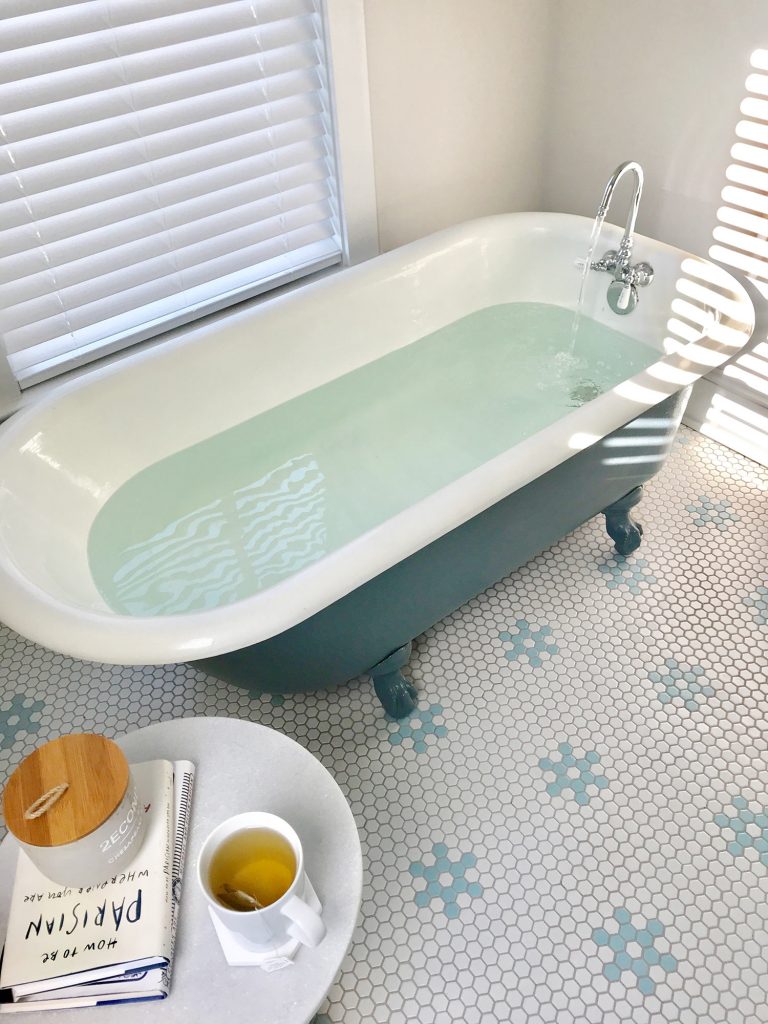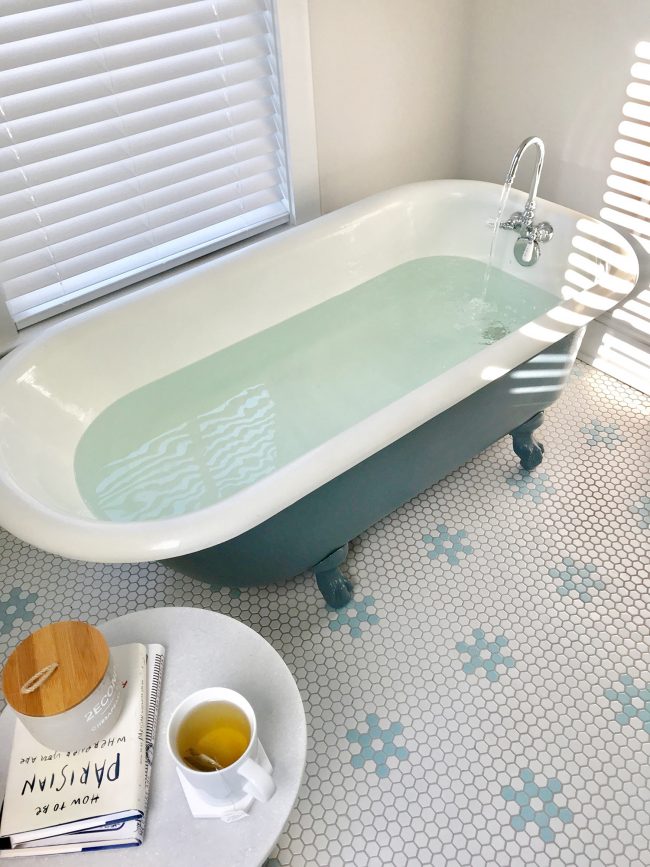 The photo above is the one that Sherry sent me while I was at the hardware store to show off the relaxing, peaceful time she was about to enjoy (before it all went to crap). The good news is that the plumber has since solved the problem and Sherry got to enjoy an actually-relaxing-and-not-at-all-panic-stricken bath this past weekend.
Below are some photos of the Cape Charles Holiday Cookie Trail, where we got to tour some B&Bs, private homes, and – of course – eat cookies with a bunch of other locals & out-of-towners (it was a free event!). Below is a beautiful Bed & Breakfast that we can actually see from our house.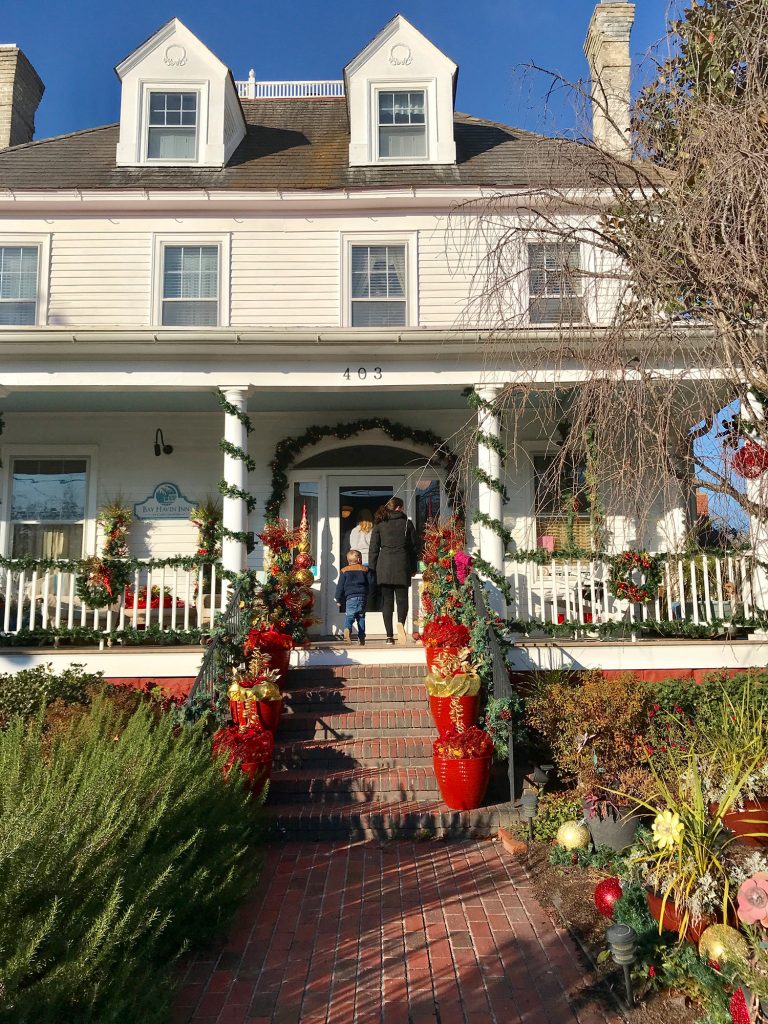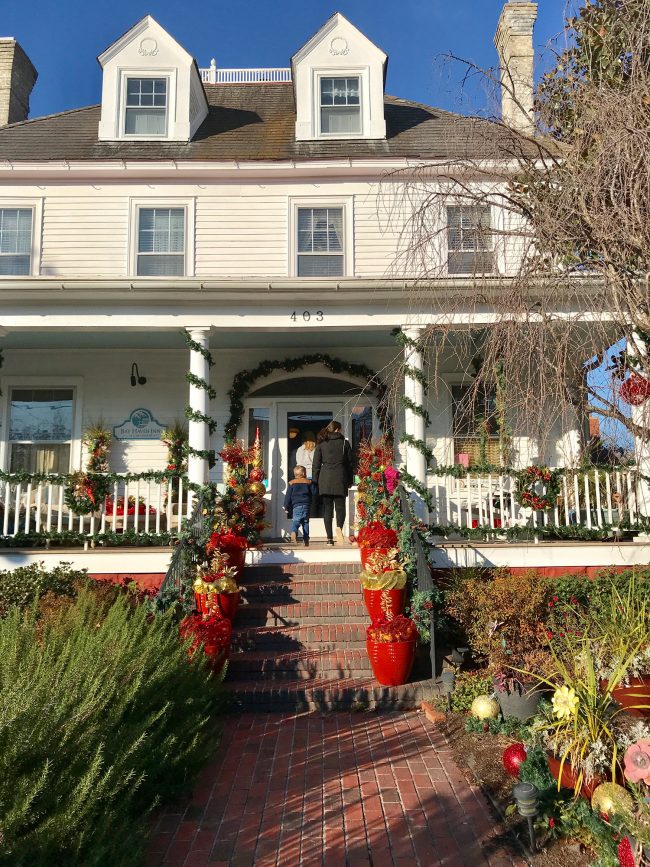 Before it was a B&B this house apparently was home to a family with 10 children (wow!) so the owner was telling us that it was a miracle that so many of the original details, like this amazing window on the stairs, are still in such great shape.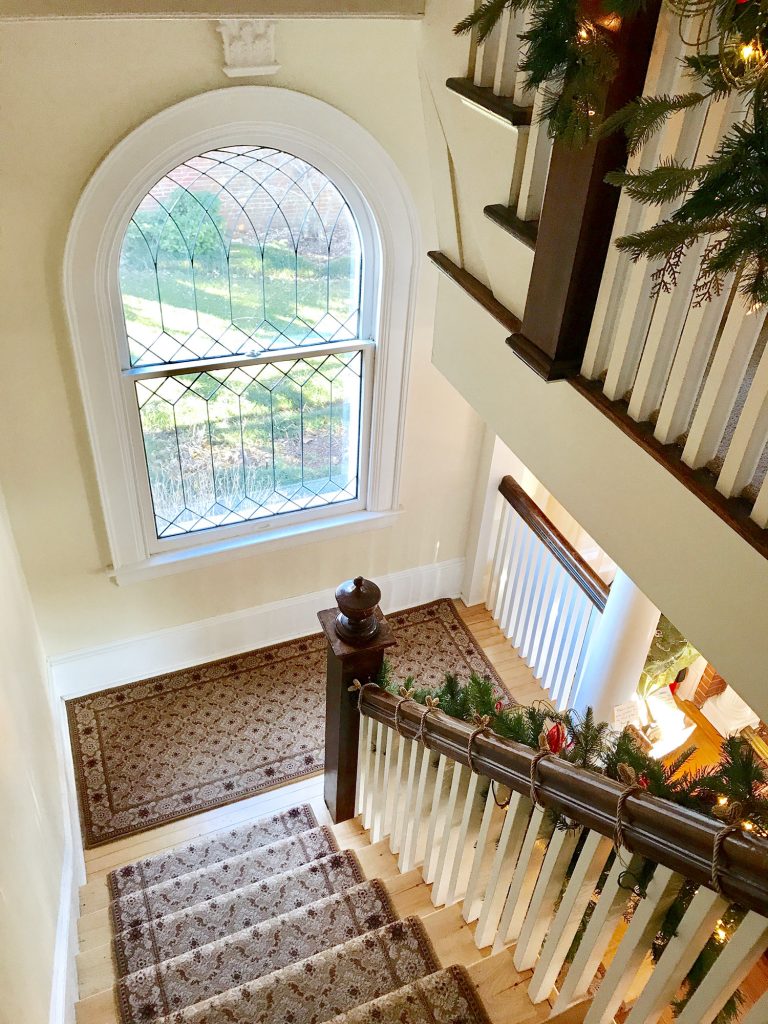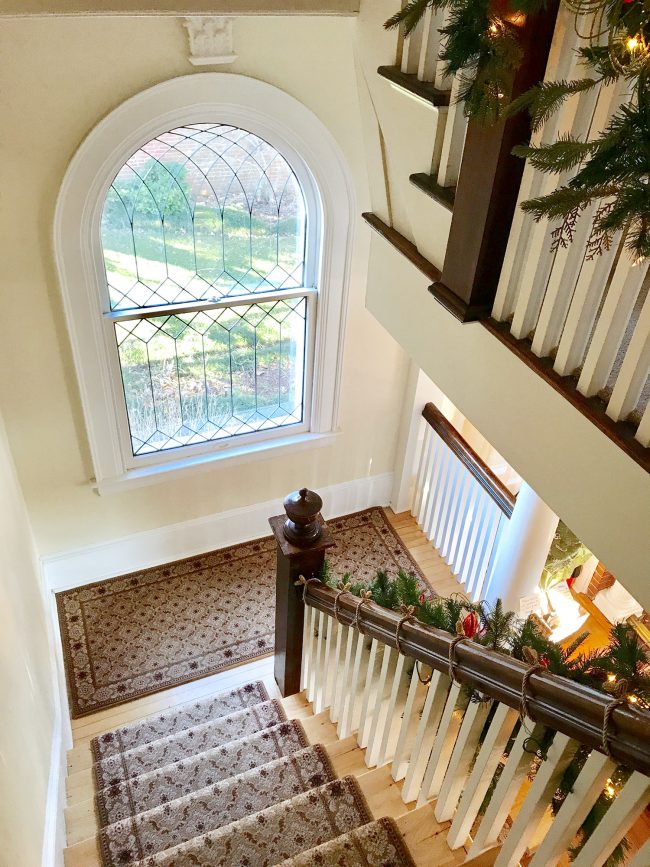 This is one of the renovated bungalows that we loved walking through. You know we like a pink house…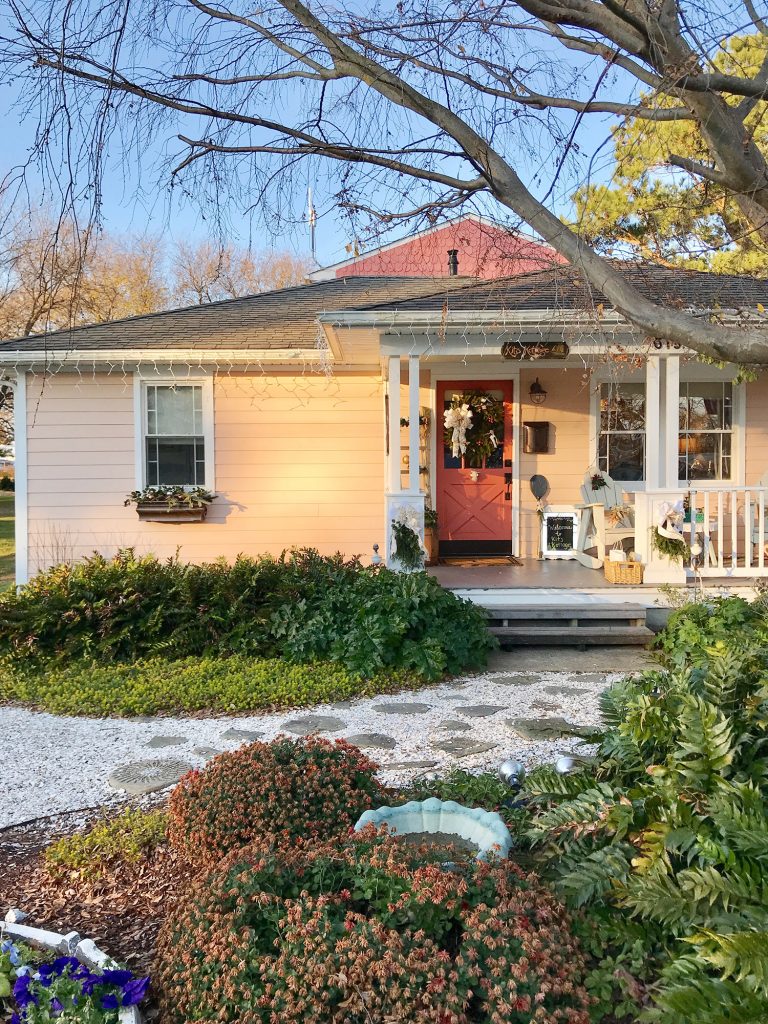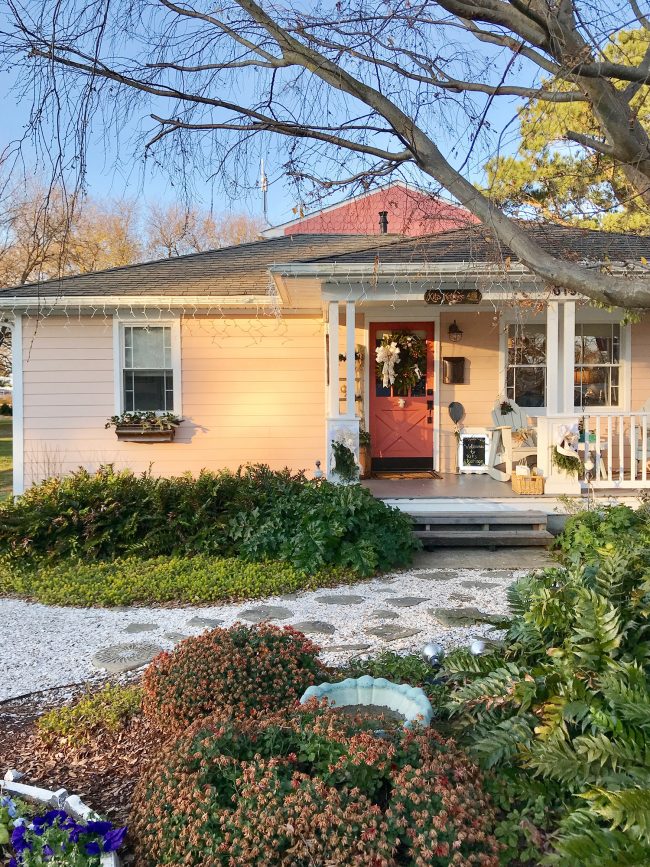 This house wasn't open for the tour, but we've always admired it on our walks (it gives you a sense of the range of architecture in the town) and the kids loved seeing it all dressed up with Christmas decorations.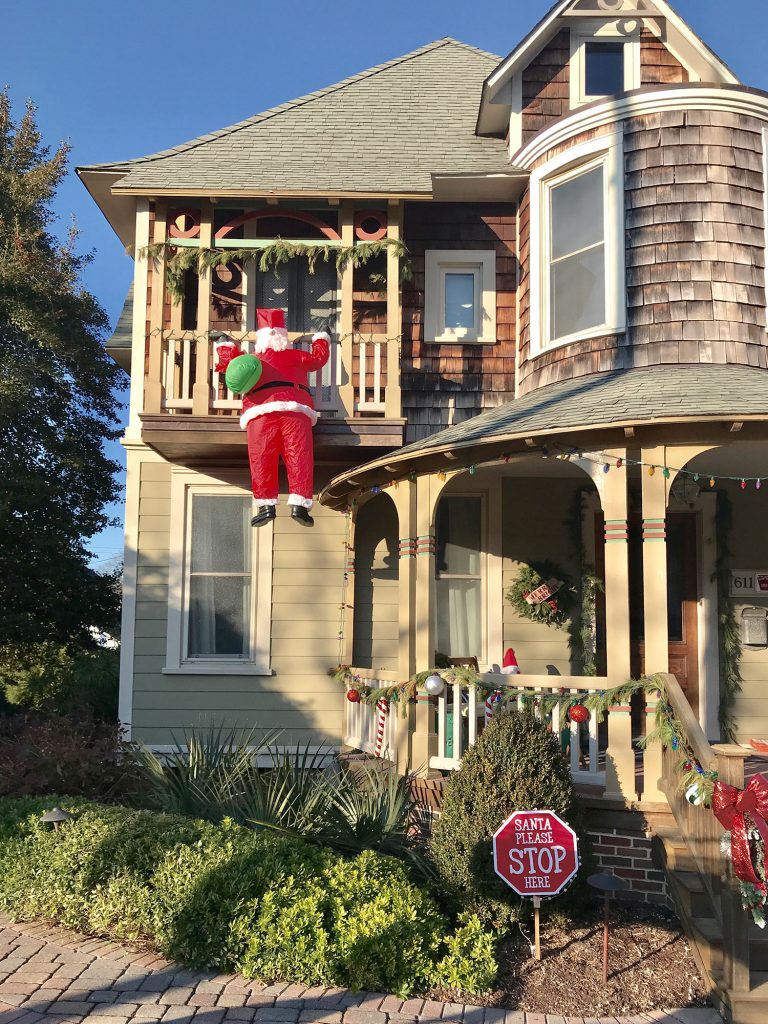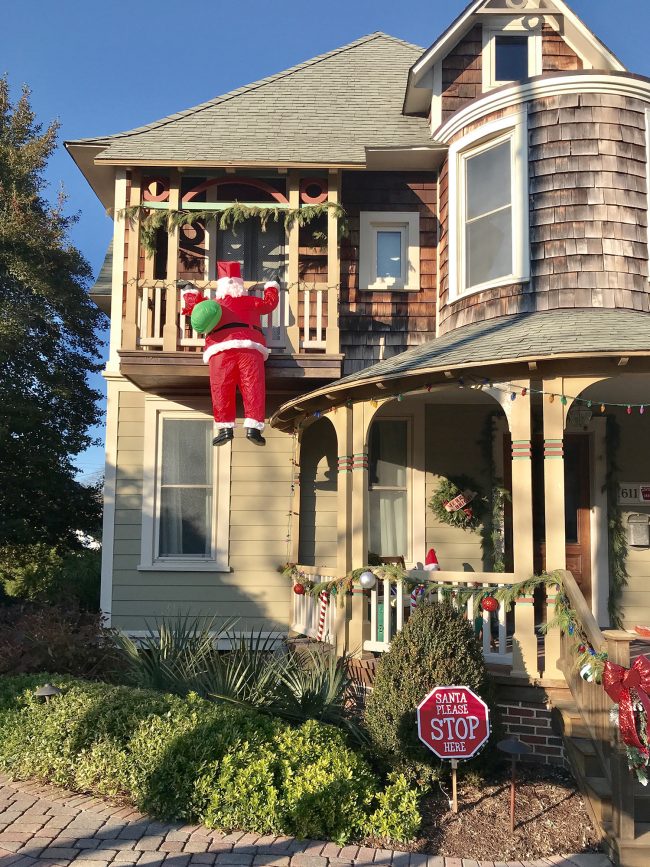 Here's that "rope railing" we mentioned on the podcast. There were another pair of these steel clips on the underside of the rail, and the rope kinda continuously snaked up and down the stairs in an S-pattern.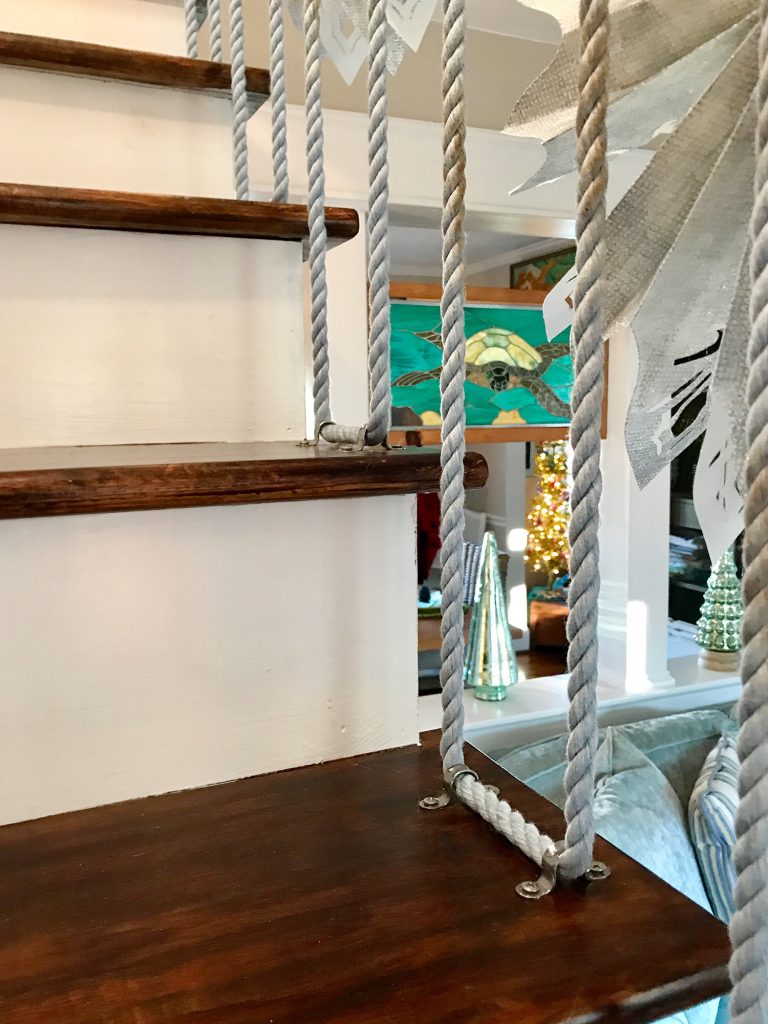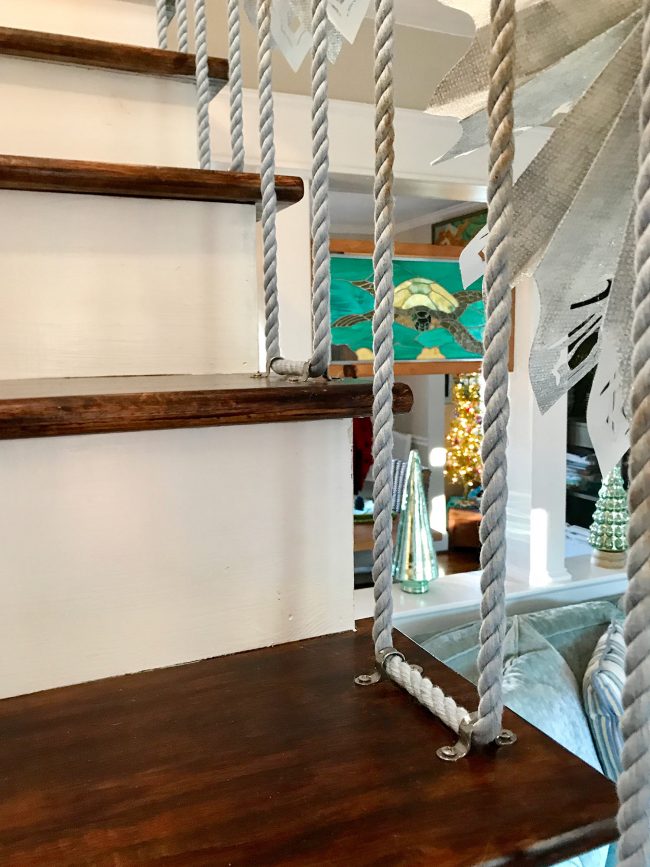 And at the top of the stairs was this finished attic that was turned into a kids bunk room. There were four full beds, each tucked into little nooks like this. It was insanely charming.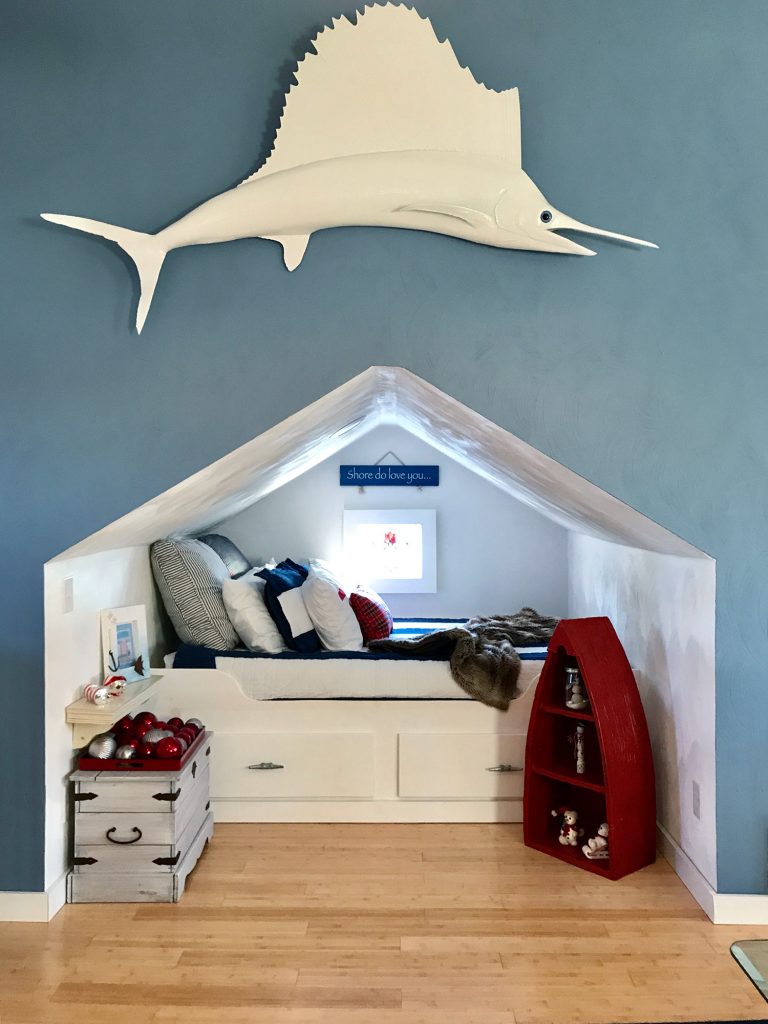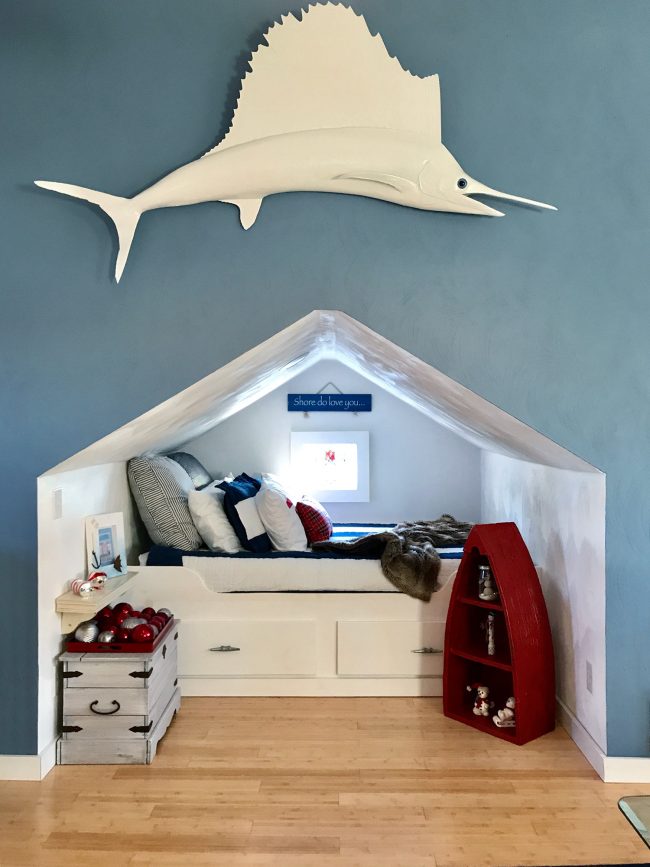 Quick Tip
You can hear more of our tips about mixing metals in Episode #37.
And you can see some of what we're talking about in the photo below. The chairs have a lighter wood finish that's echoed in the marble side table, as well as the blinds and some smaller items like a few wood frames and a wooden box by the lamp. Meanwhile the richer medium wood tone of the TV table is picked up in the woven baskets on either side of it as well as being really similar to the hardwood floors throughout the space. The dark gray side tables aren't wood tones at all, but they tie into each other (there are two of them) as well as relating to the gray tone of the couch and some dark blue-gray colors in the rug.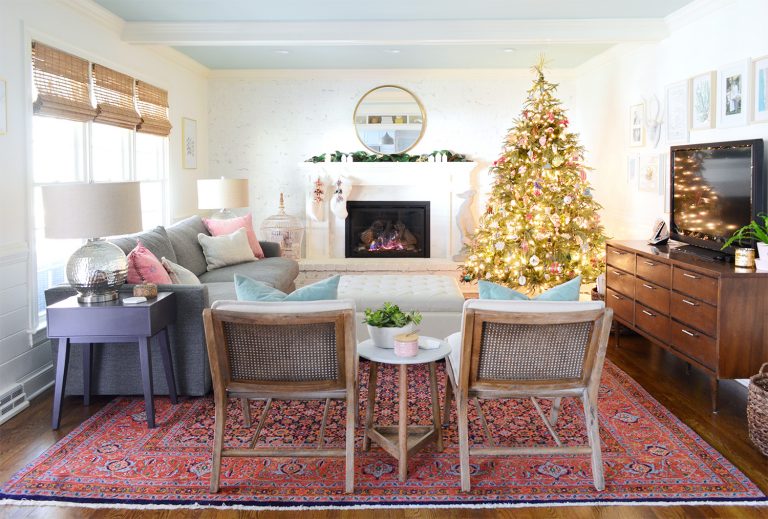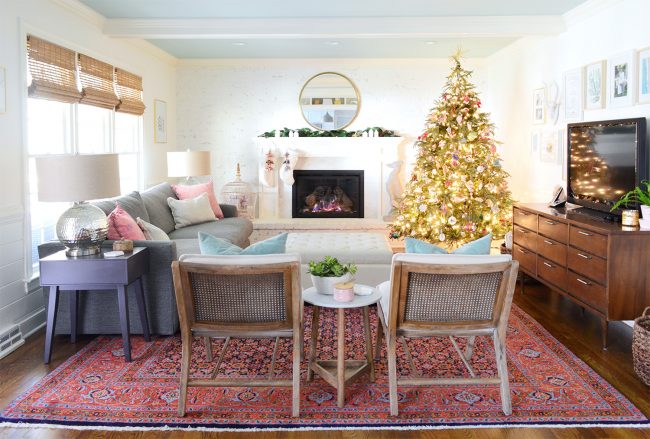 We're Digging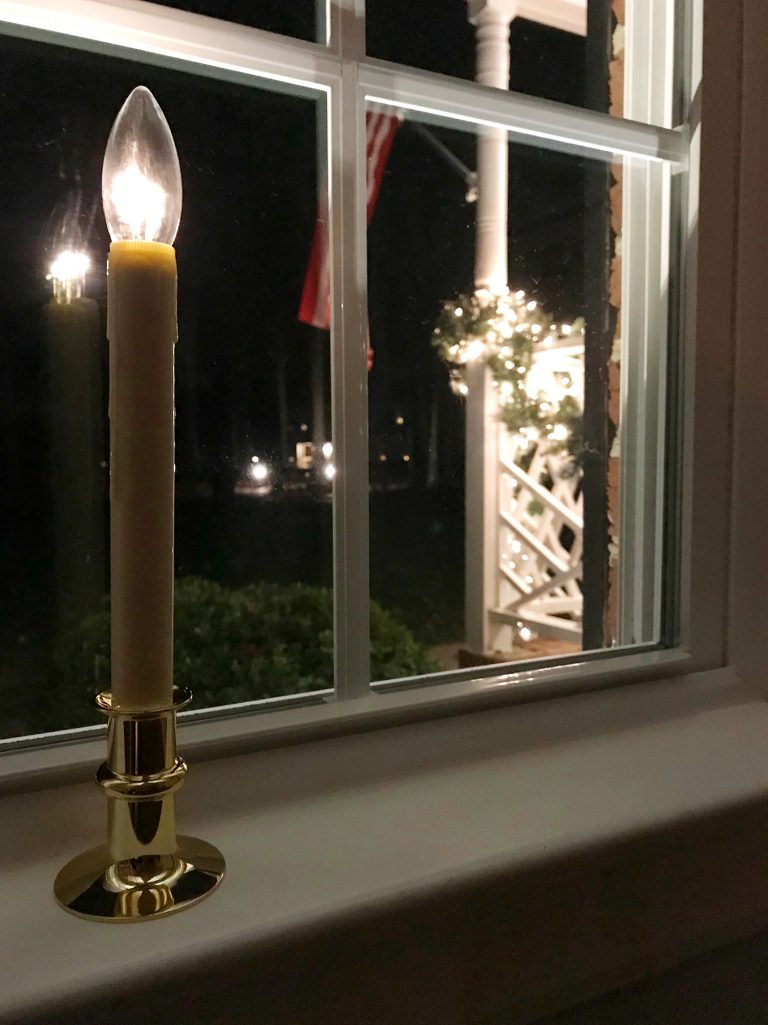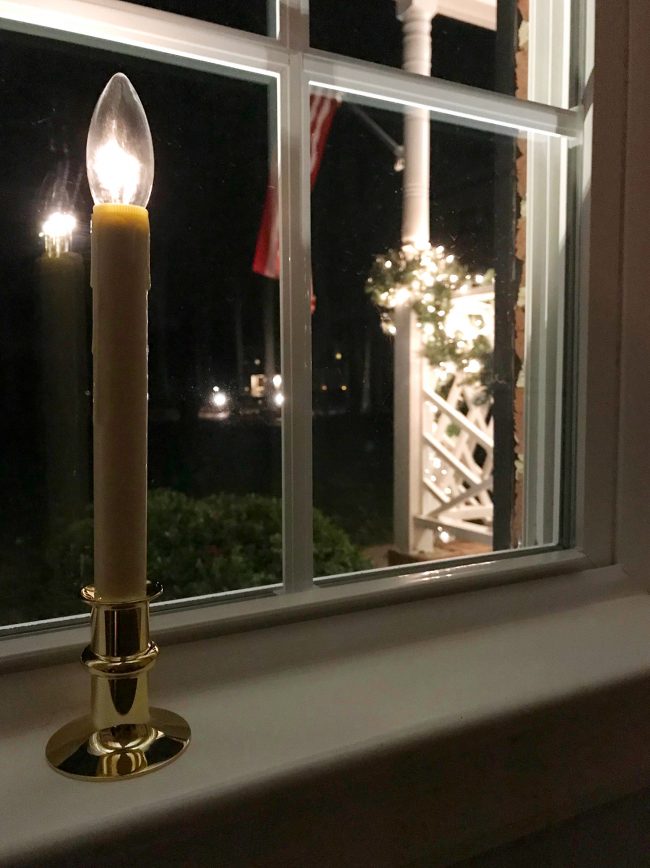 Here are the LED Streetside Brightness Cordless Window Candles that we have been enjoying for two Christmas seasons so far (and just added 'em to the beach house too). They're SUCH AN UPGRADE from the plug-in ones you have to turn on and off all the time – plus, look ma, no cords! We love that they're completely auto-pilot after you turn them on for the first time each season (it makes going to bed so much faster than running around to every window half asleep).
And here's where you can check out Spotify and even listen to this podcast on Spotify!!!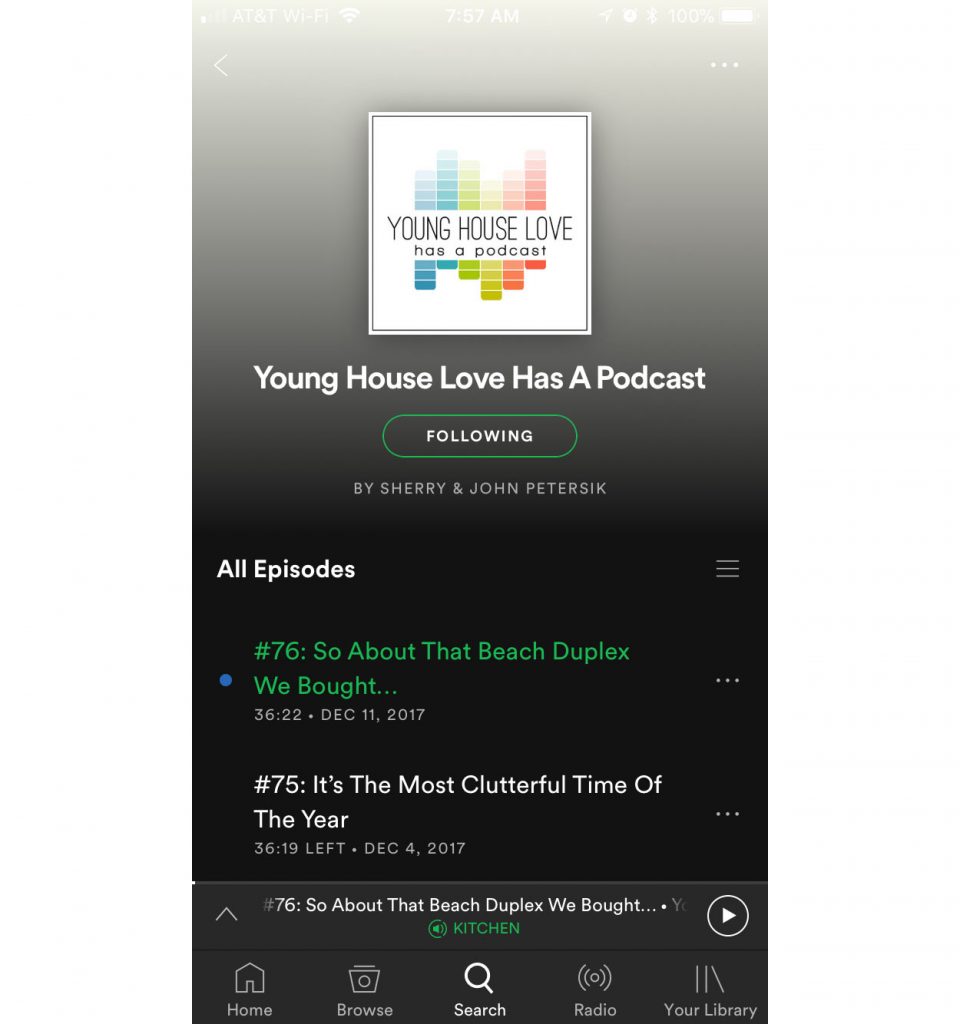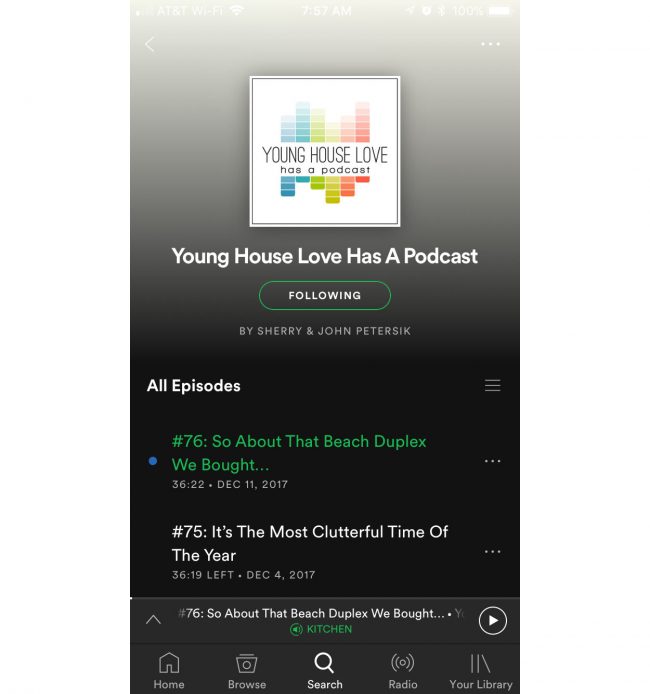 If you're looking for something we've dug in a past episode, but don't remember which show notes to click into, here's a master list of everything we've been digging from all of our past episodes.
There's no podcast sponsor this week because we're dedicating the entire episode to YOU GUYS! As we all soak up the food, family, and festivities that abound this holiday season, we want you to know how thankful we are that you take the time to tune in. Thanks so much for listening. For real.
*This post contains affiliate links*