As much as we love the holidays, all the "stuff" that goes along with it (gifts, decor, things piling up on every surface) can get overwhelming. So we're sharing how we're approaching things differently in an effort to maintain the joy of the season. And one of the most common questions we get is "help me pinpoint my style – I'm all over the place!" so we're spelling out exactly how we do that when we're feeling pulled in more than one decorating direction, which actually happens more than you might think. Plus, Sherry revisits a controversial opinion that she passionately shared last week and John declares war on screen time.
You can download this episode from Apple Podcasts, Google Play, Stitcher, and TuneIn Radio – or listen to it below! Then use this page to check out any links, notes, or photos we referenced. Note: If you're reading in a feed reader, you might have to click through to the post to see the player.
What's New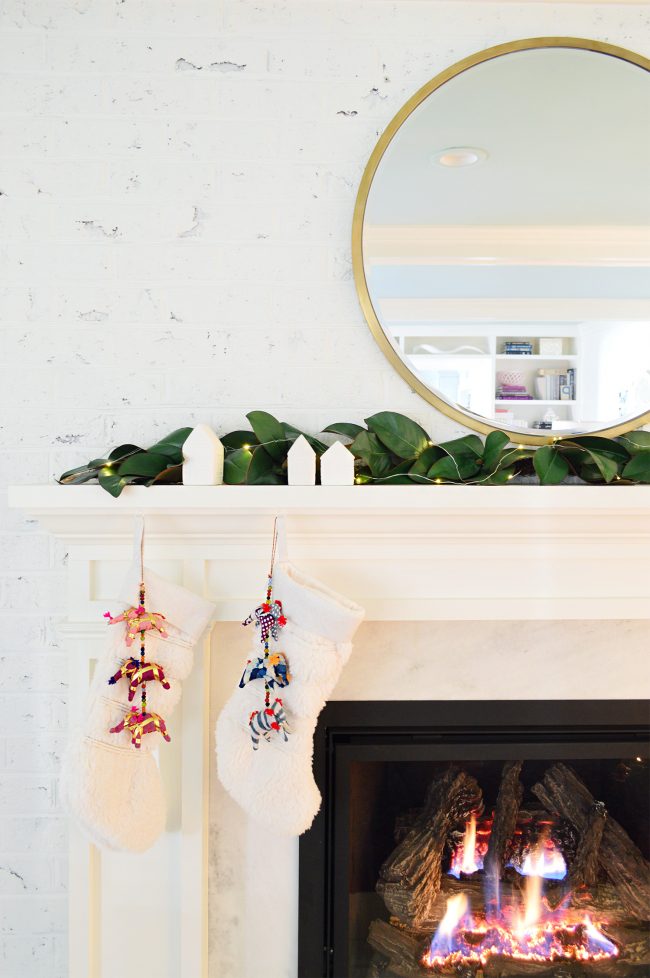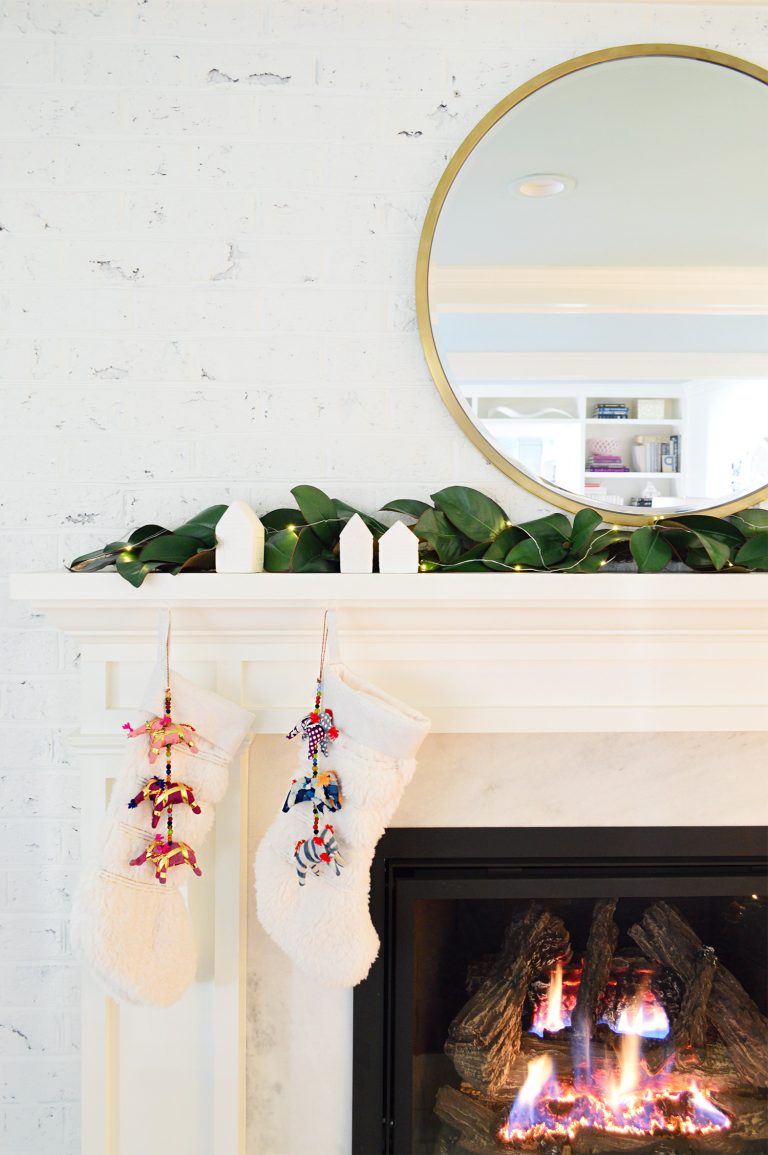 We've got more photos of our holiday decorations coming at you in a big ol' blog post later this week, but above is a good example of how we've aimed to simplify things this year. That's Sherry's faux magnolia garland that she scored earlier in the year, some stockings she got last year at Target, and an elephant chain from World Market that she purchased a few years ago and cut into little stocking tassels (now they have this bird one which would work too).
And here's the Moment app that I've been using to keep my phone-usage time in check. You can see some screenshots of my recent tracking below (the gray timeline dots on the far right represent short "pickups")
The "Bored & Brilliant" course I followed via the app also has a book and podcast series, if you'd rather check it out that way.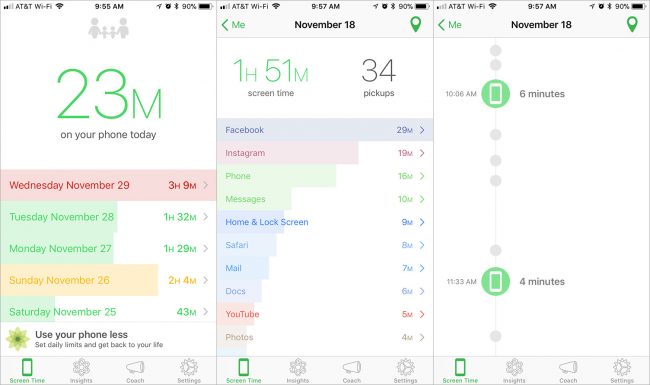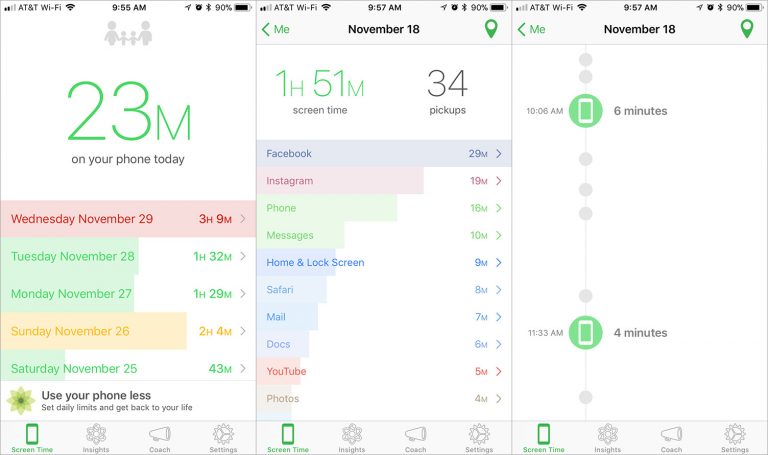 Updates
You can hear our original conversation about "lamping" in Episode #71, including its technical definition, along with the Urban Dictionary and Online Slang ones.
Episode #64 is the one all about paying off our mortgage that we referenced in today's episode for anyone who wants to go back and listen.
And it was just last week's Episode #74 where Sherry made her passionate plea to save the old houses (apparently not so clearly – ha!) and attempted to de-villainize foundation issues when you're on the real estate hunt.
Finding Your Style
Sources, clockwise from top left: 1 / 2 / 3
Above are some of the beach house inspiration photos we assembled for a post last year about our style direction. It's really interesting to see how similar our actual beach house rooms are to those initial images! Here's how the beach house's back bedroom is looking these days, which isn't an exact replica of any of the inspiration photos above, but certainly carries the same vibe.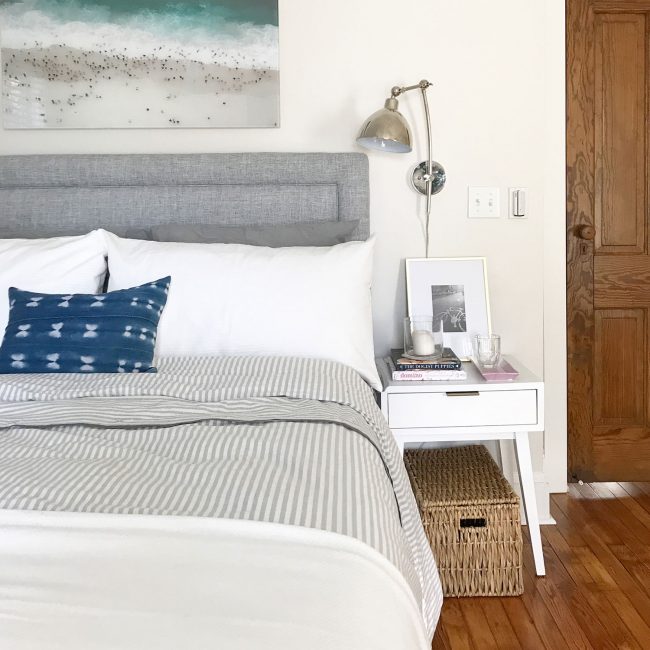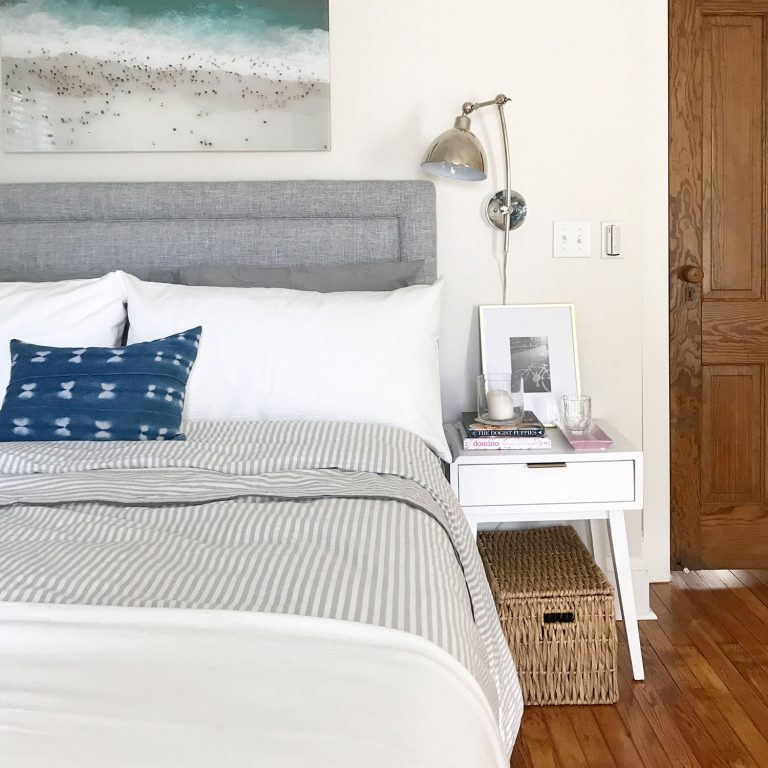 striped duvet / blue pillow / night stand / gold frame / headboard / art over bed / sconce / similar basket
And here are some of the bathrooms we had pinned. Colorful tub? Check. Wood vanity? Check. Hex patterned floor? Check. All of those things came to fruition at the beach house.
And as promised, here are some of the shots that Sherry originally pinned, but that didn't make it into her ever-elusive "top three." They're generally more colorful and eclectic than the rooms we ended up favoring (although there is gray trim in that large picture, which did come to be in all of the downstairs rooms!).
Sources: stairs / living room / reading nook
We're Digging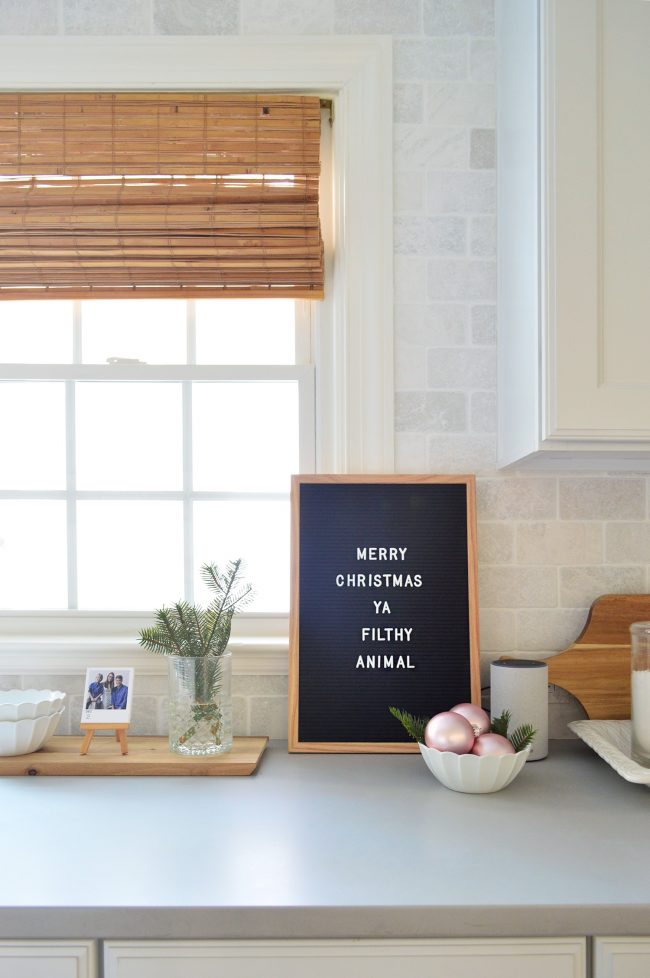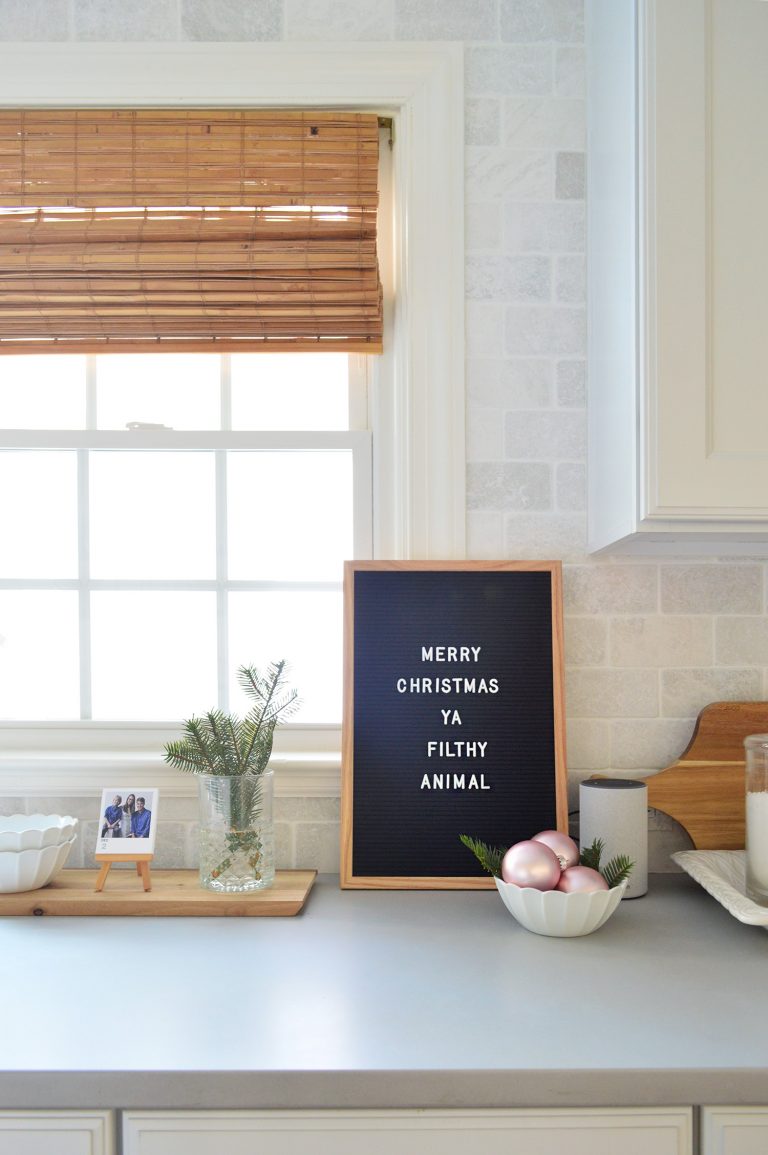 You can see our new Amazon Echo in the photo above. I bought this one on Black Friday with my birthday gift cards from the fam, and scored this $40 smart plug as a $5 add-on with my order. We used the plug on our Christmas tree, so you can see it in action in this Instagram video.

I forgot to mention in the episode that we chose the Echo over the Google Home because music was one of the main things we thought we'd use it for (we were right!) and the Echo is reported to have a better speaker. It has also been around longer than the Google Home so it apparently has more "skills" than Google has so far.
If you want to score some throwback books for your kids, here's a bunch of Goosebumps sets that are really cheap. They've also got similar sets for like Boxcar Children and The Babysitter's Club if you're looking for something less spooky.
If you're looking for something we've dug in a past episode, but don't remember which show notes to click into, here's a master list of everything we've been digging from all of our past episodes.
And lastly, a big thank you to The Annie Selke Companies for sponsoring this episode. Don't forget to use the code YHL15 to get 15% off any order at AnnieSelke.com/YHL, including bedding, furniture, rugs, and more!


Thanks for listening, guys!
*This post contains affiliate links*