Anyone can make this photo Christmas card – as long as they have a dog and a baby. And as we head into the holiday weekend, we're looking forward to watching "the kids" unwrap their presents (yes, Burger gets some too), gorging on goodies, and spending time with family and friends. But before the festivities officially begin, we wanted to take a moment to say HAPPY HOLIDAYS to you guys and share our little family Christmas card.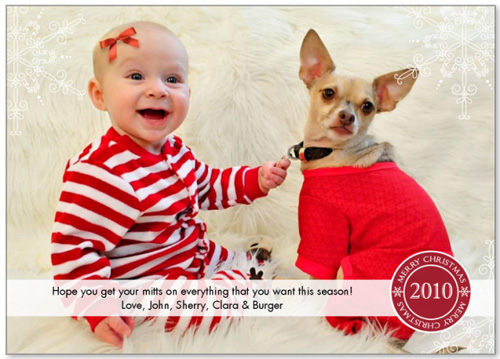 The image above was the card we sent out to our family and friends (in case you can't see, the text reads: "Hope you get your mitts on everything that you want this season"). This is the template we used through Snapfish (we just provided the pic and the wording of the note and they printed 40 5 x 7 cards on matte photo paper & provided envelopes for each one to the tune of around $25 thanks to a coupon code that we googled around for).
Getting the shot was a bit more involved than our previous years' cards (which starred Burger as a reindeer, a kiss-monger, and a big brother in waiting) since we had a dog and a baby to work with this time (everything from getting Burger to actually wear his trapdoor sleeper to keeping both of our models in place was a bit of a challenge). But we had tons of fun watching Clara try to lick Burger for a change (weird, but true). And since we know you guys love behind the scenes stuff, here's our "set" of sheepskins in the ol' den where we shot it in early December: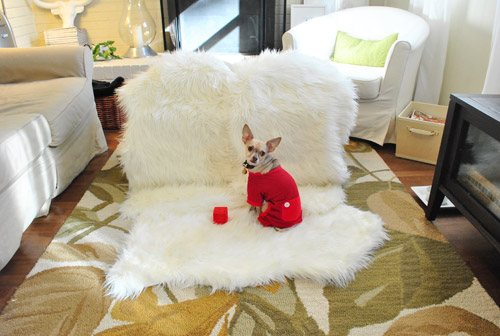 Notice the block acting as Clara's stand-in while she was getting a diaper change? Oh and here's a fun fact, Sherry actually photoshopped that bow on Clara's head after we uploaded the pic since there's no hair to clip a real bow to yet. Anyway, happy holidays to all! May your days be merry and bright- and may your chihuahuas (and other various family members) be held tight.
Update: You can check out all of our favorite holiday decor finds here – many of which are under $15!