By now you're all probably off with your family eating gingerbread and tearing into some presents but we just wanted to share the holiday card we whipped up for our loved ones (since you're all on our virtual mailing list). We wish you guys a very happy and sweet holiday with the ones you love. And speaking of love, we adore every last one of you for dropping in to see what we're up to over here at Casa Petersik. Your support and encouragement never fail to put smiles on our faces each and every day, and we're full of gratitude for the amazing year we've been fortunate enough to share with all of you.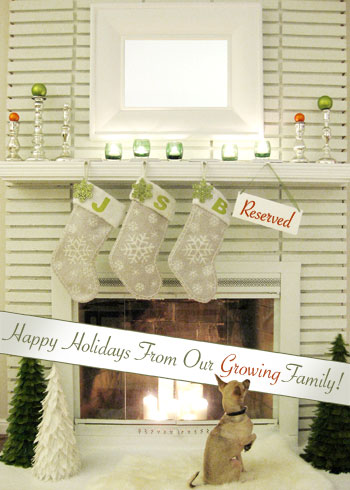 So don't forget to enjoy some eggnog for me (thanks to the bean it's off limits this year) while you celebrate the best part of having a place to call home: sharing it with the ones you love. Here's to many more adventures (and misadventures) in 2010!
Psst- Wanna see our favorite holiday card of all time? It's actually the first one we made from '07.
Update: You can check out all of our favorite holiday decor finds here – many of which are under $15!