We made a little time capsule to leave behind and it was actually a lot of fun more fun than packing. Our big hope is that someone finds it at least a few decades from now (when there are flying cars and precogs) since it would be kind of a womp-womp moment if the new owners discover it as soon as they move in on Monday. Which is why we hid it very very well. So well that it may never be found. Of course we can't reveal its location because that could ruin the surprise, but consider it to be something along the lines of "inside the walls" trickery. No "taped under the sink" easy stuff.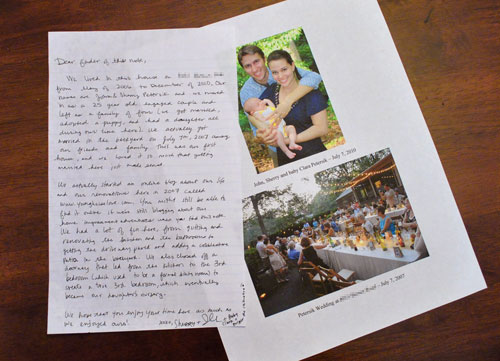 Anyway, the "capsule" included a hand written letter and a sheet of paper with two photos on it (one of me, John, and Clara from this year & one of our backyard wedding from '07 – both of which were labeled with the date and the event/our names). Here's what the letter says:
Dear finder of this note,
We lived in this house from May of 2006 to December of 2010. Our names are John and Sherry Petersik and we moved in as a 25 year old engaged couple and left as a family of four (we got married, adopted a puppy, and had a daughter all during our time here). We actually got married in the backyard on July 7th, 2007 among our friends and family. This was our first house, and we loved it so much that getting married here just made sense.
We actually started an online blog about our life and our renovations here in 2007 called younghouselove.com. You might still be able to find it online if we're still blogging about our home improvement adventures when you find this note. We had a lot of fun here, from gutting and renovating the kitchen and the bathrooms to getting the driveway paved and adding a cobblestone patio in the backyard. We also closed off a doorway that led from the kitchen to the bedroom behind it (which used to be a formal dining room) to create a true 3rd bedroom, which eventually became our daughter Clara's nursery.
We hope that you enjoy your time here as much as we have enjoyed ours!
-xoxo, Sherry, John, Baby Clara & Burger the chihuahua
The "dear finder of this note" line makes me laugh. It was all John. I wonder who the heck will find it! And when they do, will they teleport to a friend's house and show it to them? Only time will tell. Or will it? (Cue the ominous duh-duh-duhhhhhhhh sound effect).
Psst- We announced the winner of this week's giveaway. Click here to see if it's you (and check out a sweet discount for everyone).