***This giveaway is no longer accepting entries – see who won below!***
And the lucky / randomly selected / soon to be quite worldly person is… Briana (who says "London, Ontario is special to me. That's where I first lived on my own, went to University, met my husband, and I just loved that city. Plus, it has the best spaghetti restaurant ever, Spageddy Eddy's!"). Congrats! And for everyone else, scroll down to the contest entry details for a sweet little discount the Wallpapered folks added for everyone.

One look at Pinterest and I don't feel quite so alone in my fascination with maps. So to everyone else out there who digs a little cartography in their design, hold on to your seats. This week the people behind Wallpapered are giving one of you a nice big 8ft x 5ft world map wallpaper kit so that you can add a map-tastic mural to your home. As much as I love the various world map styles they offer, the coolest feature (at least to me) is that you can also get custom area map wallpaper that basically zooms into a postal code of your choosing. So you could order custom wallpaper showcasing your favorite big city – or even the small town that you grew up in.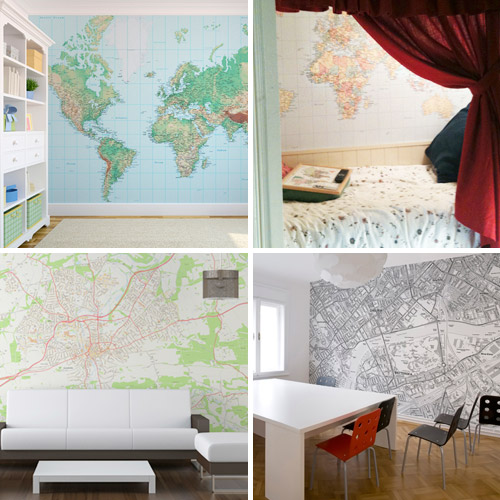 PRIZE: Any world map or custom area map wallpaper up to 8ft x 5ft from Wallpapered (a $400+ value!)
TO ENTER: Comment on this post with the words "WORLD ME!" and tell us…
BONUS QUESTION: …what town / city / state / country / other geographic area is most special to you? Will you always have a fondness for the town you grew up in? Are you most enamored with the place where you honeymooned? Or are you just bursting with pride over the area where you currently live?
GIVEAWAY CLOSES: Wednesday, January 23rd at 8pm EST or at 10,000 entries (whichever comes first)
NUMBER OF WINNERS: One
PRIZE SHIPS: Wahoo, this giveaway is available worldwide!
DISCOUNT: Get 10% off your custom map order with code YHL2013
USUAL STUFF: One entry per e-mail address is permitted. The winner will be selected using random.org and announced on Thursday as an update to this post. That's right, come right back here on Thursday for the announcement of our winner. Good luck…
***COMMENT ISSUES? If you're trying to enter but keep getting a "duplicate comment" warning, click here to see how to solve it!
Note: We aren't paid or perked for hosting these giveaways, we just do 'em to thank you awesome folks for stopping in. See our Giveaway FAQ page for more info. Pics courtesy of Wallpapered.