Lately we've received more than a few dozen requests for a post about our favorite remaining shelter magazines. After the sniffle inducing loss of favorite glossies like Domino, Cottage Living, Country Home, InStyle Home and O At Home, people wanna know what we're loving, so here's our rundown of the mags that we run to the mailbox for each month:
House Beautiful is always a super inspiring read. From paint color suggestions to high-end rooms, this magazine dishes out gorgeous eye candy on the regular. Are the prices reasonable to cheapskates like us? Heck no. Is everything easily accessible? Not on your life (a lot of stuff is only available to the trade- aka: designers). But we actually like that their primary audience is high-priced interior designers because it's a great way for us to peek into their "club" and see what they're loving so we can reimagine their spendy ideas on a budget.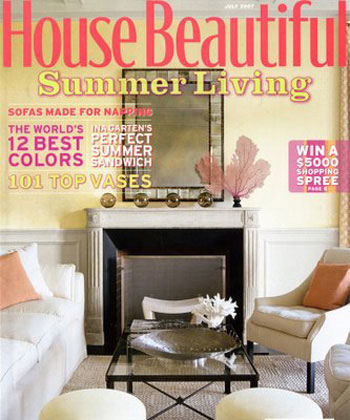 Better Homes & Gardens is a more DIY focused read with a ton of applicable and doable ideas for the taking. From small projects to color scheme inspiration and gardening suggestions, this is a great well-rounded read for anyone looking to spruce up their home in a weekend or even an afternoon.
Do It Yourself is another project-focused glossy with articles like "how to paint almost anything" and "build your own coffee table." While it only comes out four times a year, it's a great resource for tons of DIY inspiration and it's super helpful to keep around for reference (since they routinely include tips and tricks for tackling almost every project from hanging art to painting fabric). And although we might seem a bit biased now that we're regular contributers, we've always loved their thrifty hands-on approach to home decor- which is probably why it's such a perfect fit for us!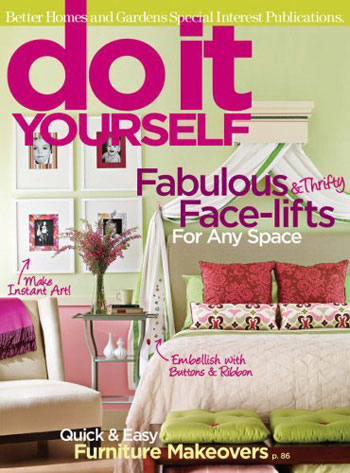 Just like our house, our magazine selections are a nice mix of affordable design with the occasional splurge stuck in there for eye candy and inspiration. A few other glossies that we always devour at Barnes & Noble (we can't subscribe to all of them!) are: ReadyMade, Traditional Home, Veranda, Elle Decor, Metropolitan Home, Sunset, Dwell and Coastal Living (there's a new editor in town, so it's looking much better these days). Oh and we really like the more lifestyle-related pubs like Real Simple & Martha Stewart Living since they touch on other important home-related activities like organization and cleaning.
John also enjoys Men's Health Living, but seeing as they've only put out two of them in two years, he might have to wait a while for another one. And of course if you're a local Richmonder (and even if you're not) R. Home is a good read- and we're not just saying that because we have a column. Honest!
So there you have it. A few of our favorite glossies. Are there any that we're forgetting? Now it's your turn. What shelter mags are frying your bacon lately?
Update: We're also digging the recently released Lonny Magazine, an online glossy very similar to Domino (in fact it's written by some of the same peeps).We've also been digging Coastal Living since writing this roundup a while back. It shows excellent promise at becoming the new Cottage Living (and has a lot of the same editors over there now- good stuff!).