We seriously swooned when Erica sent us her medicine cabinet makeover. It's no secret that we're head-over-heels-crazy for open shelving, and this little niche transformation is crisp, clean and oh so fabulous. Here's Erica's letter:
Inspired by the open shelving we're seeing everywhere, my husband and I decided it was time to give our builder-grade medicine cabinet an open storage makeover. We removed the mirrored cabinet, decided to drywall in the existing space in the wall, and frame it with trim that matched the rest of the trim in our house. We used some materials we already had, including drywall and the glass shelves from the old cabinet. Basically all we had to buy was trim and cove molding to support each shelf. Now we have an open storage space in our bathroom that makes it easier to grab some of the essentials in the morning like q-tips and cotton balls. This was a relatively quick fix that we think looks 100% better than our original cabinet! –Erica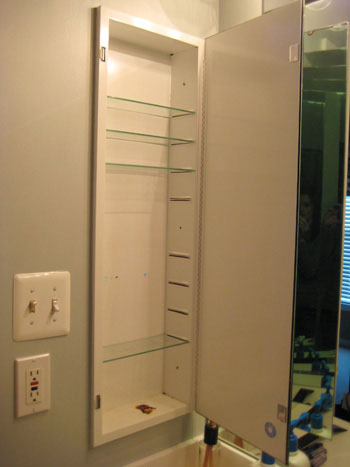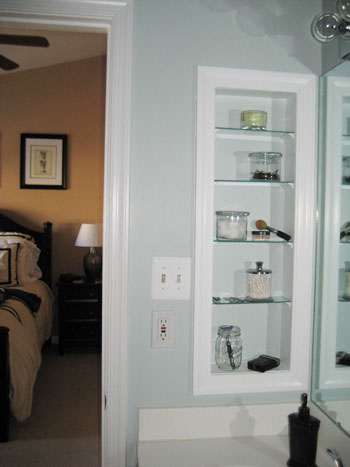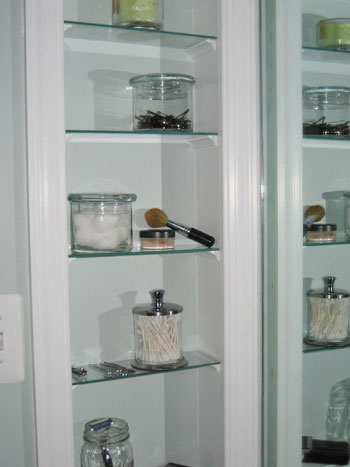 Downright delicious, eh? Thanks so much for the pictures Erica! And if anyone wants more details about her fabulous project, pop in on her (and her sister in law Erin's) blog and check out their instructions here and here. No rocket science required.