When we shared John's pathetic excuse for a bedroom yesterday (for some reason it was kinda cute at the time…) we received more than just a few requests to see my NYC casa as well. So we're back to give the people what they want- but first here's the one shot I was able to dig up of John's Upper West Side apartment (where he actually got his own room, which was revolutionary at the time):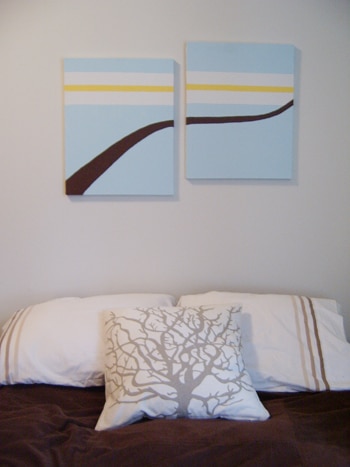 We actually painted a mural on the wall (not pictured) and had some extra paint leftover, so we snagged two cheap canvases and used some painter's tape to make some stripes and then hung them side by side (it was John's creative idea to stagger them a little). I wish we had a picture of the actual mural, but you can click here to watch an old video tour that we posted a while back of his entire NYC apartment. Oh and do you recognize that pillow? It's a relic from Ikea, and we actually still have it in our den to this day.
But on to my place. Actually, it's places to be exact. In my six years in the city, I lived everywhere from Chelsea to Queens and Brooklyn to Soho. Here's a shot of my apartment in the village (right near NYU), where my style was a bit more metropolitan (bright bright bright!):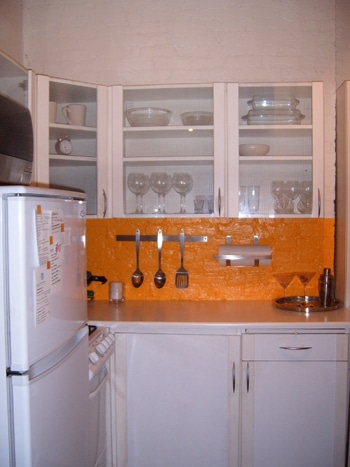 The orange backsplash was an attempt to spice up the stark white kitchen. And boy did it add some zing. I was living on a serious budget at the time, so Ikea was my best friend. The magnetic utensil rack, paper towel holder and even most of the glassware hailed from my favorite Swedish superstore. Oh and I remember being very proud of the square orange magnets on the fridge that I crafted from some thin flexible magnets that I cut into squares and covered with glossy orange paper from a magazine with a glue stick.
Here's a shot into the tiny living room (on the left) and bedroom where I introduced some green and blue (colors that I still use in almost every room in my home four years later). It's clear that my tastes skewed a lot more modern in those days (I assembled the artichoke-looking chandelier on the left from over 100 tiny plastic pieces) but I think industrial metropolitan spaces call for a little more drama and flair than a 50's ranch in a quiet little neighborhood, which is much more of a sanctuary in the suburbs than a funky urban enclave. My theory: location changes may result in a bit of a style switcheroo.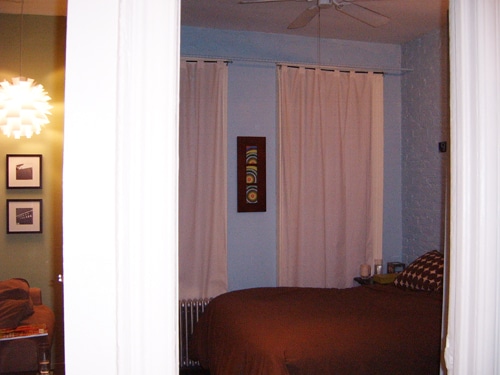 Oh and here's the silly little art piece I made in the bedroom. Oversized battery operated clock hands allowed me to create my own numbering system, so I printed a few neon sign numbers (3, 6, and 9) found on the internet while the 12-o-clock spot featured another neon sign that simply read "open late". It was a cheeky way to personalize the space on a budget- which is pretty much still our main M.O. to this day.
After a pretty decent stint at that adorable apartment, the whole sixth floor walk-up thing was getting reeeeaaaallly old (especially with carting laundry and groceries on a weekly basis) so I made the move to a sweet little studio on the second floor- upgrade!- of an adorable building only a block away. Sure the broker fee for the place was over two grand and the monthly rent was $1200, but I had one whole 18 by 12 foot room to myself! And even though there wasn't room for a couch, I was able to snag four super cool chairs on eBay for $40 (which we still have today, although we've painted 'em white- surprise!). I ended up tucking two under a tiny table for two (not pictured) and stuck two against the wall for lounging and tv watching. It wasn't overwhelmingly comfy, but they helped keep things open in such a tiny space. And compared to some of my friend's even smaller/dirtier/louder/pest-ridden places, it was a bona fide luxury resort in my mind.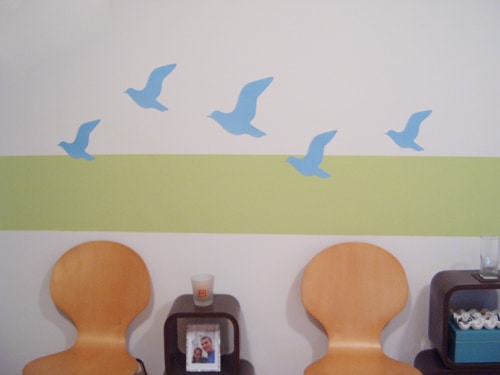 And I REALLY had fun painting that green stripe around the room (I just eyed it with blue painter's tape and slapped paint on the walls in under 30 minutes (while waiting for company). By the time my friends arrived it was dry (and actually came out looking super straight). I can't believe I had the guts to just go to town without a tape measure and a level (something I'd never do today) but it worked out and I was oh-so-proud of my fun little stripe around my teeny tiny abode. And those birds on the wall were inspired by some decals I saw in a store, but at $50 for five I knew I could do better. So I printed out some blue birds of my own (I had taken a digital picture of the decals and enlarged 'em on the computer) and backed them with cardboard (manilla folders to be exact) to give them some heft. Then I just scotch taped 'em to the wall. Hey, whatever works, right?
Here's a shot of the bed (literally the only object that fit in the space save for the aforementioned tiny dining table and eBay chairs). You may recognize the green upholstered headboard from our current guest bedroom (I told you, they laaaast and laaaast) and I loved lining up my painted green wall stripe with the top of my DIY headboard. A subtle detail that really looked sleek when you entered the space. Oh and here's another pillow that's still around today. You may have noticed the cow pillow in our current living room on top of the sheepskin rug that you see on the floor in this picture, which is now draped over a slipper chair with the cow pillow on top.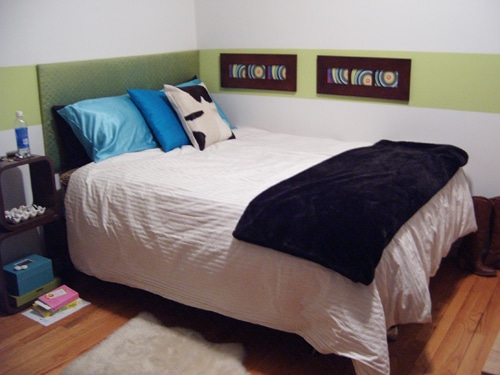 Oh and why stop at a few pictures when you can take a riveting video tour. Click here for a little walk through of the ol' NYC crashpad. And see why our teeny rancher feels like a veritable palace compared to our past places of residence.