This is where I lived when Sherry and I first started dating. Clearly, it was my wonderful design sense that won her over (that or the fact that she knew there was PLENTY of room for improvement).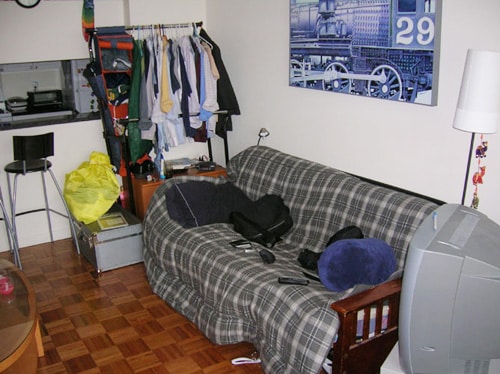 Yep, I was the proud renter of a futon in the corner of a living room. Thus is the life of a poor, just-out-of-college guy trying to make it in New York City. I shared this one-bedroom apartment in Long Island City, Queens with two other guys (one got the bedroom, the other shared the living room with me).
In my defense, I only lived there for two months while I waited for my friends' lease to end so we could all move to the Upper West Side together (where I would have my own room, thank you very much). It was mere coincidence that I wooed Sherry during my brief stay here… I think… I hope…
Oh, and I should note that this was the amazing view from our living room. It made sleeping with my clothes above my head slightly more bearable.