How's that for a title? Haha. We're about 20% there with this room, but we're sharing these pics in the name of the work-in-progress reality that is our new house. We definitely think some paint on the walls (we're flip-flopping between soft gray and mocha) will tie things together and better integrate items like the shower curtain and the bathmat along with the sweet vintage yellow tile. And of course bringing in better art, fun window treatments (maybe a bright roman shade?), changing out the light fixture, and implementing other tweaks down the road will hopefully take it from "meh" to "how you doin'?"
The good news is that it works and it's clean. You can brush your teeth, take a shower, and use the "facilities" without issue. And thanks to the previous owners' meticulous housecleaning skillz, there's not a dot of crud or mildew to be scrubbed. Anyway, enough intro. Here she blows: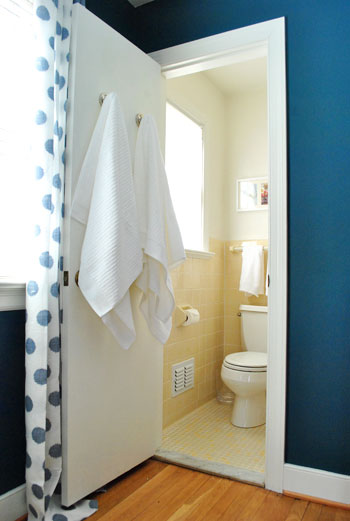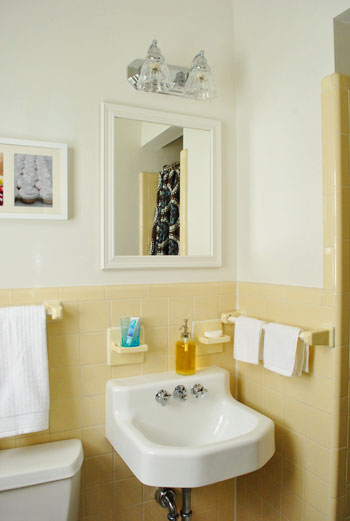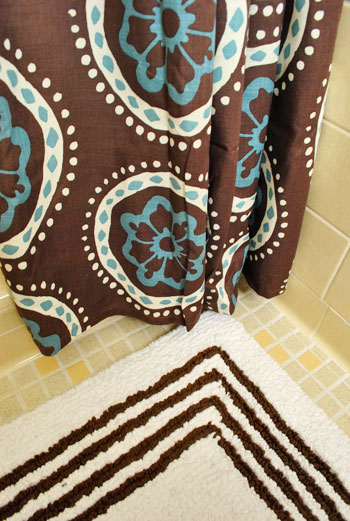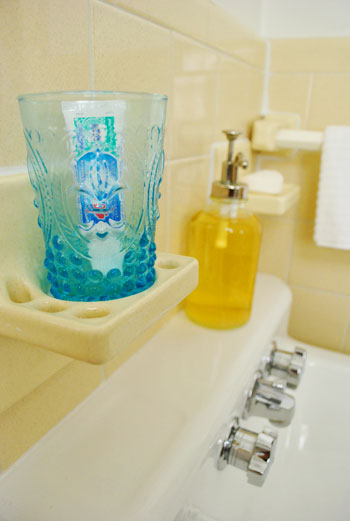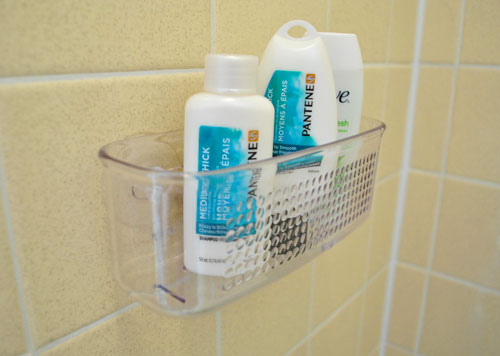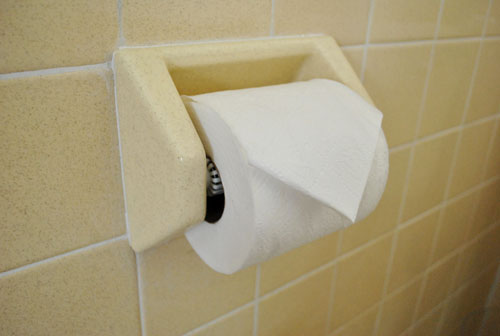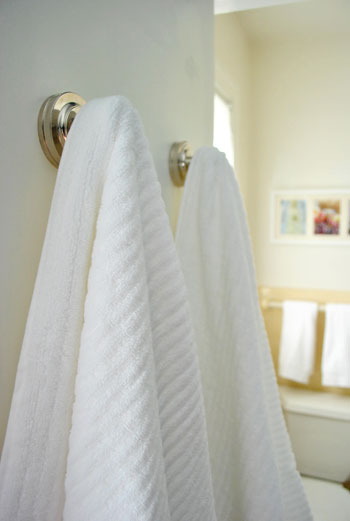 That's right, I folded the toilet paper into a little triangle like they do at hotels. Because I'm crazy.
I apologize for the lack of sweeping see-everything photos, but it's a tiny room. You can stand in front of the sink and touch all four walls – that's how small it is. But as for our other little additions, I added a small acrylic trash can to the left of the toilet (you can see it peeking out in that top pic) and we used one of those suction cup shower caddies to store some little sample shampoo & conditioner bottles along with body wash in the shower. We also plopped a mini tube of toothpaste in a cup above the sink.
I thought offering bar soap and liquid soap would please anyone with a strong preference either way, and we hung some "placeholder art" above the toilet (three food related wedding pics – cupcakes, grapes, and lemons – that we already had framed) just to fight the Complete Bare Wall Syndrome that was going on. We figure they're good for a bathroom because they're just photos that we reprinted and framed ourselves, so if they get damaged from the moisture over time, we still have the originals and can easily reprint them. Although someday we'd love to hunt down or DIY something that ties into the printed shower curtain and deep teal walls in the adjoined bedroom for a little more pop.
We don't have much by the way of "countertop" in our tiny bathroom, but we kept the lid of the toilet tank empty so people can drop their toiletry bags there if they'd like (since our sink doesn't have any lip to speak of). And bringing in some plush white bath towels, hand towels, and washcloths completed the mom-and-Jack-ready makeover. It may not be done but it's definitely grandparent worthy. Haha. And at least we're not dealing with this awkward see-your-whole-body-while-sitting-on-the-toilet issue anymore: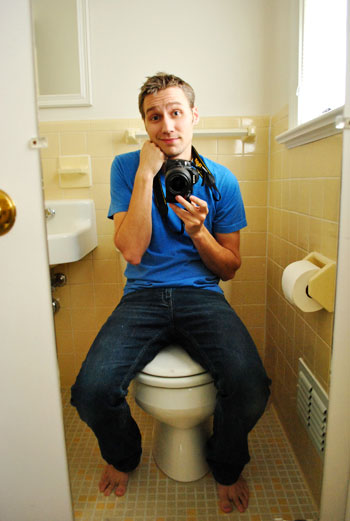 Three cheers for a non-reflective door in front of the John. And by John I mean both the commode and my husband. That's right, it's a toilet-related double entendre.