Having fresh paint in the kitchen has given us a chance to look at the room with, well, fresh eyes. And it has sparked our plans to take the fireplace to the proverbial next level (we mentioned building out the mantel and retiling the painted-over tile hearth a few times like here).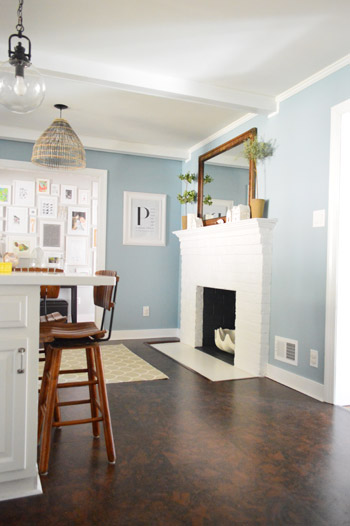 It has already come a long way since we moved in, thanks to removing (and craigslisting) the old stove and giving it a paint job. But with the rest of the room feeling a little more upgraded (there's shiny penny tile all the way to the ceiling on the other side of the room), we're itching to amp up this side too.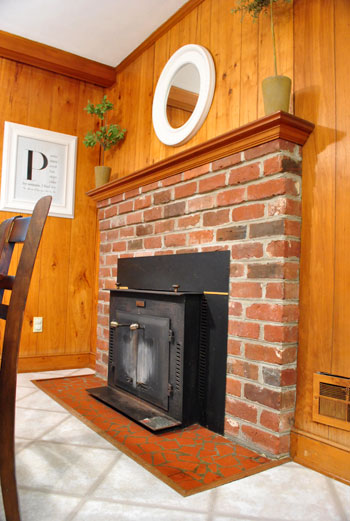 As for inspiration, we've been finding a lot of it lately. Sherry and I have had this makeover from Layla and Kevin mentally bookmarked for years now. And more recently they posted this one below, which has given us a few more ideas for some fireplace refacing – aka, building something architecturally interesting over the existing fireplace, like a more substantive mantel along with some framed out side columns.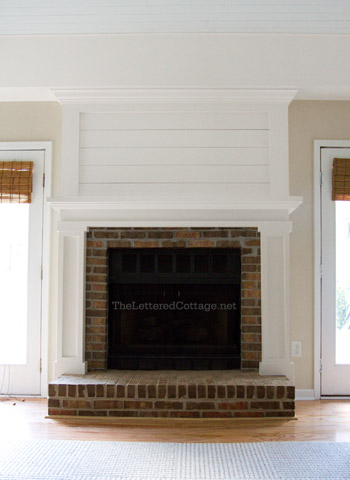 Sherry also has gazed longingly at this page torn from Canadian House & Home way too many times this month. So it officially has us interested in bringing some tile into the picture. Especially since the other side of our kitchen has a lot of that going on, so it might balance things out and tie the room together a little more.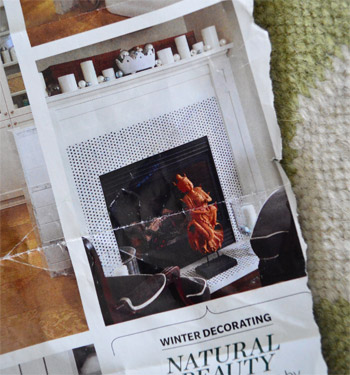 So with those images as our starting point, Sherry and I broke out the tape measure and started planning. And since I'm exceptionally geeky for graph paper (and because I was having trouble figuring out the scale and proportions) we actually ended up sketching a to-scale drawing of what we wanted to do. Don't bother trying to understand it yet – just know that most of it is wood, but the slightly shaded inner frame would be a sleek tile surround for the firebox (as we actually build it and share pics, you'll get a much clearer idea of the process).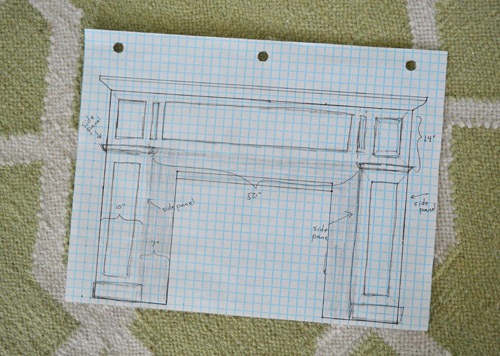 We debated a few tile options (more penny tile, something luminescent like sea-glass-ish mosaic tile, etc) and then the stars aligned and Sherry spotted this post on Bryn Alexandra's blog that mentioned inexpensive marble subway tiles at Home Depot. It's a great price and a timeless tile choice (we worried that something in a bold color like green might look dated or too specific down the line). So we think it'll be a great compliment to the gray penny tile on the other side of the kitchen without matching it exactly.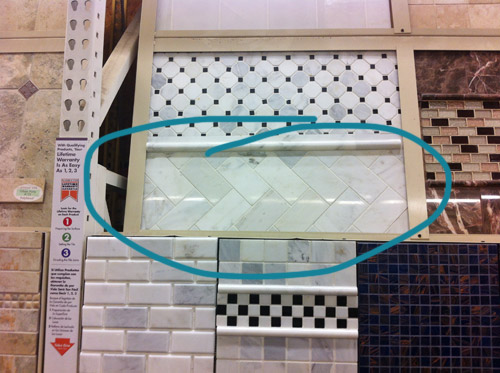 You really can't go wrong with marble subway tile, can you? It's classic Peg.
And while we played around with dark brown marble in our first house's bathroom, we've actually never worked with the (much more traditional) white stuff. And it's about time that changed. Since we think using classic tile in a fresh way is even more fun, we're actually going to go for a herringbone pattern, which will look like this if all goes well. Oh yes ladies and gents, we're about to get fancypants.
To further prove celestial alignment, thanks to a few generous relatives, we had some Christmas gift cards to Home Depot burning a hole in our pocket. So at just over $5/square foot we were sold (we only spent around $30 total on tile after gift cards).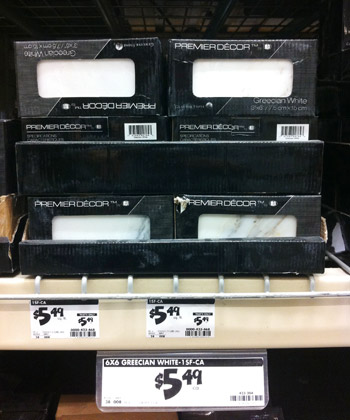 But tile was barely scratching the surface of our materials list. It's just a small portion of the new look (as you can tell by my incredibly accurate and remarkably discernible sketch). Most of what we need will be wood and trim.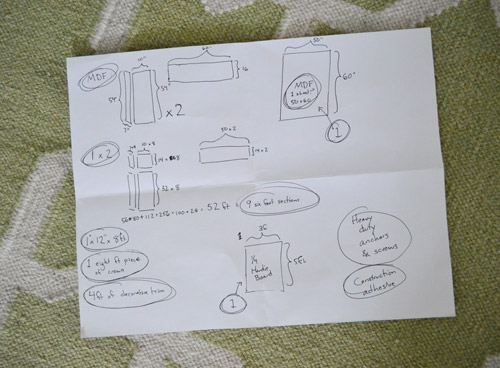 The good news is we now have everything home: tile, boards to build the base out, 1 x 2″ pine pieces for decorative details, miscellaneous trim, backer board for the tile, and masonry screws. And we have all of our leftover tiling supplies from previous projects (so we don't have to buy trowels and grout sponges and yada yada again). Huzzah! Of course we'll be sharing every step of the building process as it comes together, so basically what I'm trying to say is: sorry brick fireplace, your days are numbered.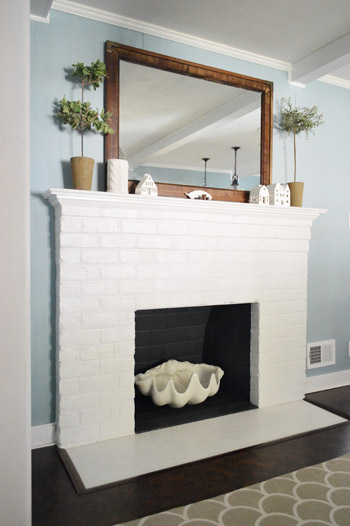 Especially since we just painted this zany smashed-tile-mosaic-looking-hearth (so that weird broken-tile texture is still going on under the white paint). But not for looooong!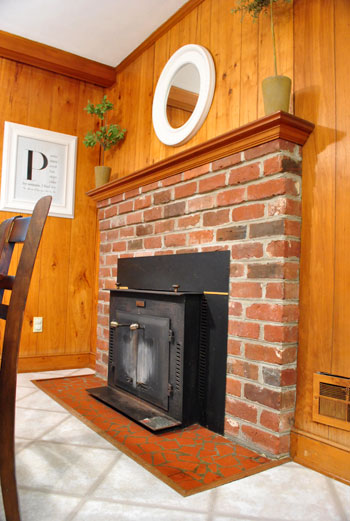 If all goes well, we'll be back on Wednesday with a finished tile update. In fact, we're already working away…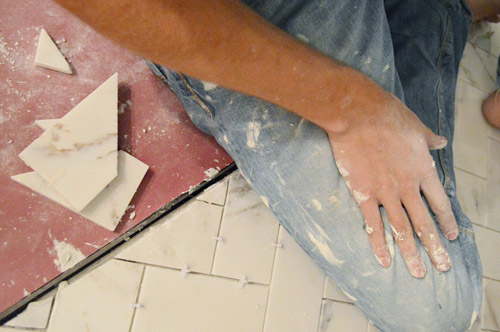 What were you guys sketching or planning this weekend? Anyone starting a tile project, or finally spending a Christmas gift card?
Psst- There was a little Clara celebration at school, so here's how that went down (don't look now, but Sherry's hair is down).