It's been a dang long time since we've done anything in the guest room, which we scrambled to get ready for my mom's stay over two years ago. Can you believe that was two years ago? Crazy. Anyway, we've always thought that the grabbed-it-that-day-in-a-panic mirror over the bed from Target could stand to be a little bigger since it blends into those dark walls so much and the reflected circle that it sports seems a little tiny for that big bed under it (even if we beefed up the trim or added starburst-like details around it we worried the actual size of the mirror was still a little piddly).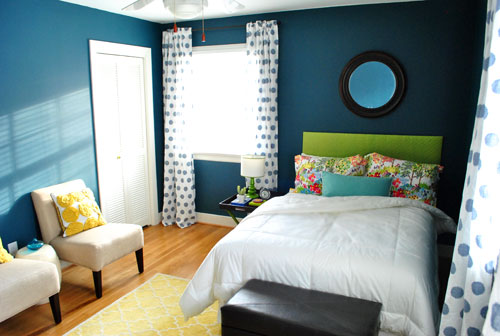 And you know we're no strangers to tweaking things over the years (more on that here) so we kept our eyes peeled for a larger mirror that might work better. Yup, we've spent two years sort of passively (and sometimes actively) looking for a mirror. Is that some kind of record? We just didn't want to jump the gun and grab the wrong thing again. Then I saw this guy on Joss & Main (called The Charles Mirror if that helps anyone hunt it down) and boom. Love at first sight. Everything from the bright white color (which ties into the curtains) and the fun bamboo shaped frame (which relates to the bamboo side table made from an old luggage rack) to the size (this baby's three honking feet wide) was perfect for the room.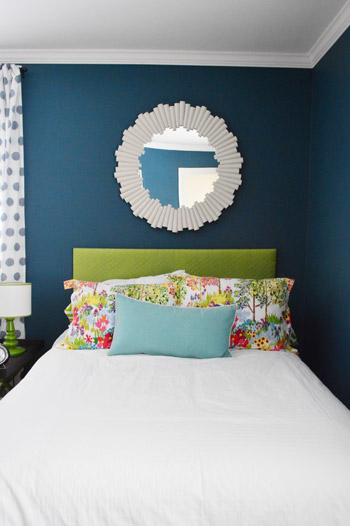 The only scary part was the price. It was $169 with free shipping. So we hemmed and hawed (we're used to spending around $60 on a mirror at Hobby Lobby, HomeGoods, or even finding one for $5 at a yard sale). Then we admitted to ourselves that we loved the mirror, and it was exactly what we'd been looking for over the past 700 days. Most of all, we worried if we didn't spring for it that we'd spend another two years looking for something else, so we pulled the mirror trigger.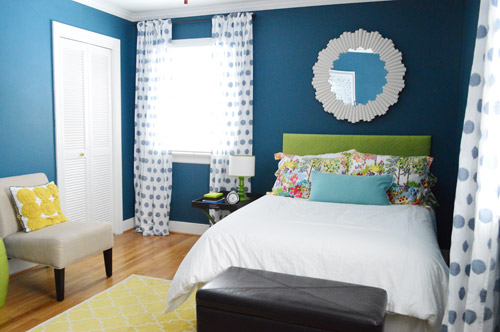 The new guy definitely fills out that wall better and balances out the window on the left of that wall (the dark wall above the bed felt weirdly heavy next to such a light and bright window when it was sporting the darker & smaller mirror).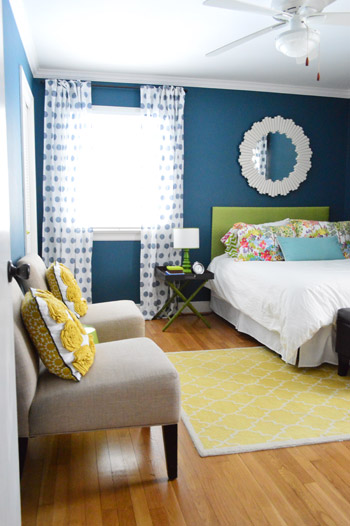 Here's a before shot from a similar angle so you can see what we mean. In person it was even more off-kilter looking (so much light flooded into the window but not much light was reflected by that tiny round mirror). In person it felt like "HI I'M A WINDOW!!!" and "psst, I'm a mirror" – so it's nice to have a new one that fills out the wall in a more compatible way.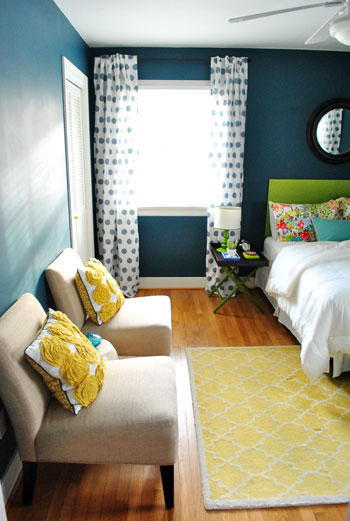 As two pretty frugal folks, sometimes it's hard to decide when to splurge – and we've actually received requests from you guys for a post on that, so let's dive into that for a hot second. Since 95% of the time we do things the cheap way (shopping on craigslist and at thrift stores, cutting each others hair, cloth diapering, driving one car, DIYing as much as we can, etc) we like to remind ourselves that splurging every once in a while is ok too, especially for something that proves to be especially hard to find or is even more via most other retailers (most mirrors of this size are a lot more actually, like this 3′ wide mirror that's on sale for $499 at Ballard!).
So I guess our answer to that common "when do you know when to splurge" question can be summed up by these few questions:
Do we have the cash to pay for this? (we pay off our credit card in full each month, so if we don't have the money on hand that purchase is a no-go)
Do we think we can find something that we like just as much for less? (after two years of looking the answer was a resounding "NO!" – haha)
Have we checked craigslist, freecycle, and local thrift stores regularly to see if anything there pops up? (we did this every few weeks for months to no avail)
Can we build it? (even though we thought we might be able to DIY a similar looking frame with lots of time/mitered cuts, it was hard to find any round mirror this large with a rim/frame that we could alter)
Is the item still a good value? (seeing other retailers selling mirrors of the same size for much more made us feel like this wasn't a bad price for something so detailed/large)
Have we saved money in other ways that make this purchase feel justified? (obviously if we had just booked a vacation or spent a ton of money on something else we would have passed, but since we hadn't, it felt nice to "treat ourselves" in the always awesome words of Tom Haverford…
But back to the mirror. Once once we got over our nervousness and ordered it, we were excited to get it up on the wall when it arrived. So imagine our surprise when it showed up without any hanging hardware on the back! It freaked us out for a good minute or two before we realized we could fix that little issue pretty easily.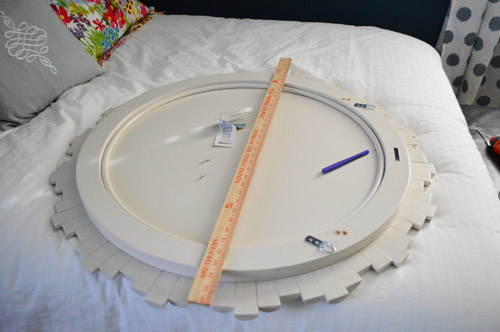 Thankfully it had a nice thick wood frame back there, so we grabbed one of those packets of heavy duty metal hanging hooks that can be drilled in with two screws so they're extra sturdy (we found ours for $2 at JoAnn but they also sell them at Home Depot, etc). We screwed two screws into each of the two hooks, which we attached in the same spot on both sides so it would hang nice and straight. Then, ta-da, it was ready to hang.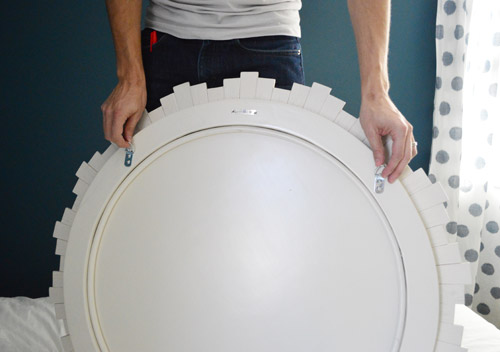 John held it up on the wall and shifted it around with the headboard still on the bed while I stood back and said "an inch to the left, wait, a little higher!" and then after we marked the wall for the two heavy duty anchors and screws that we added to hold it up, we removed the headboard and the pillows so they wouldn't be in the way while we got to work hanging the mirror.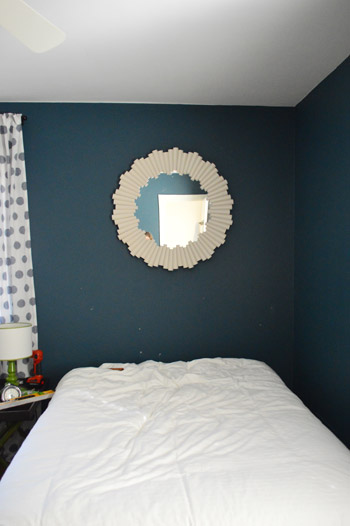 Then we added back the headboard…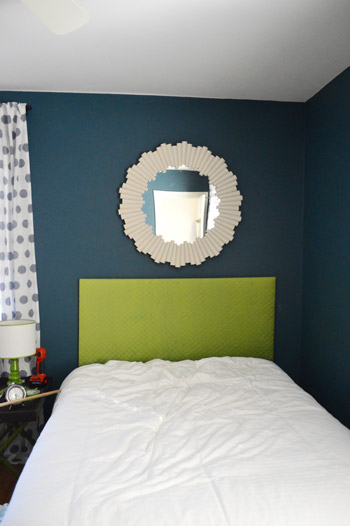 … and the pillows.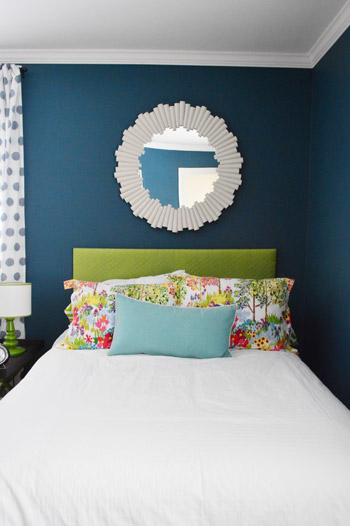 Cowabunga, dude. Come on guys. Let's bring back cowabunga.
So that's a little update in a room that we haven't touched for two years. What are your rules for when to splurge? Do you ask yourself a ton of questions first or is it just something that you go with your gut on? Sometimes I hate that we over-analyze everything, but in the end I think our bank account thanks us for it…