***This giveaway has reached its cap and is now closed – see who won below!***
You guys shut this puppy down with 10,000 entries in less than a day. Wow! So we've already selected our random winner. She is… Rhonda (who thinks she's gonna ask for a juicer – to go along with her Christmas blender). Congrats!
Tomorrow is Sherry's 31st birthday. So a few weeks ago I asked her if she wanted to do anything special giveaway-wise to celebrate. She looked dreamily towards the sky, a smile spread across her face, and she said "I want to do a Jonathan Adler giveaway and I want a picture of him holding ceramic animals and grinning like a fool. Because we are kindred spirits. That would pretty much make my year."
A week later this photo appeared in my inbox: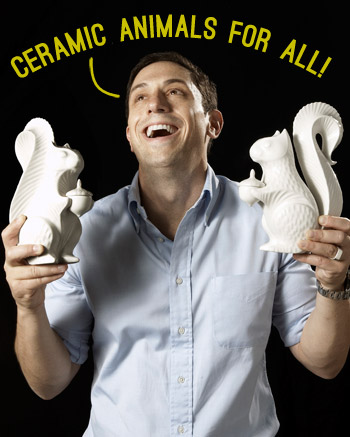 The girl wanted a Jonathan Adler giveaway (you can read more about her love of the guy here) and the girl got it. The wonderfully cheerful people of Jonathan Adler were completely down with the idea (and the ceramic-animal-centric photo, apparently) so they've offered up a whopping $500 for one lucky winner to spend on whatever they'd like – animal or otherwise. Beyond obsessing over his white ceramic creatures, Sherry shares his love of poppy patterns, colorful accents, and chic accessories that don't take themselves too seriously. So, um, happy birthday to one of you!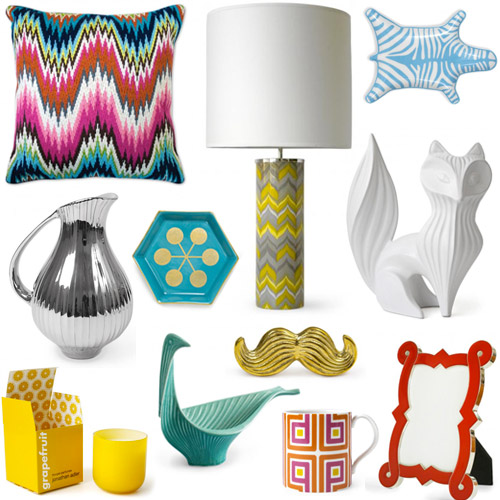 PRIZE: A $500 gift card to Jonathan Adler
TO ENTER: Comment on this post with the words "BIRTHDAY ME" and tell us…
BONUS QUESTION: … what's something you wish to do or receive on your next birthday? Are you hoping there will be a big party with all of your friends? Is there a particular gift you'll be dropping hints about? Or will you just be happy if your favorite flavor of ice cream makes an appearance?
NUMBER OF WINNERS: One
PRIZE SHIPS: This giveaway is available worldwide!
GIVEAWAY CLOSES: Wednesday, March 20th or at 10,000 entries (whichever comes first)
USUAL STUFF: One entry per e-mail address is permitted. The winners will be selected using random.org and announced on Thursday as an update to this post. That's right, come right back here on Thursday for the announcement of our winners. Good luck…
***COMMENT ISSUES? If you're trying to enter but keep getting a "duplicate comment" warning, click here to see how to solve it!
Note: We aren't paid or perked for hosting these giveaways, we just do 'em to thank you awesome folks for stopping in. See our Giveaway FAQ page for more info. Pics courtesy of Jonathan Adler.
PS: Happy Birthday also to Arielle at Jonathan Adler who helped coordinate this prize and, coincidentally, shares a birthday with Sherry!