Hoop, there it is. File this under my weirdest "Dude, Get On That Already" challenge to date. Much like many of our other DGOTA adventures, this mini update involves something that sat around bugging me way too long + a trusty ol' can of spray paint. But this time it's not an animal. I know. Total shocker.
John actually laughed at me for this little tweak (and I'm fully expecting you guys to as well), but they say it's the little things that make ya happy… and seeing a bright red and blue plastic hoop against the back wall of our carport every. single. time. we pulled into the driveway (it was so bright you could see it from the curb) did not a happy momma make. And I know it's dumb, but I worried the neighbors may have thought it was junky and tacky to have a big colorful hoop in plain sight 24/7 (they all do such a nice job to keep their yards looking nice, and many have kids but their toys are tucked away by evening). So because I'm what my dad likes to call "a strange bird" (seriously, I've been weird since before it was cool – wait, it's still not cool?), I'll share my odd little DIYed hoop-redeeming solution. Just promise not to compare me to Monica from Friends (I don't fold my underwear, I swear).
First of all, this basketball hoop is super important.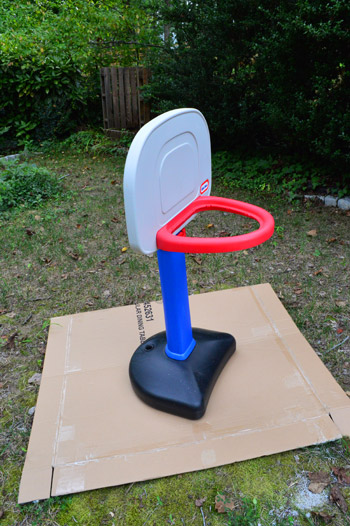 Why? Because it makes Clara a happy girl. And a happy girl = a happy momma. So I devised a way to:
keep the hoop right there in the carport (after trying several locations it's the best spot for it)
keep it just as functional (don't need to explain this one, right?)
make it

simmah-down-now

from the curb (in the slightly altered words of Jay-Z: we got 99 bright toys I love, but this hoop ain't one)
That plan? A can of ORB spray paint. I mean, would you expect anything less from me at this point? I'm definitely not one of those people who thinks all kids toys should be neutral or white or should match the living room. Clara has a ton of brightly colored toys and I'm even the gal who painted her hand-me-down highchair bright yellow, made her a happy little dollhouse with cheerful furniture to match, and painted her formerly neutral wooden crayon truck sky blue…

… but after four months of rounding the block and seeing that red ring of fury on that bright blue stem, I realized there had to be a solution that worked for Clara, the hoop, and the mom. I love that bright colors help with development, but I just decided that one item out of many (this girl's got toys for days!) that's not a bright color is OK since I've never sprayed anything else of hers a muted color (and have actually added color to muted things, like her high chair and her crayon truck… so hopefully it all balances out). And come to think of it, her very favorite "toys" are rocks and sticks, so ORB fits right into that color scheme.
Sadly I didn't get a good shot of the basketball hoop in all of it's primary color glory before my paint-fest (bad blogger, no Oreos for you) but I actually made this photoshopped rendering for ya. How nuts am I? Wait, don't answer that.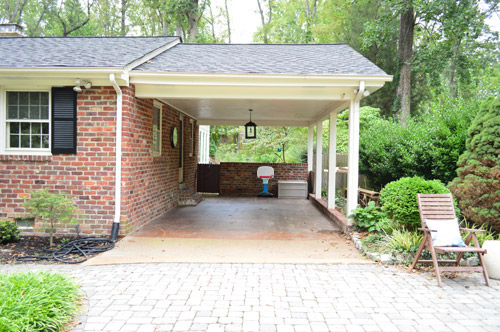 In the "real photo" category, you can actually see it peering around the back of the table in this post. See, it's even brighter in real life than the one in the rendering. Haha.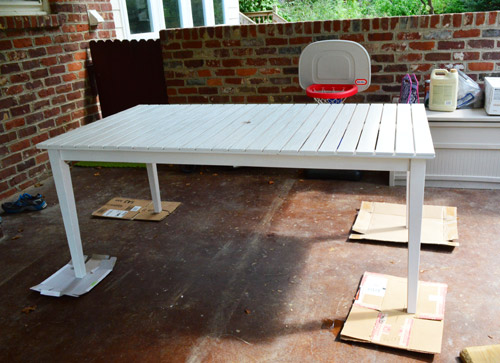 And you can see how he looked all naked and ready for a new suit in the back yard (I removed the net part for the spraying phase so it wouldn't get all gunked up).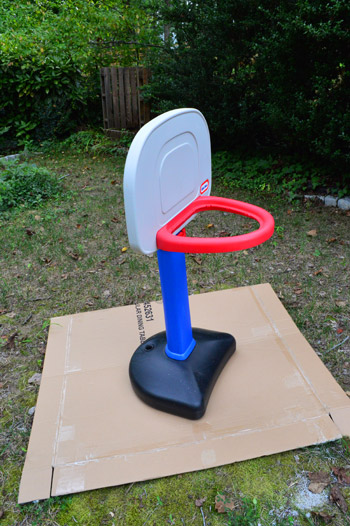 The thing was visible from space, I tell ya… and then it wasn't.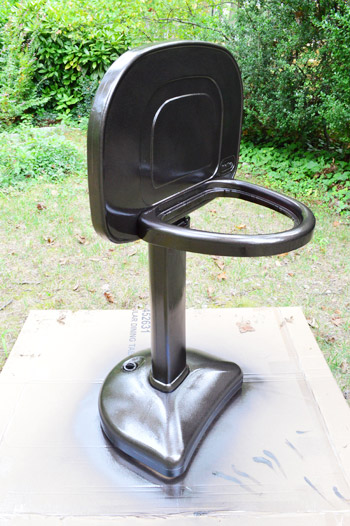 Thank you ORB. For those wondering what I used or if it works on plastic, Rustoleum Universal All-Surface spray paint is made to work on plastic and hold up outdoors – it even has a built-in primer for a better hold (I used the oil-rubbed bronze color of course). Total cost: $0, since I already had half of a can leftover from another ORB adventure. And in the time department, it took under twenty minutes to knock this baby out. Fast and free. Why didn't I do this four months ago?
Just as I suspected, Hooper is a total looker with his new finish. As for why I went with oil-rubbed bronze spray paint, it ties into the carport light and a few other dark accents around the outside of our house and hides more dirt than something lighter/brighter might. No more "Loook! I'm a little plastic hoop! Check me out!" – just chill aloofness and that "I'm cool enough to fall back and do mah thing without demanding everyone's attention" vibe. And the contrasting white net makes it easy for Clara to slam dunk (it's not all flat and dark, so she can still clearly see the basket).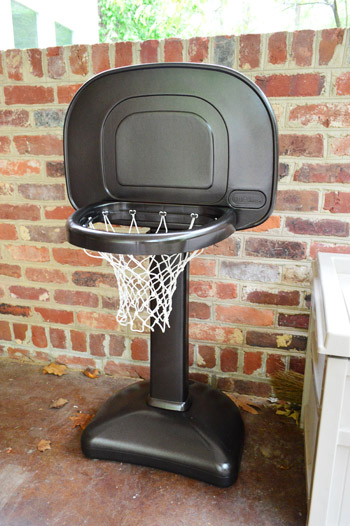 Small personal projects like these are my favorite. They might seem completely crazy to someone else (or maybe everyone else, haha) but they really have the power to make your day. It's kind of like how I'm a terrible baker and you probably couldn't pay me to attempt a three layer cake but my BFF does that stuff FOR FUN (really?! for fun?!). To each his own (picture me raising a can of spray paint as if to say "cheers").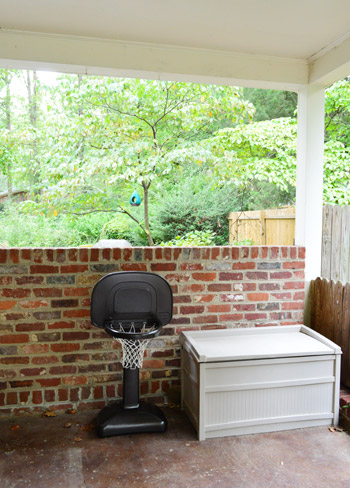 So in summary: Mommy likes. And happily, Clara and Daddy like it too. See how he's hardly visible from halfway down the driveway now? Life is good.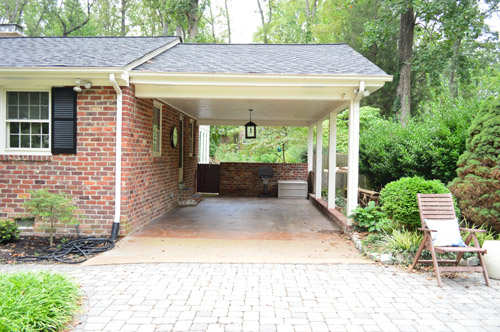 Way better than this, right? And there are still dozens of bright toys in our midst (seriously, you should see our living room right now).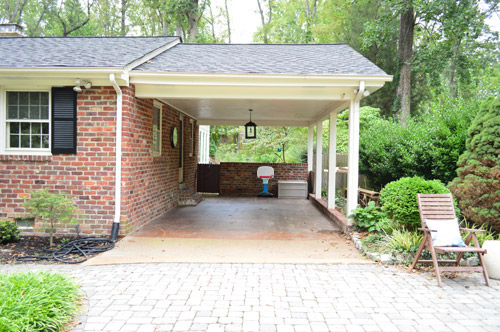 The cutest part is that Clara apparently has a thing for ORB like her momma. She has even taken to calling it her "so so shiny hoop." Love that girl. And of course she has a whole bunch of multicolored balls that go with it (they tuck away into that storage container next to it) so it's not a sad little drab thing when it's in action. Everybody wins.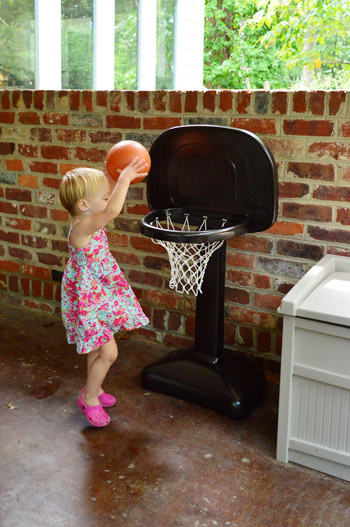 Except for Burger. He can't play basketball. Poor guy.
What small-slash-quirky-but-somehow-woefully-overdue updates have you guys been tackling (or planning to tackle)? Do you all think I'm crazy? Anyone else painting something outside? Or do you have a dog who plays basketball? That would be the most impressive of all.