Many of you know the basic details of how we met- we worked together at an ad agency in New York City. Sherry was the copywriter on the account that I helped manage. We first crossed paths making this baby commercial (she wrote the script and I sold it through to the client) and the rest, as they say, is history (yes that's Becki Newton who's now on Ugly Betty). So here's the play-by-play of our engagement (as told by the proposer and the proposee):
SHERRY: We love to reminisce about how we met and fell in love in NYC, but after dating a while it was clear that neither of us saw ourselves living in Manhattan for life. The hustle-and-bustle of the city paired with the increasing stress of our long-houred jobs started to cramp our style and cut into our quality time so we finally decided that we'd enjoyed the experience long enough (John was already itching to get out after two years and after over six years I was slowly coming to the same conclusion). So I approached John and said the words he later confessed he was dying to hear: let's blow this pop stand. But where should we go…?
JOHN: When Sherry told me she was willing to leave Manhattan I suggested my warmer, calmer, and greener home state of Virginia, and when she excitedly agreed (in less than a second) it only reconfirmed that this was more than your average relationship (we settled on Richmond because my sister lived here, it still has an artsy/metropolitan edge, and there's a good advertising presence here which gave us a fighting chance of landing jobs when we arrived). Making those decisions together: to quit our jobs, hunt for a new apartment in a new city and announce to our parents that we were moving in together basically forced us to evaluate whether or not we were in this for the long haul. It had only been about 6 months, but we were both certain that we were in it for keeps. I made the decision to propose to Sherry before we even left New York City. And we posed for a few bad-ass New Yorker pics in front of the skyline before we hightailed it outta town…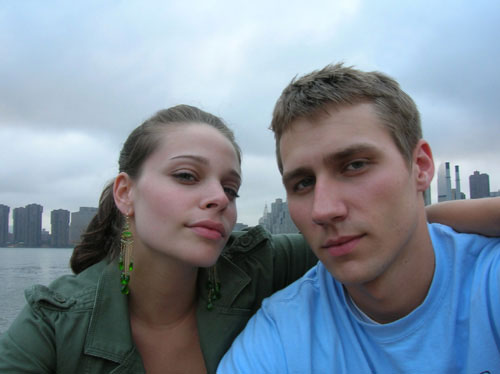 SHERRY: I was pretty sure that John was going to propose at some point, because we'd had very honest discussions about our future and where we saw things going but I had no idea when. I wasn't in any rush either. I liked the excitement of knowing that it was coming (I probably wouldn't have made the move without some confidence of this) so I reveled in the knowledge that it would probably happen when I least expected it.
JOHN: Based on some hints from Sherry and advice from her best friends, I actually snagged an engagement ring before leaving the city. But with so many things in flux (quitting my job before firmly securing a new one) it didn't feel right asking Sherry to marry me until I was gainfully employed. So on February 25, 2006 we packed up and moved in Richmond, Virginia in a minivan as boyfriend and girlfriend (with that sparkly ring burning a hole in my pocket). Here's Sherry with our coworker Heather (who was one of my ring "advisors") at our going away party in NYC.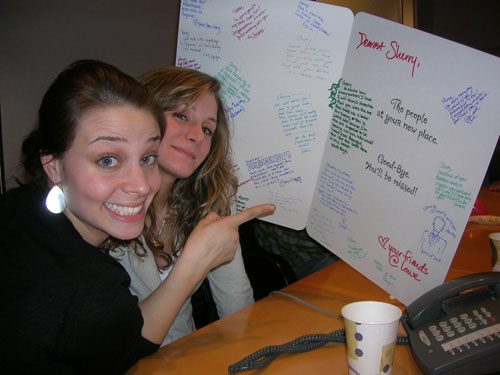 SHERRY: Our first few weeks in Richmond were exciting (I segued into being a freelance copywriter which allowed me to work from home while John hit the streets for a new gig in downtown Richmond) but there was a certain lingering question – and I was pretty sure John had the ring. As I assured certain pushy family members that John would soon propose to me (a few of them were all over me about moving in without being betrothed) many of them guessed that that it might happen on my birthday that was coming up on March 19th.
JOHN: I had no plans to propose to Sherry for her birthday. I was waiting to officially land a job (I'd interviewed for a bunch and was just waiting for the call…) and then I'd plan the perfect way to pop the question. Though I did have an idea of proposing to Sherry at the summit of one of my favorite hikes in the Blue Ridge Mountains. I figured it'd be a quintessential "welcome to Virginia" proposal. After all, we had traded skyscrapers for mountains, right? So imagine my surprise when my cousin and little sister spontaneously invited us to join them to hike that very peak on the day before her birthday: March 18th (here they are hiking it below).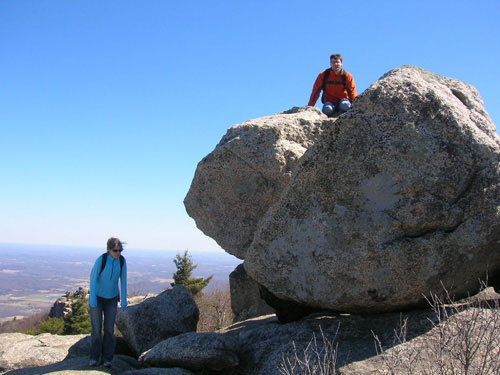 SHERRY: Our first few weeks in Richmond meant we were basically joined at the hip since I was working from home and John was waiting for a job offer to roll in, so I guess it left him very little alone time for conniving and proposal planning. But all that together time would change when, just a few days before my birthday weekend, John got news that he'd gotten a new job at a Richmond ad agency. Oh happy day! I was thrilled for him because he was obviously anxiously awaiting that call.
JOHN: With the new job in place, I could finally put my proposal plans in motion. I had the ring, the hike was scheduled and now I just had to ask Sherry's parents' permission. Not a simple task given that Sherry was by my side nearly 24/7 and her mom & stepdad were leaving on a cruise mere hours after I found out I landed my new job. But during a work call that Sherry was on, I managed to leave messages for both her mom and her dad. Her mom later returned the call (Sherry was in the car with me, so I couldn't pick up) and left a voicemail expressing her approval and excitement. I also later got an e-mail from her dad that contained just one character – "!" – that I assumed meant good things. I later learned he didn't say more out of fear that Sherry would see the message. The last thing on my list was to tell my own parents. I snuck in a phone call later that day and, just my luck, got the answering machine.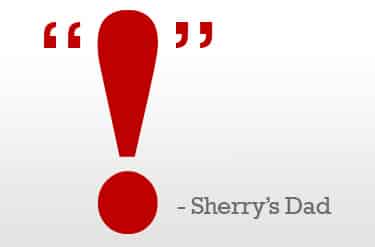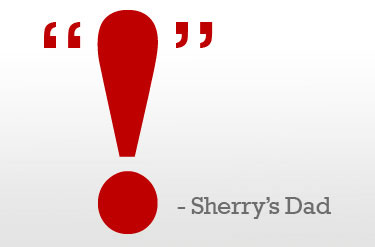 SHERRY: I had no idea John was sneaking in these pre-proposal phone calls, and I thought nothing of it when John got a random call from his dad that afternoon. It should've been a clue that John nervously exited the apartment to continue the conversation outside, but he covered it up well with a story that his dad was giving him advice about a car tire question we had been discussing earlier (when I peeked out the window he was bent over looking at the tire while on the phone). In fact I was so convinced by his sly little tie cover-up that as we laid in bed at night I kept asking if he thought the tires were ok. Which amuses John to no end, even to this day.
JOHN: I was pretty sure my tire-diversion worked, but I was mainly just pleased to hear my parents sharing in my excitement over my proposal plans for the following Saturday. They were thrilled to welcome Sherry into the family, so with that in place I just anxiously waited a couple of days for Saturday to roll around. When it did, I snuck the ring box into our camera bag and packed it into my backpack along with water, trail mix and other normal hiking supplies.
SHERRY: I was super excited about our hike, even though it was a little cold that morning. Joining us was John's cousin Travis, his sister Carrie and her boyfriend. It seemed like a perfectly normal event, so I just concentrated on enjoying the hike which, if you've ever hiked it, is a bit challenging. It's almost 6 miles, including lots of rock scrambling. I like to joke that John really made me work for my ring. You think I'm kidding about the rocks…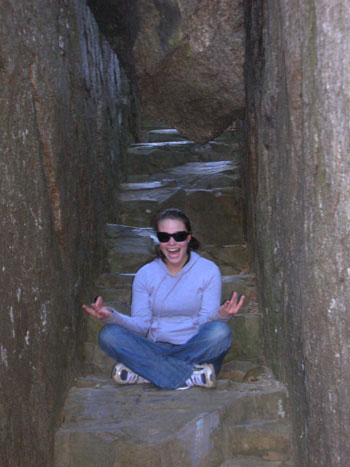 JOHN: I had already told our hiking companions about my plan: get to the mountaintop, eat lunch, then make yourselves scarce so I can do my thang. Well, they got those last two steps a bit confused and as soon as we got to the top everyone disappeared. I hadn't mentally prepared myself, so there was an awkward moment where I had to chase after the others and whisper to to them that eating together was first on the agenda. I think Sherry noticed something weird about the exchange, but it didn't blow my cover completely.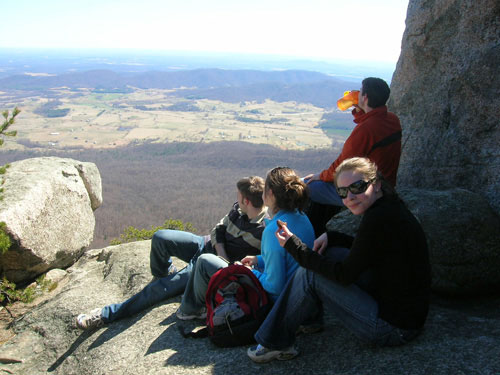 SHERRY: They all sort of chuckled out of earshot so I just thought I missed a joke or something. But I was super excited to reach the top of the mountain since I was totally exhausted from the climb. Being such a short girl there were parts where I actually had to be hoisted up some tall rocks by two people (one above and one below) since I'm not quite long-limbed enough to get 'er done by myself. But after a bit of rest and food I was rarin' to get back to hiking and excited that the rest of the trail would be downhill. It was also pretty chilly up on the top of the mountain, so I was looking forward to moving again. So I was a bit caught off guard by John's insistence that we snap a bunch of pictures before leaving, but I played along (after all, the scenery was beautiful and after all that climbing it made sense to soak it up a bit). The two of us headed off to take a photo together (we love self-portrait photos where John's extended hand acts as the tripod) but as we posed for our usual snapshot, the camera died. Ugh. But John reassured me we had more batteries in the bag.
JOHN: The camera dying was really me pushing the "off" button rather than the shutter. All part of my plan to have to go into the camera bag to get "new batteries."
SHERRY: So while John went to get a new camera battery, I decided to keep myself warm by doing some goofy jumping jacks.
JOHN: I bent down to fish out the ring from the camera bag and spun back around on one knee, ring box propped open and simply asked "Sherry, will you marry me." The jumping jacks came to a quick halt.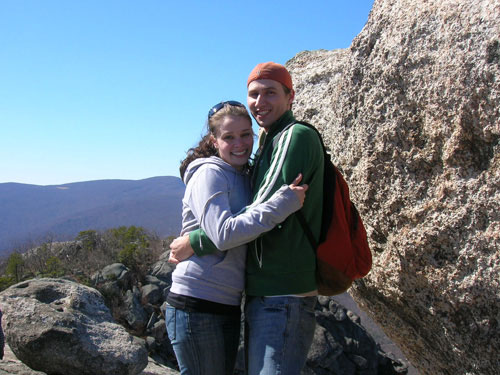 SHERRY: I was in complete and utter shock. All I remember was that I froze mid-jumping-jack and then ran over to John and jumped into his lap (he was still kneeling).
JOHN: With Sherry in my lap, I reminded her that she needed to say "Yes" to make it official. She did. We kissed. She cried. We ignored the random hikers that traipsed by a moment later. It was great.
SHERRY: After a few minutes of basking in the just-engaged glory (I still couldn't believe it) we emerged from our secluded lookout point to be greeted by John's sister and cousin who were both waiting with bated breath. I choked out the good news and lots of hugging, squeals and picture taking ensued (since the camera was in fact not out of battery). John's cousin Travis even snapped this gem of a photo with us kissing in the background: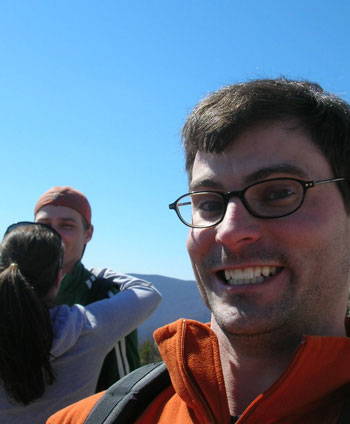 JOHN: The walk down the mountain was probably the best hike of our lives. We had forgotten about how cold it was and how tired our legs were. My sister Carrie even excited exclaimed to every passerby: "they just got engaged!" and strangers high-fived us and congratulated us as we passed by with permasmiles. And then one pair of hikers approached who looked vaguely familiar…
SHERRY: When we saw John's parents walking up the trail towards us I couldn't believe John had coordinated something so elaborate. Then I looked at him and realized he was just as surprised as I was. His parents, knowing the time and location of the proposal, surprised us both by showing up on the backside of the mountain and walking towards us. They cautiously asked "any news?" before congratulating us. I guess in our surprise I forgot to flash my ring.
JOHN: So we finished the hiking excursion with my beaming parents in tow. After getting back to our cars they treated us to a second lunch (all that walking made us hungry!) at a little hole-in-the-wall restaurant in nearby Sperryville. It was far from fancy – not exactly the storybook first post-engagement meal – but we loved it (in fact we still say "aww, remember that lunch in Sperryville?"). And I was just grateful that my parents suggested it because I realized my proposal plans didn't really extend much past the actual popping of the question.
SHERRY: After lunch I was still totally stunned and smiling from ear to ear. I remember calling friends and family to share the big news (although I couldn't tell my mom for a few days because she was still on her cruise). And a couple of days later we sent out an email announcement to everyone we knew – including all of our former coworkers who had no idea we were even dating (although it wasn't technically against company policy, we kept our relationship under wraps because we didn't want it affecting our work). Needless to say we got about thirty conference calls within minutes of hitting send with people screaming that they had no idea and claiming that we rocked their world. Which was a fitting reaction considering this was the email announcement that we sent out: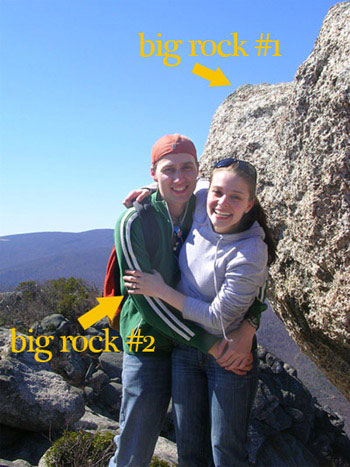 So that's the tale of our mountaintop engagement. I'm sure many of you have equally exciting and complicated stories, so we'd love to hear some details about yours- where? how? did you know it was coming?