After our big kitchen renovation we were left with a nice polished looking room, but the space still felt so bare and devoid of warmth and personality… and we just didn't know where to start.
Slowly we amassed some great items that gave our new kitchen a lot more character and charm. Whew. So we're here to share a few simple (and cheap) ways to up the ante in your kitch with eye-pleasing and functional additions that will look good while providing convenience and usability to boot.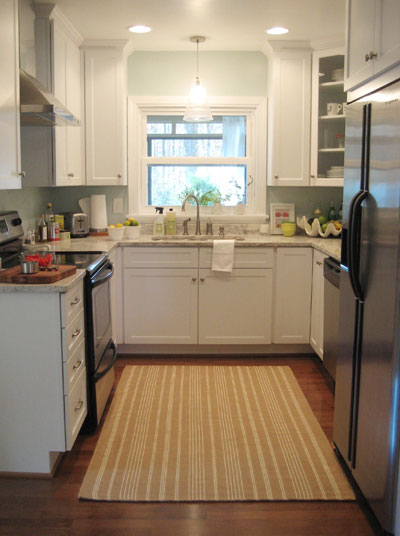 1. Jars for cereal. We got ours for $6.97 each at Walmart last October and we love that we can easily pour our cheerios or granola (which they keep nice and fresh).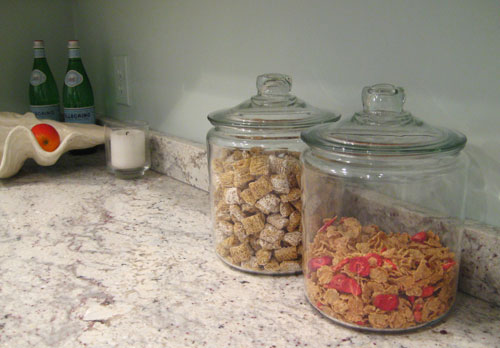 2. A chic olive oil jar from Williams-Sonoma. This is a one time purchase that might run you a bit of money the first time, but it's totally an investment since it looks so lovely and can be refilled with cheap ol' store bought olive oil when you run out of the good stuff (which feels oh so decadent while it lasts). And placing a collection of a few charming olive oil containers – or other bottled cooking ingredients – on a regular old plate on the counter is an easy way to protect it from oil stains while everything looks tied together and neatly corralled. Oh and you could also opt to take the store-your-oil-in-a-chic-glass-bottle approach. That trick can also look very swanky indeed.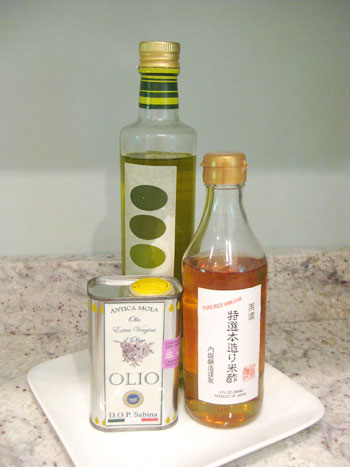 3. A cake stand. You can grab one from TJ Maxx (like we did) or at Marshall's, Target, and Home Goods on the cheap. It can be used to display anything from cupcakes or pound cake to ceramic fruit or even ornaments for a seasonal effect.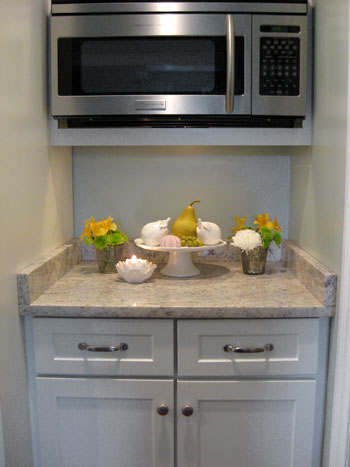 4. And upgraded fruit bowl. Be it a faux clam shell from Z Gallerie (like ours) or a nice wood, metal, or ceramic bowl, sprucing up your countertop fruit situation can really make all the difference. Ikea has this great metal option and we've seen great rustic varieties, like a trio of wooden bowls online and at thrift stores, so you definitely don't have to break the bank for this easy upgrade.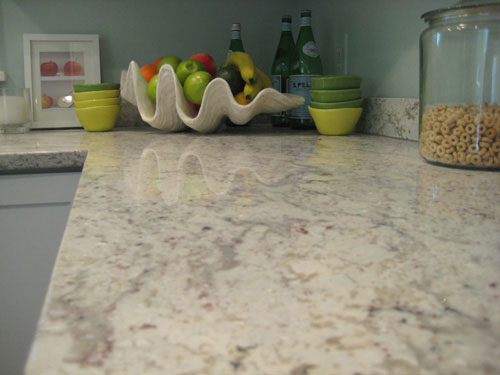 5. Glass canisters for flour, sugar, salt, and beyond. Heck you can even use them to store oatmeal, cous cous or rice if you use those ingredients most often (ours are currently to the left of our stove and full of flour, sugar and rice since those seem to be common cooking necessities for us). Of course it's handy to have them at arm's reach instead of tucked away in the cabinet (just like our cereal jars) and they look so charming and kitchen-appropriate that you'll wonder how you ever lived without them once you snatch them up. Ours were gifts from West Elm but they can be found everywhere from Home Goods and Marshalls to TJ Maxx, Walmart, and Target. Note: learn more about that cabinet full of decorating items that we love to keep corralled here.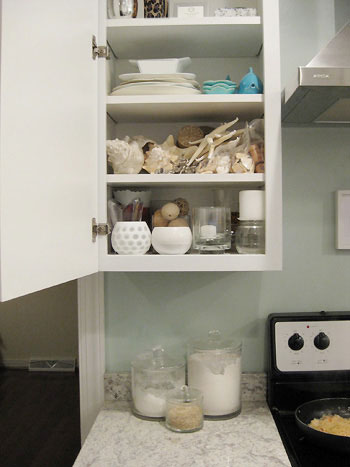 6. A nice soap and lotion pump by the sink. It just feels luxe to have lotion on hand after all that dish washing, and our $32 Anthropologie set (which came with an awesome ceramic caddy) has paid for itself a million times over since we love refilling it with cheaper soap and lotion without losing the high-end look. It's up there with our fancy olive oil container- which we also refill- when it comes to feeling like we live the pampered life (without dishing out cash for such indulgences on a monthly basis). Oh and just as we mentioned the glass bottles with a spout as a chic way to store your oil, many people love using those bottles to store soap next to the sink for a chic effect as well- so that's another affordable (and DIYable) option.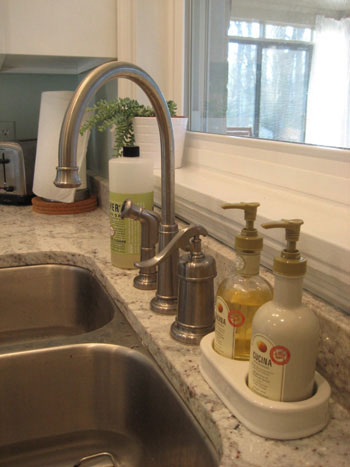 7. A swanky cutting board. Ours hails from TJ Maxx and we just love the layered tones of wood that pick up everything from our rich mocha floors to the lighter honey colors in our striped jute rug. Definitely think beyond the plastic or the basic wood cutting board (you can spend the same amount at a discount store like Home Goods or Marshall's for something a lot more expensive looking to give your kitchen some added oomph). And of course you can still keep a plastic one tucked away in a cabinet for cutting chicken if you'd like.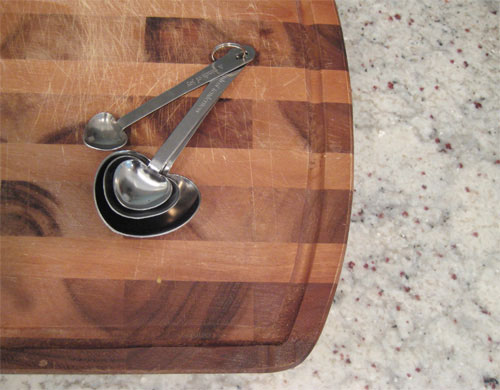 8. An area rug. It just makes our kitchen feel homey. You can easily see the difference the $34 addition made to our space, and the striped jute pattern that we picked hides tons of crumbs and can easily be vacuumed or shaken out in the backyard when it catches a few too many spilled substances. After over a year of use ours still looks great (think of jute like the bristles of a straw broom- it repels wet stains so they can't soak in). So as long as you choose something durable for a high traffic area, not only can it add interest and be super easy to care for, it can even offer up a softer surface to stand on (your knees and back will thank you after a marathon cooking sesh).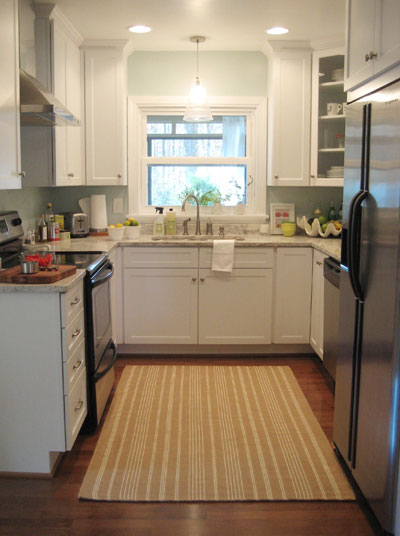 9. A ceramic caddy for utensils. This is such an easy item to place next to your cooktop to store all of your wooden spoons and metal spatulas so they're functional and charming in one fell swoop. Ours was just $4 at Marshall's and we love how easy it makes unloading the dishwasher (we just gather all the long spoons and ladles and stick them right in the caddy). We really appreciate that we don't have to sift through drawers or cabinets to find the items that can instead be within reach while we cook. Oh and don't mind that it's pictured next to my vintage V-day gift for John below- the utensil caddy is much more functional now that it's next to the stove).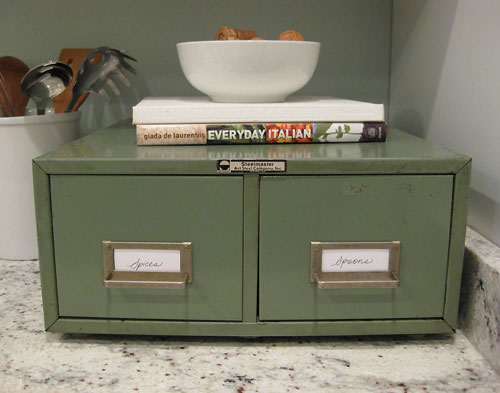 10. A cute stainless blender and toaster for the counter. If you're like us and you use these items frequently, there's nothing more functional than choosing to store them right on the counter at arm's reach. Of course this means that investing in some nice stainless versions will upgrade the look of your entire kitchen (and tie in with your appliances if they're also of the stainless variety) so think about splurging just a bit (we especially love our Oster beehive blender, which actually gets complements for sitting out on the counter). And it was oh so worth it since they perform amazingly well and we never have to bother with pulling them in and out of a cabinet.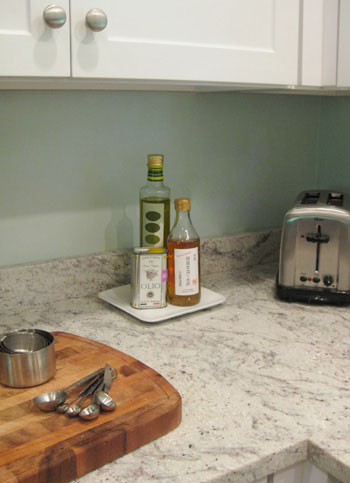 Extra credit: Charming patterned Ikea glasses and cute decorative Target bowls. Both stores make great options with tons of color, interest, pattern and texture so they can really add a lot to your kitchen. Whether it's just stacking four bowls from Target and filling the top one with fresh strawberries or grabbing a few brightly colored ceramic dishes and using them to store pistachios next to your fruit bowl, there's not enough we can say about a few pops of color and interest in the form of affordable glasses and bowls.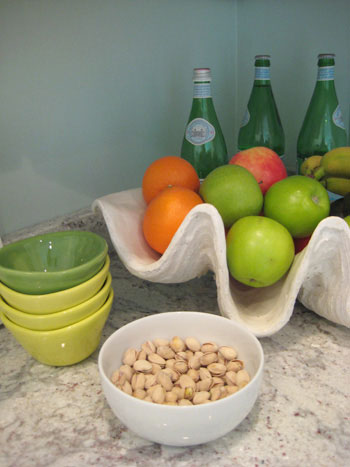 So there you have ten- well, eleven- ways to add warmth and personality (along with lots of affordable function) to your kitchen. Do you guys have other tips to share with anyone who's looking to spice up their blah cooking space? What's your favorite countertop item in your kitch? Do tell.