One of our favorite things about Richmond is that it's also known as The River City. Not because we have some piddly little stream dribbling through town, but because we're actually the only city with class five rapids that run through the city limits. In short, we have a whole lotta river and it's a whole lotta fun to swim, sun, and hang out there. It's sort of like a beach town except think big flat rocks for sunning (and skipping across) instead of sand…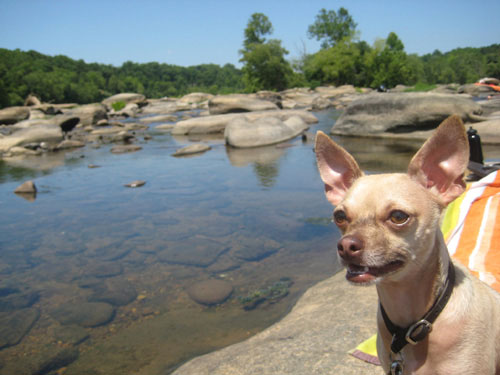 In fact, John and I can actually be classified as river rats. We have a "secret" favorite part of the river where we can always find parking and a big flat rock to call our own (it's such a great free way to spend an afternoon and even an entire weekend). But lots of river visits lead to lots of wet beach towels and bathing suits. And it hardly feels very green of us to toss everything in the washer & dryer when we return home- especially when we plan to hit up the same rock the very next day. If only we had a place to hang our suits and towels to dry until the next river excursion. Nothing that $8 and a trip to Lowe's couldn't solve. Here's the bare and boring corner of our sunroom before the makeover (note that it's conveniently located right next to the back door):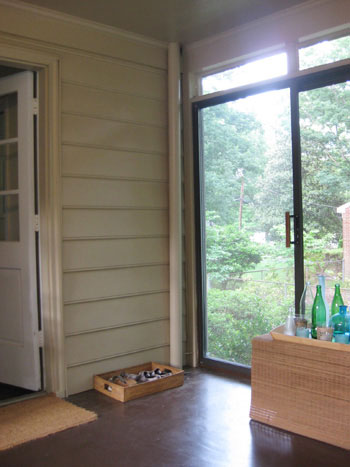 And the same corner just minutes later after we screwed our three new brushed nickel hooks into place (snagged on sale for just $2.64 each):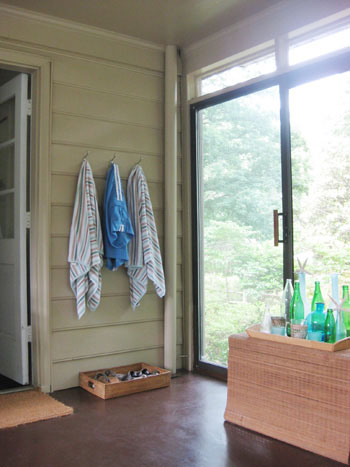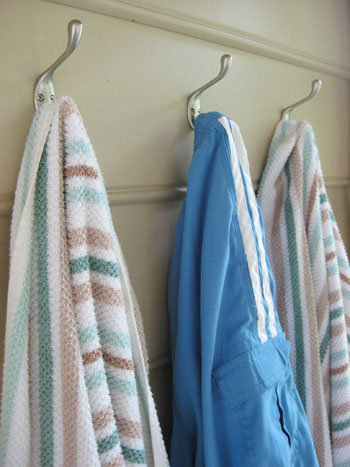 Luckily since nothing is dripping wet by the time we get home (we like to lounge on the hot rocks til we're pretty dry before hopping into the car) we don't have to worry about water-logging the shoe basket below.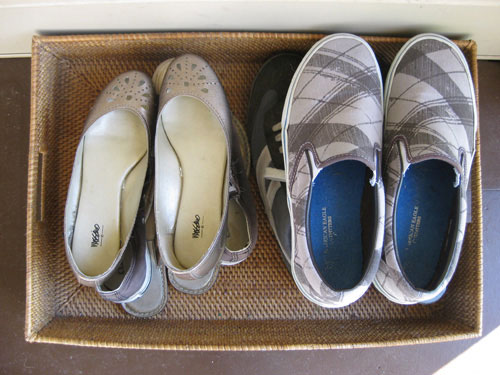 And because each of our Lowe's hooks are actually double hooks, we can hang up quite a range of things in a pinch (in case a few friends join us or I push John into the river before he gets his hat/shirt/shoes off).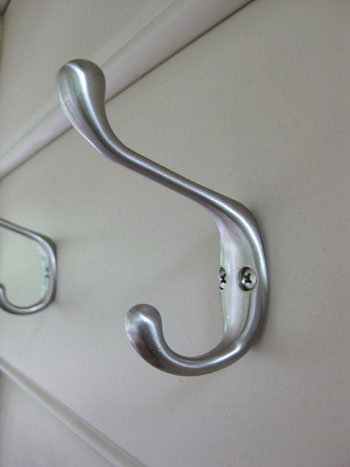 It's actually very reminiscent of the mini-mudroom that we created in a corner of our den with an ottoman and a wall-mounted coat rack (which is super practical when it comes to wrangling purses, scarves, dog leashes, and even paper files- which are stored in the ottoman while no one's the wiser). We're just a-place-for-everything-and-everything-in-its-place kinda people, so we like creating systems that make things feel organized and automatic (since the mini-mudroom installation almost two years ago we haven't lost the dog's leash once!).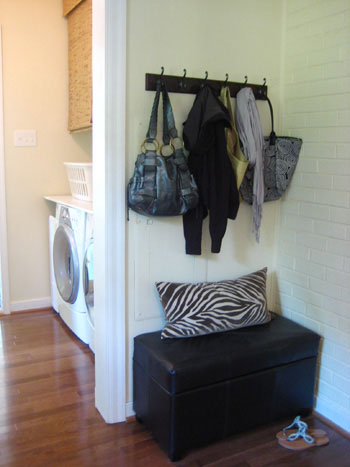 So what about you guys? Do you live in a city that calls for a little specialized corner for storing/wrangling specific items that you use on the regular? Scuba gear? Snowshoes? Farm boots? Is anyone else a fan of using simple coat hooks to keep things organized? Tell the river rats all about it.