Consider the next part of this post as an update to this one from two years ago where we first broke out a few pie-charts to generally illustrate how we spend our time and how we make money as bloggers (because even our parents get confused about that sometimes). Things have changed over the last couple of years – not dramatically – but enough that we felt it was time for an update. So let's kick this charty goodness off. Behold, a very simplified / approximated breakdown (all the pie charts in this post are very general guesses, btw)…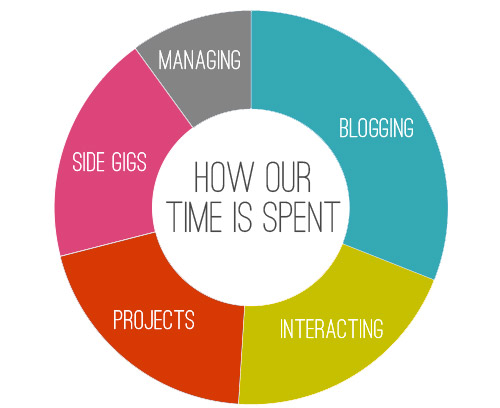 First, we should point out that this is not a complete representation of our waking hours – it's just our "work" time. So you can see yesterday's "Day In The Life" post for a better sense of how things like parenting, cooking, and running errands fit into the mix. That being said, the interesting thing to note here is that the majority of our work time is spent running a website (blogging, interacting, and managing a business) not doing DIY projects, as some might assume.
We always describe our job as a mostly-desk job. We might get to paint or build something while Clara's in bed for the night (which is when we used to do projects when we both had day-jobs anyway), but between the hours of 8am and 6pm we're most likely found on the computer sizing photos, writing posts, organizing giveaways, emailing about our book or the showhouse, answering comments, doing our expenses, or coding something. But let's dive in a bit deeper to get a closer look.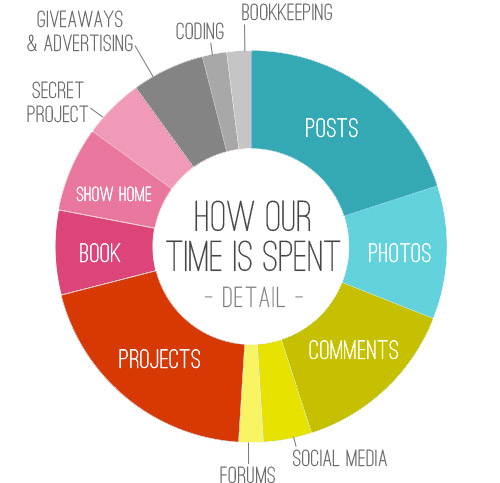 When we look at how some of these areas break out, there are two changes that are most notable to us:
We've managed to streamline the managerial aspects of our business. Simple changes like using Rafflecopter to run giveaways (which also saves us from approving thousands of comments and allows us to accept more than 10,000 entries without the site crashing) along with hiring out more of our accounting have made small but significant impacts. But perhaps the biggest is a shift that we're making in our advertising program. We're currently transitioning our 4-year-old private sponsor system out (private sponsors = people that we manage directly, so I was manually uploading 30+ ads and invoicing 30+ people). We're upgrading to a more auto-pilot system that is managed by a third party who can serve/place/bill automatically. The kinks of the new system aren't all worked out, so I don't have any other helpful details to share yet, but it promises to save us lots of time in ad renewal notices, invoices, and even writing sponsor shout out posts (which have been phased out as of this month). In addition to being more efficient for us, we're aiming for a more pleasant experience for you guys (less sidebar clutter, for one!) and a more effective, flexible system for our advertisers (so they're not one of 30 boxes blinking on our sidebar).
Which enables us to give more time to side gigs. Freeing up some managerial time allows for things like book #2, the showhouse, and a secret project that has to stay secret for now (ARGH, SECRETS!) to take up more of the pie. It could be argued that this is a bad thing (doesn't it take away from spending more time on projects or posts?) especially when side gigs don't contribute to the majority of our income (more on that in a moment), but to us, they're the opportunities that we can't pass up: they keep us fresh, help us grow professionally, and stretch us in new ways. And because they're still only about 19% of our total time, there's still just as much room for projects and other blog stuff as there always has been, which still make up 80+ percent of the pie.
Obviously this isn't a perfect model of time management or how to run a blog. We're constantly trying to improve our processes so that we can put the most time into activities that invigorate us, help and entertain you, and – let's be honest – put money in Clara's college fund. One thing some people suggest is "why don't you spend less time responding to comments?" or set them to auto approve for repeat commenters, but the reason we keep comments in moderation is so we don't miss questions. If we auto approve some or all of them, questions will slip through (they not only roll in on current posts, but old ones as well). And since we believe connecting with you guys and offering additional info is a big part of what got us here, we'd never want to phase that out.
Speaking of which, I think it's time for our next chart: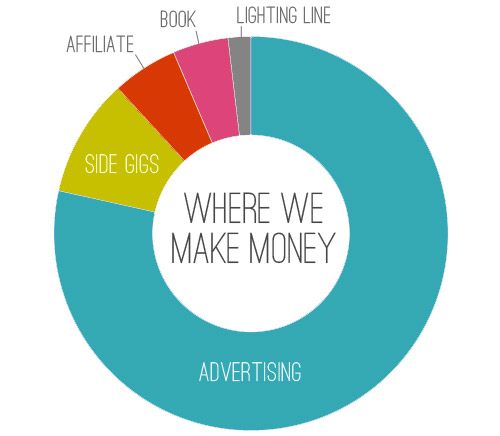 Unlike last time we did this chart, we've now collapsed all of our advertising – private sponsors, ad networks, and Google – into one chunk. That's partially because those slices of the pie are rapidly shifting while we're in this sponsor program transition (you may notice over 25 fewer ads on our sidebar by the time it's done). But it's also to make it crystal clear that the majority of our income comes straight from sidebar ads. Much like how magazines or newspapers keep their doors open thanks to advertisers, blogging seems to follow that model as well, at least for us – especially since we don't do other things like sponsored posts to make additional income. Although that red affiliate slice of the pie is from sharing some things we love – usually on our sidebar or occasionally in a post (both clearly marked as affiliate links whenever they occur).
Another interesting distinction is that as much as things like writing a book and having a lighting line might sound like cash-cows, they're not things that we have experienced as high earners, as demonstrated by our chart above. But they're a really big deal for us personally and professionally, so they're well worth the effort and the experience. For those wondering, we still haven't reached our royalty point on the book (more on that here) but we did hear from a publisher in China who bought the book rights from our American publisher for a nominal fee and is re-publishing it there in Chinese (which is really exciting to see – the cover's going to be different and everything). So since we get a small percent of that fee for being the authors, that's what that sliver represents. Admittedly the proportions represented above are a bit rough, since the goal was just to generally illustrate the point. So as long as we're talking non-specifics, let's move on to our third graphic.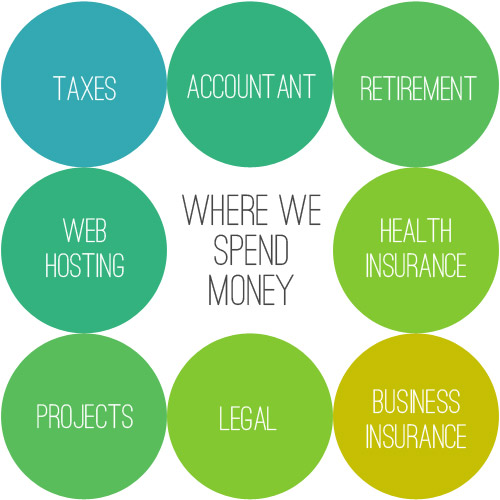 After a couple of attempts to make a useful pie-chart, I gave up (these fluctuate so much that trying to quantify them just wasn't working). But the point we wanted to illustrate was that some people think that blogging is a "zero overhead" profession, but if your readership grows, your business costs definitely rise with them. Here are some of the notable places that our earnings go:
Taxes & Accountant: As exciting as those auto-pilot ad network checks are sometimes, a big chunk of that goes right back to Uncle Sam (around 33% of our total income bounces right out of our checking account across four quarterly payments). We use an accountant to help keep it all straight, but it has definitely been the biggest adjustment for us (going from banking/spending all of our paychecks in our previous professions to having to hoard a big cushion to send back four times a year).
Retirement: Since we don't have a boss taking 401k money out of our paychecks anymore (or anyone doing any company matching), we have to stay on top of our own retirement planning. We each have a SEP IRA and after year-end taxes our accountant calculates what our maximum contribution could be for that tax year and we try to invest as much of that as possible (as well as contributing to Clara's college fund then too).
Web Hosting: The biggest unexpected cost for us in blogging was web hosting and other fees – everything from hosting our site and photos (which are stored separately on amazon.cloud to keep the site from crashing) to paying a monthly fee for Rafflecopter and Vanilla Forums. These expenses actually add up to almost double our mortgage payment each month!
Health Insurance: Another "perk" of being a small business owner is that you get to pay for your own health insurance. It's not fun, but it's definitely one of those "now I can sleep at night" investments in your business and family.
Business Insurance: While we're on the topic, we also pay for business insurance. This helps to protect our business (and us personally) if we were ever to be affected by things like a lawsuit or the death/injury of one of us (knocking on so much wood over here right now).
Legal: This is a new expense for us recently because over the past year we've engaged a trademark and licensing attorney. Since our book was going to be titled Young House Love as well, we needed to fully claim the name – and she also helps us navigate some of the contracts that we've received for some of our side gigs (like our lighting collection). Plus, now we're officially Young House Love™. Holla!
Projects: Last but not least… everyone knows home improvement isn't free – and while most of the things that we blog about would be costs that we'd incur anyway, we certainly work at a faster pace (and therefore spend faster) than we did before we were blogging full time. We get asked all the time if these home purchases can be write offs since we're blogging about them for a living, but the answer is no. Since we're fixing up our primary residence (and not an office or investment property) we could never write a cent of it off (and if we attempted to, we'd owe a big ol' chunk of money to the government if we ever sold our house since it would be partially theirs instead of all ours).
And now let's lighten up this numberfest a bit, shall we? Like previous years we thought we'd throw some random stats and facts your way, but this year I've spiced things up a bit visually. You know I love a good infographic…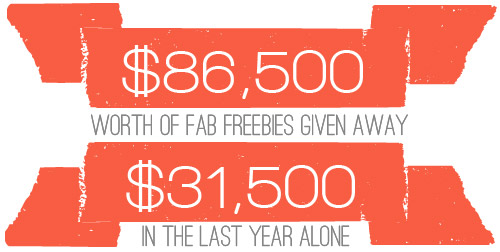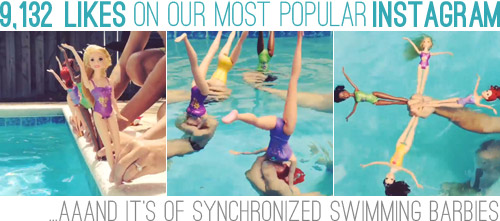 P.S. – You can check out our original pie charts from 2011 here, and look back at our past by-the-numbers posts for our last five blogiversaries here: 2012, 2011, 2010, 2009 and 2008.
Update – Some of the most frequent requests that we get are for info about professionally blogging (how we made our site, how we grew our following, how we make money, etc) so we shared all of the details about how we started a blog, grew our traffic, and turned it into a full time job.