Woo to the hoo. We're celebrating three amazing years of sharing our adventures (and misadventures) in home improvement with you guys in this virtual place that we call home. So you know what that means… some blogiversary madness is about to ensue.
Year four is sure to be full of projects, both big and small. And we always like to use our blogiversary week to share some inside scoop and kick off the next 365 days right. This week we're planning lots of fun stuff, from a video with some insanely ugly shots of our house before every single project that we chronicled on the blog (let's just call the footage "vintage") and some behind the scenes info about how we live and work and do pretty much everything in between.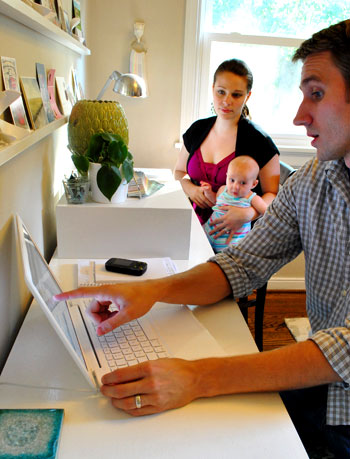 Oh and we have a pretty exciting blogiversary giveaway, so stay tuned for that later this afternoon. But first we'll serve up this email answer:
Q: Have you two ever written a "typical day in the life of" post? I just finished reading about your latest project and realized that every time I read your blog (after a profound sense of "FANTASTIC!"), I wonder how you schedule to get done all that you appear to be doing (house projects + two blogs posts a day + mood boards/other work + responding to comments so frequently + baby + all the rest that comes with life and house maintenance), and I would be fascinated to know if you have any scheduling/time-saving tips. I'm a very organized, list-maker, and master-scheduler myself, and I still can't figure out how you do it. Regardless, WELL DONE! – Constance
The funny thing is that Southern Flourish magazine (hooray for free online glossies!) actually asked us to write a day in the life post for their latest issue, which conveniently hit the interweb just last week. Everything from diaper changes and Clara feedings to projects and post writing is in there. Heck, we even detailed what we ate for breakfast. Oh the glamour! So you can check out those deets right here (click to read):
And click here to flip through the entire issue of Southern Flourish. Gotta love free online inspiration.
On the subject of Constance's question about if we have any scheduling or time-saving tips, we must admit that we're definitely in the "still learning" phase of baby juggling. We naively thought that John coming on once Clara was born would kick us into turbo speed, but two adults plus one baby pretty much equals one lone ranger who gets to blog all by their lonesome while the other parent is on baby duty. No matter how many people told us that a baby was a full time job we somehow thought we'd have more wiggle room to get things done. But the good news is that we're getting much more efficient after a fair amount of experimentation and flexibility. When Clara naps we've learned to use that time to dive into projects (an hour at a time, until she wakes up and we wait for the next nap to finish what we started). We also give thanks every day for the miracle that is babywearing (Clara + baby carrier = hands free typing/cleaning/project-ing/etc). And we're not too proud to occasionally eat cereal for dinner, or do anything else that we can do to squeeze a few more precious moments out of each day.
Plus we're getting better at taking photos, writing posts, answering comments, and doing all those other blog duties even faster (seriously, you should see us size pics for web, we're a blur I tell ya)… which leaves more time for makeovers and projects and of course some Clara lovin' as well. One thing we've noticed is that we're faster when we focus on one task and complete it instead of trying to multitask (which results in running around chaotically and somehow getting less done) so we do our best to systematically cross things off as we go instead of trying to do a million things at once. So our secret is less of a miracle cure-all and more of a learn-as-you-go-and-do-whatever-works-best approach. Oh and we definitely believe in list making (in fact John whispers "my list!" as we leave the house since I often get into the car, shout "my list!", and run back into the house for it since I never like to be without my beloved piece of paper with little boxes that I check off as we accomplish things).
And although we're pretty busy these days, we're just counting our blessings that we were able to have John come work full time on YHL so we have someone to be on baby duty while the other one of us can devote time to YHL, because we can't imagine what the state of the blog would be if there weren't two of us around to switch hit. And the best-of-all news is that Clara is so worth the trouble. Seriously, we don't know what we ever did without her. Plus she makes us want to feather our nest even harder (er, better?) with her precious needs and wants in mind.
Stick around for the rest of the blogiversary hijinx (cue the parade of homeowners marching by with hammers and paint rollers). We can't wait to crack YHL open and share all the gooey goodness inside…