It's kind of unbelievable to us that it was four whole years ago that we started this little ol' blog (just for friends and family members to drop in on our first home's kitchen makeover).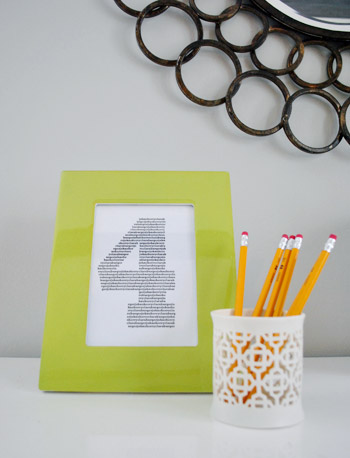 In the words of Gwen Stefani, that shhhh is bananas. So much has happened since then. And since we're nothing but creatures of habit, we're psyched to celebrate a week of blogiversary madness and behind the scenes hullabaloo as usual. Starting right now. Well tomorrow (Monday) to be exact. So raise the roof, y'all. It's about to get festive up in here. These are a few of the things that we have on the agenda for this week:
a day in the life post from both of our perspectives (Burger & Clara will get in there too)
a whopper of a giveaway: a $500 (holla!) shopping spree to one of our favorite places
a giant post full of pie charts that detail exactly how we make money doing this
a numbers post full of stats about traffic, comments, and John's soda-themed wardrobe
a big ol' Q&A (we answered the personal q's on video & added bonus business info)
our annual "who-reads-this-blog-anyway?" survey (we love hearing about you guys)
our yearly five blogiversary goals (and a recap on how we did with last year's)
the anatomy of a post, from start to finish (it can actually be quite the process)
the post full of hosting/coding info than many of you have requested
ten things we've learned about blogging over the past four years (holy cow, has it really been four years?!)
So that means we'll be serving up two posts a day for the next five days in a row (oh yeah, we know how to cram stuff in there). We went into this week thinking about how we could share even more behind the scenes and real-life stuff with you and came up with the idea of just chatting about all the info we would talk about if we were ever to do one of those blogging seminars or web classes (you know, in our spare time). So we're excited to put it all out there. I mean we've always loved over-sharing the goods with you guys. Is it Monday yet?
Pssst- The framed number four pictured above was a gift from sweet Katie B. She actually looped our names: "JohnSherryClaraBurger" to make up the number four (which represents our little family of four – and is perfect for our blogiversary too).