Lock your doors folks, cuz we've got our house crashing pants on again. This time we're in Richmond's Union Hill neighborhood visiting Diana Mathews, one of the gallery rockstars we met at Quirk during our last crash. We were told we had to see the amazing century-old American Foursquare style home Diana and her family transformed three years ago (which Diana now shares with three roommates). So off we went to meet her…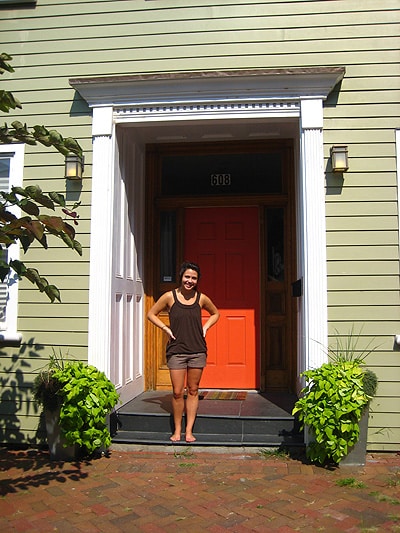 And her house was fantastic, as promised. In fact, someone described the work Diana and her family did as "a gift to the neighborhood" and when you see these jaw-dropping before and afters, you'll see why. I mean, like, woah:

When Diana began house hunting a year ago, she knew she wanted a fixer-upper. But not in the lukewarm sense that Sherry and I wanted a fixer-upper. She wanted to put her family's renovation and restoration skills to the test (her dad is a master woodworker, for instance) to create a fresh, personality-filled home that she could save from demolition in the process (it was already condemned when they snagged it for only 45K). And check out some of the amazing exterior details that they introduced along the way – from a new, stacked balcony and fence (with hand-carved accents courtesy of her father) to the classic trimwork and columns (some of which her pops created by hand to match the existing exterior woodwork).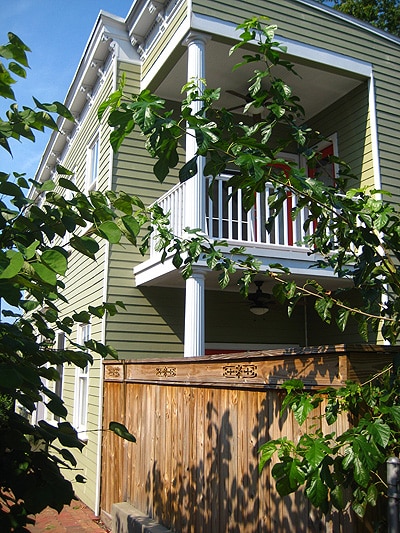 Once inside we loved that Diana blended the old, restored details of her home with her playful and eclectic personal style. For instance, her "music room" pairs the exposed brick fireplace with a stacked bookshelf (organized by color- which of course made me über jealous… remember how I drooled over this trend when I saw it a while back). Diana took things a step further and did the same to her DVD collection in the living room- keep an eye out for that a little later.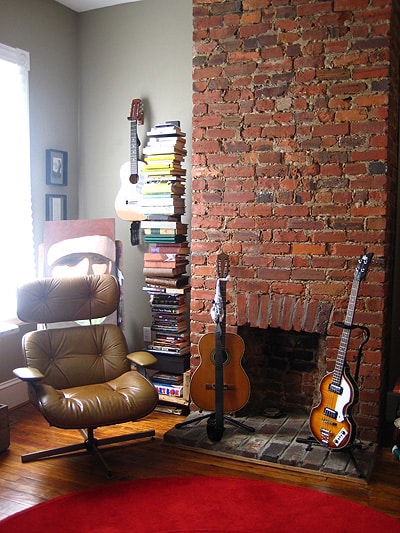 The "music room" occupies one of the four original first floor rooms in this foursquare, which Diana has actually turned into three by opening up the wall between the kitchen and the living room (she calls the fourth space the "art room" because "you can't have three living rooms"). She left some original brickwork to help define the updated kitchen and living room, but used a bold, apple green wall color to visually link the two spaces. The open rooms and high ceilings have allowed Diana to make a few more bold design choices too. She turned her grandfather's large, antique dentist chair (the death-trap looking thing in front of the brick) into a whimsical art/conversation piece and also welcomed a big ol' hunk-of-puppy-love named Bruce into the family.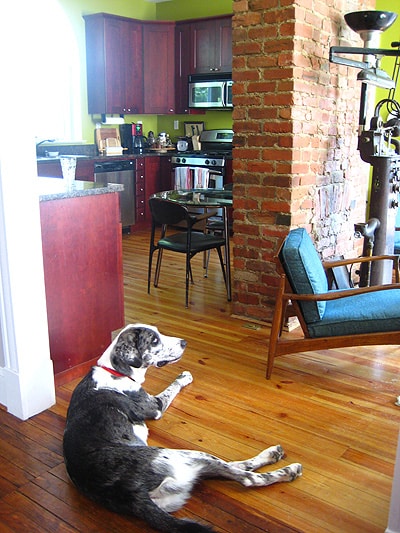 Note the floor under Bruce, as well. The house had limited salvageable flooring, so they collected planks from all over the house and used them to restore the floor in the foyer (under Bruce's rear) and adjoining music room. The rest of the house, like the kitchen and the living space below, features new hardwood flooring that blends really well with the 100-year-old planks that they rescued. And those great french doors (framed out in impeccable wood trim, of course) open to the downstairs balcony. Green with envy yet? We were the same color as the walls.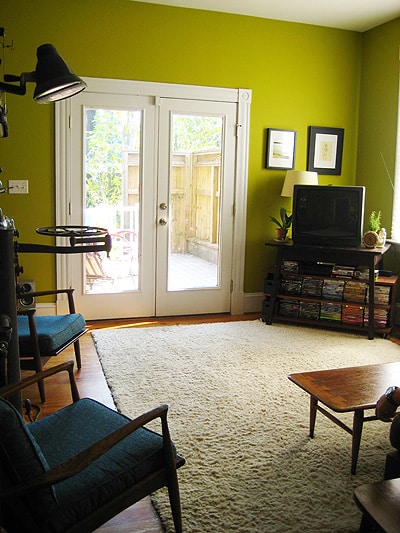 The style continues upstairs into each of the – you guessed it – four bedrooms. Diana rents out three of them to family and friends, so we restrained ourselves and only snapped pics of her own domain (we're nosy but not that nosy). Our host's bedroom was a perfect example of how antique pieces (bed & trunk), original art (from Quirk above the bed) and bargain finds (that great IKEA rug) can blend together to create a one-of-a-kind space with interest and charm to spare. Think we can convince Diana to rent out her bedroom to us for a weekend or two? Or at least that swanky bathroom?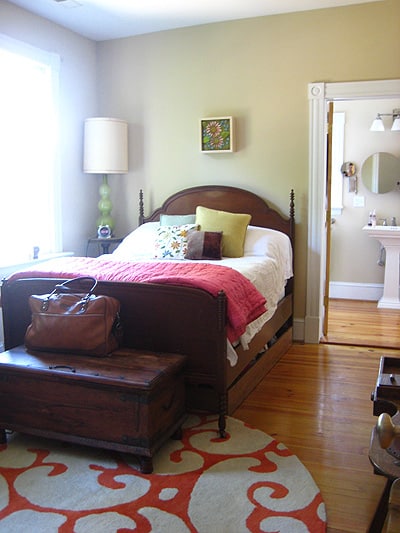 My guess is that in a house this sweet, neither Diana nor any of her roommates are planning to leave any time soon. But who could blame them? We love seeing house transformations like this – especially when it's not just a flip but a home that's meant to be lived in and enjoyed after all the hard work (while giving back to the neighborhood at the same time). So Diana, thanks so much for letting us crash your four-star foursquare. Oh, and before I forget, Burger would like you to ask Bruce not to eat him.