It's about time we told you about our adventures this past weekend. In a little over 48 hours we traveled through four states, made four stops to see various family members and even hit up two Ikeas located nearly 400 miles apart. But out of it we got some fun new posts that'll be coming atcha as soon as we've recovered enough to write them. Here's a timelined recap of the who, where and what-were-we-thinking (!) of last weekend:
Friday, August 7th:
6pm: Kick off our trip by heading two hours north to stay with my parents overnight in Northern VA.
8pm: Have a nice, home-cooked meal and spend more quality time with my cousins' new baby girl.
Saturday, August 8th:
8am: Leave Northern Virginia, headed towards New York City. Stop at Target to pick up baby gift for our new nephew John who we'll be meeting for the first time that night (gotta love babies- and Target!)
9am – 2pm: Sit in various traffic jams in Maryland, Delaware and New Jersey. Surprisingly, still arrive early to destination in New Jersey (for an annual family barbecue with Sherry's family).
2pm: Kill time before BBQ starts by visiting Ikea in Elizabeth, NJ. Spend an hour scoping out all the new products and snapping inspiration pics. Collect images for an UPCOMING POST about what we're digging at Ikea.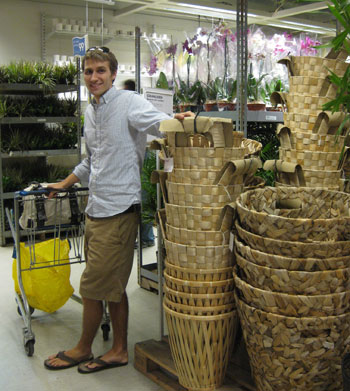 3pm: Make our way over to nearby family event where lots of eating, chatting and bocce ensues.
7pm: Another family dog arrives (named Yoda). Burger and Yoda do not get along. Burger makes lots of embarrassing sounds. We forgive him.
8:30pm: Say goodbyes at family picnic, head towards Manhattan with Almost-Dr. Dan and his new fiancee in the backseat. Brainstorm UPCOMING POST where Dan dishes more science-meets-home-decor advice.
9:30pm: After some unintentional detours around New Jersey, finally find ourselves headed over the George Washington Bridge to drop off the smarty-pants lovebirds at their apartment near Columbia. Head towards Inwood where my sister, brother-in-law and new nephew John await.
10pm: The Johns meet for the first time. Sherry and I instantly fall in love with our newest family member. Burger and their cat Lulu, however, do not seem as enamored with each other.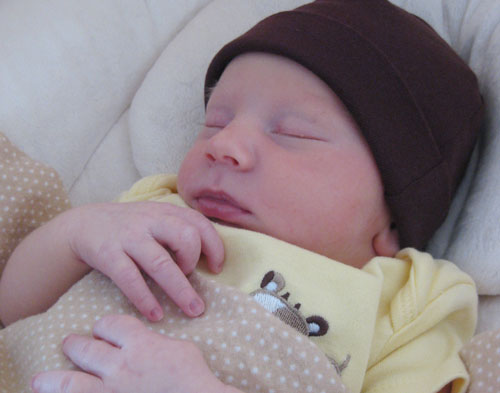 Sunday, August 9th:
10am: After remarkably sleeping through the night with a newborn in the next room (!) Sherry hops up early to snap photos of my sister's kitchen remodel (before breakfast starts cooking) for an UPCOMING POST featuring the before and after of a tiny NYC kitchen nearly doubling in size. Here's the room when it was completely gutted (don't worry, it doesn't look like that anymore…):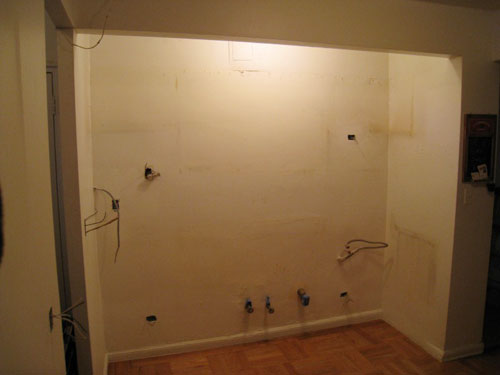 11am: Breakfast is quickly devoured because it was delicious, but also so we could squeeze in more time ooohing and aaahing over the new baby. It's a miracle that we don't smuggle him back to VA with us.
Noon: Leave Manhattan and after a few more unintentional detours around New Jersey, finally get headed in the right direction on the NJ Turnpike.
Noon – 6pm: Spend car ride absorbing new Ikea catalogue and calling my little sister Carrie to strategize decor for her new apartment (now that her job has transferred her from Philadelphia to Northern Virginia).
6:30pm: Meet Carrie and her roommates at Ikea in Woodbridge, VA to buy supplies to spruce up her new space (like we did for her last place). Here's what we're dealing with this time. Yes, it's technically a sunroom and not a bedroom, and those are sliding glass doors that made her room completely visible to her other roommates (made being the key word in that sentence).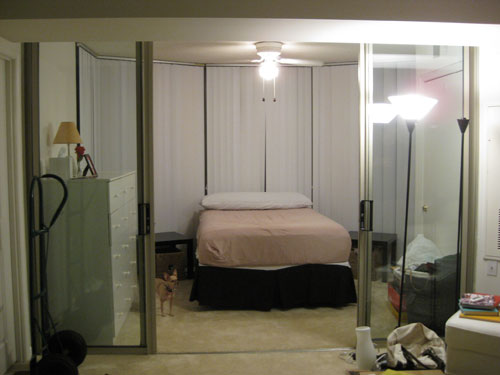 8:30pm: Arrive back at Carrie's apartment in Arlington, VA. Get strange looks from concierge as we haul lots of tools and Ikea boxes past the front desk (not to mention a chihuahua hiding in a pooch purse)
8:30 – Midnight: Furiously assemble Ikea furniture, hang curtains, and do our best to work miracles in one of our most challenging rooms yet. Hit many many roadblocks. Fight exhaustion.
Monday, August 10th:
1am: Carrie's room is finally finished. "After" photos are victoriously snapped for an UPCOMING POST. Two weary travelers and one semi-hyper dog hop back in their car for one last leg of the never-ending weekend trip.
3am: Get home. Check blog. Collapse.
9:30am: Wake up. Go back to work…
So that's a rundown of our crazy weekend and all the exciting posts headed your way in the coming week. What about you guys? Did you do anything intense and exhausting last weekend? Anything in the hopper for this weekend? Do tell.