First off, this post wasn't paid for or perked by Ikea. We just wanted to share a recent pilgrimage. And we like them (especially with this cool announcement). Anyway, some people say you can tell a lot about a person by looking in their purse, their closet, maybe even their iPod. But what may give you a good peek into our lives is a look into our car trunk… after a trip to Ikea.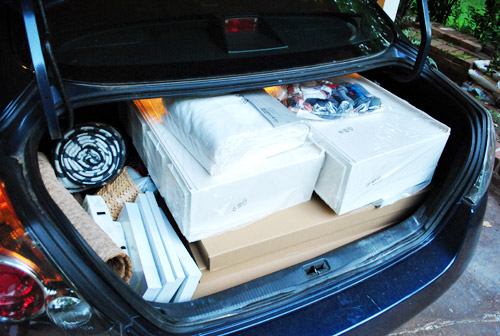 This was the scene after a recent trip. It was our first since my parents moved out of the same area as the Ikea (which is about 90 minutes away) meaning no more quick stops after a family visit. Clearly, we've already become hoarders. Not knowing when our next visit will be we found ourselves grabbing more than usual "just in case" since we were up there visiting friends. Here's the breakdown for ya: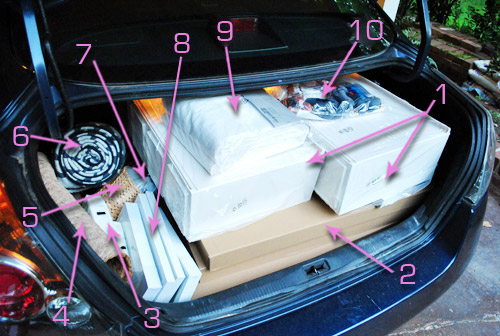 1. Two Retur recycling bins turned shoe cabinets for our laundry room, as you've already seen (they were one – er, two of the main reasons for our visit).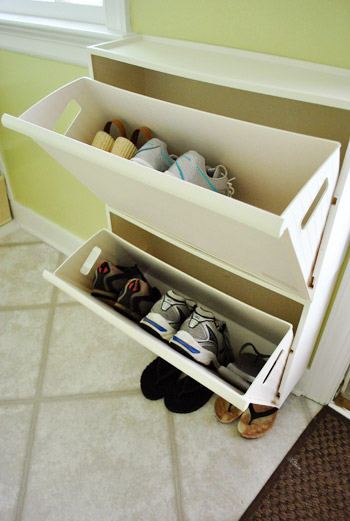 2. The boxes that would become our Effektiv file cabinet for the office, as you've also already peeped here.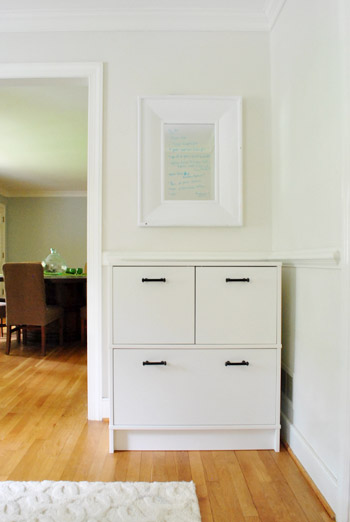 3. Cute napkins for big ol' family gatherings at our house (when we run out of cloth ones). Specifically these, in green.
4. A door mat. Why? Long story short: rainy night + full-bladdered chihuahua who hates to get wet = need for a new mat. We did let the rain rinse it out and planned to continue using it. Problem is Burger had the same plan (guess it was still "marked"). The new one is so far unscathed by this silly dog (who much prefers to sunbathe with his tongue out).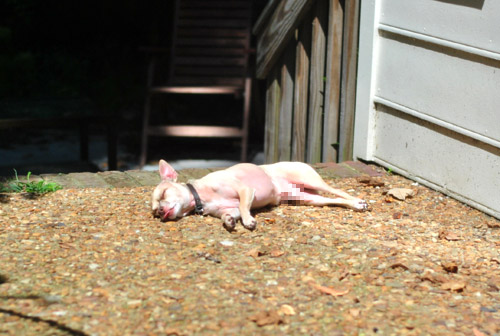 5. Two woven planters. Because we're suckers for natural textures. And in need of more indoor plants 'round here.
6. This blanket. We were so excited about this purchase. We'd been hunting for a spare blanket to keep in the living room, since our current brown one doesn't jive with Karl as much as we'd like. This one looked perfect. Problem is, it doesn't feel perfect. Despite a couple of washings, it's still a bit scratchy. And because of those couple of washings, it's a bit unreturnable. Shucks. At least it still looks good! Maybe someday we'll use it to recover an ottoman or something. But warning: this is not a blanket that you want to get cozy with for very long (Sherry plans to layer it with the softer one underneath it during the winter months for extra warmth without the scratchy texture touching her skin).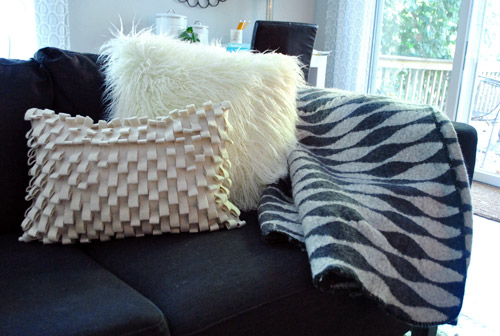 7. A light kit. Since we used our other "spare" for our clothespin light, we wanted to have another on hand. Someday we'll get around to hanging the paper lantern that we picked up a while back in the playroom. We were just paranoid that Ikea will stop making them when it finally comes time to tackle that room (and at $3.99 they're cheaper than any others we've encountered).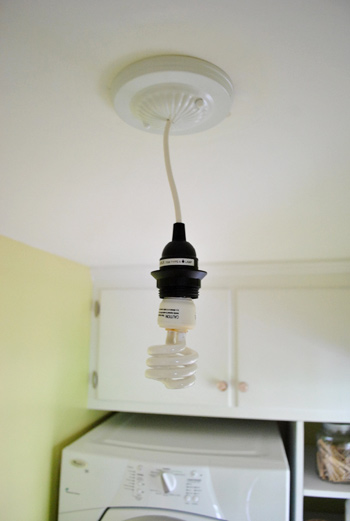 8. Various white frames. Do we even need to elaborate on that after this and this? We just figure they're always good to have around, and we still have a lot of bare walls and about five million cute baby and dog pictures. Yikes, we're those people.
9. A white duvet cover that we thought could work in our bedroom. Long story short, we're still on the fence. So it's still sitting in the packaging until we're sure (since Ikea doesn't take back opened bedding). At $50 for a king sized duvet and two shams it was a pretty good deal (we just wanna be sure there's nothing else out there that we love more) so we'll keep you posted.
10. Toys! Since we've admitted in point #8 that we're quickly turning into "those people", we couldn't resist getting Clara this soft set of farm animals (she loves farm animals) and a soft set of tools (we desperately want her to love tools). The good news? She LOVES them both (esp. the goat and the ruler). Bad news? It's not teaching us a lesson about buying her too many toys…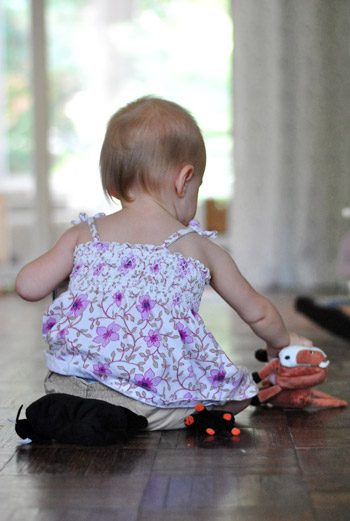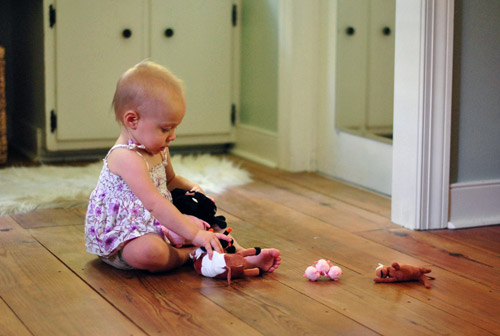 We also scored a couple of other items while there that didn't make it home in the trunk. For example, thanks to being on the catalog mailing list I got a random email about joining this new "Ikea Family rewards program" the morning before our trip. So I picked up my free card later that afternoon right in the store from this handy little futuristic kiosk: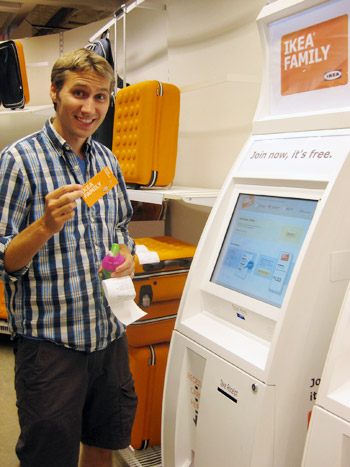 I don't totally understand exactly what it gets me, except for a free coffee or tea at each visit. Sold. Except that it would have been a more time-efficient idea had we not had to linger in the restaurant area for twenty minutes while Sherry waited for it to be cool enough to sip (my wife is such a diva). At least it bought us plenty of time to take pictures like this one of Clara "drinking her tea":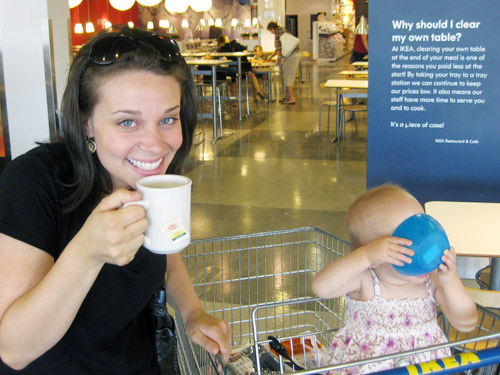 And on this particular visit thanks to picking up that free Ikea Family card we also got a free ice cream cone. Guess saving that buck really makes up for all the money we spent on everything else, right? Clara demonstrated her appreciation by smearing it all over her face. And it was adorable.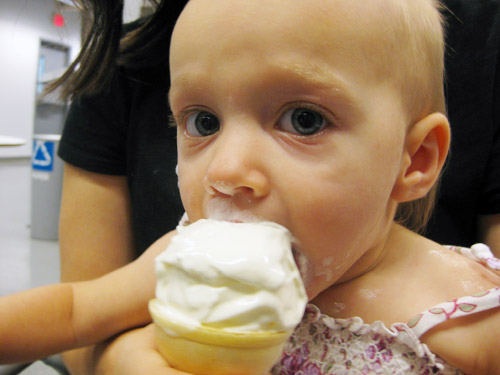 Do you guys have any recent shopping trips that are particularly indicative of your personality or a particular moment in time? Perhaps a recent grocery store run for a party you're throwing? Or a spending spree at Bed Bath & Beyond or Office Max? Do you have more Ikea, Home Depot, Lowe's or Target receipts than you can even count these days? We used to feel like we lived at Target, but lately it has been Lowe's and the ReStore.
Psst- We (finally) picked this week's random giveaway winner. Click here to see if it's you.