Yesterday we shared a little ditty on DIYing vs. hiring things out with our busted old sliders as the star. They got stuck, had a broken screen, wouldn't lock, and were rotting (you can read more about that right here).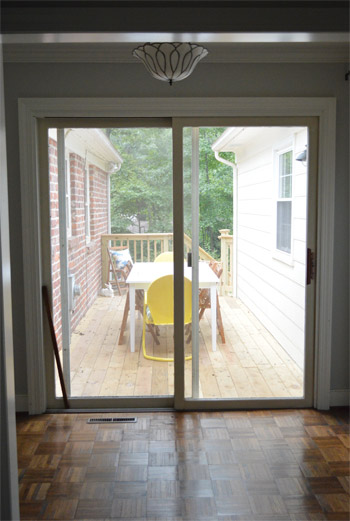 Then we decided it was high time that we finally sprung for a set of pretty new french doors that were the same style as the door in our laundry room to keep the house from feeling too hodge-podge. Here's a process pic during the whole switcheroo…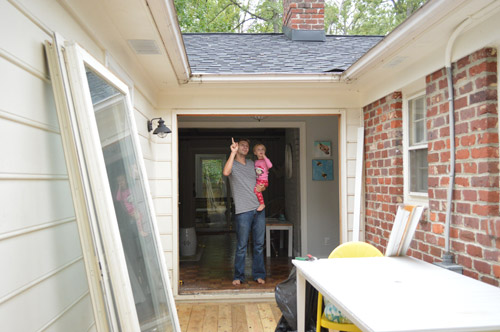 You can read more about the how and the why on the new french doors here. This post is all about the pictures (especially now that we're done painting them – well at least one side of them, but more on that in a minute). First here's a shot of the door after it was all installed. We just needed to paint the trim and both sides of the doors, which came primed but not painted.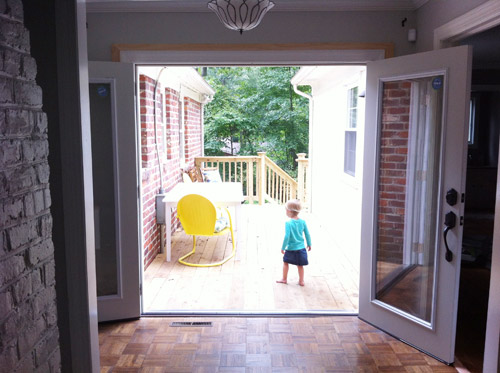 So we taped off the trim and the hardware and John used a small foam roller to apply some Benjamin Moore Advance Paint in Decorators White (the same gallon leftover from this project and Granny's bathroom cabinet) while I manned the short handled paint brush to get into all the grooves and around all the edges & trim that the roller couldn't handle. In one afternoon we got one side of them done (the inside) since they only needed three thin and even coats, but we still have to do the outside. Maybe tomorrow…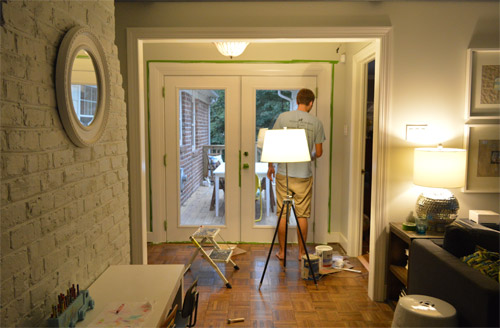 In the words of Heather from the NY Housewives: Holla!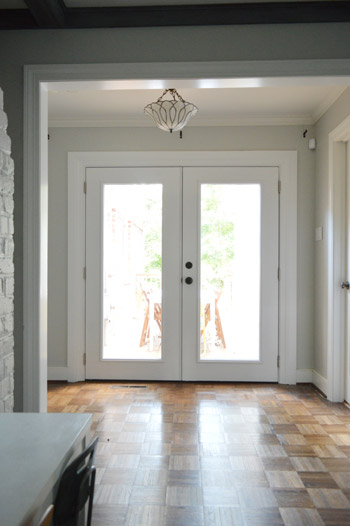 Isn't she pretty? Don't mind the hardware above that purty door, that's just from the curtains that used to hang there (back when we were trying to hide the rotten parts of our old slider). We did try putting them back on for a hot second, but after seeing it both ways it was a lot better naked, if you know what I mean. But you can see the curtains in this pic that I took to demonstrate the coolest thing ever: when the doors are open, they don't block traffic in the hallway. Thank goodness. It was hard to picture them before we got them installed, and we assured ourselves that we'd probably only have one door open most of the time (the one on the right) but it's so nice to know now that they're in that if we ever want to throw both doors open, the left door doesn't block the whole hallway or anything. Whew.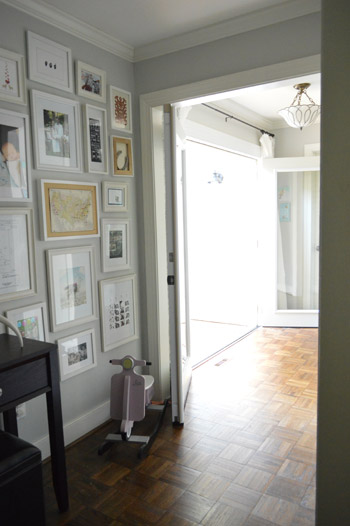 And speaking of the little things that make ya happy, take a look at the sexy ORBed hardware. Me-ow.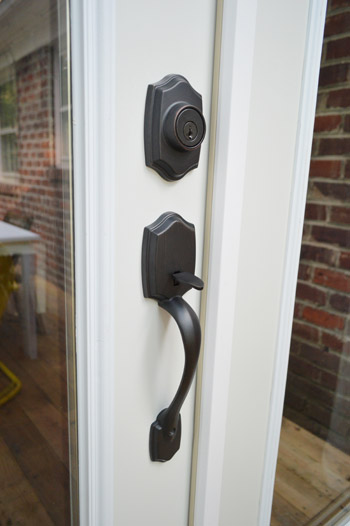 But back to how we'll use them. Most of the time we'll just open this right door to slip in and out…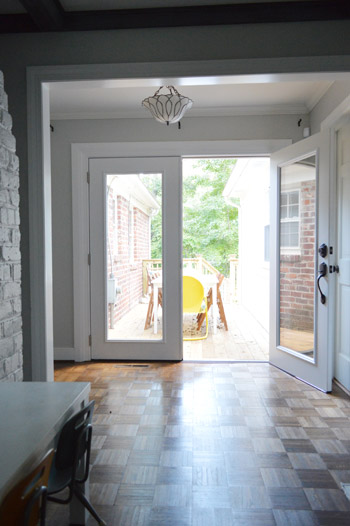 … but I have to admit that there's something oddly thrilling about opening them both. It's just so much openness that we didn't have with the slider. And thanks to the screen being broken on the old doors, we don't know what we're missing (in other words, we don't yearn for a screen yet since we haven't used one in the almost-two-years that we've lived here, but there's an add-on screen option for this door that we can later spring for from Home Depot if we change our minds).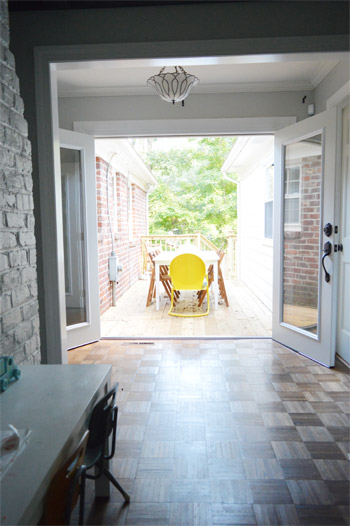 Dear Old Slider, you had your day, but man, I won't miss the front view…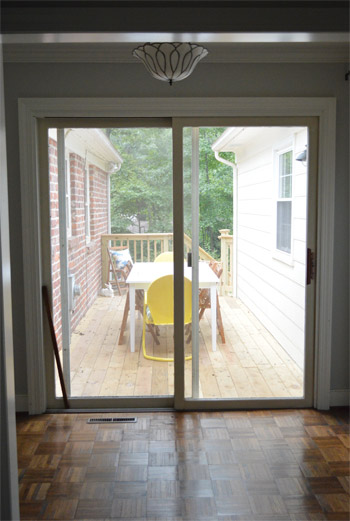 … or the rear view.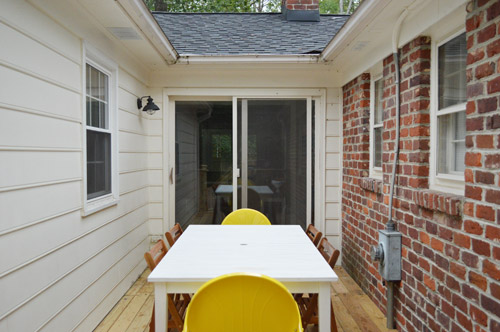 New guy's much better. Let's call him Frenchie.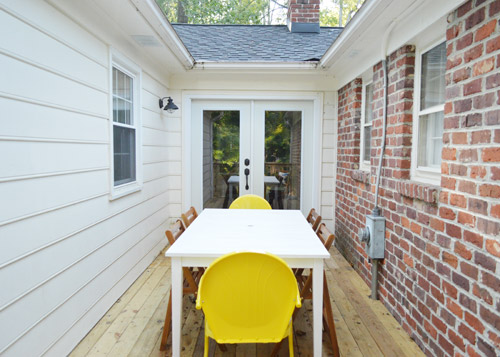 And thus ends the french door replacement picture-fest. Isn't it crazy how a deck that takes months to come together can almost be immediately surpassed by a quick door upgrade? And once we stain/seal the deck, hide that ugly-riffic electric meter, and string some big bulb string lights overhead… well, I think this old alley will be straight up unrecognizable.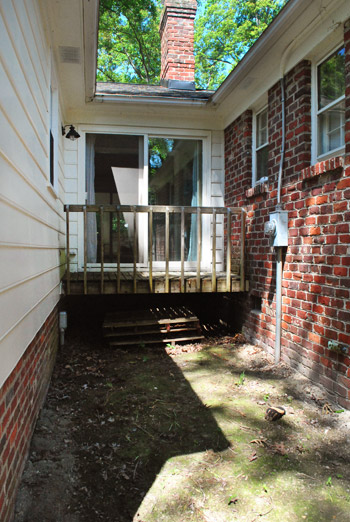 What have you guys upgraded that somehow made everything around it feel a little more swanky? You know how sometimes when you fix something up it makes the rest of the room just look bad by comparison? For some reason now I'm convinced that new doors have the opposite effect. Even our old scratched parquet floors look better when they're next to Frenchie…
Psst- Clara + goats = love. More here.