Upon moving to Richmond 5 years ago, we quickly learned that "Oh, that's Richmond for ya" is the appropriate reaction when one of those small world coincidences takes place. It's meant to reference that despite being a fairly legit city, Richmond has a small town vibe where everyone seems to know everyone else through no more than a degree or two of Kevin Bacon friends and acquaintances. So when, for example, you find out that the girl at your favorite lighting outlet rents an apartment in the backyard of a house that you've crashed (and where your sister got married) you say "That's Richmond for ya." True story, by the way.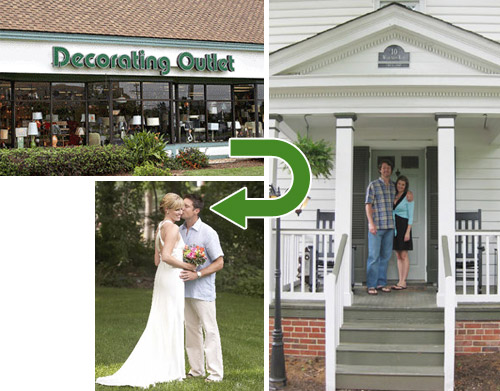 Well, we've got a new story that confirms that this phrase has some real truth to it. Here it goes.
Last week we got new neighbors. Like, right next door (the other side of the patio fence). Not knowing who they were, what kind of neighbor's they'd be or what kind of house/yard they'd keep made us a bit nervous. They closed right before Memorial Day but were having some things done to the house before moving in last week, so we didn't get to meet them right off the bat. Suspenseful.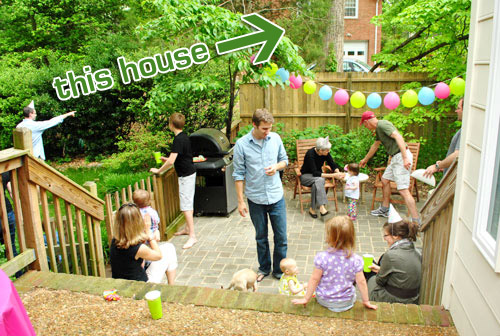 So recently my cousin was in town and we had her over to BBQ on the patio. At some point my dad wandered off with her 5 month old son (not in a creepy way, but in a "let's go look around" way). Upon his return, my dad said "Oh yeah, I met your neighbors."
Sherry: "No way, who are they? What's their story?" (Yes, our curiosity had turned us into gossips)
My Dad: "Well, they're Brad and Angelina…" (Names have been changed to not put the new neighbors on blast – plus it's more entertaining this way)
Me: "Wait, they sound familiar." (Note: had their names really been Brad and Angie, I'm sure I would've placed them more easily)
My Dad: "…and they have a young daughter named Viv." (cough… NotHerRealName… cough)

[LONG PAUSE, then picture light bulbs going off above both of our heads]

Me & Sherry: "No way! We know them!!!! They almost bought our house!"
Remember last year when we were selling our old house? And how we did For Sale By Owner? Well that meant we met all of the prospective buyers face-to-face and Brad and Angelina were not only the first people to tour our house but they also seemed to be the folks (out of a total of 16 showings) who appreciated the house the most (which of course made our hearts swell with pride). We could totally picture them lovingly moving into our first baby. Weird sentence, but you know what I mean.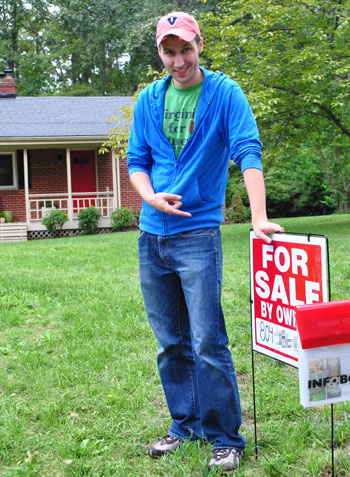 Obviously they didn't buy our house (they just weren't quite ready to pull the trigger and sell the house they had yet). But as much as the 2010 John & Sherry wanted this nice couple to buy our house, the 2011 John & Sherry are much happier to have them as next door neighbors. Especially since their daughter is only 11 months older than Clara (hello playdates) and, like Clara, already seems to have a thing for Burger. Not that we're getting ahead of ourselves or anything, but they're basically destined to be BFFs. (Sidenote: their daughter already has a nickname for Clara, which is "dolly" which is just about enough to make a grown man melt).
Oh, and the other night I spotted Brad wearing a Mountain Dew t-shirt. And you know how well I get along with guys in soda shirts (that's Jeremy Bower, btw)…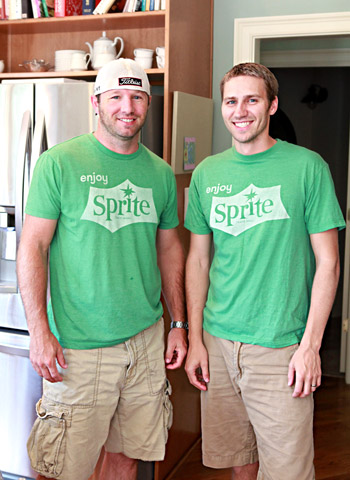 When we re-met them (as neighbors, not prospective buyers) we all laughed at what a small city world it is. They added that our old house even turned up as a comp on their appraisal when they finally got around to selling their house six months later, so they were just thinking about it recently. And, to complete the hat trick of weird coincidences, we learned their movers were the same folks that moved out the previous owners of our house (they showed up and started laughing as soon as their realized they had "done" the house next door less than six months prior). I guess that's Richmond for ya…
Okay, now your turn. What's your best or latest small world story? Do they happen as often in your town as they do in ours? Also, does the video at the beginning of this post make you want to dance? Me too.
Psst- One of our favorite ever it's-a-small-world stories is when the original owners of our first house contacted us. Check out that story here.