***This giveaway is no longer accepting entries – see who won below!***
After another entry-limit-reachin' giveaway, we've closed things off at 10,000 comments and random.org has selected our winner as… Nicole is STL (who's looking forward to holiday time off for relaxing with family and friends). Congrats!
Since you guys seemed to like the $500 (holla!) prize last week, why not do it again today? This time the half-G of goodness is courtesy of Z Gallerie, whose penchant for sparkle and white ceramics is appreciated by us all year round… but even more so during the holidays. You can hit up their holiday section (or any section really) for loads of silver, gold, and ruby red to glitz up your tabletop, pimp out your tree, or stuff those stockings like crazy.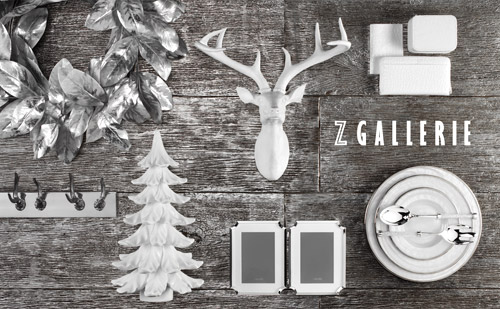 PRIZE: $500 to Z Gallerie!
TO ENTER: Comment on this post with the words "GALLERIE ME!" and tell us…
BONUS QUESTION: …what part of the holiday season you're looking forward to most. Is it the lights and decorations? The food and family? The music? The time away from work? Or the presents?
GIVEAWAY CLOSES: Wednesday, November 16th at 8pm EST or at 10,000 entries (whichever comes first)
NUMBER OF WINNERS: One
PRIZE SHIPS: The United States of America (although we do try to wrangle as many international giveaways as possible)
USUAL STUFF: One entry per e-mail address is permitted. The winner will be selected using random.org and announced on Thursday as an update to this post. That's right, come right back here on Thursday for the announcement of our winner. Good luck…
Note: We aren't paid or perked for hosting these giveaways, we just do 'em to thank you awesome folks for stopping in. See our Giveaway FAQ page for more info. Pics courtesy of Z Gallerie.