Some aspects of this kitchen remodel are certainly less exciting than others – especially when compared to having just opened the wall up. But alas, these things must be done. Including a few that we wanted to accomplish before the countertop guy came to template for our new counters (that's something we want done accurately, after all).
First on our list of little things was filling the gaps next to our stove.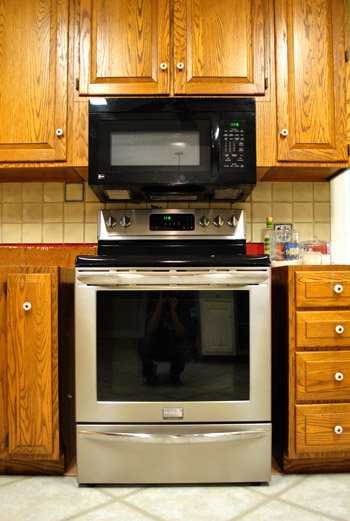 The base cabinet that we removed was 36″ wide, but the stove is only about 30″ leaving a little under 3″ of nothingness on either side. Since you can't squeeze much function into two and 3/4ths inches (almost every pull-out drawer was 3″ or more), we decided just to put in filler pieces of wood. Oh and for anyone wondering why we didn't scoot the stove to one side and add a wider pull out drawer, if we didn't leave the stove centered the hood would be off-center, which would mean widening the ceiling hole (= drama). Plus none of the thin slide out drawers had doors that looked like our existing ones anyway, so it was just not worth the money/trouble. And although we thought about some sort of ornate leg or braided detail, we ultimately decided that we wanted other things like the wall of penny tile backsplash to be the star (along with items on our floating shelves), so two thin and basic filler pieces of wood were our final pick.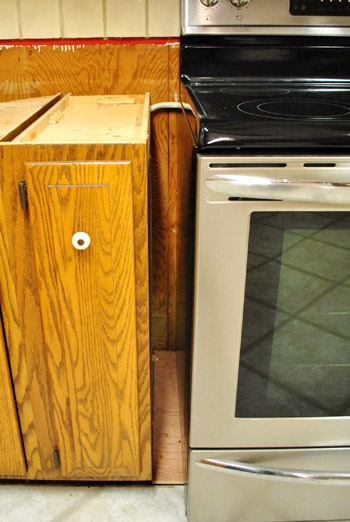 I grabbed a few pine "project boards" at Lowe's, cut them to size, and drilled some pilot holes with my Kreg jig before screwing them carefully into place.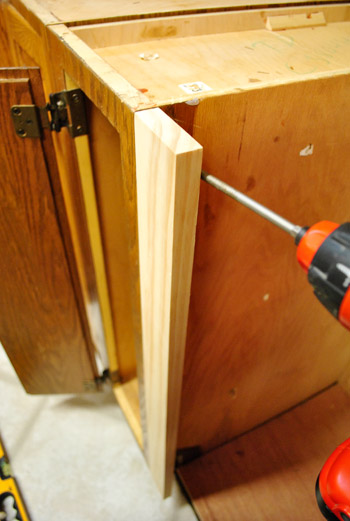 Obviously we needed the fillers at the front to visually fill the gap, but we also decided to put one at the back in case the counter guy needed it for support: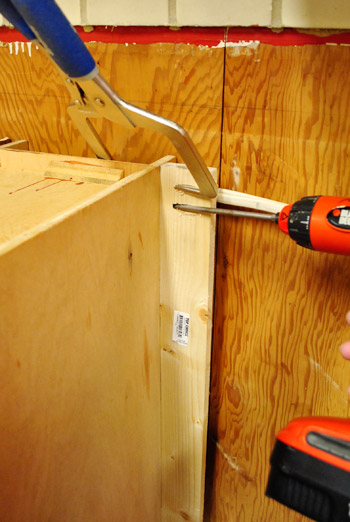 In total, each side had three separate filler pieces. We probably could've gotten away with two, but it's not like the boards were breaking the bank (I spent about $11 total on this entire project – which is at least $100 cheaper than some sort of pull out dealie).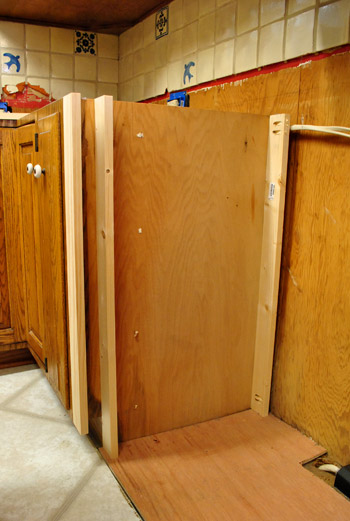 Here are both sides done (ready for the stove to slide back into place):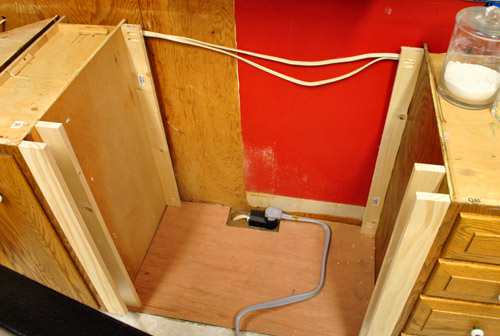 Not bad, eh? Once the counters are on and the cabinets are primed and painted no one will even notice them. Especially since many of the other base cabinets in our kitchen already have fillers in the 2.5″ range.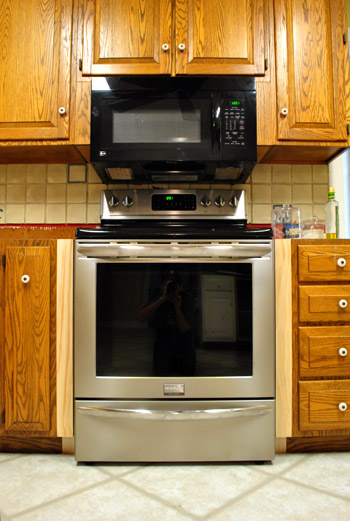 Then we stepped a little closer and put on our Picky Pants and we saw that there was still a noticeable gap. Guess we've gotta go buy a bigger stove…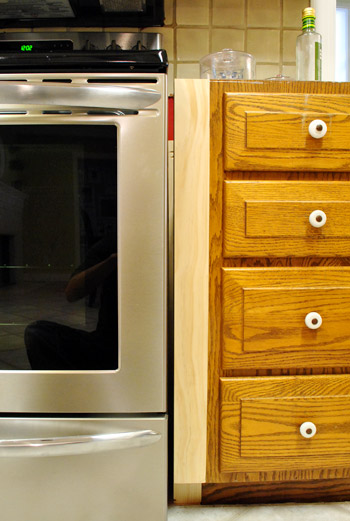 Kidding. Obviously I just needed to add one more sliver of filler wood. The gap was just over 1/4 of an inch, and I knew we could do better. So I headed back out to Lowe's a grabbed a couple of these.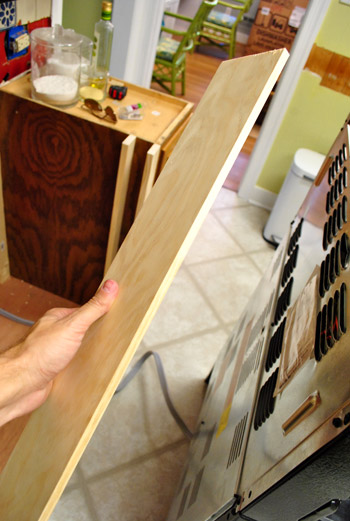 It's a 3/8″ thick project board that fit perfectly into my slightly-too-big gap, thank goodness (though they added $4 to my total budget, now breaking the bank at $15). So I nailed those two suckers in place, being super sensitive to keeping them flush with my other filler piece along the front.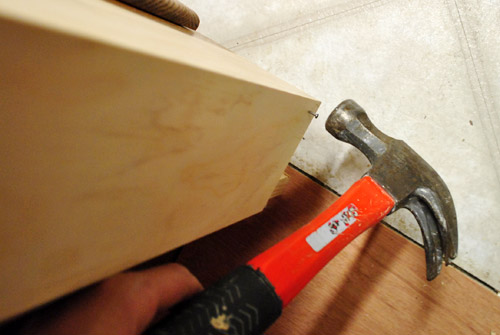 Here's what they looked like on both sides. I didn't bother putting them any further than the first two panels since they were strictly aesthetic.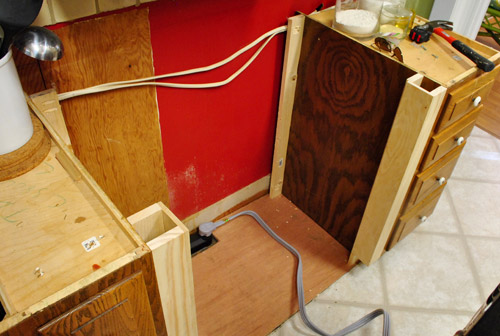 Then we just slid the stove back in. MUCH better. I know it's hard to tell in the pic below, but trust us that it's just about as snug as we'd ever want it (any closer it would be hard to get the stove in and out). Oh and once we demo the tile from behind the stove it'll be able to push back against the wall a bit more for a more flush look. And once we add the toe kick across the front of all the cabinets the bottom will be seamless too.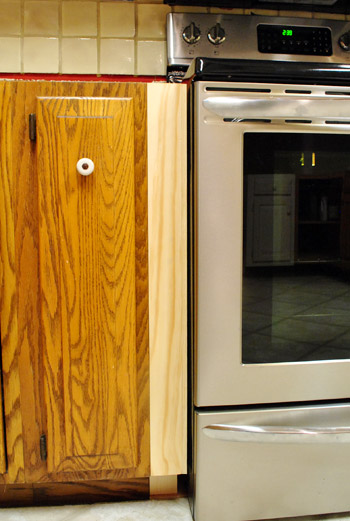 So with that done…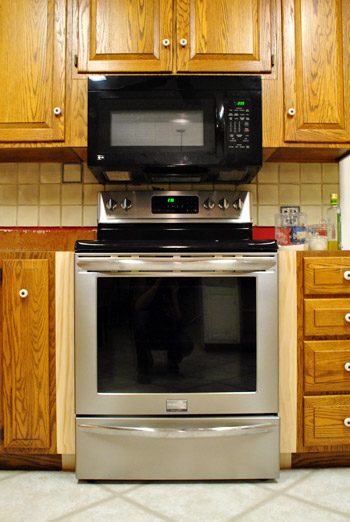 … our next little task was over on the peninsula.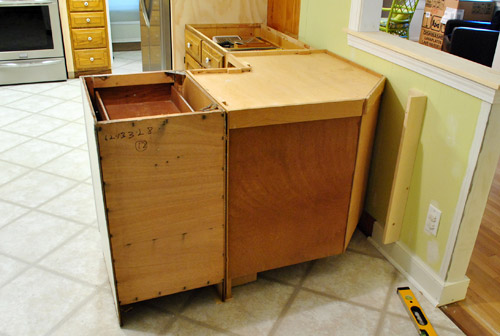 Since we don't want the guy templating the counters to think we want an angled corner or anything, we wanted to attach a flat panel on the back of the entire peninsula. It's something we'd have to do eventually, so why not tackle it while we wait for counters? You can see in the photo above that I had already attached a little corner piece to anchor the panel against the half wall. Here it is a little closer: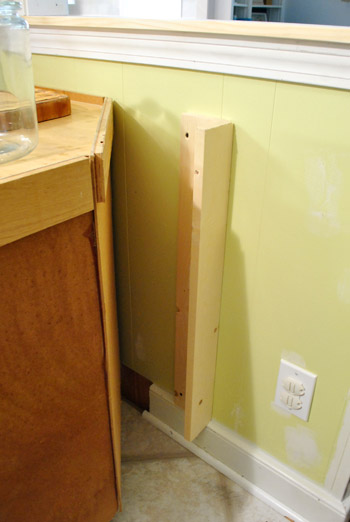 It's basically just two scrap pieces of wood that I screwed together at a 90-degree angle using my jig. Then I screwed it into the wall so that the flat edge would be flush with the back of the cabinets. Then I was ready to attach my plywood panel.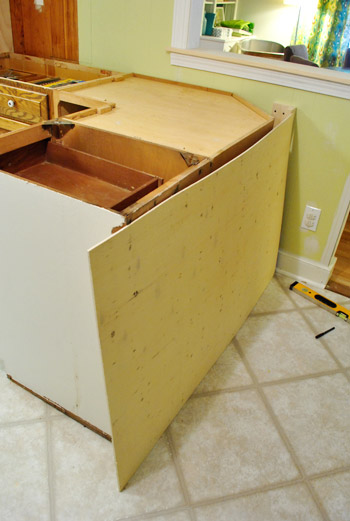 I actually bought this piece of wood back when I got the plywood for our refrigerator built-in so I could transport it in my rented Lowe's truck (how's that for thinking ahead!). It's just a thin piece of "utility plywood" that the Lowe's guy recommended. It was a whopping $9. They had cut it to size for me in the wood cutting area, but because we had later switched from a 21″ end cabinet to an 18″ end cabinet I had 3″ of overhang that I had to cut off with my jigsaw.
So here it is all cut and nailed into place: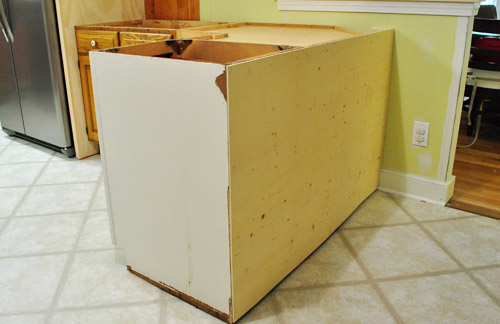 Not very exciting looking, we know. Eventually we'll be adding trim – baseboards, corner pieces and maybe even a three paneled board and batten look. Not sure yet. Oh, and it will of course get painted to match the cabinets. But for now it accomplishes the goal of squaring off that corner for the countertop measuring festivities (it'll have a 12″ overhang of Corian on two sides to accommodate four stools).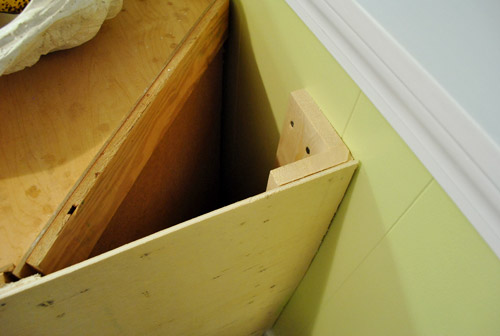 Can you sort of start to see how it's coming together? Of course the chairs are placeholder and we hope to get some lighter looking stools (maybe made of acrylic for a nice airy feeling).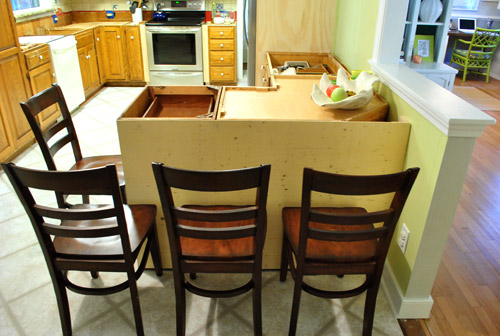 Oh, and do you notice the other thing that we did in the picture above? I'll give you a hint. It starts with a "p" and ends with "aint touch ups."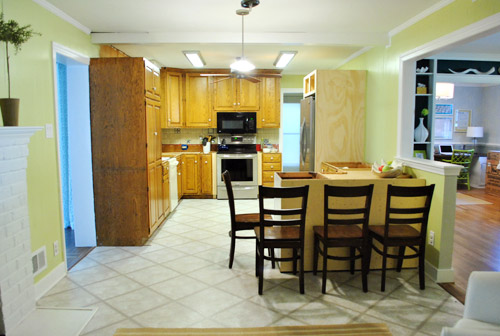 Obviously paint was not a critical step for the counter templating process, but it was more for our sanity (and we had it all on hand so it was free). There's still lots to be painted (um, hello cabinets – but those have to wait until we get our counters in to avoid dings). So we got busy painting the raw trim, drywall, and paneling leftover from the pantry/fridge shuffle and wall opening. It really does make our exceedingly unfinished kitchen look a smidge less unfinished.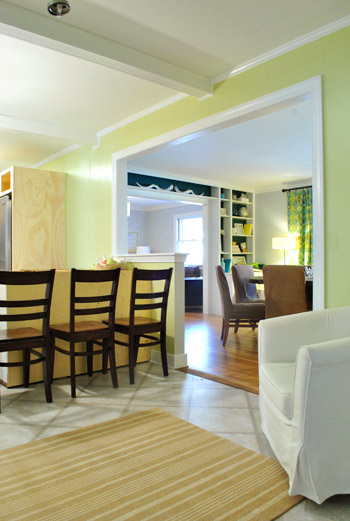 You'll notice that we opted to paint the inside edge of the half wall light grey like the dining room. We figured it'd be weird to carry the grellow that's on the kitchen paneling over since the side of the half-wall is drywall (like the light gray dining room). The soft grey is much more subtle and almost looks white like the rest of the door jamb, so it works nicely.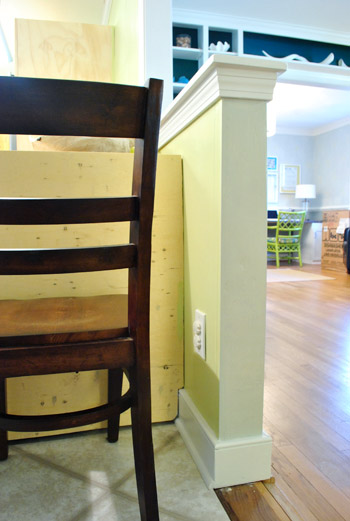 Oh and don't mind the drip on the "temporary threshold." That's actually just a piece of paneling that we had leftover from the wall opening project that we cut down, flipped painted-side-down, and nailed in to bridge the gap that was created by removing the wall. It'll eventually get covered with cork and we'll add a very small threshold to join the cork to the original hardwood (just like we did in our first house where the original hardwoods met the new ones that we added to half of the house).
Now here are a bunch of "after painting" pictures of the kitchen and dining room (since it's the closest thing we'll have to a polished after for at least a few months). But ignore the two oddly placed floor lamps in the dining room (we can't wait to get a big chandelier for over the dining table) along with the new microwave box sitting near the built ins (the new dishwasher box is hanging out in the office until install time).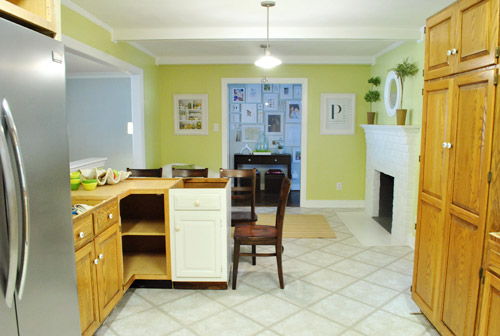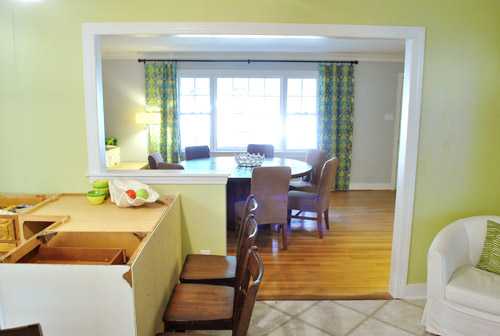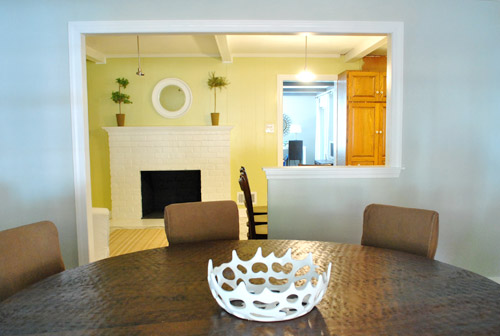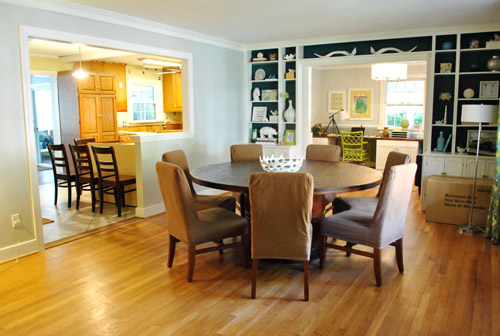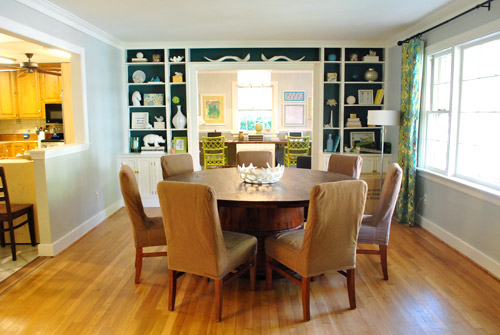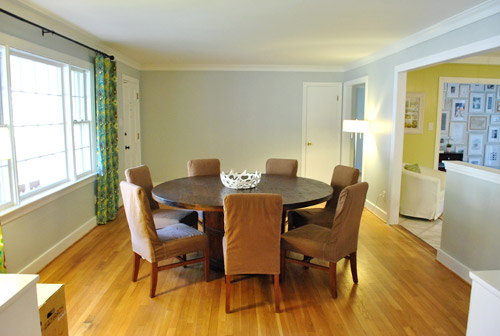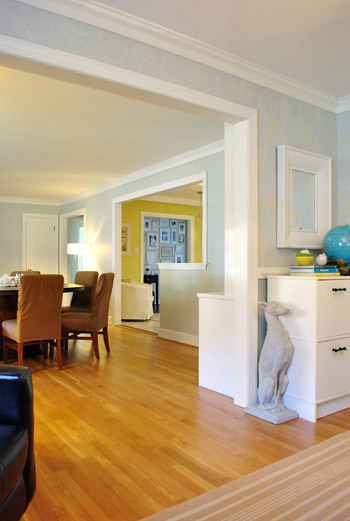 Oh, and although it's not the most glamorous angle, a few folks requested a view from the living room, so here it is. We love that we can see the giant picture window from the back of the house. Widening this doorway would definitely be a nice change, but having widened a former-exterior brick wall in our first house we know it's a messy and not necessarily easy job (this used to be the back of our house before they added an addition, which means it's hugely load bearing and could be a big ol' can of worms). So for now it's on our "maybe someday list." Although sometimes we think we'll appreciate the privacy in the living room since it's not a big wide-open straight shot from the front window to the back of the house.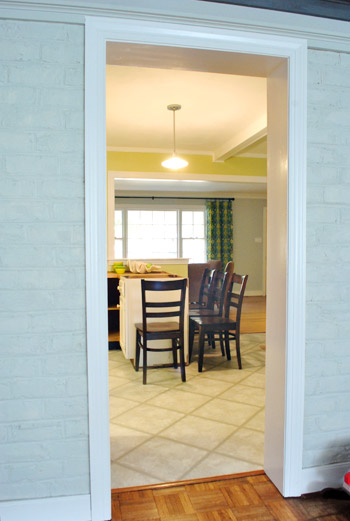 Wow, that was a lot of pictures for a post about little things like filling gaps around the stove, nailing a panel to the peninsula, and doing some paint touch ups. I counted an even 30 photos. Guess we've been a bit trigger happy with the camera lately. Must have something to do with that glorious new doorway of ours. And yes, we still walk into the kitchen and grin at it like fools.
What little updates or small progress have you made on projects around your house? Any last minute tasks that you're trying to bang out before this weekend or Thanksgiving?
Psst- We announced this week's giveaway winner. Click here to see if it's you.