Don't you just love a good before and after? Here's an ever-evolving gallery of room makeovers based on decorating suggestions that we've doled out in person and even virtually. From inexpensive apartment sprucing to total room renovations, there's no project too big and no budget too small for us to dive in and get our hands dirty. Just the way we like 'em.
First there was Farah, who let us totally transform her living room and adjoined kitchen into a warm and inviting area for the whole family to enjoy. Here's the bare and bland before: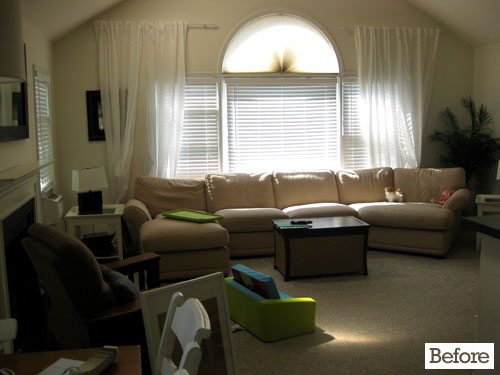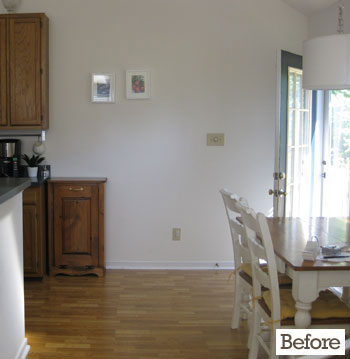 Thanks to a few decorative yet functional additions, we totally transformed the space and struck a happy balance between adult style and kid-friendly function. Here's the after: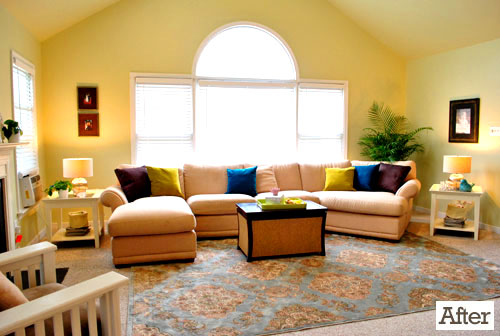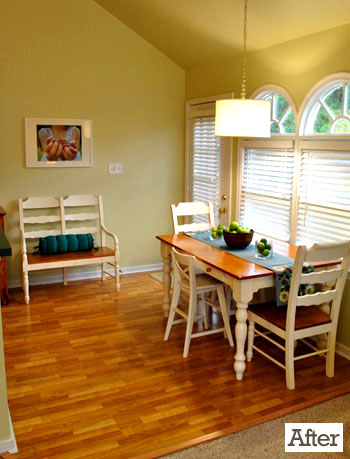 ——————————————————————————————–
Then there was Kim, who was looking to transform her smurf-blue kitchen cabinets into a classic and elegant kitchen. Here's the crazy-bold before: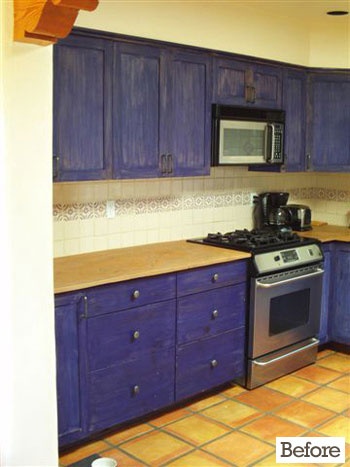 Those blue cabinets were definitely a doozie, so we brainstormed a foolproof color palette which resulted in a seriously dramatic after: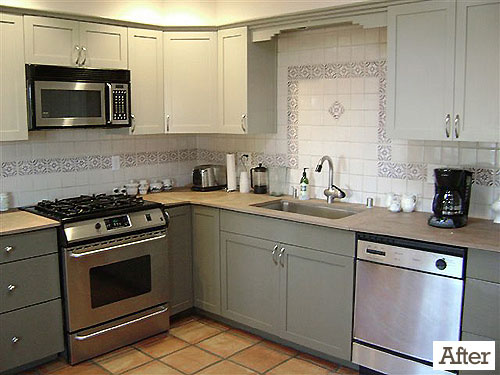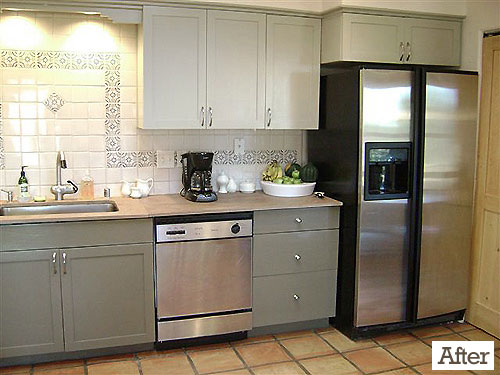 ——————————————————————————————–
Stacie ordered a custom mood board to lighten up in her dark bedroom. Here are the before shots: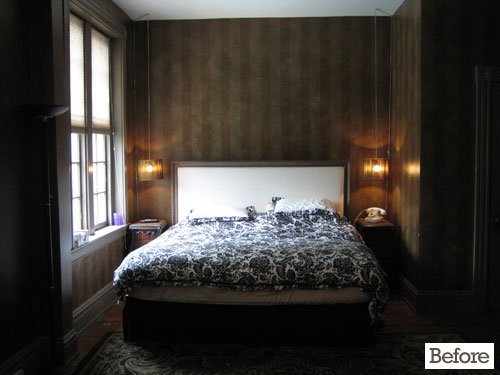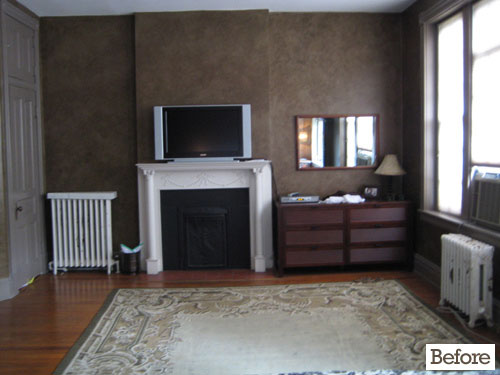 We whipped up an open and airy mood board, and this was the dramatic after. Doesn't it look like a whole new room?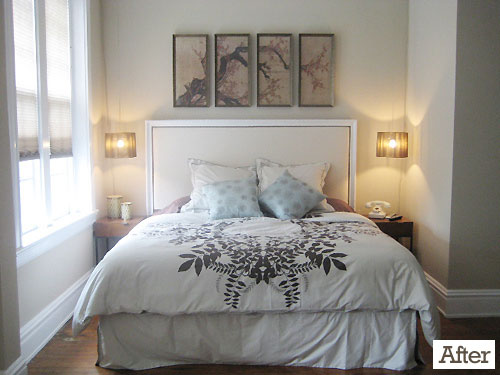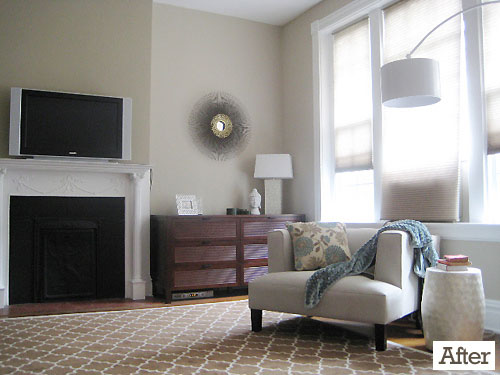 ——————————————————————————————–
Emily wanted a fresh look when it came to curb appeal so we helped her pick a fun and cheerful door color and wood stain. Here's the before shot: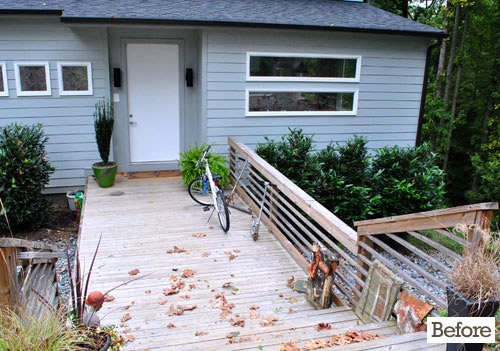 And here's the cheerful and welcoming after (thanks to just a small amount spent on paint and stain):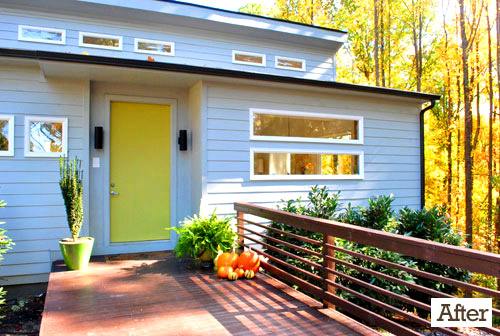 ——————————————————————————————–
Next we have Abbey's family room transformation, which is a great reminder that you don't have to replace every last piece of furniture to create a whole new look. Here's the space before our crisp and current mood board makeover: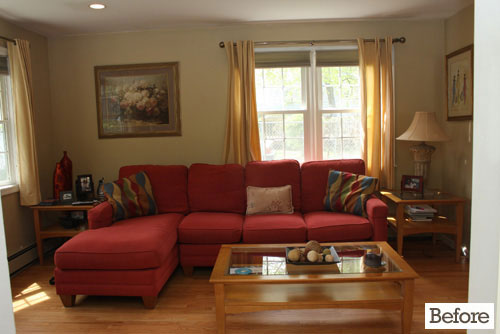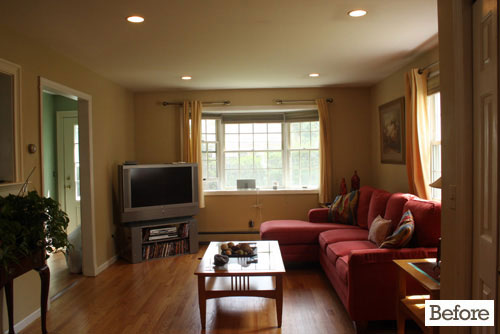 And here's the same space after we suggested a deeper wheaty-gold color on the walls and brought in lots of clean and modern accessories to tie everything together and really complement the bright red sofa which stayed in the space.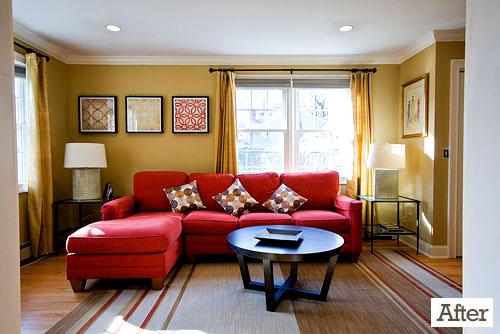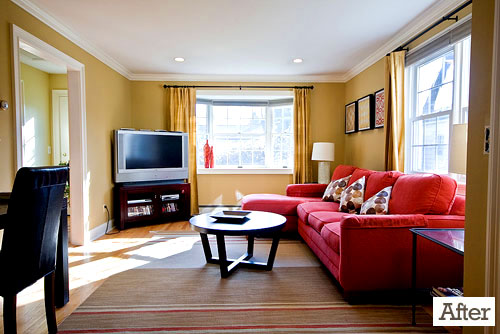 ——————————————————————————————-
Ashley was ready for a fresher and more updated living room so we whipped up a mood board with neutral and classic pieces accented by splashes of color. Here are the antique looking before pictures: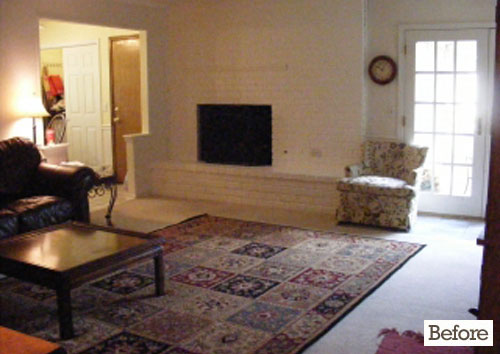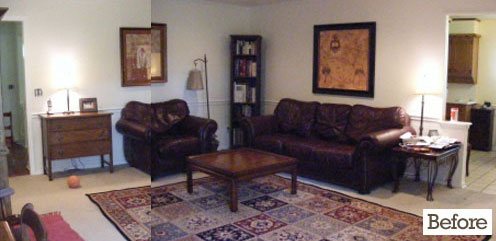 And here's the crisper and more polished after, thanks to some classic pieces and a few playful and punchy accessories: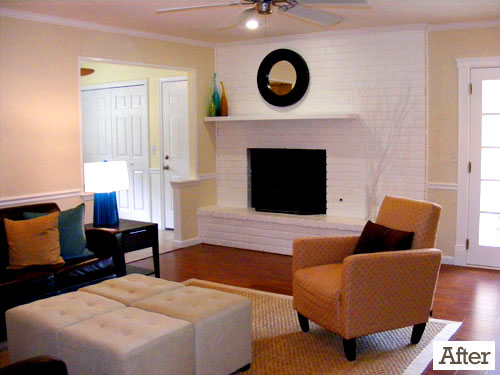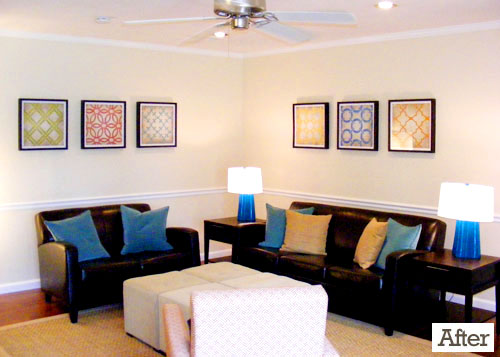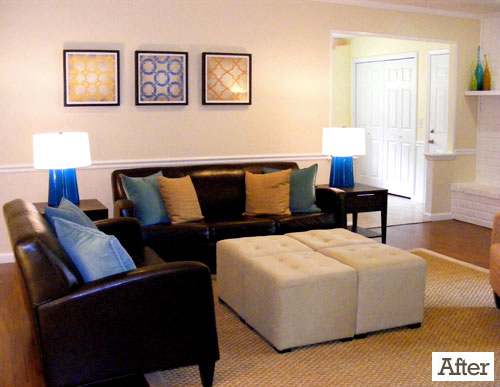 ——————————————————————————————–
And we also helped Farah create a room for reading and relaxing after a long days of working and caring for her two year old. Here's the basic looking before: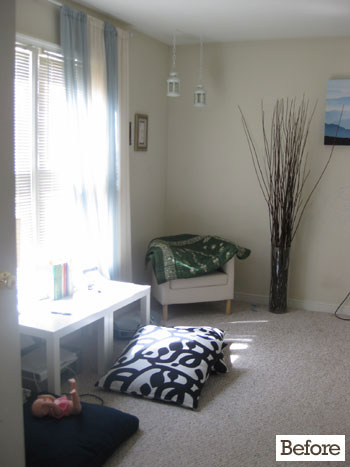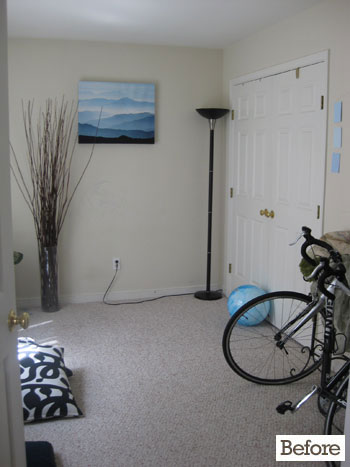 And here's the serene and sweet after thanks to a few super inexpensive items (things like those lanterns and even the rug were just $15!). We loved how quick and easy this makeover was: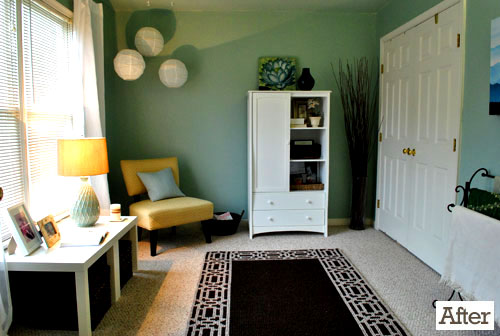 ——————————————————————————————–
We helped Manisha achieve some pretty dramatic results in her family room, taking her mantel from this before shot: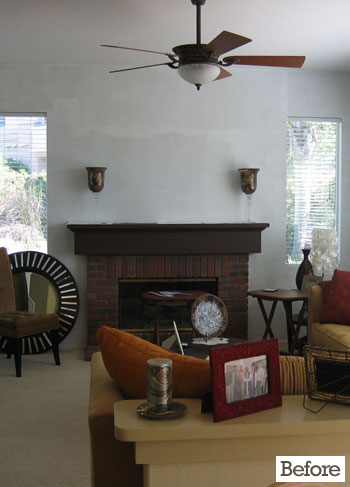 To this traditional & elegant mood board inspired after: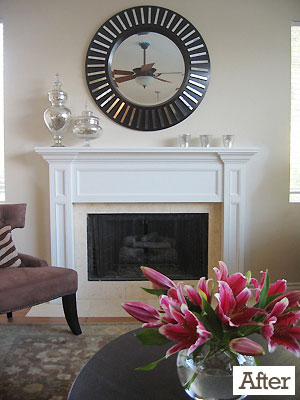 ——————————————————————————————–
Then there was Christine, who ordered up an eclectic Domino-inspired transformation on a dime. Here's her family room before: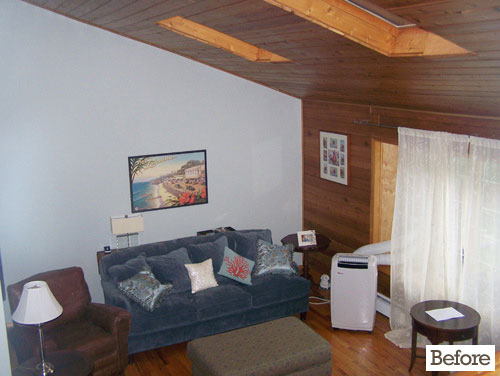 And here's Christine's jaw dropping after thanks to our beachy and modern mood board (she's still working on the frame collage on the back wall):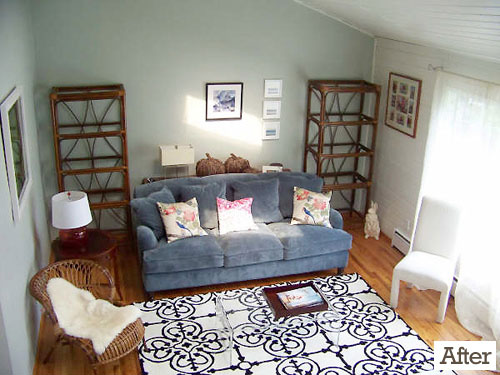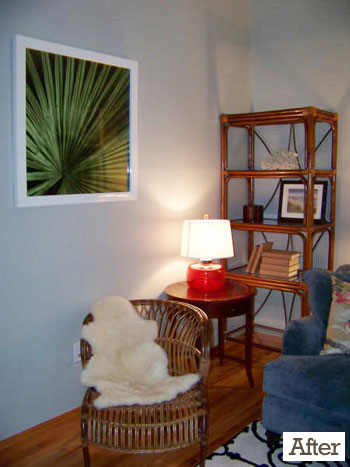 ——————————————————————————————–
Another major makeover occurred on a dime in Carla's kitchen, where we suggested simple changes like painting the wood cabinets and even the table and chairs for a totally updated look. Here's the beige and tan before: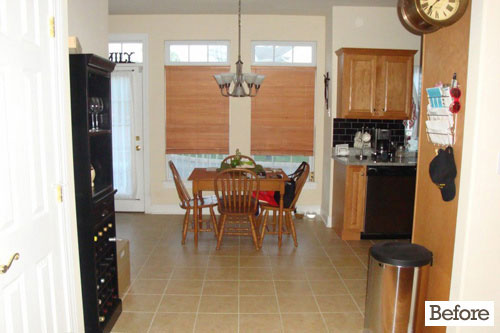 And here's Carla's vibrant and lovely after thanks to some inexpensive paint and accessory suggestions (the whole transformation came in at under $800!):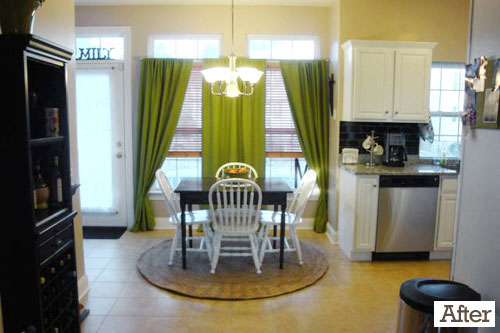 So there you have it. Our ever growing collection of mini and maxi makeovers that have been completed in person and even virtually. We hope you've enjoyed our little roundup, and have been inspired to swank up your space. And if you need any advice along the way, click here for some fun projects to upgrade your space.