When Ashley excitedly sent along her living room photos after our big mood board makeover we couldn't wait to share them. Here's her letter:
Well here they are… our AFTER pictures! We love the mood board that you put together for us. It completely helped us in getting the look we wanted. We're so happy that we replaced most of our hand-me-down furniture with more modern (yet inexpensive) pieces. We (and when I say "we" I really mean my hard-working husband!) repainted, installed new baseboards, had new floors put in, and used your help to bring our 1968 ranch up-to-date! We are excited to share the pictures with you and your readers! Hope you enjoy. – Ashley
But perhaps we should refresh your memory with the before pictures first: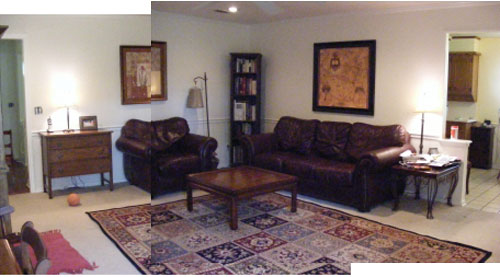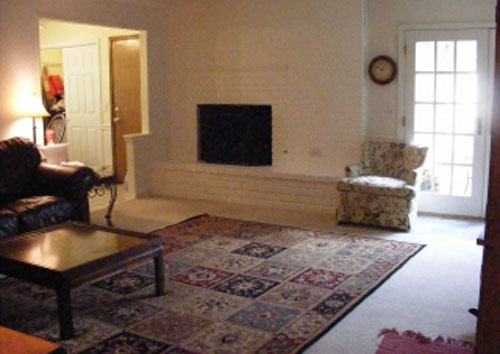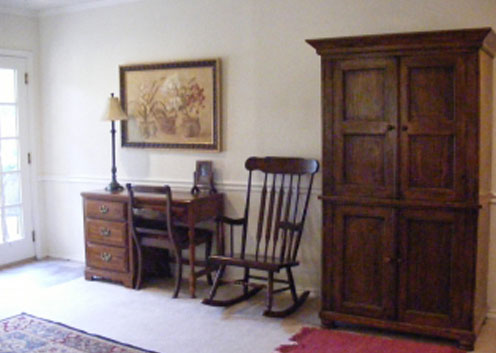 And here's the mood board we whipped up after Ashley came to us for some help bringing her room up to date with some crisp and current furnishings and accessories (check out more mood board details here):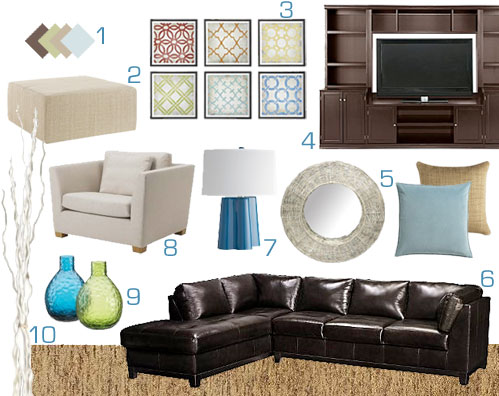 Now for the big reveal. Here's what Ashley's living room looks like after her big mood board makeover: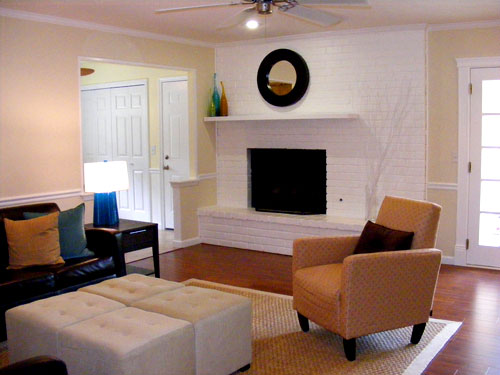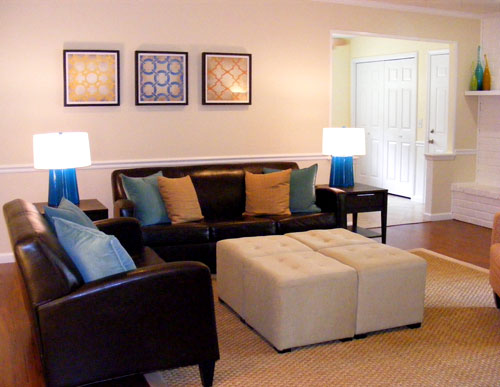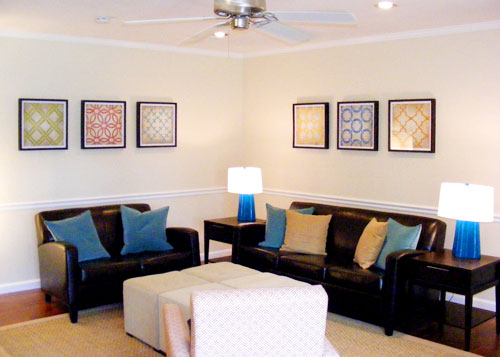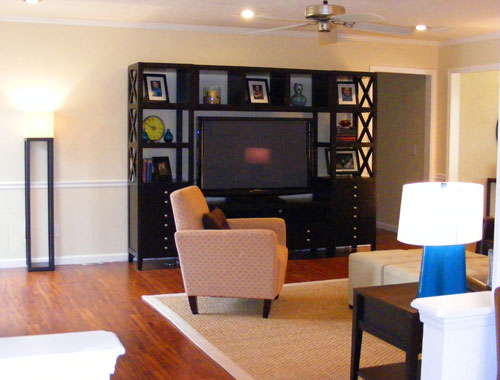 Isn't that amazing? It looks like a totally different house, right? Of course the new hardwood floor paired with those freshly painted cream walls make all the difference in the world. But bringing in rich leather and dark wood furnishings along some lighter upholstered pieces, a large textured rug, and some pops of color in the lamps, art, and glass vases on the mantel really added a ton of definition and vibrance.
And it's funny to note that the fireplace was already painted white in the before photos but it formerly felt anything but crisp. Yet somehow with the new updates in place it fits right in and feels oh so fresh. And even though the room has a large dark entertainment center and two deep toned leather sofas it still feels open and airy thanks to the lighter walls, ottoman, rug, and accent chair. We're loving the balance of light and dark paired with some nice splashes of color. Oh and getting back to that awesome ottoman, we can totally picture it full of trays of treats while entertaining- or even just occupied by a big Monopoly board for the family to gather around. The whole space really is super inviting.
So now we'll take a moment to toss out a huge THANK YOU to Ashley for sending us her gorgeous mood board after pics. We totally do the happy dance any time they pop up in our inbox. Didn't she and her husband do an amazing job bringing the mood board to life? What's your favorite part? We're loving the colorful table lamps and art that add interest and a splash of happy to their newly transformed space. So let's all shower them with praise for being so wonderful and sending us their pretty after pics. And here's hoping that more Design Dilemma after photos will be landing in our inbox very soon…
Update: We sadly can no longer find the time to take on client commissioned mood boards (and just whip up general inspiration boards instead) but if we ever reinstate them we'll make a big announcement on the blog!