Mmm, pickles. That will make sense in a minute. But first we'll show you what John's sister Emily's front entryway has looked like for the past three years that she's lived in her amazing casa (which you can virtually tour here).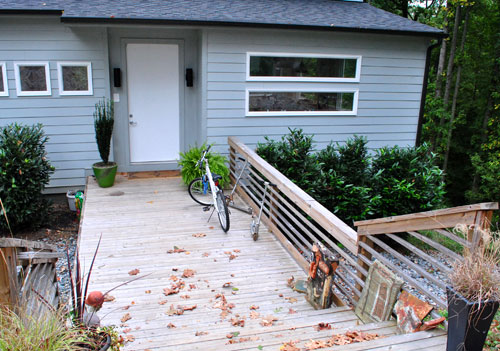 And here's the after, thanks to a new color on the door and some semi-transparent stain on the deck that leads to it (oh yeah and some pumpkins).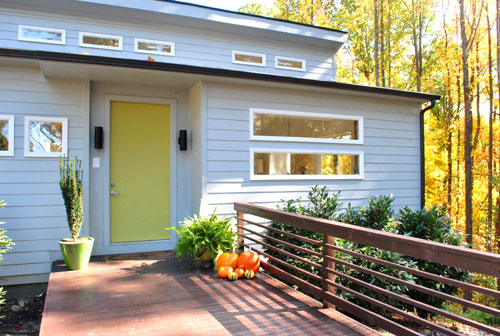 Here's how we landed on the door color and the stain hue. First I came over with a bunch of paint swatches and we held them up to the door to see what would work with the smoky gray color of the house.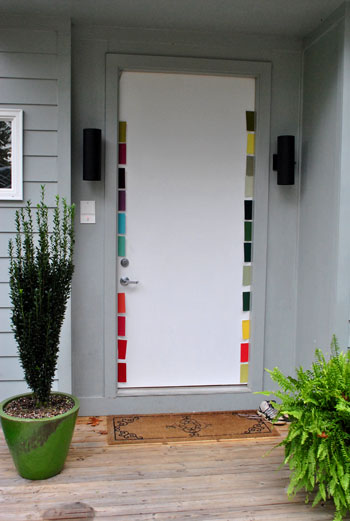 We easily narrowed it down to a few favorites (Cornichon, Lagoon, Duck's Egg, Egg Yolk, and Sultana – all by Martha Stewart).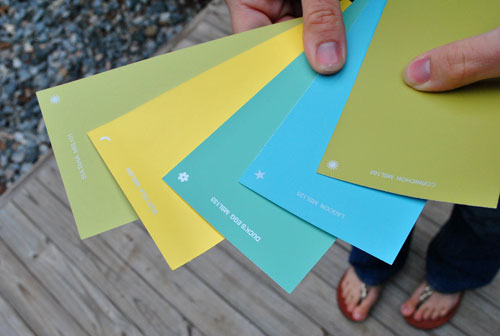 Then after a bit more deliberation both Emily and her hubby Todd decided they loved Cornichon the best by far. And I must say I agreed. They really wanted their house to look hip and a little funky, so they appreciated that it wasn't an obvious color that could be found on many doors. It also looked really great with the house color as well as with deep wood tones (since they also planned to go dark with the wood deck that leads to the door).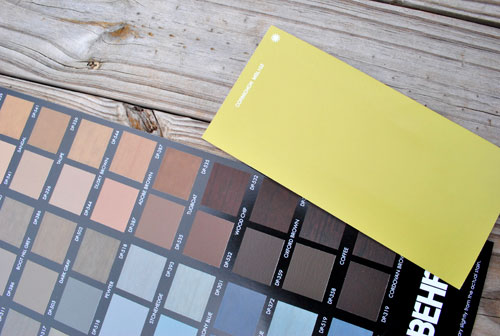 With the front door color narrowed down, it was time to select the exact hue for the deck, and we all decided on something rich and brown but not too opaque (a semi-transparent stain by Behr called Premium Plus Deck Stain in the color "Wood Chip").
After all those decisions were reached, it was time for the deck to get power washed, stained, and then for the door to get two coats of semi-gloss latex exterior paint in our favorite Cornichon color by Martha.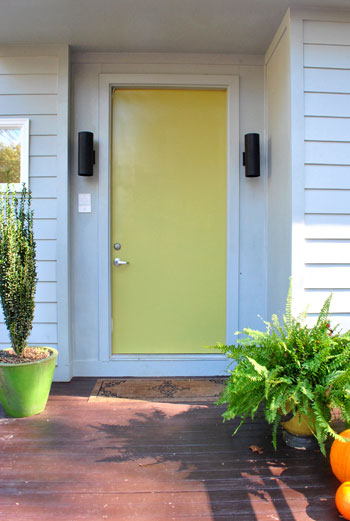 We think it really gives off a confident "how YOU doin'" vibe that feels cool and welcoming. And Emily and Todd couldn't be more pleased with the outcome.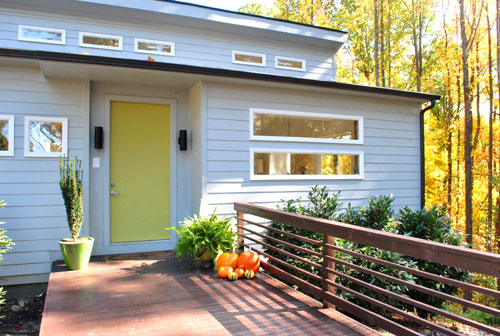 So we thought we'd share that quick curb appeal makeover with you guys in case you're debating a new front door or deck color. It really can make all the difference, right? And now Em and Todd are excited to complete the transformation with a few more details (like more planters, cool house numbers, and a big modern welcome mat). Gotta love a makeover that makes you excited about things like doormats and planters.
Are any of you guys getting ready to paint your house's exterior or otherwise turn up the dial on your home's curb appeal? Tell me all about it. Oh and I promised the title would make sense so here ya go: cornichon, the name of the front door paint, means pickle in French. And thanks to my 9th grade French teacher I was in the know from the moment we selected it as our favorite swatch (thanks Madame Cruger-Langer!). Snookie would be proud.