Move over man cave, this post is all about a mom cave. When HomeGoods contacted us to offer us a gift card to create a mom cave in our house, we asked if we could pay it forward instead. And they were game. Oh and then we asked what the heck a mom cave was.
It's actually a little haven for any mom in her own home. The mom's answer to the man cave if you will. It can just be a small corner of a bedroom with a chair for relaxing and reading or an entire room devoted to crafting, pedicuring, or anything else that your little mom heart desires. So I set out to find a deserving momma in need of a figurative cave to recharge her mom batteries. And Farah (mom to adorable two-year-old Laila) of eMommie seemed like the perfect pick. Here she is now with little Laila and her hubby Luke.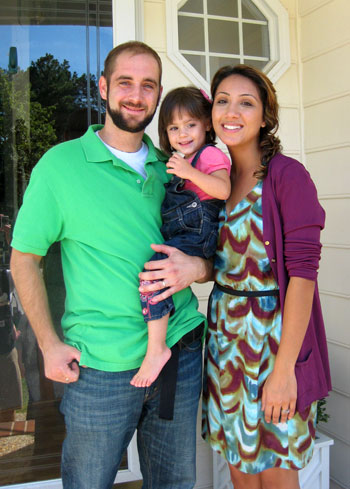 So we popped over to her house to see what we were working with. She showed us into this rarely used office that she had always been meaning to transform into a quiet room for reading, meditating, relaxing, and just calming the heck down after a long day of working and moming.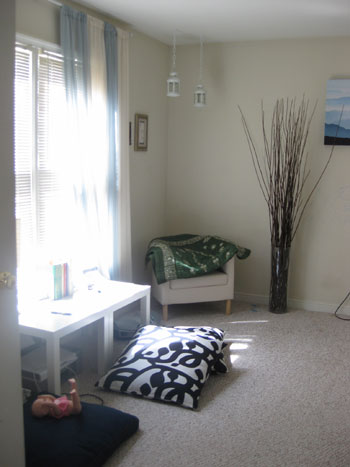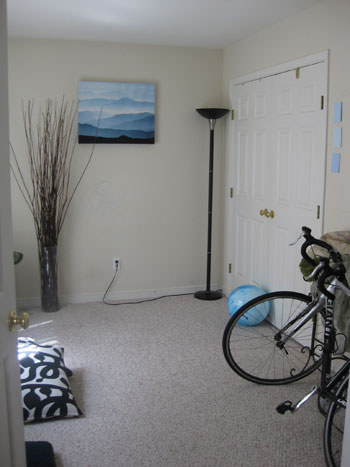 You can see from the paint swatches on the wall in the photo above that Farah was planning to bring in a serene blue color for those walls. But when it came to actually picking the color she was experiencing a bit of paint paralysis. So we whipped 'em out (our paint decks, that is) and helped her choose a color (Catalina Blue by Benjamin Moore color matched to satin Behr paint). Then we dropped the H-bomb (aka: told her we had some HomeGoods swag that we could add on their dime). That was fun. I can't imagine what it's like to tell someone they won a million dollars or a house on HGTV since it was so darn exciting to announce that we had some free furnishings and accessories for her future mom cave.
After we all simmered down (we were as excited as she was) we left her with some homework a la Trading Spaces. We assigned her and her hubby Luke with the job of picking up our pre-selected paint color and going to work on those white walls. And we ran to HomeGoods and a few other stores to shop for her mom cave makeover in the meantime. Here's John holding the lamp and the print that we knew would be perfect for Farah's room.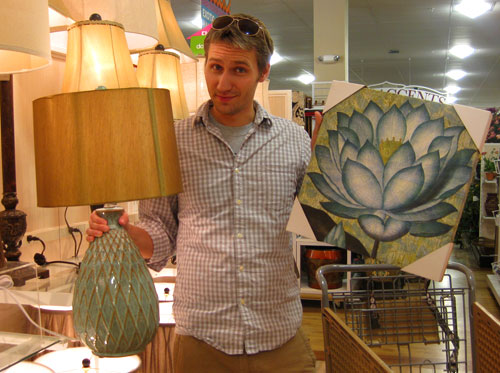 And here's her mom cave after the big makeover: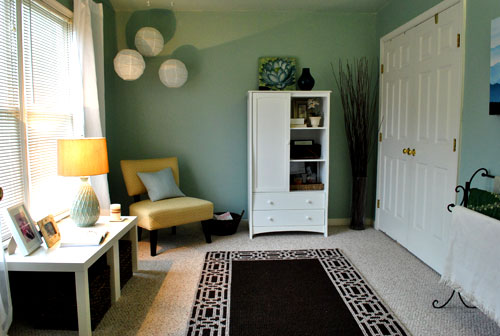 The wall color definitely set the stage for relaxing and escaping the daily grind. And thankfully Farah had a few basic items already on hand that we could work with. Like the two Ikea tables in front of the window, a pair of white Ikea curtains from another room, the white armoire that she had tucked behind the doors to this very room (why were they hiding such a great piece?) and a few accessories like the picture frames, the blue vase on top of the armoire, the blue pillow on the chair, the blanket rack, and the brown branches. And once we moved those things around and worked out a new layout, it was obvious that all we needed were a few things to polish the room off.
Like a new chair for the corner, some larger hanging lanterns (in an easy-on-the-eyes grouping of three), a nice textured and cozy rug, a sculptural table lamp, some inexpensive art, and a small basket for next to the chair (to corral books and magazines).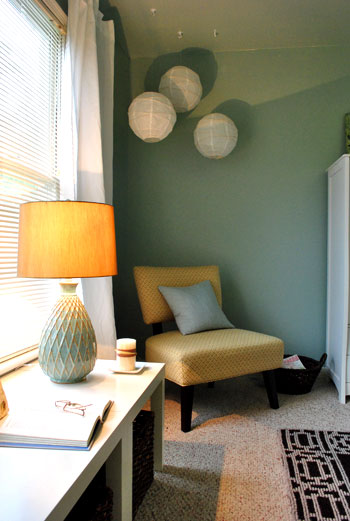 Farah's favorite thing of the entire makeover is the chair, which actually has a cool greeny-yellow Ikat fabric on it. We love how it works with the lamp shade and some of the coloring in the lotus art to bring a nice warm glow to the cool blue space. Oh and it's comfy. Clara and I tested it out extensively (ok, so I fed her in it mid-makeover… a girl's gotta eat!).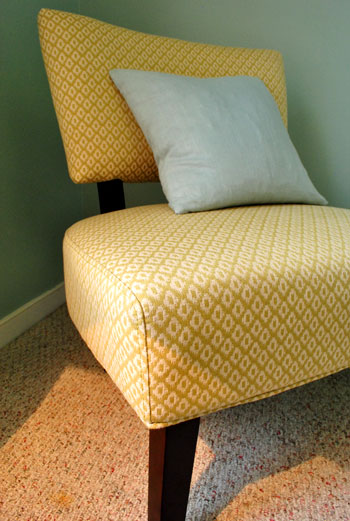 And you know we're cheap right? Well, we are. So when we needed a few finishing touches we decided to flex our cheapskate muscles and hunt down some serious deals for Farah (since she agreed to foot the rest of the makeover beyond the HomeGoods donation and gave us a budget to work with- so official, right?). Anyway, when we happened upon these $15-for-all-three paper lanterns from World Market…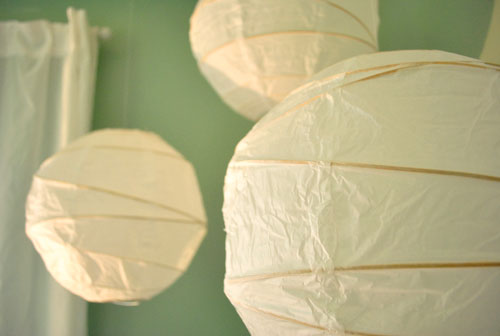 … and a $15 clearance rug at Target (yes, a fifteen dollar 4 x 6 Thomas O' Brien rug!) we snatched them up faster than you can say minemineminemine (that's a Finding Nemo reference FYI).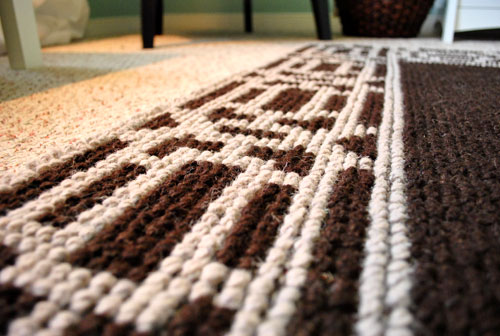 Here's the full budget breakdown:
Paint: $20 (Benjamin Moore Catalina Blue color matched to Behr)
Chair: $120 (from HomeGoods)
Lamp: $50 (from HomeGoods)
Lotus art: $25 (from HomeGoods)
Rug: $15 (on clearance from Target)
Paper lanterns: $15 (from World Market)
Magazine basket: $16 (from Target)
Total: $276 (just $81 spent by Farah thanks to HomeGoods!)
Not bad right? Especially because most chairs can run you $300 or more, and we also managed to squeeze in paint, art, a rug, a lamp, and a few accessories for under $280 (and Farah only had to break out four twenties). But the makeover fun isn't over. We're greedy little buggers. So when we laid eyes on Farah's potential-riddled living room we knew we could do a little somethin-somethin in there too. So we did. That post in a minute (there are too many pictures to merge it with this one).
In the meantime what kind of inadvertent mom caves do you guys have going on at home? I admit that anywhere I'm nursing around the house becomes my temporary mom cave because I get to zone out and focus on Clara for a few moments every 2.5 hours or so. Gotta love that baby for the self-imposed breaks that she gives me.