Here's where we explain the second half of Farah's home makeover (click here to read our first post on the subject). Basically HomeGoods offered us some free merch for our house and we asked if we could pay it forward and transform someone else's casa instead. Unbelievably they agreed. And we decided that we couldn't stop at just sprucing up Farah's mom cave after we laid eyes on her family room. So we have another before and after for all you transformation loving fiends. Here's her cute family again, just to refresh your memory.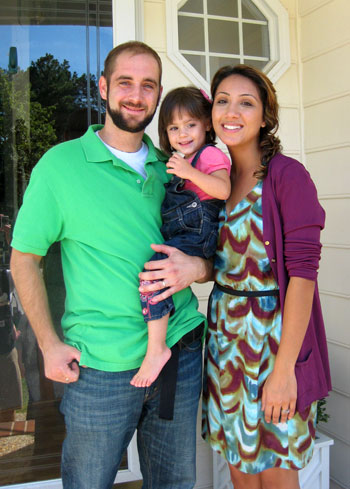 And here's their family room before: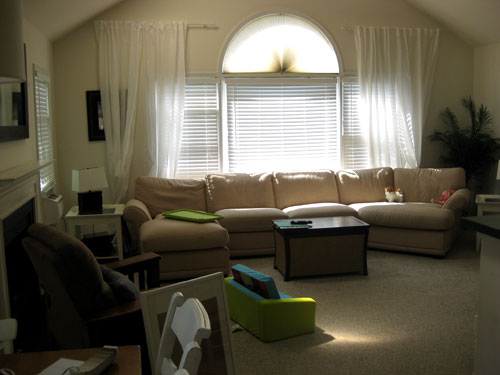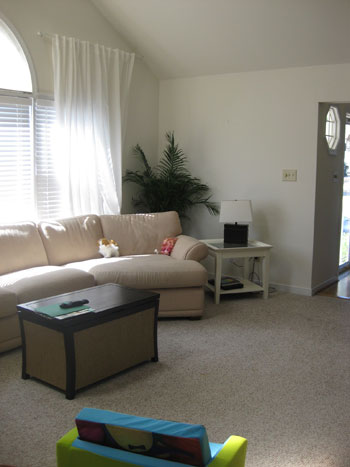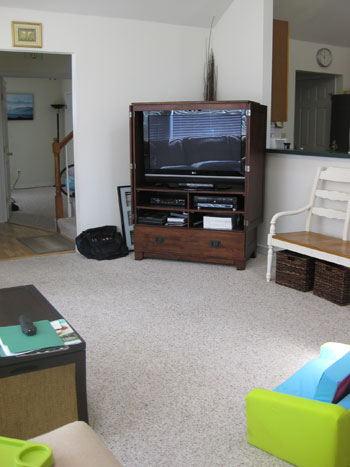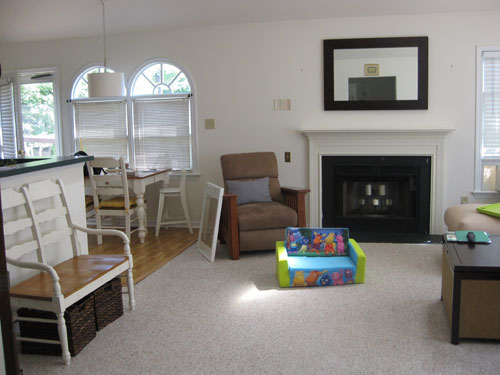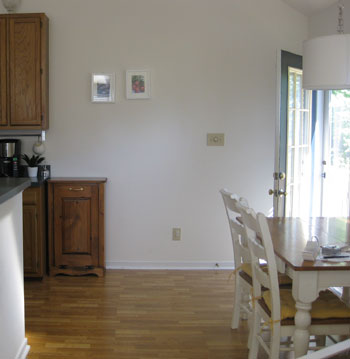 Here's the same room after we got our mitts on it: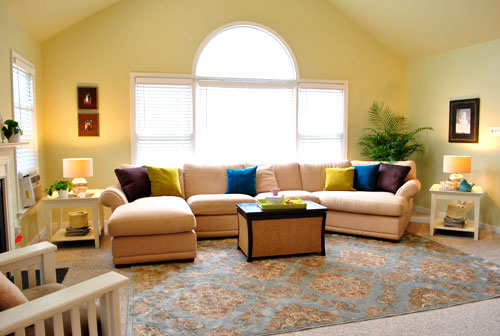 It was pretty much a blank slate, and we were lucky enough to be able to work with a lot of Farah's existing things (the sectional, the recliner, the side tables, the wood frames, the coffee table, etc). So it just came down to adding some room-making accessories and bringing in a ton of kid-friendly function for Laila without cramping the grown up's style.
One of the biggest changes came from suggesting some warm artichoke green for the walls (Benjamin Moore's Nantucket Breeze color matched to satin Behr paint). The room glows like candlelight with a soft green tint. And thanks to everything from the new table lamps to the soft texture-adding rug, the space really feels warmer and more inviting.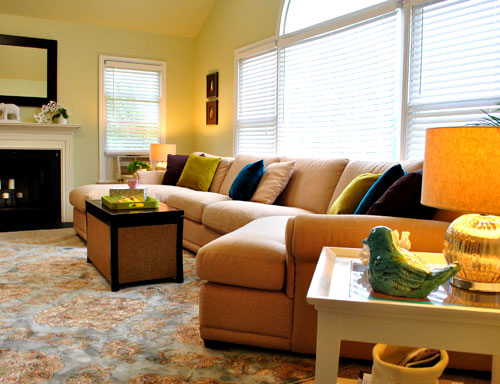 Farah even primed and painted the existing recliner (see how here) and we brought in a cute green bench (which used to sit unused in a corner of Laila's room) to create an entire area that could be devoted solely to her toys and games. Because it's always nice to work in some kid-space within a public living area. You know so they don't feel banished (like those old formal living rooms where children weren't allowed and the sofas were covered in plastic).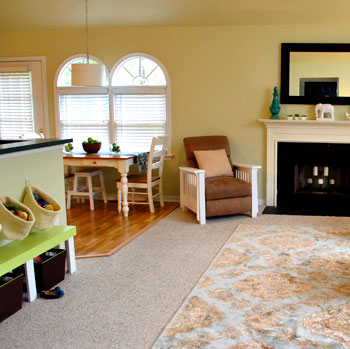 We thought hanging three white hooks with inexpensive Ikea baskets on the wall above the green bench would add even more stash space for Laila and her gear (while keeping things looking organized and simple). Plus we're not gonna lie, it was a whole lot cheaper than buying a big cabinet or console table to fill up that wall.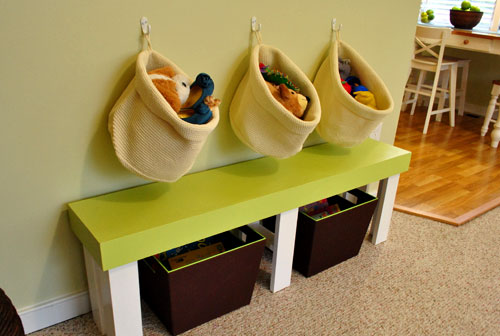 And over in the kitchen, we moved the white bench (which used to live where we put the green bench) over into the kitchen near the table. See, whenever Farah entertains she pulls the table out into the room and adds the bench. This way she doesn't have a blank wall in the family room anymore when she has guests over. And Laila now has a little zone to enjoy every day. Win-win.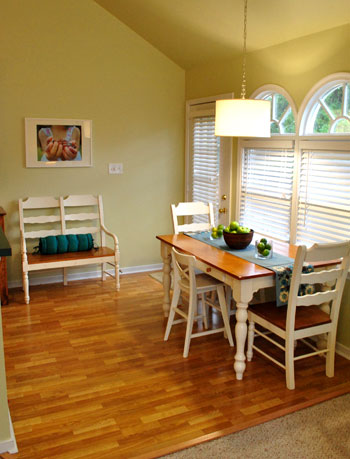 And see that print above the bench? We'll explain more about that in a bit.
But first, here's another POV of the seating area: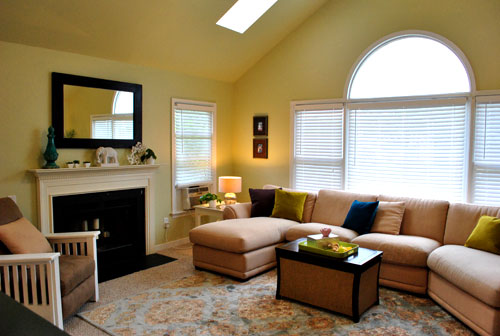 And another one: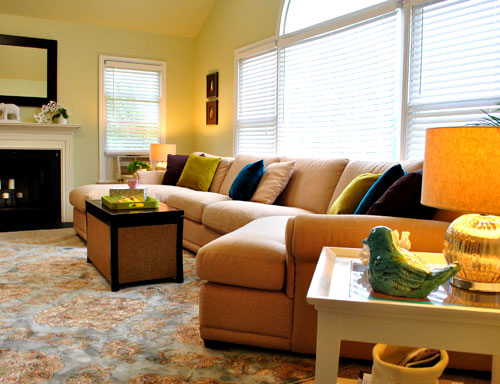 And another one: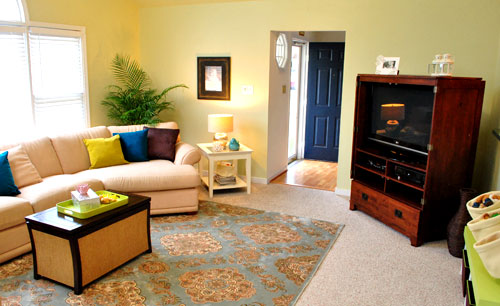 And see that basket under the side table atop that stack of mags? It's just one of two leftover woven Ikea baskets that we got for the wall above the green bench. We thought they would add even more function if we used each of them to corral Laila's board books. Now adult reads and kid reads can peacefully coexist without looking like a doctor's waiting room.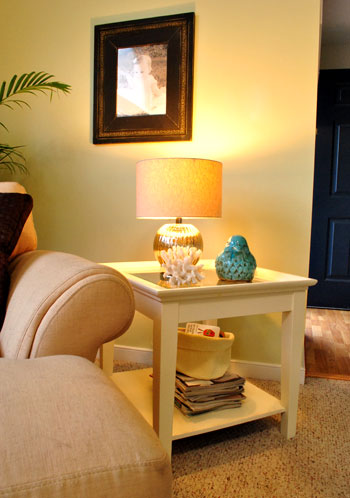 And not only did we make a little Laila zone with the green bench and those hanging baskets, we also tossed a few of her toys on a plastic (read: unbreakable) tray on the coffee table. Since kid stuff tends to inexplicably migrate around a room, I figured that embracing that fact by using some pint sized play things for the reveal would depict how the room would really look after Laila works her decorating magic. Let's just say I was channeling my inner two year old. Plus how cute are those tiny plastic bananas? Maybe plastic fruit will be my new obsession akin only to ceramic animals.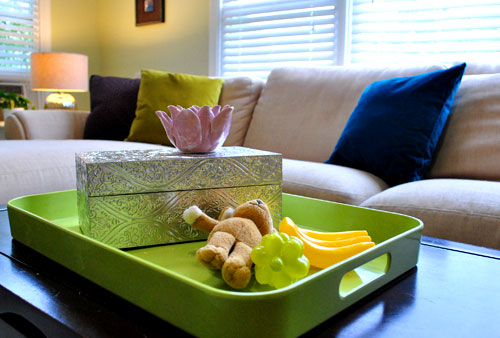 Here's that photo that we said we'd get back to. It's actually a portrait that we shot of Laila in the backyard holding mini grapes.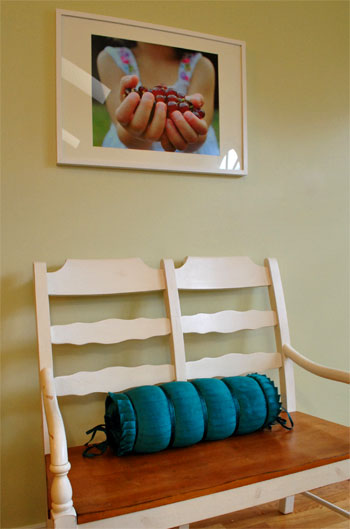 When Farah said she was looking for a berry-related print for a frame that she already had to hang above her bench in the kitchen, she asked if we could shoot photos of her own daughter's hands holding berries for a one-of-a-kind customized result. One DIY photoshoot with Johnny P the photog and twenty bucks later (we had it printed at a local shop downtown) we had our one of a kind print for the wall. Now Farah can enjoy something a bit more custom than anything that she'd ever find online or in a big box store.
Oh, forgive me for being captain obvious here, but here's a cheap (and edible) centerpiece idea for you. Nothing beats a bowl full of fresh green apples: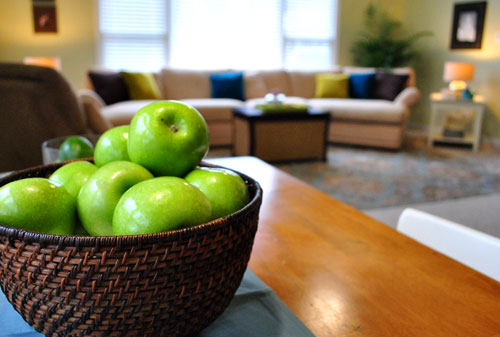 This is just a gratuitous basket detail shot because I can't get over those cute blue shoes that match our color scheme. I'm shallow like that.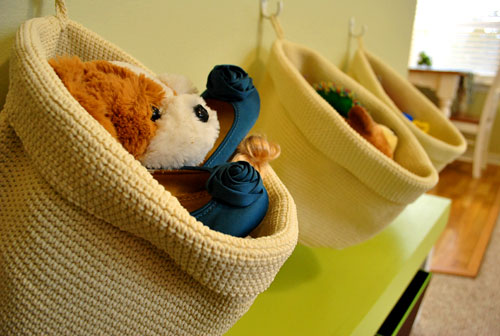 And now for another budget breakdown:
Paint: $100 (five whole gallons- we suggested Farah paint the ceiling & adjoined kitchen to avoid breaking up the room)
Rug: $299 (8 x 10 from HomeGoods)
Kitchen blinds: $60 (faux wood blinds from Home Depot to unify the kitchen windows)
Side table lamps: $29 each (from HomeGoods)
Blue bird: $9.99 (from HomeGoods)
Blue finial on mantel: $12.50 (from HomeGoods)
Pillows: $55 (brown ones from HomeGoods, rest from World Market)
Custom Laila hand photo in kitchen: $20 (printed locally at Uptown Color)
Decorative remote box: $15 (from HomeGoods)
Kitchen table runner: $12 (from HomeGoods)
Kitchen bench pillow: $20 (from HomeGoods)
Baskets under green bench: $22 (from Target)
Hanging toy baskets above bench & under side tables: $30 total (from Ikea)
TOTAL: $713.49 ($296 spent by Farah thanks to HomeGoods!)
We went into this family room (and semi-kitchen) makeover with the Trading Spaces spirit- we definitely gave Farah her fair share of homework, from painting the walls to hanging the blinds and even priming and painting her recliner. So we assumed the total would come to around a thousand dollars a la Vern Yip or Genevieve Gorder from their glory days on TS. Needless to say, we were pretty darn psyched when we crunched the numbers and realized we were about $300 short of that, especially since we squeezed in some big ticket items (like a giant 8 x 10 rug, tons of paint, and matching side table lamps) as well as a slew of accessories (from pillows and a table runner to baskets and hooks, a ceramic bird, and even a large custom photograph of little Laila herself). We had so much fun with Farah and family! Thanks for letting us barge in and order you around like Doug Wilson. What about you guys at home? Do you have a corner in your family room for kid-paraphernalia? Or small plastic bananas as coffee table decor? Somebody please say yes to that.