What's the perfect cure to a paint and primer hangover? A trip to the beach. And what's the perfect way to spend your fourth wedding anniversary (yup, today's the big day)? Why sharing those beach photos of course (since we've pretty much covered our wedding/anniversary stuff in the last three years of Wedding Week). Off we go…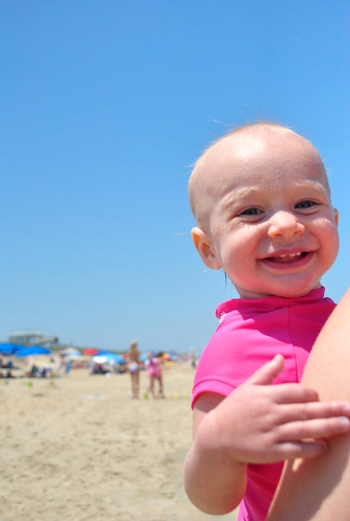 In honor of the long holiday weekend, we said goodbye to our freshly grellow-ed kitchen and hello to sand and sun thanks to a little road trip to the Outer Banks of North Carolina. We usually do the beach thing in Delaware at my parents' place, but since my siblings, cousins, and I insist on having babies and expanding the family (the nerve) we've outgrown it a bit. So instead we all pitched in to rent a place in Duck, NC where all 21 of us – which included five kids under the age of two! – could clock some nice family R & R. Well, as much as you can clock with five babies around…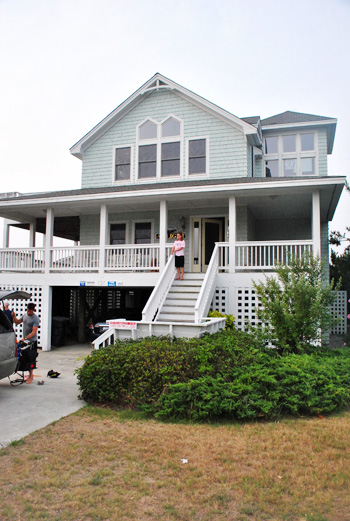 Even if rest was limited, fun certainly was not. Clara and the beach continue to become BFFs – she was equally happy in the sand and the surf, which made her water-lovin' mom and dad very happy. We found a sandbar that kept the waves calm and the water shallow enough for lots of time in the water (most of which was spent "jumping" waves and laughing hysterically).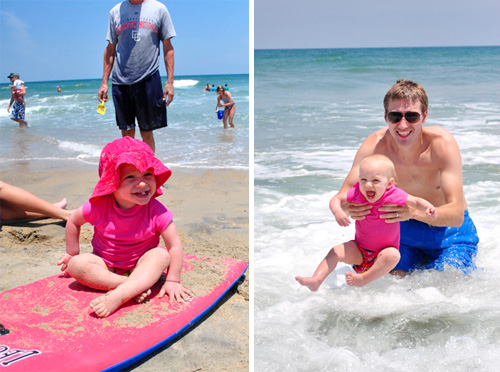 The house we rented also had its own private pool in the backyard (as did all of the homes on our street – which was really nice) so there was lots of calm water play going on away from the beach too. Clara has recently learned to say the word "ball" so she was thrilled when my aunt supplied a huge bag of them to hoard play with in the pool. They seriously are her new most favorite things in the world.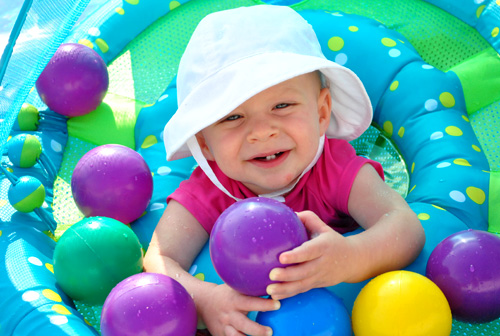 Except for some crazy humidity, the weather was generally great the whole time. And we used the only overcast day as an excuse to visit the Wright Brother's Memorial in Kitty Hawk. It was surprisingly fascinating to walk around the grounds where the first flight actually took place (even for two non-aviation buffs like ourselves). There's Sherry sitting on a stone to mark where the first flight ended after just 12 seconds and 120 feet (the stones behind it mark three other flights that day, the last and furthest being 852 feet and 59 seconds long).
Oh, and there I am standing in front of part of the monument that seemed, well, fitting. Just look at my smarty pants pose.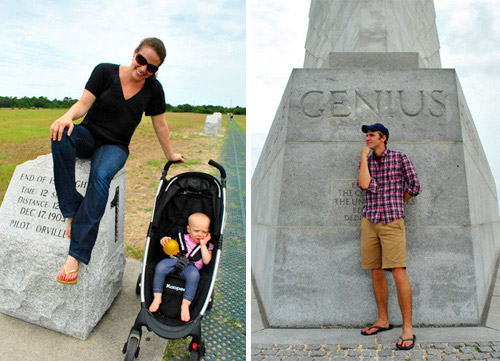 And did you notice the ball that Clara was holding in the pic above? Yeah, it's a bit of a theme this trip. She extended her new found love of spherical objects to balloons as well. My sister Emily and my cousin's daughter Elsa celebrated a shared birthday during our trip, so Clara broke out her party dress and went absolutely bonkers watching the balloons float around while grandparents and aunts and cousins looked on. We have about twelve more photos just like this.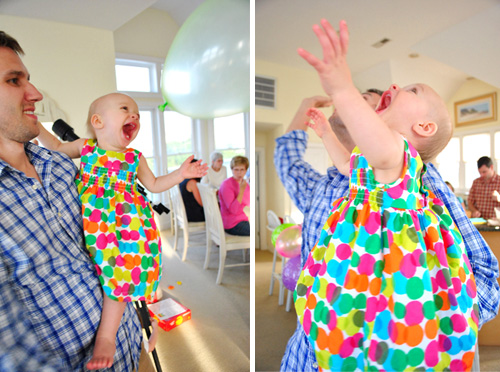 If you're still itching for more beach photos, we've got a bunch more on Flickr. And while we secretly hoped our beach house would be worthy of a House Crashing post (like these), it was sadly pretty generic. And understandably so (since not-too-precious rental decor seems to make the most sense – especially when 5 babies and 16 older kids/adults come flooding in and make themselves comfortable). But one design choice that did catch our eye was this fun shaker shingle treatment in the interior stairwell: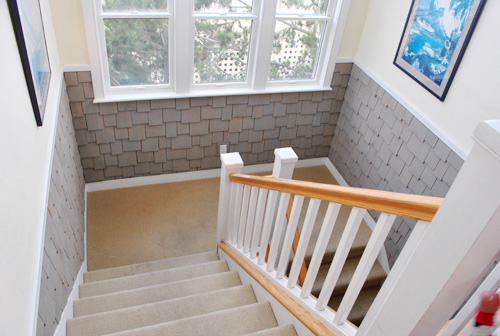 It mimicked the shaker shingles on the exterior of the house and served as sort of a beachy twist on wainscoting. Probably not a look that we could pull off in our own house, but it was right at home in this seaside setting: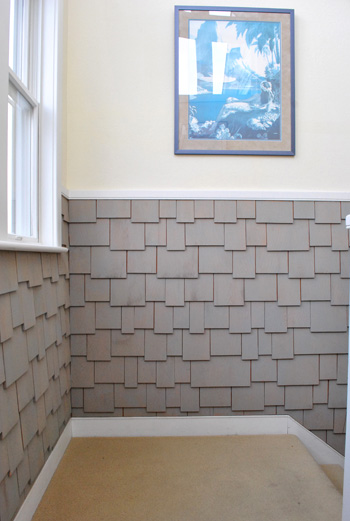 And since our beach house didn't fulfill our design cravings for the trip, we headed out to troll some local thrift stores and home furnishing places while we were there. Let's just say there were lots of things that we wanted to bring home… and then there was a giant curly haired bear nutcracker (we'll be back with a post about those finds a little later on). For now we'll leave you with the first photo of all four of us that we've ever taken. As in since Clara was born. Shame, shame, shame.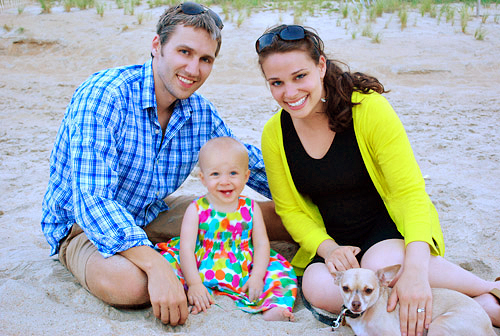 Only took us 13.5 months to accomplish.
Anyway, has anyone else hightailed it out of town after a big slash tiring house project? Did you pick up any souvenirs for your home while you were gone? Did your kid develop a strange ball obsession while there? Did you finally take a family picture after waaay too long?